Best Soccer (Football) Players of All Time
The Top Ten
1
Diego Maradona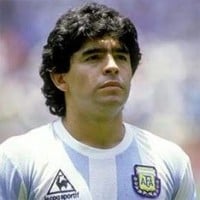 Diego Armando Maradona (October 30, 1960 - November 25, 2020) was an Argentine professional footballer. Widely regarded as one of the greatest players in the history of the sport, he was one of the two joint winners of the FIFA Player of the 20th Century award. Maradona was given the nickname "El Pibe ...read more.
Maradona truly is on his own level of skill. People may argue that he wasn't a complete well rounded player like pele or cristiano ronaldo, but soccer is a sport that is more than just speed and strength this isn't track in field. What makes maradona so amazing is that no one else on the world can do what he can with a soccer ball. What zidane could do with a ball maradona could do with an orange. His mastery of the ball makes him the greatest soccer player of all time not only could he dribble past cristiano ronaldo or anyone else with disturbing ease but he could also distribute the ball with pinpoint accuracy. This means that not only could he carry a team on his back (unlike messi sadly) but he also makes his teammates play better he is a player that you cannot leave on the bench even injured. If you gave maradona's left leg to any player they would instantly get on this list.
If I could take the skill/talent of any of those players for myself, I would pick Maradona's without hesitation. It is often said that he reached his peak only in the late 80s but that is not true. He was one if not the top guy throughout the entire decade, it is just that a horrible disease first and a career-threatening injury later marred what could have been some of his best years (the way he was scoring at Barcelona he would have ended top scorer had he gotten to play enough games, missed to many for the reasons I just wrote). Then he went to a Napoli that at the time was 1 point away from relegation and it took a couple of years until the team caught up with Maradona. That lack of titles makes people believe he peaked in the late 80s, but he spent the early 80s in the hospital or dragging a poor team from the bottom to the top.
I love Messi, I love Pele, I love Cristiano. But there is no one who deserves the #1 spot on this list is Diego Maradona. His pinpoint accuracy on passes, his cool finishes and most of all his dribbling make him the best ever. His passes allowed him to carry a team on his back, because he could make anyone look good. His cool finishes always came at crucial times to put his team in front in any competition. And his dribbling, ohh. He was 5x Messi because what Messi does about twice per games Maradona did at least 50. Pele could score, Messi can score, cristiano can score, but none of them could score as well as this man Diego. Just watch a YouTube video of him. He is 5'5 and he runs by people like they are cones.
I am not sure if the person who created this list, plays soccer or "football" if you want to call it. Diego Maradona CAN NOT be compared to Pele or other players with all due respect, he is completely in a different category, BEST OF TH BEST, Maradona is an acronym to beautiful football, you enjoy seeing him playing, giving perfect passes, dribbling, scoring, I'm sure if he play goal keeper, would be the best as well. Putting someone else on the top of the list rather than Diego is an insult to the game. So far no one ever scored a goal like his against England from the middle of the field, fanasticoo. Diego you are SIMPLY THE BEST.
2
Lionel Messi

Lionel Andrés "Leo" Messi is an Argentine professional footballer who plays as a forward for Spanish club Barcelona. He is also known as one of the greatest football players of all time. He was born in Rosario, Argentina on June 24th, 1987.
No one is nowhere near him...
Greatest player to play football...
MESSI
10
He is the B E S T...
Just amazing
Wonderful crazy
And he plays as someone play on a x-box or PlayStation
Go Messi go
Totally incredible
Out of word to say
NO MESSI should be 1ST you LOSERS! RONALDO SUX! MESSI ROX! EAT THAT SUCKERS :P sorry but messi I actually better

cruyff has said that messi was closer to the greats than ronaldo and rooney, ronaldo's own ex-teammate said he would rather play with messi ronaldo likes to cry and dive while messi just stands up and goes plus messi beat ronaldo to the fifa player of the year twice now

messi has beaten ronaldo's record of 52 goals per season and while messi won the olympic golden medal with argentina at least, ronaldo disappears in portugal.

SO VOTE MESSI!
-Vanda and Sophie (messi's biggest fans) and yes we are females thats right girls also like football and yes we also play SO VOTE MESSI DAMN IT!
also messi had 3 hat tricks in 1 week! 1 WEEK! hahaha stupid ronaldo fans :P

I have watched Maradona play and the only difference between him and Messi is the World cup trophy that Maradona won in 1986. Messi is in the same sentence with Maradona because he personal contribution during the 90 minutes on the field can actually impact the outcome of the game every time he plays. He is a playmaker, whenever he touches the ball, he tries to start something and most of the time, it is the trying that finally create goals. His touch, signature moves and ability to take on a double/triple team from another team. His ability to always get in the box is what makes him so dangerous even when he doesn't score. I will have to say that at this time, MESSI is the greatest player in the world who has not won a world cup.
3
Pele (Edson Arantes do Nascimento)

Edson Arantes do Nascimento, known as "Pelé", is a Brazilian former professional footballer who played as a forward. In 1999 he was named Athlete of the Century by the International Olympic Committee and was included in the Time list of the 100 most important people of the 20th century. In 2000, Pelé ...read more.
He's the best that ever played. He moved like a jungle cat. No one had ever seen anyone play like that before. His skill at full speed was mezmorizing. His passing was as precise as a surgeon's scalpal, un-locking opposing defenses. Look at what the Brazilians did to Italy in the 1970 World Cup. That wasn't TFC out there, that was the 1968 defending European Champions Brazil were playing. Italy's defense was known to stifle the opposition. Pele cut them open at will. Pele changed the way the game was played. Players today, that people fawn over because of their skill, Pele did 60 years ago. He did it before big contracts, endorsements and personal trainers. Most importantly, he showed up and performed at major tournaments. Ronaldo and Messi can't hold a candle to Pele. Simply put, Pele is a winner, the greatest of all time
Laugh out loud I'm sure whoever voted for anybody else --specially "modern" players like Messi or Cristiano Ronaldo-- have NEVER seen Pele play (just check him on You Tube) OR they are biased people who dislike him for his skin color or nationality. But unbiased people can easily see that Pele is year-lights away from anyone else. He played perfectly with both legs, the head, chest, knees, scored goals, did assists, scored free kicks, penalty kicks, headers, bicycle kicks, back-heeling, I mean he handle 100% of the repertoire of soccer tricks, to perfection, and he was THE BRAIN of any team he played in. He was the planner, the strategist, the thinker, the creator. He was the heart of the Golden era of soccer: 1970 World Cup. PELE, SIMPLY THE KING!
Played in a bad league and scored 0.7 goals per game (I think) which is pretty awesome ( but not close to world class players like Messi or Ronaldinho). Then moved to a better league (this admittedly was probably one of the best in the world) and his rate was 0.4 per game

Wasn't the best player on his team for any world cups and basically missed all of 1 them

500 or so of his goals are fake because of friendlies and exhibition matches and let's remember football is improving rapidly.
I don't think any team from 20-30 years ago is anywhere near top flight teams from today (think money, training even genes). Just watch videos of him on YouTube. I know it's not a great source of information but videos of him are miles away from videos Of Messi or Neymar and the like
Name any player in history. Or scored 4 goals on his debut match for Santos against the one of the best teams in his league, Corinthians. And two years later, when he won the World Cup. And another the following tournament. And again in 1970, recording 12 goals along the way. There was a war in Nigeria and there was a 2-day ceasefire to watch that guy play. November 19th is "Pele Day" in Santos. Scored 8 goals of 11 against one team. 92 hat-tricks, 31 games in which he scored 4 goals. He increased attendance the U.S. by 80%. Name one player in history that got to 4 digits in goals. Or has 3 world cups to his name.

(Besides Pele, of course.)

But if you watch the dude, his stats don't tell the full story.
4
Cristiano Ronaldo

Cristiano Ronaldo dos Santos Aveiro (born 5 February 1985) is a Portuguese professional footballer who plays as a forward for Serie A club Juventus and captains the Portugal national team.
Come on! He has the sweetest shot in the world and well does about everything! I mean, can Messi ever jump over 6'3 defenders and send a powerful header? Can the likes of di Stefano, Pele etc. Score goals like he does and still have the rest of his attributes? The answer is... No
The typical of football and always motivated to try the best. He is Cristiano Ronaldo with excellent (shot power, jumping, header, finishing, leadership, skillful, shot accuracy, offensive awareness).
I think the best football player is Cristiano Ronaldo. His transfer is the most expensive, he can jump, dribble and his free kick is magnificent. The PERFECT PLAYER.
Please people, let me hope that every one is sober while reading this.
Look at His height, body size, soccer skills, a complete dribbler, free kick specialist, pace, goals scored in different best football league tables in the generation with very many fantastic players.

He really brings out the real meaning of the best football player the world has ever tested.

Remember that to be considered as the best, you must fit and score in different soccer league tables and by this I mean the rough, hard, talented and best ones like English premier league and spanish laliga plus putting up stiff competition with the rest of the players in the whole world of that particular generation not forgetting to again deliver at the National team level.

Messi is only good but not better than Christiano Ronaldo because Messi has only seen one league and has not delivered at the national level
5
Zinedine Zidane

Zinedine Yazid Zidane, nicknamed "Zizou", (born 23 June 1972) is a is a French former professional football player who played as an attacking midfielder. He received many individual accolades as a player, including being named FIFA World Player of the Year in 1998, 2000 and 2003, and winning the 1998 ...read more.
Put France back onto the worldwide football map.

His playing skills were simply marvelous, amazing, punctuated in my opinion by his incredible performance against Brazil in the 2006 FIFA World Cup. At that point of his career he was more Brazilian than any Brazilian at the time.

Always present when needed, he led France to back-to-back major championships in 1998 and 2002.
Came back in 2006 and almost won it for France in overtime with another amazing headshot (his specialty in the Finals) blocked by a certain Gianluigi Buffon, at the top of his craft.

Zidane's name should be well ahead of the two Ronaldo's. Cristiano is a great player but he hasn't won anyhting worthy now and probably won't.
I haven't seen Pele play live - only a vido, but saw Maradona and Ronaldo, they both had a class of their own and world knows they were good, may be out of the two if I had to select one, I would say Maradona may take an edge. However, for the number one slot, the only player who really inspired me was none other than Zidane. I rate him the best simply because he made me feel as he owns the field the moment he stepped into it, inspiring his team mates and becoming the focus point of entire opponent team to be the one to tackle, and guess what? He still used to manage to get through them - Class above!
If you ask about a playing with individual skills and ball control, if you wonder a player who can use both feet, if you ask about a player of team spirit, the one who knows his team in play - the one who can enhance the play of his team members style of play, the one who knows his opponent game, the one who played a true team game - won titles for his country the world cup and european cup, club titles and remrakably with equal unbiased commitment and determination at both professional and country to country tp country, the one who has found the glory of football, its meaning to people, country and his team ---- its ZIDANE. He is the GOD of Football,
Zidane won everything there is to win.. He won the 1998 World Cup against Brazil... He won Euros.. He won Champions League with Real Madrid scoring one of the best goal ever in the Final.. He also was about to win 2 consecutive World Cups but barely lost to Italy in penalties in 2006.. and cause he got a red card... Zidane is the only player that will make Brazilians look bad in the pitch.. He also is a good coach he even won Champions League as a coach and player... Give me Ronaldo and 10 players and I will win you Champions League... Zinedine Zidane.
6
Johan Cruyff

Hendrik Johannes "Johan" Cruijff (25 April 1947 – 24 March 2016) was a Dutch professional football player and coach. As a player, he won the Ballon d'Or three times, in 1971, 1973, and 1974. Cruyff was a proponent of the football philosophy known as Total Football explored by Rinus Michels, and is ...read more.
As some of you have rightfully pointed out both Pelè and Maradona were better (but just barely) individual players, but they did not bequeath anything as as revolutionary or enduring as Cruyff's vision of "Total Football". Cruyff modernized the game of football. He not only possessed outstanding tactical ability, he also had an unparallelled vision of the game that no other football player could match.
For his superior visionary skills, his technical and tactical abilities, as well as For his titles and legacies, Cruyff deserves to be recognized as the greatest player of all time.
Cruyff is the greatest player ever, he revolutionized football, he organized his team, he timed passes perfectly like nobody else did, he read the game better and faster than anybody else in history, he was an underrated long range shooter, if he wanted to he could be a legendary scorer like his younger days, but he opted to be unselfish, the best passer in football history, and the total footballer. #14
You just can't dislike this guy! He don't had an altitude against other clubs, he had a great dribble, his vision was untouchable, his passing was completely fantastic, he could shoot with both feet and he had a magnificent career with 3 Champions Leagues and many other titles. His biggest pointo you like the style of Barça right now? I ain't no Barça fan, I don't like Messi at all but I do say the games they play are very very good, that's the Johan Cruijff style.
Cruijff is well known for changing the way football was played into the best way to play football. Not only as the best player, but also as the best coach and the best manager. Bringing joy to spectators and always remaining down to earth. His influence is bigger and much more complete than other great players. Johan Cruijff is easily the greatest football player of all time.
7
Ronaldo (Ronaldo Luiz Nazario da Lima)

Ronaldo Luís Nazário de Lima, commonly known as Ronaldo, is a Brazilian business owner, president of La Liga club Real Valladolid, and a retired professional footballer who played as a striker. Popularly dubbed in Portuguese O Fenômeno ("The Phenomenon"), he is widely considered one of the greatest ...read more.
The greatest footballer would be a coin toss between Pele or Maradona I would think. But my favourite player ever is original Ronaldo. Check out all those quotes from the best players in the world who saw him and you may have to agree that he was one of perhaps 3 players in the game's history who might be thought to have been sent to earth from another planet. The best defenders in the world really couldn't handle Ronaldo in his prime. And even after his horrific injuries, he comes back and scores 8 goals at the 2002 World Cup and wins player of the year, even when he's effectively past his prime. His ability was through the roof, he would probably get over 18 out of 20 for nearly every quality listed on the Football Manager games. He could level Pele for his football brain. I love watching videos of him more than anyone else. I dunno. He just really, really, really had that special something. And I love how unlike Messi and Cristiano (both obviously amazing), Ronaldo at the 98 and 02 ...more
1996-99 Ronaldo aka R9 is the greatest footballer I have ever seen. A real unstoppable tank, he could do everything. He had unbelievable dribbling skills, speed, tactics and is the greatest striker of football. Infact it took a kneebreaking injury at the age of 23 to stop him and many thought it was the end of the road for him. But he made one of the best comebacks in football history and went on to win 2002 WC becoming the top scorer in that year's WC and continued to play for another decade Unfortunately we never got to see his true peak or potential due to injury. R9 still remained as an inspiration for many players in the coming generation. Ronaldo el Fenomeno as the name suggests was a real phenomenon.
True, I respect all those., but Ronaldo was the only one who you could never recognize his steps, if logically we compare all the things between them, he was the best, Ronaldo and Maradona were leading the team lonely.. Messi is very great but out of barca he is so different and low level. Ronaldo was tall which make your technic less, but he was full of everything, if you wanna give a right vote logically and out of emotion you should consider everything
Pele was a legend but ( Ronaldo, Madona, zidan, ronaldinho ) were the best ever in all the things
They could make you happy with their steps.
If Ronaldo could play without that much injury, he could make some record what would be untouchable ever, He Was Just an Unlucky player Unfortunately
He might not be the greatest but he will remain the best player in history with the best technical ability like dribbling, skills and tricks efficiency(ahead of Ronaldinho), pace, shooting and even passing(surprisingly good for a centre forward). I've seen many players in the past like Pele, Cruyff, Maradona, Di Stefano, Zico, Ronaldinho, George Best, Denis Law, George Weah, Michael Platini, Beckenbauer, Figo, Eusebio, Kaka, Rivaldo, Cristiano Ronaldo and Lionel Messi and so I can call them one of the greatest and they're certainly in the best list as well but the one that tops the best list is just Ronaldo and none else. If Ronaldo had won the European Champions League he would of certainly been the greatest ever.. Please don't even compare anyone with Ronaldo.. He's beyond comparison..
8
Ronaldinho

Ronaldo de Assis Moreira (born 21 March 1980), commonly known as Ronaldinho Gaúcho or simply Ronaldinho, is a Brazilian former professional footballer and current ambassador for Barcelona. He played mostly as an attacking midfielder, but was also deployed as a winger. Often considered one of the best ...read more.
Ronaldinho is the complete football player, sure Cristiano Ronaldo can jump higher, run faster, etc. I'm not saying Ronaldo and Messi or anyone else are bad, they just aren't Ronaldinho. In fact, Messi is probably most efficient on the field, Cristiano Ronaldo has the overall top attributes. But when do you EVER see anyone smile like Ronaldinho when he falls, when he scores, when he misses, etc. He has fun and he shows that. Never have I seen anyone manipulate a football like Ronaldinho. I can do around the world, so can half the footballing world I bet, but the way the ball is like part of Ronaldinho's body makes it look elegant, super easy. This is just one opinion though, it was a tough choice because there are great footballers out there today, many of them. Ronaldinho, Messi and Cristiano remain my favorites.
In terms of technique no one has even been close, he carried his Barcelona team at times and I have no doubt that if he had the luxury of playing in the current Barcelona team with such a talented squad, it would not be Messi who would be taking the plaudits. Possibly, Maradonna, Pele and Beckenbauer could be named ahead of him, but for me he was amazing. He could do everything, his passing was immaculate, he had the vision and ability to find the killer ball, he could beat any number of defenders with amazing skill and of course scored some fabulous goals, and lots of them. My favourite footballer of all time without doubt, the best to watch and far and away the most skillful. At times... Absolutely mind-blowing. (Not to mention, a lovable guy). Who doesn't like Ronaldinho?!
Ronaldinho... I don't care how many cups he won for his country, his team, or the himself... Don't care how many goals he scored, assisted, or narrowly missed. All what I care about is when I like to be entertained, I look for his videos online and watch for hours; always makes me smile and often laugh out loud. Truly student of the art, the beautiful game. How many goal he scored from outside the box? How fast can he run past unsuspecting mid-fielders and defenders? He passes the ball like Magic Johnson, with his back like the Harlem Globetrotters. I call on those who arrogantly deny the truth, to ask themselves, have you truly seen him pass, score, assist, dribble, and most importantly, have you seen him smile when he does all that... He reminds me when I was a kid playing the game and enjoying it.

He is the best ever player, distant second comes Ronaldo (De Lima)
First of all I can't believe he's number 7. He is with out a doubt the greatest complete soccer player of all time. Him and Pele are at the top of the ranks. Pele because he holds most of all the records and championships in the world cup. Although there's never has been a striker quite like him before with the longevity he had in the professional soccer world. I would still say he is not the complete and ultimate player. Since I can remember Ronaldinho has been the child of prophecy that brought the soccer world to his knees with respect, grace and uncontested skill. There has never been a phenomenon like him since Michael Jordan in the sports world. It is his skill offensively that made him great. He can score when he wanted too, he can pass like no other, and he can make free kicks from long or intermediate range. He is the best long free kicker since Roberto Carlos. But besides that his ultimate skill is outsmarting his opponents with offensive tricks that leaves his opponents ...more
9
Franz Beckenbauer

Franz Anton Beckenbauer (born 11 September 1945) is a German former professional footballer and manager. Early in his playing career he was nicknamed Der Kaiser because of his elegant style, dominance and leadership on the field, and also as his first name "Franz" is reminiscent of the Austrian emperors. ...read more.
A lot of people think goals is what only makes a player great, but what about the people who keep them from happening or getting anywhere near the box?

Beckenbauer redefined what is the sweeper/libero. He mastered it and made it his with his elegant style of play, gracing the field. There was a certain arrogance to how he worked on the pitch, like he was in control - earning him the nickname "Der Kaiser". Beckenbauer was a puppet master, standing back and pulling the strings which earned whomever he was playing for every major prize.

He was always the number one threat to the other team, and he could demolish them like nothing. Franz Beckenbauer was simply extraordinary on every single level.
I really cannot understand how Beckenbauer is ranked only 10th, behind Beckham.
Beckenbauer was one most complete players ever, he was fast, had a great vision, could score like only a few strikers of his time and he was probably the best defender to ever grace the game. He ruled the entire game and won countless trophies. Sadly there are only a few videos of him available, and most of those videos only show his scoring skills. He was more than a defender, he could play basically everywhere.
Except for Pele, Franz was the greatest all around player I ever saw. Smarter than anyone playing the game today. And as a sweeper he played both defense and offense without a lot of flashy wasted movement. He made the game look so simple, till you tried to duplicate him and realized the man was pure skill and deception, who never got caught out of position. No, he didn't chalk up a lot of goals in his career... but most of the players who did received a perfect assist from Franz.
Beckenbauer was undoubtedly the most brilliant and technically sound defender of all time. He was a rock for Germany and then, after retiring as a player, he became one of the greatest coaches of all times. As of 2014, he is the only person to win the World Cup as a captain and a coach.
10
David Beckham

David Robert Joseph Beckham is (born 2 May 1975) is an English former professional footballer, the current president & co-owner of Inter Miami CF and co-owner of Salford City.. He played for Manchester United, Preston North End, Real Madrid, Milan, LA Galaxy, Paris Saint-Germain and the England national ...read more.
David Beckham is my idol. He literally does everything a soccer player could do. David beckham is probably the greatest soccer player ever would ever step foot on this earth. I would watch a thousand games of David Beckham. Besides a lot of people look up to Beckham as their idol. For example in the movie "Bend It Like Beckham" pretty much every character looks up to Beckham as their idol or hero. He just inspires so many people that it is unbelievable. He has so much talent and potential that people just love him. It is probably a honor for The LA galaxy coach to have a very talented player on his team. Beckham's parents are so blessed to have a child like Beckham. There is nothing bad to say about Beckham because he is a hero in my eyes and he inspires me.
Professional soccer player David Beckham was born May 2, 1975, in London, England. A phenom almost from the moment he could first kick a soccer ball, Beckham began playing for Manchester United, England's legendary soccer team, at 18, and was a starter by the time he was 20. He's also played for Real Madrid. In 2007 he signed a five-year, $250-million contract with the L.A. galaxy. He has also scored a amazing free kick goal in in 2001 against Greece that changed the way England plays soccer.
David Beckham has come 2nd in world player of the year twice. He single-handedly led UNited to the treble and helped Real Madrid win the league last year.
He has done everything in his power to help England, and 2 days ago he was their oldest AND BEST PLAYER!
He moved to the United States and still plays for his country when they come calling and he is the REAL England Captain
You guys are a bunch of ignorant for callin cristiano the best of all time
I'm a united fan and I can call you an idio for that!
A truly magical player, always made a difference in an england shirt which was really important to him. Absolute legend, best crosser and free kick taker the game has ever seen... Laugh out loud at those who consider Cristiano Ronaldo to be in the top 10 you obviously don't watch football.
The Contenders
11
Neymar

Neymar da Silva Santos Júnior, born 5 February 1992, commonly known as Neymar or Neymar Jr., is a Brazilian professional footballer who plays for Ligue 1 club Paris Saint Germain (PSG) and the Brazil national team as a forward or winger, and is also the captain of the national team. ...read more.
Maybe not the best of all time but I'm posting this in 2020 and he is now at the stage where he is better then Messi and Ronaldo. And I think he is the best in the world at the moment not as good as messi and Ronaldo at there peak but better then them now
Another year, another cluster of near moves for Neymar.

The constant speculation linking him to Real Madrid and Barcelona often takes away from what a fantastic year he's had, scoring 31 goals and providing 15 assists back in Brazilian football for Santos.

He had a solid London 2012 Olympics during the summer, scoring some great goals and grabbing a silver medal.
Neymar will be in the TOP 5 of all time by the end of his career, his international stats are incredible for his age, he perfroms the best in the world for his nation. 44 goals in 65 games, he will without a doubt surpass Pele's record as the highest goal scorer for Brazil, probably in less then 5 years too! If he wins 2018 World cup he will give Messi a good run... Neymar and Messi are the new Pele and Maradona.
He is really young but is already the third best player in the world right now after only Messi and Cristiano Ronaldo. He has amazing trick moves and dribbling skills and can be relied on to score the winning goal. He will definitely surpass Pele as the top scorer for Brazil.
12
Alfredo di Stéfano

My God, di Stéfano made Real Madrid what it is today. I can't believe BECKHAM and NEYMAR are ahead of him, but seeing the rest of the list I assume people are braindead
Many people seem to have no idea what makes a great player or cannot recall players of the past.
Di Stefano was the greatest with Pele second. Players like Beckham, Ibrahimovic etc should not be mentioned in the same article.
George Best was skilfull but would have been better off as a ball juggler in a circus. He would beat the same defender four times when he could have passed to a team mate with an open goal... Not a team player at all.
The greatest player of all time. Though nominally a striker, Di Stéfano had the tackling, shooting, passing and dribbling ability and (most importantly) endurance to be able to play quite literally all over the field, and excel in all facets of the game, and it is this all-around brilliance that made him the best. He is one of only 8 players to have won multiple Ballons d'Or, and was recently declared by Pelé to be the greatest ever.
It is like a joke to see players like Ronaldinho and especially Beckham above Di Stefano. The others above him like Beckenbauer or Zidane have the logic of been legends of the last decades instead of the 6 decades icon Don Alfredo. If Pelé, Maradona and Messi deserve the top 3, Di Stefano and Cruyff are two of the next 3 coming after.
13
Zlatan Ibrahimović

Zlatan Ibrahimović is a Swedish professional footballer who plays for an Italian club AC Milan and the Sweden national team for which he is captain.
Zlatan is one of the cockiest players of all time. It is hilarious though. Ballotelli does it as well but he is just mean and annoying. Anyway ibra has one of the hardest shots I've ever seen in my life. He will use both feet to just give the goalie the worst time in goal. He is very good ima mad off the ball. His attitude holds him back on the field a little bit but, he makes up for it quite a bit with his great play. He uses moves or just simple fakes to take on entire teams at one time. He can score with any part of either foot and his proved it over and over again with many acrobatic goals. He is a complete forward but not a great all around player.
Ibra is my favorite player by far. He has tremendous gifts of balance and focus. He is exciting to watch: you never know what he will do, and sometimes it is utterly breathtaking, impossible. I would put him in the top 5 all time for his complete game--as a striker with head and feet and even chest, and for his generous assists, and for his brutal defensive skills. He is a huge man who moves like a tango dancer.
I cannot believe he is not up here already, this player holds one of the most impressive highlight reels to date. Dribbling through what seems to be an entire team and promptly puts the ball in the net. Players like C. Ronaldo make many pretty moves, but do not put the ball in the net. This player does.
15th? Easily top 10. This man has scored some of the most insane goals I have ever seen. A natural goalscorer. Also he can dribble the ball with the best of them. Can pull off literally every skill in the book too. Watch a Zlatan compilation then come back and say he isn't a magician with a football... Its impossible.
14
George Best

George Best (22 May 1946 – 25 November 2005) was a Northern Irish professional footballer who played as a winger, spending most of his club career at Manchester United. A highly skillful dribbler, Best is regarded as one of the best players in the history of the sport. He was named European Footballer ...read more.
Pele himself once claimed that George best is better than him, what is wrong with you people George best was the first football superstar and he was awarded player of the year in 1968. People who saw him play claimed that he was certainly a legend after his death in 2005 people forgot of this legend who deserves to be in the top 5, people who've not seen him play can check his videos on YouTube and also read his famous quotes. I hope my comment helps you recognize a true legend.

Maradona good, pele better, George best
A player that was so far ahead of the rest that he made it look easy. From his time on the pitch to now there has never been a player that could single handedly turn defenders inside out and change the out come of any game he was in (and did many many times).

Skill that has no equal.
Insight of the game second to none.
Unparalleled self belief.
A true god of the game.

If George Best is not number 1 then there should not be a number 1 because there is no player alive or dead that deserves it more (FACT).
George had it all, balance, vision and breath taking brilliance. He was magic. His swerving runs and pace took him past the best defenders in the world, he played for fun. During George's playing days, the winter pitches became mud baths but he could still pirouette and ghost from one penalty area to another. When he was in full flight he was a sight to behold. George Best is the best footballer ever to grace a football pitch.
Ridiculous that he is this low. Half of the people who voted for messi probably don't even no who George and is just sad. It is sad that people my age just look at who is playing now and say they are the best instead of looking deeper into it. George is the best. Pele, puskas, do stefano are up there with him but nobody touches George best.
15
Ferenc Puskas

Ferenc Puskás (1 April 1927 – 17 November 2006) was a Hungarian footballer and manager, widely regarded as one of the greatest players of all time and the sport's first international superstar. He scored 84 goals in 85 international matches for Hungary, played four international matches for Spain ...read more.
The greatest footballer ever! Football is all about scoring goals and Ferenc was the greatest goalscorer ever. Just look at his record, there is no one who can compare!
Even Puskas's record for the most goals scored in a season in Spain stood until just a couple of years ago. His goal scoring in internationals for Hungary is unbelievable.
Have a look at the 4 goals Puskas scored in the great team of Real Madrid that won the 1960 European Cup - fantastic!
I am English (not Hungarian) and many years ago had the pleasure of seeing Puskas play in a charity match in England when he was well into his 40s & he was still brilliant!
He is the most underrated player in the History! He scored his 1000th before Pelé did it! He played for Real Madrid and won the 5 first Champions Leagues from 1956 to 1960. He was playing with Santiago, Alfredo Di Stéfano and Gento. Real Madrid was a dream team for football! He scored 84 goals in 85 matches for Hungary and 514 goals in 529 matches for his whole career. He scored an awesome goal with Real Madrid against Valencia C.F. in 1959 so that we name the prize of the goal of the year as the "Puskás Prize". He also won with Hungary some crazy records like the 10-1 against Mexico, the 8-3 against Germany or the 6-3 against England. He is the best left-footed player ever! He was a World Cup finalist in 1954 but he lost 3-2 against Germany unfortunately
His powerful kicks was also really presice as well! For example, on one game, he nailed a freekick, but the refere asked him to do it again. Puskas told to everyone that I'm gonna kick it exactly the same way! And so he did it and scored again! Well this days I'm watching lot a games but I've seen no one near to that confidence, precision and loveing to the game on the field! Ferenc Puskas rest in peace! Thank you!
Messi? Really? Great player but he is only good now. He will be forgotten eventually. Puskas scored 1000 goals WAY before pele did. I don't think Messi has scored 1000 has he? The dribble, the timing, the speed that he had. Better than pele and WAY better than Messi and that dang cheater maradona.
16
Eusebio (Eusebio da Silva Ferreira)

Eusébio da Silva Ferreira was a Portuguese footballer who played as a striker. Eusébio is considered by many as one of the greatest footballers of all time. During his professional career, he scored 733 goals in 745 matches.
The merit of Eusebio's achievements as a footballer surpass the 4 lines on the field. He became an inspirational icon, for many generations of footballers, not only in Portugal or Europe, but also in an entire continent (Africa). His achievements were greater than the impressive football he played, he became part of the national identity of countries like Portugal and Mozambique. Inside the field or outside it he was always a simple, humble man, who played with passion a game that we all embrace. His legacy is timeless and imortal.
Laugh out loud, Eusebio 30th? Talk about people being ignorant and not knowing crap about soccer! He's Easily top 5 material, and only people who never seen him play could think otherwise!

Come on Beckham 12? Wake up idiots! WATCH SOME SOCCER!

LOOL di stefano 40? Should be top 10!

FIGO like 50 -. -, one of the best players I've EVER SEEN, amazing dribbles and crazy crosses, the man who was there for ronaldo and rivaldo and raul!
Why is Eusebio so low on this list, just go watch videos of him, see he's goal stats for Benfica more goals then games for Benfica, over 600 goals for Benfica, won numerous titles for Benfica, including two European cups (champions league) and reached another 3 or so finals, was top scorer in the 1966 world cup. Best Portuguese player ever, easily should be in the top 10!
Everybody older or young should see this guy run drible and shoot and after that you gone know why he have the nickname black panther... The BEST AfricaN player ever! It's because of this legend I just love this amazing sport that we call football. RIP EUSEBIO the SILVA FERREIA you will be always in the Benfica and Portuguese supporters heart.
17
Garrincha

Manuel Francisco dos Santos, known by the nickname Garrincha, was a Brazilian footballer who played right winger and forward.
Garrincha was a footbal artist, a player with an unique dribbling style which resembled a drunken man trying to walk. He's an underrated footballer, perhaps overshadowed by Pele, and he should be in the top ten list. It's definitely worth seeing his videos.
Garrincha is a really unknown player, and still a legend. If it's someone who was and is better, is it just Pelè. Messi is a overrated player. Garrincha had easily run around and around Messi, who never had been near to Catch him.
The God of soccer. He is mane Garrincha. His name should be laid sharing with Maradona, and Pele. He is the angel of football, art of dribbling.
I'm voting for Garrincha simply because he is waay to low. Most people clearly don't know anything about the sport if Garrincha is only 25. He should be in the top five.
18
Zico

The best FREEKICKER of all time
TOP10 bets playermakers. TOP20 best dribblers. TOP20 best shooter/scorers.

Zico could dribble like Messi, could score many goals like Cristiano Ronaldo, but these two could never get any close to Zico in FREE KICK (even both combine in number)
The most UNDERRATED player of all time!
Zico was among the very best "playmaker" of all time (definitely TOP10)
Zico was the closest (in style and skills) to Pele (two footed and skills) = like Messi is closer to Maradona (left foot and skills)
Deadly long range shots with machine precision combined with all other football skills to the mastery level.
His name alone goes with the other single-name greats like Pele, Ronaldo and Gherson.
19
Kaka

Ricardo Izecson dos Santos Leite, commonly known as Kaká or Ricardo Kaká, is a Brazilian professional footballer who plays as an attacking midfielder for Orlando City SC in Major League Soccer and the Brazil national team.
A man who was once, just a curious boy hypnotized by perfect harmony. And the man in the middle, the conductor. Who creates balance out of chaos, beauty from turmoil, elegance from disarray. No one really knows what happened that day, but he was never the same, and he never forgot the man in the middle. Now this boy has grown up and he is as elegant with the ball as the conductor with his baton. A pure player, born from the twin mothers of intelligence and creativity. With feet that tethered to the pitch like strings on a violin. A master of control. A roaming midfielder, with an instinctive feel for the ball. Who advances man like a conductor moves music, orchestrating the game with just the right rhythm and tempo. Creating something out of nothing, with just a look and a perfect one-touch pass. Ending the match with a crescendo and a bow. Every team needs the maestro. - Adidas, The ultimate search.
He is simply the best playmaker in the history of world football. His killer through passes is like a nightmare for any defense. And his long range shoot is also fantastic. Cristiano ronaldo shoots 10 shoots but scores only one or two whereas kaka does not shoot much but every time he shoots it's a goal.
Very few on the above list are complete players. lionell Messi is known for his dribblling and so is maradona.C. Ronaldo is known for his skills, pace and shooting power, ronaldinoho for his skills. But only the complete players in the football field serve the very important duty of playmaking. Like zidane or cryuff or pele. Kaka is a complete player.

Besides that he has a great vision and flow of play.
I want to slap the list maker kaka is the legend he is the best player ever in football history no one can beat him he is even better than your list number one Messi if you search on YouTube you see kaka is better than Messi and should know now days he is weak because of his knee ingury.
20
Lev Yashin

Lev Ivanovich Yashin, nicknamed the "Black Spider" or the "Black Panther", was a Soviet-Russian football goalkeeper, considered by many to be the greatest goalkeeper in the history of the game.
This is the best goalkeeper to have lived on Earth. He is the only goalkeeper to have won a Ballon D'Or, and will probably will be the only one. He has made some unbelievable saves and I just don't know why he has always been underrated or even unknown to the general football fans.
I hate the fact that the person that made goalkeeping an important position and as a "GOALKEEPER" won player of the year is sooo underrated it's ridicules. People know casillas, they know buffon, they know nuer but how many people know Gordon banks or yashin? Not all the players that are popular are the greatest you know
Rated 94 for being the great goalie who could save tons of shots most goalies couldn't and just flat out being the best goalie of all time.
Very underrated. He made the goalkeeping position important. He's the reason anyone even cares about Casillas and Buffon.
21
Thierry Henry

Thierry Daniel Henry is a French professional football coach and former player. He is the second assistant coach of the Belgium national team.
What the hell! Zidane below messi.. And kaka, rooney, Steven Gerrard, Gheorghe Hagi, David Beckham, Jari Litmanen, Cristiano Ronaldo and messi above HENRY! Are you kidding me, he is the best striker ever to live, now some of you might be thinking about messi and maradona. They are far below this legend.. Zidane should be at number 1 as a player but definiteky henry and ronaldinho are the best as a striker.
One of the best, if not THE best player the premier league have ever had. TH14 should be in the top 10s, way better than Rooney in my opinion, lol! Arsenal wont ever have any other player as good as him for a long, long time. Only players that came close to him at arsenal would be either pires or the Dutch striker. I forgot his name, lol. I'm so stupid sometimes.
Legendary! Record goalscorer for Arsenal and France, Won the World Cup, European Championships, Premier League, FA Cup, La Liga, Champions League & Copa Del Rey.
In his prime he could dribble past 6 or 7 defenders in the middle of the park and go on to score a goal. I'm not even exaggerating!
Electric pace, Strength, Sublime finishing, Intelligence,... He had it all. Shame he never won the Ballon D'Or.
Best premier league player of all time. Got snubbed for ballon d'or twice and many people forget about his undefeated season with arsenal in 2003-04. And seriously who on earth would say to the ref in the World Cup, " yo I touched the ball don't allow that goal." He is simply a world class player and should certainly be in the top 20 of the best players of all time list.
22
Robin van Persie

Dutch footballer from Rotterdam born on August 6 1983. Currently plays for the Turkish club Fenerbahçe S.K and The Netherlands national football team as the number 11. Robin Van Persie is known for playing for Arsenal and Manchester United, though his most notable goal was his header against Spain ...read more.
In one of the only years Robin van Persie's ankle hasn't given way, it's no surprise to see him turn in consistently excellent performances that place him among the best in the world. Coming off a 30-goal season at Arsenal and a £22 million move to Manchester United, expectations were so high the Dutchman could have crumbled.
Robin Van Persie The Best Striker and Winger ever, Good technical, good shoot, and the left foot number one in the World, just stay in Arsenal and Gunners. Come on Van Persie you can do that. I trust you.
Had a great career only cut short by injury which made man Utd fell out of favor with him. If it weren't for his knee and ankle he would still bang 15 every season
Robin Van Persie is the greatest ever because he is the best in the world with his skills, abilities and performance.He also loves soccer (Footbal) and he enjoys to play soccer
23
Michel Platini

Michel François Platini is a football administrator, who served as the president of the Union of European Football Associations from 2007 until 2015, after which he was banned for 8 years following an ethics investigation by the FIFA Ethics Committee on 21 December 2015, and formerly a French football ...read more.
A real complete player: scorer, passer, very good personal technique, sense of timing, extraordinary vision of the game, very good teammate (make his partners play better), a winning mentality, respectful to others, regulars performances, and so on...
Three times European Player of the Year.
Over 40 goals for his country from midfield.
Highest scorer in Serie A 3 years running.
One of the greatest passers of the ball in history.
Highest goal scorer in European Championship history.
I rest my case.
Cristiano Ronaldo took 4 european tournaments to score 9 goals whereas he took only 1. He should be ahead of CR7 and many of the overrated players ahead of him
Come on! Platini scored the best free kick goal ever in 1984 against Portugal! He's just the best.
24
Wayne Rooney

Wayne Mark Rooney is an English professional footballer who plays for and captains both Manchester United and the England national team.
Wayne Rooney has undergone some borderline surgical changes to his game over the past 12 months, but he's coped extremely well.

A poor European Championships (again) firmly behind him, he's adapted to the presence of Robin van Persie superbly and reinstated goals to his game over the past month.

He was the Red Devils' top scorer last season, reliably turning in 27 English Premier League strikes.
He has taken the entire man u team on his back during many seasons. He is a defining player, he is in, he scores, business completed. There's not much more to say about him. The closest a player is to the "one-man team" concept in my eyes. Natural striker and astonishing finisher. Should be higher hands down.
Think he should be the 4th &I am his no1 fan. He got crazy skills & I will never let him down. I like his salto kik & his shots and dribling amazing. It's just awesome. I choose you to be my favourite soccer player. My name is gurpreet & I hope you will become the best in the world. Your skills are very great wow he is a great man. You are going to always be my favourite football player
Wayne Rooney did a awesome bicycle kick it was amazing I couldn't believe my eye I was amazed seeing that bycycle kick even my dad couldn't believe his eyes. My dad said It was the best kick he had ever seen. And also he has good skills and he is fast
25
Andres Iniesta

Andrés Iniesta Luján is a Spanish professional footballer who plays for FC Barcelona and the Spain national team.
He captains the best soccer club in the world right now. He scored the winning goal in the 2010 World Cup final. He is the best visionary to play the sport and creates so many opportunities with impeccable passes. Even though he is aging, Iniesta was named the best player at the 2015 UEFA Champions League Final. What else do you want from him? He is easily the best midfielder right now. He has been among the top nominees for the Ballon D'or in recent years and deserves at least one to his name.
Obviously Iniesta is in the Top 100 footballers of all time.
Andres is going to be the best footballer in the next 10 years
Or so. No one will ever beat Andres the beast Iniesta in the next 10 years! Iniesta should be the 11th best of all time. Againist Italy in Group Stages of Euro 2012, he made Gianluigi Buffon (the best goalkeeper for the last decade or so)jump like a frog. Iniesta is small, but he can get through footballers(Peter Crouch or Nikola Zigic)who are about 1 foot and a quarter taller than him. Iniesta has helped Spain for a long time and all matches with Spain, Rain or Shine, Iniesta would always play in the 1st team. In the 2010 World Cup, Iniesta helped Spain with a 1-0 victory over the Netherlands in the Final. Fabregas set Iniesta up and Iniesta scored the only goal in the match. Iniesta is the best Attacking Midfielder in the
World, By a long, long, long way.
The insane skill player who is ale crowds out by many players has a great flexibility and guts and neck to get through all of the challenges without losing the ball..
What's he doing at number 32. He should be right up there, below Messi at 3. I haven't seen too many players as skillful as him. The list should go like this- 1.Pele 2.Messi 3.Iniesta 4.Zedane 6.Maradona 7.Voller 8.Zico 9.Ozil 10.Ibrahimovic
PSearch List