Top 10 Best Football Running Backs of All Time
The Top Ten
1
Barry Sanders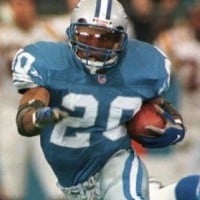 Barry Sanders is a former American football running back who spent his entire professional career with the Detroit Lions of the National Football League.
Barry Sanders is easily the best ever. Only he and Jim Brown had a full career average of 5.0 YPC lifetime. Barry ran for 19 yards on his first carry in his long career. If he had played for a team with an offensive line, he would have no doubt run for multiple 2,000-yard seasons and probably have one or two close to 3,000.

He created his own holes and got out of more situations than I can think of. He was more exciting to watch lose 3 yards than watching most great backs run forward for 70. Most electrifying, and yet, with his greatness, he was by far the most humble I have ever seen. No touchdown celebrations, never. He could have had more records, but he didn't care for records at all. He had 4 years left when he walked away. He would have had 20,000 yards for his career if he hadn't left, as he was still in prime condition.
People often compare Barry Sanders to Walter Payton and Emmitt Smith. While Payton and Smith were great running backs and deserve every bit of recognition they've received, comparing Barry Sanders to these great backs is almost like comparing apples to oranges - perhaps plantains and bananas is more fitting.

Payton and Smith both had offensive lines envied by today's NFL coaches. In contrast, Sanders did not have a solid offensive line. He often had no holes created for him. Had they counted the number of yards he ran sideways and backwards to avoid defenders, he likely would have topped the 20,000-yard mark.

Ranked as the #1 most elusive back in NFL history, there's a reason coaches and commentators would say, "You couldn't tackle this guy in a phone booth." What truly makes Barry Sanders the greatest running back of all time, though? In my opinion, it's his display of skills that you can't teach - the keen sense to switch directions on a dime, for example.
2
Walter Payton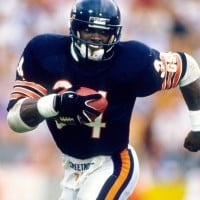 Walter Jerry Payton was an American football running back who played for the Chicago Bears of the National Football League for thirteen seasons.
"Sweetness" was incredible. He was the most versatile running back to ever set foot on the field. He could run over defenders and, at the same time, scamper out of their way. He had the best stiff arm in the business. As Coach Mike Ditka once said, "Walter could play any position," and he meant it. He could block as well as any offensive lineman in the game, hit harder than a ton of bricks, throw with as much touch as any quarterback, and catch anything thrown at him. However, he was most known for something he did when the Bears were about a yard out of the end zone: he would leap over all of his offensive and defensive linemen into the end zone. He truly displayed a never-say-die attitude.
Sweetness could do everything: run, throw, block, catch, and punish the opponent for trying to stop him. He didn't let bad team years affect his performance or make him want to quit, unlike some others. He ran for over 274 yards in a game against the Vikings while having the flu and a temperature of 102 degrees. He out-bench-pressed all his teammates, except for one (Dan Hampton), for years. Suffered a broken ankle early in his career and came back from it stronger than ever. Let's not forget his acrobatic leaps over defensive piles to score or gain necessary yardage. Defenses feared his legendary stiff arm, and rightly so. It rang a bell or two every time. When Jim Brown and Emmitt Smith were asked in separate interviews who the greatest running back was, both said, without a doubt, Walter Payton.
3
Emmitt Smith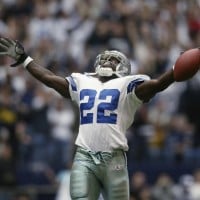 Emmitt James Smith III is a former college and professional American football running back who became the National Football League's all-time leading rusher during his fifteen seasons in the league during the 1990s and 2000s.
Quarterbacks are judged by Super Bowl wins and stats, so why not running backs? Emmitt's stats far exceed the rest of the backs on this list, and he has more Super Bowls than the rest of this list combined. He may not have had the raw skills of a Barry Sanders or the power of a Jim Brown, but what he did possess are all the attributes you look for in a football player: intelligence, leadership, durability (he only missed 14 games in 15 seasons). The list goes on. There is no need to say anymore. Emmitt is the greatest of all time.
A lot of people will vote for Barry Sanders. Let me tell you, as a Detroit fan, he was an awesome runner but not a great running back. He often put the team in horrible long-yardage situations and was the all-time leader in runs for negative yardage. Emmitt was a complete back. I hated the Cowboys, but Emmitt was good. I don't want to hear anything about the O-lines either. That is BS.
It is official: if you ever played for the Dallas Cowboys, you will never be selected by the NFL to be the #1 in anything, even if you do have the rushing record and the most consecutive 100-yard seasons. Tom Landry was correct. The NFL films calling the Dallas Cowboys "America's Team" did more to harm the "Boys" than help them.
4
Jim Brown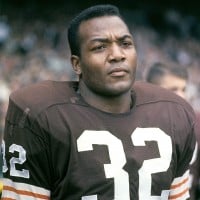 James Nathaniel Brown was a former professional American football player and actor. He was a running back for the Cleveland Browns of the National Football League from 1957 through 1965.
Brown, Sanders, and Payton are the top three. I would include O.J., Red Grange, and Bronko Nagurski in the top 10. There seems to be a lot of "recency bias" on many of these lists. Some folks need to do their homework and not just vote for those who have played in the last thirty years or so.
My older brother told me about Jim Brown. He would carry tacklers down the field with him. He would lift defenders into the air with his driving force. I've heard testimony from defensive players who hated to see him coming. It hurt to take him down.

To accumulate the stats he did while playing on a losing team like he did - not to mention he played only 12-game seasons if I remember correctly - these factors demand his being in the top 10. I also like Sayers, Simpson, and Tony Dorsett.
As with many of these lists, there are flaws, but I've seen much worse. Here are my top 10 running backs of all time, based not only on numbers but also on raw talent:

1. Jim Brown - He was the ultimate weapon at running back.
2. Walter Payton - Wasn't called Sweetness for nothing.
3. Barry Sanders - He's not number 1, but he's close.
4. O.J. Simpson - List not based on personal character or morality.
5. Gale Sayers - Kind of like the Barry Sanders of the 1960s.
6. Bo Jackson - Based on his talent.
7. Emmitt Smith - Now with RBBC, his record could be untouchable.
8. LaDainian Tomlinson - 28 TDs in '06 could also stand for a long time.
9. Eric Dickerson - Had 3 seasons of over 1,800 yards rushing.
10. Adrian Peterson - Could easily finish in the Top 5 for yards rushing if he can get his personal life straightened out.

Next in line: Franco Harris, Earl Campbell, Marshall Faulk, Curtis Martin, Tony Dorsett, Jerome Bettis, and Marcus Allen.

As good as Barry Sanders was, Jim Brown is head and shoulders above the rest as the best running back of all time. He was the ultimate combination of speed and power. I'd have to swallow hard, but I could live with Sanders at No. 2. However, Jim Brown at No. 1 is undeniable. If you saw him play, you'd know why. At 12,312 all-time yards, that record seems modest now, but it stood for at least 15 years before Walter Payton surpassed it. Numbers aside, his talent and pure power were unreal.

In my opinion, Bo Jackson was the closest thing I've seen to Brown, and I haven't seen anyone since then who has come even close. There's no telling what kind of records Bo might have set if he could have had 10 years of 16-game seasons to work with. In terms of pure talent, he was as good as any running back ever.

Like Bo Jackson, Gale Sayers' career was cut short by an injury, but his skill set was comparable to Barry Sanders. O.J. Simpson's 2,000 yards in 1973, in a 12-game season,... more
5
Adrian Peterson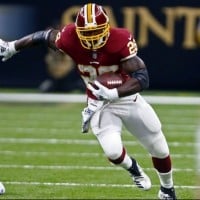 Adrian Lewis Peterson is an American football running back who originally played for the Minnesota Vikings and currently plays for the Washington Redskins of the National Football League.
Peterson's power and speed are evident to everyone who has seen him play. Three other factors weigh in favor of his continued greatness. First, his vision is exceptional. Those cuts he makes as he bursts into the second level result in Peterson "running where they ain't." Second, Peterson has an amazing 5% body fat, maintaining an overall fitness level that will likely continue to serve him well. Finally, Peterson's work ethic is legendary. His work schedule after his knee surgery, leading up to the 2012 season, resulted in arguably the finest season any runner has experienced in football.

"Iowapaindoc"
Adrian Peterson rushed for 2,097 yards in a single year. This is the second-best season ever by a running back in NFL history, only 8 yards shy of Eric Dickerson's legendary season. This man is a beast and, at the time, was the Vikings' only main offensive weapon.

The Vikings have never had an amazing offensive line to easily carry him to the top like some other backs on this list, and he's never had an amazing quarterback or receiver taking some of the tension off of him - unlike Emmitt Smith. Teams playing against the Vikings knew all they had to do to win was focus on stopping this one man, and they still failed time and time again. He truly deserves to be the best on this list.
6
LaDainian Tomlinson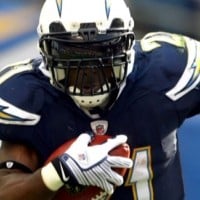 LaDainian Tramayne Tomlinson is a former professional American football player who was a running back in the National Football League for eleven seasons.
Most touchdowns in a season. First to get 1,000 rushing yards and 100 receptions in one season. Eight straight seasons with 1,000 yards rushing and 50 receptions. Fastest player to score 100 touchdowns. One of only seven players to rush for, catch, and throw for a touchdown in a single game. Broke a 46-year-old record for most points scored in a single season, which was held by a kicker. The list goes on and on. Most of all, he declined being on the cover of Madden '08 and calmly and willingly stepped down from the limelight to share a role with a young running back. I don't know how you can get any more humble than that.
I'm pretty sure no one has seen his receiving stats. He has over 1400 yards more than Barry Sanders and well over 1200 yards over Emmitt Smith, not to mention his 144 TDs in only 10 seasons. Granted, he didn't finish strong in his last years, but he still put up some yards. Also, we shouldn't use Super Bowl rings when comparing positions because it takes a whole team to win one, not just one player. That's more of a quarterback's conundrum. I think the list should go Emmitt first, then LT, and third Barry. By the way, I'm not a Chargers fan. I'm more of a Colts fan, whose hopes have been crushed by the Chargers in the playoffs more than any other team.
7
Marshall Faulk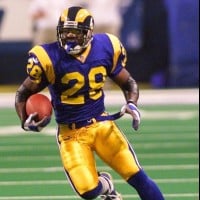 Marshall William Faulk is a former college and professional football player who was a running back in the National Football League for twelve seasons.
This guy was amazing. He could either sidestep linebackers or run them over. He easily outran defensive backs. At his peak, he was so good that he even lined up as a receiver. Faulk dismantled defenses and set many records. He was so intelligent that his coaches used to say it was like having a second quarterback on the field. A Super Bowl champion, league MVP, rushing leader, record holder, and Pro Bowler - he's a lock for the Hall of Fame.
A great runner but also a phenomenal receiver out of the backfield, probably the best ever in that role, with Roger Craig in contention. One year he was leading the NFC in both rushing and receiving through six games. In today's offenses, a back who can catch out of the backfield is a huge asset. That makes Faulk the best ever.
Faulk was my favorite of all time. Don't get me wrong. I don't mind a few of the names ranked ahead of him. However, Peterson practically gave away the game in the NFC Championship. In contrast, Faulk rarely fumbled, especially not in such a clutch moment.
8
Eric Dickerson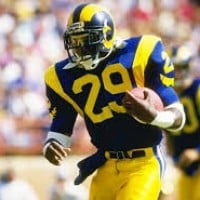 Eric Demetric Dickerson is a former college and professional American football player who was a running back in the National Football League for eleven seasons during the 1980s and 1990s.
Dickerson's rookie rushing season is the best ever in the NFL and has stood for 24 seasons. His 2,105 single-season rushing record has stood for 23 seasons. Jim Taylor held the record for most yards in a season for one year. Jim Brown broke it the next season. Brown held that record for 10 years, until O.J. broke it. Ten years later, Dickerson broke the record. He has held onto it for more than twice as long as any single-season rushing record holder has. It's time to place this feat up there with other hallowed benchmarks in sports.
I live near Detroit, and I am a Barry Sanders fan. However, I admit Dickerson was by far the best back I ever saw. He was the only player ever to never be in the players' union and never received blocking of any kind as a result. Watch his films. There is no close second, not even Sanders.
The most yards accumulated in the first 10 years. He definitely should be higher on this list. An absolute specimen. He has better physique and natural talent than all of the other backs. If he had stayed in LA, he could have possibly been the greatest ever.
9
Earl Campbell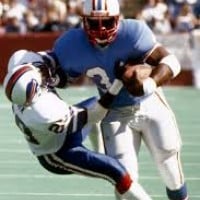 Earl Christian Campbell is a former American football running back who played professionally in the National Football League for the Houston Oilers and New Orleans Saints.
Earl was the greatest. In case most of you forgot, Walter Payton and Tony Dorsett played in his era, and neither could compare to him. He was a beast and a classy player, not like today's players. Remember, he played against the Steel Curtain twice a year. If not for them stacking the line to stop him, he would have easily broken the 2,000-yard barrier. Great player and great person. He really made the Oilers, although he would never agree because he was the ultimate team player.
Earl is underrated. Understand that this is a back who took a weak team to the AFC Championship twice, only to lose to the Steelers twice - a team that had nine Hall of Fame players on the same roster: 1) Swan, 2) Ham, 3) Green, 4) Bradshaw, 5) Blount, 6) Harris, 7) Lambert, 8) Knoll, 9) Webster. Houston had none. Everyone knew he was getting the ball. His 1,934 yards in 1980 were achieved in 14 games, not 16. In his 15th game, he had 2,025 yards rushing. He would have needed just one more game and 81 more yards to hold the single-season record.
10
O. J. Simpson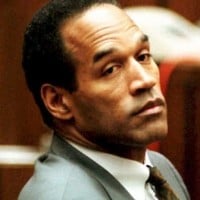 O.J. Simpson is one of the top 3 running backs of all time, along with Jim Brown and Walter Payton. That is not debatable. The rationale behind this is very clear and straightforward if you have an understanding of the evolution of the game and what it meant to run the football in the era of the '60s and '70s. Quite simply, O.J. Simpson was a world-class sprinter who could run between tackles. Look it up, people. He was on USC's world record-setting sprint relay team back in the day. World-class speed! The NFL has not seen another back like him since. He had it all: size, speed, moves. His only problem as a football player was that he played for an organization that was completely in shambles and was inept at complementing his skill until Lou Saban arrived in Buffalo. Also, O.J. played in an era where the NFL was still a developing franchise. This is a whole discussion all by itself. I could write a book on that! But in short, it makes a difference in today's game where so much money is being spent to make playing conditions better and more comfortable for these players, compared to what players had to endure a long time ago.

Most people who watch football today don't realize that they are watching an altered product compared to what it was back in the 1960s and 1970s. It is not the same game. That is not debatable either if you understand the history and evolution of the sport and the NFL. All you need to do is look at the record book and have some understanding of where the game has evolved with its institutions and rules to make it easier - yes, easier - for offenses to thrive. This also explains why O.J. Simpson isn't higher on this list and why the names that appear at the top of the list are there: because most people who watch today think it's all about these bloated stats that have been inflated by the league to keep people who don't really understand the sport interested.

Look, people, the NFL rules committee met in 1978 with the intent of... more
The Contenders
11
Gale Sayers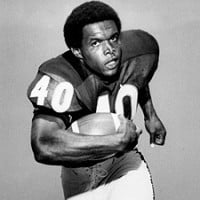 Gale Eugene Sayers, also known as "The Kansas Comet", is a former American college and professional football player who was a running back in the National Football League for seven seasons during the 1960s and early 1970s.
No doubt, Sayers should be ranked higher. Had he been playing now, with the advancements in knee surgery, he might have been at the top of this list. He was capable of scoring whenever he touched the ball. What's more, he accomplished all this on a team that wasn't very good. It's a shame that it's very hard to find video footage of him playing.
I've been watching football since 1964, and I've never seen a runner like Sayers, or anyone better. First, he was elusive. Barry Sanders is the only top back who could compare with him. He broke tackles like no one else. He seemed to run right through them. And he was fast. In the open field, he was like poetry in motion - a beauty to behold.
I grew up watching all of these players. I'm 62, closer to 63, and as much as I loved Walter's style and Jim Brown's arm chop, nobody, and I mean that, nobody had the style and grace of Gale Sayers. He was the best, just like Michael Jordan. There will never be another. Sayers was the best!
12
Bo Jackson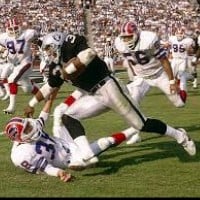 Vincent Edward "Bo" Jackson is a former baseball and American football player. He is the only athlete in history to be named an All-Star in both baseball and football, and one of few to do so in two major sports.
He ran a 4.13 40-yard dash at 6'1, 230 lbs, and had a heart the size of a whale. The greatest I ever saw. I love Barry, but he couldn't get short, tough yards like Bo and had a few too many negative yards. Walter is probably my number two because he was such a complete player, but just watch the tape. Bo was just better. And please, old-timers, stop with Jim Brown. He was as big as the defensive linemen in his day and was not any more dominant than Bo.
Name a running back that combined more power and speed, and could hit the hole or beat the defense to the corner, more than Bo Jackson? His talent was never seen before him and hasn't been seen since.

It was tragic to lose him to injury before we could see him get even better than he was.
I remember seeing this guy run a 98-yard touchdown that was timed at 11 seconds. Additionally, it was a pitch, so he ran from the middle of the field to the sideline, then 98 yards, with gear. That's crazy fast.
13
Franco Harris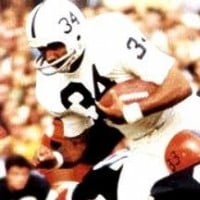 Franco Harris was an American football player. He played his NFL career with the Pittsburgh Steelers and Seattle Seahawks. In the 1972 NFL Draft he was picked up by the Pittsburgh Steelers in the first round, the 13th selection overall.
It is harder to find a more inspirational moment in the game of football than "the Immaculate Reception" and the transformative effect it had on one of the greatest teams in history, as well as on the career of Franco Harris - certainly one of the top five players in the sport. Power, speed, attitude, and luck. "I'd rather be lucky than good" - Franco was both.
People are picking guys like Bush, McFadden, and Johnson, likely because they weren't around to watch Franco back in the 70s.
He will go down in history for having one of the most memorable plays in NFL history: the Immaculate Reception.
14
Jerome Bettis
The only decent quarterback Bettis ever played with was Big Ben, and that was at the very end of his career. He was always the focal point of the offense and faced nothing but 8 and 9 man defensive fronts. The Hall of Fame awaits!
He didn't run to the side or dance around. He just plowed you over. He fit the Steelers' style very well. He also did a good job of adjusting as his speed left him with age, by running more of a fullback style.
After 12 years, he still finishes with his all-time career-high rushing touchdowns. He's unstoppable. He never even played running back until the NFL. He didn't dodge cornerbacks. He ran them over. I'd like to say he's humble, but he knows he's good. He also knows what a privilege it is to be a role model and inspiration for his city.
15
Marcus Allen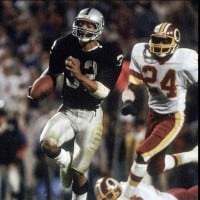 Anyone who is a student of football should know that Marcus Allen deserves to be in the top ten. He had the hands of a wide receiver and incredible breakaway speed. He was an unselfish player who would sacrifice his body for a block. Allen understood that football is a team game. What other Hall of Fame player would give up his starting position for half a year to a rookie and throw blocks for that rookie like a seasoned fullback?
I am embarrassed for everyone who has ranked him so low. Any student of the game knows he's one of the all-time greats. The fact that he's often overlooked by amateurs creating lists is a testament to his humility. But if you question his greatness, just look at his accomplishments. They speak for themselves.
What made Marcus truly great was the way he commanded a lot of defensive attention, thereby freeing up other players on his team. He was a threat whether running or catching out of the backfield and was a pretty good blocker to boot.
16
Thurman Thomas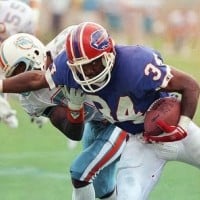 Thurman Thomas could do it all: run, catch, block, and share the ball with other star players. A team leader as well. Peyton Hillis? Darren Sproles? (Is that a joke?) Tiki Barber? Give me a break.
He was a great all-around player. Not only could he run extremely well, but he could also catch like a receiver and block like a tight end. Just an all-time great.
Not the most powerful, durable, unstoppable, or fast RB ever, but arguably the most elusive ever. Maybe one of the most complete backs ever (block, catch, run, 3rd down, fake, etc.).
17
Curtis Martin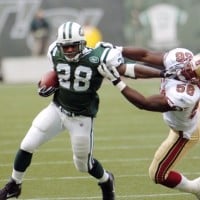 Curtis Martin deserves more credit than what people give him. He's one of the great players at his position: very consistent, reliable, and unselfish, rushing for over 1,000 yards for more than 10 seasons.

Curtis Martin will not be easily replaced. Often, greatness is not realized until it moves on. Today's players will find it very hard to achieve the same consistent level of success. The game has changed. It's more about the player than the game these days.
Curtis Martin - what a player. He was drafted in the 3rd round and look where he got. He had ten 1,000-yard seasons and probably would've had eleven if he hadn't been injured. I'd rate him fourth: Barry #1, Walter #2, Emmitt #3, and Curtis #4. He was so consistent, and even in his 10th season, he had his career year.
Come on, talk about a workhorse. Ten seasons over 1,000 yards, number four all time in rushing, with Testaverde and Pennington as his QBs, who both had season-ending injuries. C-Mart may not be as flashy as Tomlinson or Peterson, but consistency is key.
18
Frank Gore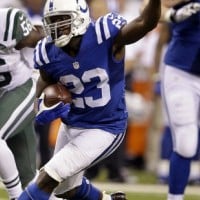 Franklin Delano Gore is an American football running back for the Indianapolis Colts of the National Football League.
He can do it all: run, block, pass. No back in the league can compare to Frank the Tank. He's the inconvenient truth.
He's a severely underrated back. Going on 10 years, he's still the most versatile back in the NFL, hands down.
He was great with the 49ers. He doesn't look right in a blue jersey.
19
Stephen Jackson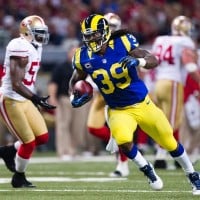 20
Eddie George
Edward Nathan George Jr. is a former college and professional American football player who was a running back in the National Football League for nine seasons.
Eddie played with the worst quarterback of all time, Steve No Completion McNair. It was easy to defend against the Titans because the only option they had for positive yards was Eddie George. The guy never got a break and had to face defenses that knew he was running the ball all the time. He would have lasted longer, but he was overworked.
He should be up there with Terrell Davis. He's one of the strongest backs in NFL history.
He never got injured until he had the Madden curse. After that, it was all over.
21
Knowshon Moreno
The guy is underrated. He could run very well when he was healthy.
22 Ahmad Bradshaw
23
Terrell Davis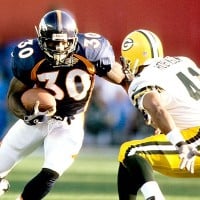 Terrell Lamar Davis is a former American football running back who played for the Denver Broncos of the National Football League from 1995 to 2001.
Too bad he does not get the credit he deserves because he played in Denver. A lot of backs got 1,000 yards in Denver's Shanahan years, but only one with over 2,000. Davis was scary on the Super Bowl teams. Elway would get them the lead and TD would run out the clock. His play in Super Bowl 32 was amazing. He probably could have set the rushing record if he hadn't had to sit out some of the game with that migraine. I really hope he will make the Hall of Fame someday. Elway had no rings until TD came to town!
Terrell is by far the best when he played. If you look back at him on tape, he had skills that I don't think any other back in the league has possessed. He won a Super Bowl without eyesight! He played well his whole career, and it's not fair he is ranked so low on the list because of an injury. He was a pure beast.
I'd take TD over any other back on this list except Jim Brown. He's simply the greatest post-season running back - hell, no one else is even in the same galaxy, let alone the same league. And he and Jim are the only two running backs in history to average over 100 yards a game for their career, including the postseason. If you want a highlight, pick Sanders. If you want to win games, pick TD.
24
Ray Rice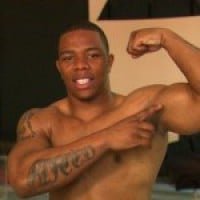 Raymell Mourice Rice (born January 22, 1987) is a former American football running back who played his entire professional career with the Baltimore Ravens of the National Football League (NFL). He played college football for Rutgers and was drafted by the Ravens in the second round of the 2008 NFL Draft. He is ranked as the Ravens' second all-time leading rusher behind Jamal Lewis, and is also second... read more
This right here is an example of how uninformed people can be. Ray Rice, LeSean McCoy, Michael Turner, Maurice Jones-Drew, etc., are much better than Peyton Hillis and Darren Sproles.
25
Darren Sproles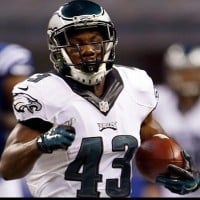 Darren Lee Sproles is a former American football running back of the National Football League. Sproles was drafted in the 4th round, 130th overall by the San Diego Chargers in the 2005 NFL Draft. He also played with the New Orleans Saints and Philadelphia Eagles.
PSearch List