Top 10 Most Overrated Athletes of All Time
It's not that they aren't great players, they just aren't everything we've been led to believe.

The Top Ten

1 David Beckham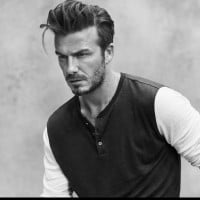 David Robert Joseph Beckham is (born 2 May 1975) is an English former professional footballer, the current president & co-owner of Inter Miami CF and co-owner of Salford City.. He played for Manchester United, Preston North End, Real Madrid, Milan, LA Galaxy, Paris Saint-Germain and the England national team, for which he held the appearance record for an outfield player until 2016. He is the first English player to win league titles in four countries: England, Spain, the United States and France. He retired in May 2013 after a 20-year career, during which he won 19 major trophies.
Saw an article in People magazine that mentioned him, his epitaph was "king of soccer. " I'm sorry, but from the games I've seen, while he's a decent player, he is not among the best, and is FAR from being "king. " He's had 17 international goals, which isn't shabby, but then there's Messi who has had 32 international goals, and doesn't allow himself to be bought and sold amongst teams. He's filthy rich and dated an American pop singer, so I can see where the affinity comes from, but at the end of the day he's an average player, and it upsets me that anyone would think to call him the king of soccer. PSG would be fine without him.
His goal/game ratio for England is appalling, Argentina was the only big team he scored against with a lucky penalty. Lucky because he missed his next three, against Turkey in 2004 Euro Qualifying, then France/Portugal in the Finals. Real Madrids worst period for years happened after he joined them. They didn't qualify for the Champions League knockout stage whilst he was there. He only got a LaLiga medal because Reyes scored a lot of goals whilst he didn't play. Then went to PSG because Leonardo must have been in love with him, even the French fans voiced their displeasure.
David Beckham isn't a terrible player, but his celebrity vastly outshone his playing ability, especially for England. Going to a garbage league (MLS) while still in his prime also suggests that he cared more about being famous than being good.
Totally overrated. He was a fine player but come on, he never had any superstar runs like they said of him as. He couldn't play like pele or any dominant soccer superstar. Compare him to the soccer legends and living legends like Messi'. Beckham doesn't stand a chance against anyone in legacy or greatness.
2
Michelle Wie West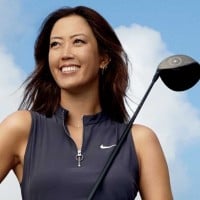 So overhyped. Famous for her long drives but not even close to being number one on the tour - and what is the difference if you can drive the ball a mile but it doesn't go where you want it. Like the pilot to the passengers good news and bad - the bad news is that we are lost - the good news is we are making good time. After the win at the 2014 open she goes on tour to all the shows - hasn't come close to winning again - probably should have stayed home and work on her game. Finally, she always seems to have an excuse why things don't go well. Hip problem, ankle injury, bee sting, heat exhaustion, wrist injury - should include fading talent. It's very possible that, with the current talent on the tour, she may never win again. But the sponsors still line up.
Definitely M Wie is overrated. There any number of female golfers who have outplayed her over the course of her career. I also think there are a number of golfers who, given the huge advantages the MW has been given, could have played just as well if not better. I think that one of the biggest problems with MW is has been that she has never been in full control of her game, there has always a team of people with her even when she was an amateur. Watch what happens when she gets in trouble on a hole, it takes her forever to figure it out what to do and usually her caddy has to be the one to decide and take the blame if it doesn't work.
She was supposed to be the next big thing in women's golf, making the pros as a teen and even playing at the Masters. Instead, Annika Sorenstam and Lorraine Ochoa became the superstars and Michelle Wie became a golf footnote.
Michelle Wie is famous because of her age and the fact she can hit the golf ball an impressive distance. People followed her the first few years because she could hit it as far or farther than many men (not all women are weaklings some are quite strong) That is indeed impressive but other than distance she has proven nothing. I have no problem with her competing against the men if she chooses but wouldn't it make sense to actually win a few tournaments against other women before you do that.
3
Shaquille O'Neal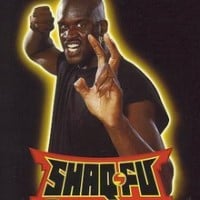 Shaquille Rashaun O'Neal, nicknamed Shaq, is a retired American professional basketball player who is currently an analyst on the television program Inside the NBA. He is known for his fun, friendly personality, and is one of the most beloved athletes of all time.
Shaq Daddy is a 7'1", 325 pound dunk machine. In the paint he is an absolute beast, but outside of seven feet he is all but worthless. We all know of his free throw woes over the years. And don't tell me about how big his hands are compared to the ball. All NBA players have large hands. Shaq has hit less then 3 game winning shots in his career and can't shoot free throws. So in a close game in the fourth quarter he is more of a liability then an asset. He has never won a championship without a superstar guard to compliment his game.
I used to be fan of Shaq, but call it being a child and not knowing anything... Because I don't know why I ever liked Shag. No wonder he does those Ice/Heat wraps, they probably. Sponser a whole body suit for him with those wraps. Considering more than most the time he's never playing because "he has a injury". Yea right... He's just a big wimp.
Shaq is legit, he was good with his skill set. Sure he could have built a city with all them bricks at the free throw line but he knew his strengths and maximised them. He ain't top 10 in scoring for being a chump.
A beast in his prime as some says. But who is his big competition? Wilt Chamberlain had Bill Russell, Kareem had Moses Malone and Bill Walton, Hakeem had David Robinson, Patrick Ewing and Shaq? Alonzo Mourning? Vlade Divac?
4
Eli Manning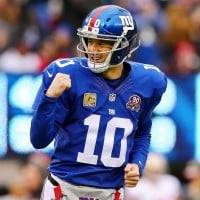 Elisha Nelson "Eli" Manning is a former American football quarterback who played his entire career for the New York Giants of the National Football League. He is the younger brother of former NFL quarterback Peyton Manning.
Eli Manning is what happens when an utterly mediocre QB rides a phenomenal defense to a couple Super Bowls and is anointed the God of Giants quarterbacks, such that he spent most of the rest of his career getting sacked while heaving inaccurate balls down the field for anyone to grab, often defenders. If he hadn't gotten a ton of lucky breaks in the playoffs to win that first Super Bowl (in which he admittedly played relatively well), he would have been an underwhelming backup on a different team within 3 years and out of the league in 5. Sharing a last name with a football legend has never done as much heavy lifting as it has trying to convince people that Eli doesn't suck.
I don't understand how people say he's overrated. Obviously he isn't as good as his brother but still a future Hof Qb none the less. Yes TEAMS win you super bowls but Eli has 2 Super Bowl MVPs as well which means he was the bed performer of the the most import at game of the year twice. Eli has 2 game winning super bowl drives and 1 against and the undefeated Patriots. You can call it luck all you want but it's hard to get that lucky twice
Eli Manning is overrated because the only reason he won two Super Bowl rings over the Patriots is because their defense sucks. He couldn't even beat the Redskins and only shows up in the playoffs. I would like to see him face a defense like the Ravens and see how bad he plays.
Eli Manning sucks! Over the last 2 seasons alone he's thrown 56 interceptions. The only reason people think he's good is because he's Peyton Manning's brother and because he best tom Brady twice in the super bowl (he got lucky). He only made the playoffs twice in his career!
5
Pelé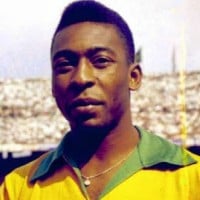 Edson Arantes do Nascimento, known as "Pelé", was a Brazilian professional footballer who played as a forward. In 1999 he was named Athlete of the Century by the International Olympic Committee and was included in the Time list of the 100 most important people of the 20th century. In 2000, Pelé was voted World Player of the Century by the International Federation of Football History & Statistics (IFFHS), and was one of the two joint winners of the FIFA Player of the Century.
I think Pele was the best footballer of his time but he is for sure not the best footballer of all time. All of these guys (Zinedine Zidane, Lionel Messi, Cristiano Ronaldo, Ronaldinho, Johan Cruyff), they were professional footballers when the level of football was too high. Also, all of these played in great clubs like Barcelona, Manchester United, Real Madrid, something Pele didn't. Pele was part of Santos a team where you can make the difference if you have a talent. Just overrated!
Played in a crap league, crap time (players now are far better than they used to be) also missed most of third World Cup and wasn't the best player in either of the others. Also says he scored 1200 goals... In friendlies and exhibition matches. Arrogant, pretty godammn slow compared to today, not particularly skilful from what I've seen of YouTube and never played in Europe
Surprising to see pele at number 2... I mean, have you ever seen a more self-professed legend ever laugh out loud! He should be ahead right at no. 1 on this list... Agree to most of the comments about him about him playing in the days when soccer was not of as high a quality as what it became late
Pele is very overrated, even in FIFA. All of his statistics are over 80 except for defending. Even his defending rating is 64, which is better than few world class defenders. There are so many more reasons why pele is overrated but I really can't be bothered to mention them all.
6
Kobe Bryant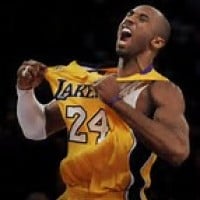 Kobe Bryant (1978 - 2020) was an American retired professional basketball player. He played his entire 20-year career with the Los Angeles Lakers of the National Basketball Association. Kobe Bryant has won 5 NBA championships with the Lakers and was the all-time leading scorer in Lakers franchise history. He Retired in 2016. He died in a helicopter crash in Calabasas, California at age 41.
Shaq won 3 for him. Paul Gasol never got the credit he deserved, even though he was in his prime when He and Kobe won the titles. Always was the right-hand man during the lakers' championship runs. Whenever he had no help, the lakers were terrible. Also I don't think Lebron is better than Kobe, but stats say so. Lebron is better in almost every scoring stat. People think Jordan vs. Kobe is a great matchup. If they think Jordan destroying Kobe is a great matchup, then they're wrong. Everyone says Kobe is in the top ten, he probably barely makes the top twenty. If I made a typo, it is because of auto correct.
Over-hyped and can't carry a team the way Michael Jordan, Shaq, Tim Duncan (although Duncan had help with David Robinson/Ginobili/Parker), Allen Iverson, Charles Barkley, Hakeem Olajuwan, Dwyane Wade, or LeBron James, or even Patrick Ewing to Finals appearances. But wait, he has 5 rings. Every one of those rings Kobe was the sidekick. He won those MVPs because he got a lot of points off of single coverage because the #1 option was Bynum/Gasol down low. Their length was the main strength of the back to back titles. When they didn't have Bynum in 2008, they got crushed by the Celtics. Also, Kobe doesn't have a signature playoff series. You can't compare a player to Jordan when he has Shaq, and old Karl Malone and Gary Payton, and he still loses to the Detroit Pistons. Kobe led teams also get beat by 25-35 points multiple times in playoff series. Because he gives up on his team, and his team gets sick of playing with him because he wants to put up numbers and get all of the glory. It's ...more
12-13 Season for the lakers is a perfect example of Kobe being Kobe. This season they had Dwight, but he wasn't the same because of surgery, so basically they lost all they had in Bynum, Metta is a good player but has seen better days, Nash would have been great, 5-10 years ago, Gasol never got the ball thanks to Kobe, the ultimate ballhog. Before the season, everyone thought it would be an instant title, that wasn't even close to the case. The reasons for Kobe's rings were Shaq, Gasol, Bynum, Fisher, and the extra support from numerous others including Metta/Artest. Now Kobe is exposed of what it's like when he does 90 percent of everything.
One dimensional scorer, who doesn't have a signature playoff game. His team has plenty of playoff wins, but Phil Jackson, Shaq, Gasol and Bynum have always been the main reason the Lakers won titles. He has relied on ESPN to make his case for him, as the NBA cannot run away from the Jordan comparison when it comes to shooting guards with any sort of similarity.
7
Joe Namath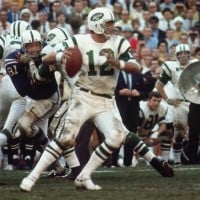 Joseph William Namath, nicknamed "Broadway Joe", is a former American football quarterback and actor.
Terrible from a statistically point of view. He's known for beating the Colts in Super Bowl 3. I say so what? The Jets defense won Super Bowl 3! Namath did not throw a touchdown and the Jets only scored 16 points.
If god forbid the Sanchize manages to do something with his career, the Jets should just stop trying to scout for talent, because apparently they don't need it to win.
His stats are terrible. If you put Roman Gabriel up against Joe Namath, Namath looks like Ryan Leaf and Gabriel looks like Dan Marino
A better actor than QB. That's why he has the nickname "Broadway Joe" and not anything football related.
8
Terrell Owens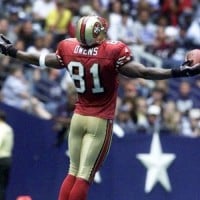 Terrell Eldorado Owens is an American football wide receiver who played for the Seattle Seahawks, San Francisco 49ers, and Philadelphia Eagles of the National Football League.
This is overrated athletes, not annoying celebrities/athletes, if you base off what he thinks of himself, yes he is over rated. But if you base off what people say about him, he isn't. He is an amazing athlete, or was in his prime, but he shouldn't be on this list. And shaq isn't over rated. He isn't the best of all time (no one said he was) but he is an amazing player. People are just jealous of the fact that he was born big.
All talk. If it wasn't for his attitude and drugs maybe he wouldn't have made it on this list, but an athlete's most important body part is his brain, followed by his heart, and then his other muscles. TO is KO'd.
This guy is a loser who has nothing to do but dump popcorn on his face & show off! He annoys me so badly... I'm glad that the cowboys got rid of him! What I'm wondering now is where he is now?
Never came up big in important games, dropped a lot of passes. Complained too much
9
Scottie Pippen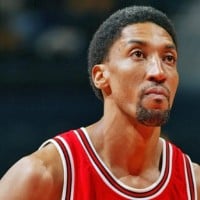 Scottie Maurice Pippen is an American retired professional basketball player who played in the National Basketball Association.
He was a great Robin to Michael Jordan's Batman. However, he was not a guy you can build a championship team around like so many people think. His bad performances during the 2nd 3-peat don't get talked about enough. Yes Pippen is worthy of being a Hall of Fame, yes he did have that MVP caliber season in 1994. However, he fell flat on his face during the 1994 NBA Playoffs and the Bulls took the Knicks to 7 games in spite of Pippen not because of him. He is probably a top 40 player of all-time. No way is he top 20 like some people suggest.
I mean, I am very sure this man cannot win 6 rings without Jordan, not even one. He Only averaged more than 20 points per game 3 times his career, and choked away a 3-1 lead against the eventual champion Kobe & Shaq led Lakers, which was the biggest choke of all time before the 2016 Warriors choked a 3-1 against the Cavaliers in the NBA Finals. This man is a great defender, but people act like he was a great offensive player too because of the Jordan effect.
He took the backseat for jordan and the bulls. He was a great defender and shot 50% from the field. If he want his numbers to go up he could've taken like five extra shots. When jordan left to play baseball, scottie pippen carried his team to the ecf and came third in mvp voting.
The answer to your question is that Michael Jordan was so great that he earned two spots on the NBA's 50 greatest players list, one for himself and one for Scottie.
10
LeBron James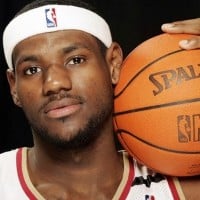 LeBron Raymone James is an American professional basketball player for the Los Angeles Lakers of the National Basketball Association. LeBron has played for the Cleveland Cavaliers, Miami Heat, and the Lakers.
If LeBron kept his mouth shut and focused on playing basketball, rather than trying to convince everyone of his own greatness, he wouldn't be on this list. But he is so desperate to be in absolute control, to be beloved, and to be regarded as the best that he sabotaged his own career by playing GM and lost more Finals than he won. Not to mention, he keeps trying to convince people that he is intelligent and well-informed, but everything he says and does makes him come off as a big dumb try-hard.
He's earned his spot as one of the best. He was stuck on a mediocre Cavs team for years and needed Miami to win a championship because no man can do it all by himself.
I don't get why people call him the GOAT. He obviously ain't never no MJ, or even Bill Russell or Kobe. He has less rings than 26 other NBA players. When he lost with the Heat, he returned to the Cavs after just abruptly leaving them.
Fast player but no Jordan and his whole career, people have tried to compare him to Jordan. This has nothing to do with him,but where they went wrong was comparing him to Michael Jordan. I think he plays different drive goal get foul all the time. I don't feel he's as accurate as Jordan.He's about to lose 2 champs back 2 back right now. He is literally the whole team for the Cav's. Curry sucked bad during play offs.
The Contenders
11
Danica Patrick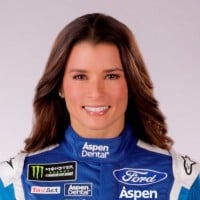 Danica Sue Patrick is an American professional racing driver. She is the most successful woman in the history of American open-wheel racing—her victory in the 2008 Indy Japan 300 is the only female win in an IndyCar Series race.
Lots of people don't win anything as a pro. Few people don't win anything with as much hype as Danica. Congrats, you were a female driver. Sadly, you weren't a good driver.
She is not good enough to handle a gen-6 car. She should go down. She is not good enough to be in the allstar race.
Danica Patrick isn't even an athlete. She drives a car in a circle 500 times, there's nothing athletics.
Her career is basically built on the fact that she's pretty and can get sponsors.
12
Cristiano Ronaldo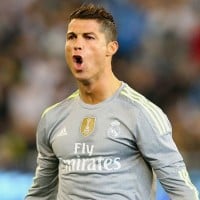 Cristiano Ronaldo dos Santos Aveiro (born 5 February 1985) is a Portuguese professional footballer who plays as a forward for Serie A club Juventus and captains the Portugal national team.
True. Cristiano is the most followed person on Instagram, with 374 million followers, isn't as good of a footballer as Lionel Messi, and when people talk about football they talk about this guy. Even Usain Bolt, the world's fastest person, said in his biography that Manchester United, Cristiano's team, was his favourite team.
He is best in scoring goals but he is not good as Messi. Well he is so good in taking chances but Messi creates chances and takes chances brilliantly. He is best but I think he is overrated.
He is a great player with great numbers , but diving , lack of quality dribbling & depending mainly on penalties & Tap_ins to score goals make him the most overrated player of all time .
Some people call him the best football (soccer) player in all of history... I find that far from true... I do not deny his skill though...
13
Babe Ruth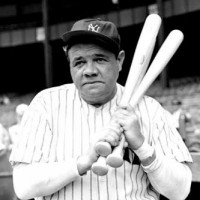 George Herman Ruth Jr., better known as Babe Ruth, was an American professional baseball player whose career in Major League Baseball spanned 22 seasons, from 1914 through 1935.
Accomplished in an era without steroids. Fat and unathletic but he could hit home runs and pitch superbly as well. He shouldn't be here.
Played against only white players who had other jobs in the winter and didn't even work out. Please. Good for his time, but one of the most overrated. Old people just can't get over the fact he played against mostly just average white guys.
714 home runs is nothing to BS about, but the guy was a fat drunk who could hardly run. Sure, he was pretty dang good when he pitched, but then the stardom got to him. For his time he was God, and some still see him that way, but the time have changed folks.
Let's be honest here. The Babe played in a time when baseball was in its infancy and many of the best athletes weren't allowed in the league. Today, Ruth would be stuck working as a DH in the minors.
14
Johnny Manziel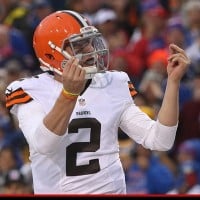 Jonathan Paul Manziel is an American professional Canadian football quarterback for the Montreal Alouettes of the Canadian Football League. He was drafted by the NFL's Cleveland Browns with the 22nd overall pick of the 2014 NFL Draft. Towards the end of the 2015 season, Manziel endured numerous scandals, including the infamous story that he was in Las Vegas instead of in Cleveland with the team that weekend. The team confirmed that Manziel did miss a scheduled check-in on the morning of the last game of the season, and he was released in March of 2016. He is often considered one of the biggest draft busts in NFL history.
When he made his first start for the Cleveland Browns, it was deja vu of him 2 years ago of him running around people. He still sees it as college ball. There is a clear difference between college and professional. In college, it mostly works when you run around a guy. In professionals, defensive ends are not naïve, and do not miss tackles of a QB sneak. Also, if you want to be a professional quarterback then you have to use your arm more often than your feet. Manziel just might as well just become a running back if he wans to use his feet more.
I don't know if he ever was ever rated that highly by anyone but the media. He's pretty much done now, unless another World Football League pops up or something.
ESPN won't Shut up about him. Stop it already his gone leave em be never bring him up again.
Luckily he was released
15
Mike Tyson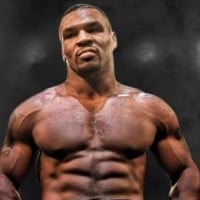 Michael Gerard Tyson (born June 30, 1966) is an American former professional boxer who competed from 1985 to 2005. He reigned as the undisputed world heavyweight champion and holds the record as the youngest boxer to win a heavyweight title at 20 years, four months and 22 days old.
Mike was great, really, he was. But he was massively overrated. The excuses his fanboys make over him losing:

Buster Douglas: He wasn't focused, he was on drugs!
Evander Holyfield: He went to prison, he was high!
Lennox Lewis: He wasn't in his prime, Lewis ducked him for years!

He just lost, deal with it.
Tyson fought mostly average boxers and when he did fight elite boxers he lost. Someone list 5 elite boxers he beat?
Great puncher, yes. Great boxer, no. Tyson wouldn't have stood a chance against the best boxers in their prime.
His poor mother was chucked down the stairs and he bit of someones ear off this guy is mad and annoying.
16
Ronaldinho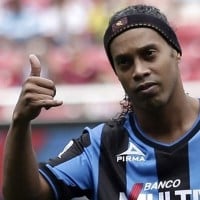 Ronaldo de Assis Moreira (born 21 March 1980), commonly known as Ronaldinho Gaúcho or simply Ronaldinho, is a Brazilian former professional footballer and current ambassador for Barcelona. He played mostly as an attacking midfielder, but was also deployed as a winger. Often considered one of the best players of his generation and regarded by many as one of the greatest of all time, Ronaldinho won two FIFA World Player of the Year awards and a Ballon d'Or. A global icon of the sport, he was renowned for his technical skills, creativity and dribbling ability, as well as his use of tricks, feints, overhead kicks, no-look passes and accuracy from free-kicks.
Had some cool moves, but got his ass handed to him by a very old Zinedine Zidane and drank himself out of competitive football in his late 20s. Looking back, he reminds me more of those professional football dribblers or trickshot artists than someone who wanted to be a member of a professional football team.
People just love to say he's the best player in history but he only had like 2-3 good seasons then he lost his skill. He was always a lazy player and that's why he sucks
Overrated. I can't for the life of me understand why people think this guy is even on the same level as the GOAT Cristiano Ronaldo
He's slow but probably the best skilled player ever.
17
Manny Pacquiao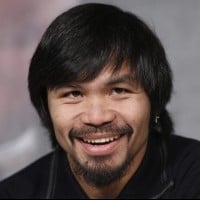 Emmanuel Dapidran Pacquiao is a Filipino professional boxer and politician, currently serving as a Senator of the Philippines. He currently ranks #4 in BoxRec's ranking of the greatest pound for pound boxers of all time.
Overrated? Probably. Mostly because boxing is in a lull right now and no one really cares about boxing in general. The only decent fighters out there for him are all over 30. Plus, the stigma of possible PED usage seems to be a real one. I really don't like Floyd Mayweather, but if Manny is a good as he says he is, why does the blood test matter? Someone's covering something up.
He is waay overrated! He robbed Marquez... more then three times? How does that show integrity and honor? What a fake!
18
Michael Jordan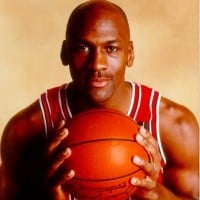 Michael Jeffrey Jordan, also known by his initials, MJ, is an American retired professional basketball player.
He was very good, but not even the best of his time. He had to wait for Abdul-Jabbar and Bird to retire, in order to win his first MVP & Championship.
He is one of the greatest don't get me wrong but I don't think he is the undisputed greatest athlete of all time.
Put Kareem, Wilt, Bird, Russell, James, Bryant, Magic in the same era, and MJ wouldn't dominate.
When you sneezed in his directions, refs gave this bastard two free throw attempts.
19
Stephen Curry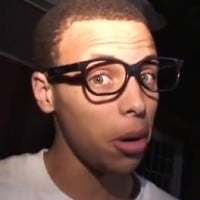 Wardell Stephen Curry II is an American professional basketball player for the Golden State Warriors of the National Basketball Association. Many players and analysts have called him the greatest shooter in NBA history. He is one of the most beloved, as well as hated, stars in the NBA today.
In my list he's the 8th best in the nba right now. There are so many little kids that somehow think he's better than Jordan, its mind-blowing how good they think he is. He is the best shooter of all time. Shooter. That's it. He does few other things at an elite level.
You can't say someone's your favourite basketball player just because they're the point guard of the team that just won the championship. That's stupidity.
Yeah so true
The kids in my 5th grade class have started a Steph Revolution. Slogan? "Eat Curry! "
20
Alex Rodriguez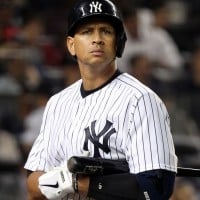 Alexander Emmanuel Rodriguez, nicknamed "A-Rod", is an American former professional baseball shortstop and third baseman. He played 22 seasons in Major League Baseball for the Seattle Mariners, Texas Rangers, and New York Yankees.
He might be good, but he is normally considered better then he is.
He did bang Cameron Diaz, so he's got that.
21
Colin Kaepernick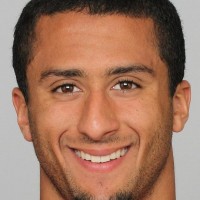 Colin Rand Kaepernick (born November 3, 1987) is an American football quarterback who is currently a free agent. Kaepernick played college football at the University of Nevada, where he was named the Western Athletic Conference (WAC) Offensive Player of the Year twice. After graduating, he was selected by the San Francisco 49ers in the second round of the 2011 NFL Draft. ...read more.
If you ignore all the BLM/activism stuff, you will see a C-tier former NFL player.
22
Tiger Woods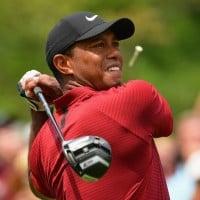 Eldrick Tont "Tiger" Woods is an American professional golfer who is among the most successful golfers of all time.
He was on pace to be the greatest of all time, but something sure happened. His skills didn't go downhill, they fell off a cliff. I'm sure his knee issues enter into it, but it seems like it's at least partly psychological as well.
Most overrated by far even over pele, nicalus was so much better, and maradona was so much better than pele it's not even funny!
All he does is play golf... he might be the greatest golf player of all time... but how "athletic" do you have to be to play golf... his caddy does more heavy lifting than he does. there's a lot of better athletes than him.
Golfer aren't really athletes. Old people and celebs play golf to relax :P
23
Emmitt Smith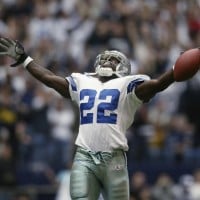 Emmitt James Smith III is a former college and professional American football running back who became the National Football League's all-time leading rusher during his fifteen seasons in the league during the 1990s and 2000s.
The best RBs in football like Jim Brown, Walter Payton, and Barry Sanders, all left before their skills completely fell off a cliff. That said, if any of them had stuck around for 5-6 more seasons after they stopped being elite, like Smith did, then they would still have the rushing record. Smith is the epitome of a player well past his prime sticking around just to break a career total record and, in the process, largely tarnishing the legacy of the prime of his career.
Good runner, great offensive line. Most running backs would be happy to line up behind four different pro bowl linemen in a career but in the 1995 Super Bowl Emmitt had four pro bowlers in front of him at once. And that doesn't count the pro bowl full back blowing up the holes, the pro bowl tight end drawing the attention of the linebackers, or the pro bowl quarterback and wide receiver keeping the secondary honest. Half the backs in the league would have put up hall of fame numbers in a setup like that.
He has to be the most overrated running back of all time. Imagine Barry Sanders behind that line or Walter Payton... I mean come on anybody could break records with 4 all star caliber lineman blocking for you.
Has no highlight reel. Watch Earl Campbell footage for comparison. Emmitt was slower and smaller than most running backs in his combine class. He had good vision and awareness.
24
Russell Wilson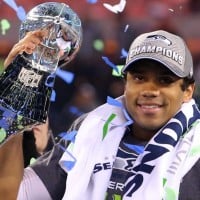 Russell Carrington Wilson is an American football quarterback for the Denver Broncos, and formerly for the Seattle Seahawks of the National Football League.
No, I don't think so. Terrific leader, another one with a great future.
25
Cam Newton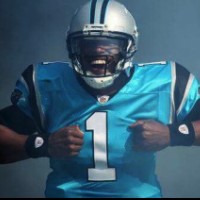 Cameron Jerrell Newton is an American football quarterback for the Carolina Panthers of the National Football League. He had previously played with the Carolina Panthers from 2011 to 2019, and for the New England Patriots in 2020. In November 2021, he signed with his old team, the Carolina Panthers.
Stole a laptop in college; stole millions of dollars in salary from the NFL by pretending to be a professional QB. He is perhaps the best exemplar of an era of quarterbacks where the ability to run completely blinded everyone to not only a lack of throwing ability, but extremely poor judgment.
I can see it's been awhile since anyone's made an entry here. It's 2016, and Cam's 15-1 Panthers just lost the Super Bowl to the Denver Broncos. Despite the setback, I think Cam is tremendously gifted, made great strides this year, and has a great future ahead of him.
Hey, what's with the hate? Screw the haters! I'm pretty sure there are teams worse than the Carolina Panthers! The Carolina Panthers would be more worse without him.
Yea more turnovers than touchdowns and his team is 1-6. Worst QB in a declining league screw him screw the panthers and screw Auburn's' cheating ass for paying him
PSearch List