Top 10 Turkish TV Series
The Top Ten
1
Ezel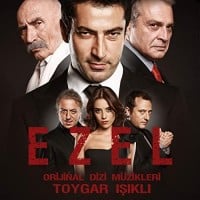 Turkish series of about 90 minutes with 71 episodes.
I started the series two and a half years ago with great enthusiasm and finished as of today. Since I thought I had a connection with the series, I could not have written something.

a series that really is from life and tastes every emotion to man. family life, friendships, relationship with the lover includes all kinds of events and examines these events one by one with the beautiful voice of Tuncel Kurtiz.

The series was very fluent at first because the past and present time was too much. so while I was watching the first episodes, I felt myself in the series. but then the script began to repeat itself. I think that this problem was partially overcome by explaining Uncle Ramiz's life in the following chapters.
It's a great show. A legendary series with script, lines, characters and music. The actors are enormous. I think it should be among the world classics
The best ever
It's so complicated but its ok
2
Leyla ile Mecnun
First of all there is no T.V. series in Turkey as leyla ile macnun. secondly so stupid and so funny
I can't understand some jokes
Leyla ile mecnun is the best
This ship never come back :(
3
Ask i memnu
It is the most addictive turkish series I have ever watched. The music is so heart touching and acting is fabolous.
Best T.V. show of all time
World-level excellence.. will be the Turkish cinema classic, when many other serials would be forgotten.

The plot line of Beşir - so serious, true
This series is the only best turkish T.V. series in my opinion...and I love beren saat and kivanic together...BEREN SAAT IS SO HOT!
4
Binbir Gece-1000 & 1 Νύχτες
The most amazing thing whit this serial is that the main roles, Sheherazad (Bergüzar Korel) & Onour Aksal (Halit Ergenç), marries in reality! That's very cool, isn't it? This is a must-see turkish serial!
5 Gumus-Ασημένια φεγγάρια
6 Kismet
7 Oses Turkiye
8 Guldur Guldur Show
9
Feriha
Feriha is the best...that's called a true. Love story
That tragic ending wrecked me
Feriha should be number 1
10 Survivor
The Contenders
11
İçerde (INSIDER)

It was an incredibly beautiful series. The characters are incredible. The scenario is enormous. we watched with pleasure. we watched with excitement. continuous reverse corner and interesting scenarios. Turkey may be the best series
Look like departed from 2006 movie
Perfect
Most epic
12
muhteşem yüzyıl
Although I assume that this ranking and list are relatively old ones, frankly; there exists by far better series now.
This serial shows the history of Turkey, and actually the history of the world! This is a must see for everyone!
IT should Be number one
The best serie forever. Even though there are newer series now, IT remains the best forever. I still watch it
This serial is historical... I love it.
13
Menekse ile Halil
Please, don't tell me this isn't a piece of crap.
14 Aci Hayat-Το αγιάζι του έρωτα
15
Fatmagul
This is not a show for superficial people who are looking for their next guilty pleasure. This is a show that teaches an important lesson, with a beautiful and unique love story. Loved this show.
This is a different drama that shows how an impossible love can be possible. I love it.
Best drama in the world due to story cast and characters. Best best best drama in the world. I like engin akyurek and beren saat in this drama. I am big fan of engin akyurek.
Best drama best than aski memno
16 Kardeş Payı (BROTHER'S SHARE)
17 Carkifelek
18 Xfactor
19 Kelime Oyunu
20 Ben Bilmem Esim Bilir
21 Iste Benim Stilim
22
Oyle Bir Gecer Zaman Ki
It should absolutely be on the top of this list. One of the best series I've ever seen. Amazing, it has it all!
It should be number 1
23
Karadayi
Karadayi shouldn't be on this list because it is just a crappier version movie Kabadayi. Seriously...
24
Kurtlar Vadisi Pusu
Polat Alemdar is immortal
25 İşler Güçler
PSearch List