Top 10 Ugliest Celebrities
Starlets... some are not, some are not. So many that we had to make a list for it.

The Top Ten

1 Justin Bieber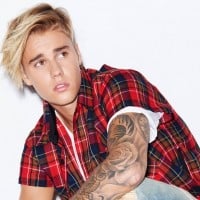 Justin Drew Bieber (born March 1, 1994) is a Canadian singer, songwriter, and record producer. He currently resides in Ontario, Canada and is Christian. He is the son of author Pattie Mallette. ...read more.
I don't know why, but I REALLY get triggered by him. Hear the story about him stealing an old ladies car? What about that time- wait no, millions of times- that he ruined the lives of people living next to him with really, really loud parties? And his voice... oh his VOICE. It mesmerizes me how anyone can stand to hear him TALK. I mean, sure, he can be talented, if you have some type of sick preference of horrible people, but GOD.
I can't talk any more XDXDXD #Triggered.
I'm glad america finally agrees with me. I've been a Bieber hater since 2009. No talent, can't think for himself, can't write his own music cause god knows "co wrote" means adding your name and a single word somewhere. He truly doesn't deserve to be famous.
What a muppet. Would love to see him start fights with the paps when his bodyguards were not there to protect his bony little backside. Looks like Ellen with a hair dye job
He is only popular because of his looks, and he's not even THAT good-looking. If you think he's handsome, you need to get your eyes checked.
2
Marilyn Manson

Brian Hugh Warner, better known by his stage name Marilyn Manson, is an American musician, songwriter, actor, painter, multimedia artist, author, and former music journalist.
Oh my god. I have never heard of this person, but this picture made me believe in vampires! *hanging a garlic necklace on my neck*
Well, he's not trying to look hot.
He purposely ugly so I'm not mad
He looks like roadkill
3
Donald Trump

Donald John Trump (born June 14, 1946) is an American businessman, television personality, politician, and the 45th President of the United States. Born and raised in Queens, New York City, Trump received an economics degree from the Wharton School of the University of Pennsylvania in 1968. In 1971, ...read more.
Every single member of the Alt-Right is repulsively ugly, mentally challenged, and genetically/intellectually inferior. They are not capable of creating or developing strong civilizations, but only destroying them.
Everyone who voted for this douche is a slow and useless hoarding bimbo who is unable to accomplish anything on their own and always has to nag others (in a voice that would cause even Jar Jar to tear his ears out) to help them do it.
Makes me wanna vomit. Not only because of his personality, 'cause he also made me nauseous before I knew what a disgusting person this is.
What's with that orange face and that rug on his head. It doesn't change the head of a moron. Who ever voted for this racist pig are just as ignorant as Trump.
4
Kim Kardashian

Kimberly Noel "Kim" Kardashian West is an American reality television personality, actress, socialite, businesswoman and model.
I can't believe anyone could possibly be able to believe Kim Kardashian being pretty. Every part of her body is fake. Her rear end is hideous. She's self centered and an egotistical jackass like her jerk husband. She beyond a reasonable doubt, the ugliest woman on the planet.
Kim Kardashian is an embarrassment to herself. She thinks all the plastic surgery and butt jobs that she's gotten makes her look good. She also wears too much fake tan, stick to real tanning because you look like a pumpkin a lot.
She's the ugliest being that came out of Kris Jenner's vagina and look at her now, more botox added to her face it make her even moe ugly. Now she starting to looks like Mr. Limpet the fish.
She has a bowling pin shape. A hideous rear end. Just a stupid, no talent, and ugliest woman on the planet. Her husband, a no talent jackass, a complete moron.
5
Miley Cyrus

Miley Ray Hemsworth (born Destiny Hope Cyrus), known as Miley Cyrus, is an American singer, songwriter, and actress. She was born on November 23, 1992, in Franklin, Tennessee, to Tish Cyrus and Billy Ray Cyrus. Her voice type is Mezzo-Soprano and has 4 octaves. She became a teen idol starring as the ...read more.
I don't think she is ugly at all. U guys are just jealous. She is beautiful. She is a but rebellious but there is no denying that she is beautiful, talented and a successful women. She has such a pretty face and eyes! In fact you ought to be ashamed of yourself. Who the hell are you to judge people on the basis of their looks and not thier talent. Helen of Troy?
She looks like the typical inbred southern. Big horse teeth. Gigantic head on a little skinny body. I can't see how any guy would kiss her after all the random dicks she had in her mouth.
She should really stop twerking because she's not also has no ass. I never thought I would say this but I would rather see Nicki Minaj twerk.
I would rather have sex with a guy than her and I am straight
6
Jack Black

Thomas Jacob "Jack" Black is an American actor, singer, musician and comedian. His acting career has been extensive, starring primarily in comedy films. Black is the lead vocalist of the comedic rock group Tenacious D, which he formed in 1994 with friend Kyle Gass. They have released the albums Tenacious ...read more.
Sure he's ugly, but if he was attractive he would be so much uglier. His ugliness is what makes him him, how else would he have a wife?
He actually looks good
Stfu he is beautiful
Okay okay. Just because this dude was in muppets does not mean I still don't like.😡
7
Sarah Jessica Parker

Sarah Jessica Parker is an American actress, producer, and designer. She is best known for her leading role as Carrie Bradshaw on the HBO television series Sex and the City.
Sarah Jessica Parker has too much awesomeness for you guys to respect. You're just jealous! I wasn't alive in the 1980's (I'm only twelve) but I've seen all her 1980's movies, and she was so much prettier than most of today's actresses. (especially as Carolyn in Flight of the Navigator and Janey in Girls Just Wanna Have Fun. ) You rock, Sarah Jessica! Keep going with your career and don't listen to any of those haters out there who judge you just by your appearance. Here's a special message for all you SJP haters: You can't judge a person you've never even met by their looks. She has a great smile, and she's my best friend even though I don't know her personally. I have autism and no friends at all. SJP is my only friend. So stop picking on her, YOU BIG SCUZZ-BUCKETS! She is beautiful in her own way!
I never watched Sex in the City because I very much dislike the horse-face that I would "see" when I looked at her. I wondered if I have been alone with my "yuck" impression about casting her in a program with that title. Why would "Sex in the City" feature someone with those unsexy facial characteristics? She looks as if she could be an excellent swim coach; nicely toned and balanced bod.
well that's all a little bit to mean for me and I can be a really mean girl. now that being said she may not be the most pretty women that I have ever seen but she did a wonderful job in sex and the city and I have seen all of them.
As she has aged, as we all do, the horse within came to the forefront. Oh well, she looked pretty good for a long time. StocktonRob
8
Lil' Wayne
As much as I hate Bieber I have to admit Lil Wayne is way worse.
How is this skank number 12
You just got to many tatoos
9
6ix9ine

Daniel Hernandez, known by his stage name 6ix9ine, also known as Tekashi69 or simply Tekashi, is an American rapper.
Dude you used a 13 year old girl in one of your videos and used her for sexual movements. You forced her to sit in your lap and before she even sat down you slapped her but. This is just horrible just horrible.😡
He looks like rainbow dash on drugs
He's pretty ugly.
10
Nicki Minaj

Onika Tanya Maraj, known professionally as Nicki Minaj (born December 8, 1982) is a Trinidadian/American rapper / pop music artist. Minaj is most known for her songs such as "Anaconda", "Super Bass", "Starships" and her feature on "Bang Bang". ...read more.
Fake fake fake and more fake. Gross implants on her butt and boobs. Horrible role model to children of all ages. Acts like shes all that. Honestly, no real talent. And just overall an annoying human being.
She looks pretty ugly when you tried to look at her face...
She's fake. That's all I'm gonna say.
You just got a big behind
The Contenders
11
Lady Gaga

Stefani Joanne Angelina Germanotta, known professionally as Lady Gaga, is an American singer, songwriter, and actress. ...read more.
All the people insulting her for being ugly don't realize that that is the point
She's not ugly but she tries to hard to be unique.
Tries too hard to be unique and interesting
Not ugly at all in fact quite beautiful
12
Elton John

Sir Elton Hercules John CBE is an English singer, pianist, and composer. He has worked with lyricist Bernie Taupin as his songwriting partner since 1967; they have collaborated on more than 30 albums to date.
Sure he may not look perfect, but he is very talented. I'm guessing the person who put him here only cares about appearances and not talent
He is very ugly. But has talent. He and Donald Trump need to be 1 & 2.
What an idiot. Throws tantrums for no apparent reason other than just the fact he is an over hyped media whore. Getting on the princess Diana bandwagon was just cringeworthy.
13
Lindsay Lohan

Lindsay Dee Lohan is an American actress. She is also a model, singer, songwriter, director, and producer.
She looked gorgeous before plastic surgery.
Drug user, terrible skin and too thin
14
Marilyn Monroe

Marilyn Monroe (born Norma Jeane Mortenson Baker; June 1, 1926 – August 5, 1962) was an American actress, singer and model. Decades after her unexpected death, she has remained one of Hollywood's greatest sex symbols with her eye-catching style, champagne blond hair, and breathless manner of speaking. ...read more.
ARE YOU CRAZY? You kids of today have no respect for true beauty. Marilyn was known for being a very pretty woman!
I got a picture of you in my room you are the best
I thought Marilyn Manson was twice on this list. I was gonna go biserk.
She's actually gorgeous.
15
Hillary Clinton

Hillary Diane Rodham Clinton is an American politician who was a Democratic presidential candidate in the 2008 and 2016 elections.
Unfortunately, Pete Davidson thinks she's hot. He has a Hillary Clinton tattoo. Sorry, but, there is one person that's in love with her.
Mean? She deserves it! Ugly and frustrated. Can't even give her man sexual pleasures!
OH YES Hillary Clinton is one of the ugliest people I have ever seen. she make's my eye's hurt.
Come on guys that's just mean.
16
Jay-Z

Shawn Corey Carter, known by his stage name JAY-Z, is an American rapper, record producer, entrepreneur and investor born on December 4, 1969 in Brooklyn, New York. He is best known for his albums Reasonable Doubt, The Blueprint, and The Black Album. He is considered to be one of the best rappers of ...read more.
Maybe even uglier than Mark Anthony and Casper!
I got a Wii U you want it come in get it
Uglier than a pig.
17
Jonathan Antoine

Jonathan Antoine is a classically trained English tenor. He rose to fame after appearing on the sixth series of Britain's Got Talent in 2012 as one half of the classical duo Jonathan and Charlotte.
Just voted him to comment! Got to say that if those people in the list are ugly, I guess my beauty level is somewhere between an orc and Freddy Krueger - and combine this with a body fitness of Globglogabgalab!

There's many celebrities I don't like in this list for other reasons, but they are NOT ugly. What comes to Jonathan Antoine, he isn't ugly - even if he may have a good plenty of extra (this celebrity frankly reminds me of Maui from Moana, however)
18
Pink

Alecia Beth Moore known professionally as P!NK, is an American singer, songwriter, dancer and actress.
NO! Pink is not ugly! She does not deserve to be on the list!
She's beautiful inside and outside
19
Rosie O'Donnell

Roseann O'Donnell (born March 21, 1962) is an American comedian, actress, author, and television personality. She has been a magazine editor and continues to be a celebrity blogger, a lesbian rights activist, a television producer, and a collaborative partner in the LGBT family vacation company, R Family ...read more.
I got a Xbox if you want come and get haha ride on it
20 Aaron Judge
21
America Ferrera

America Georgine Ferrera is an American actress. Born in Los Angeles, California, to Honduran parents, Ferrera developed an interest in acting at a young age performing in several stage productions at her school.
She's gorgeous
22
Aubrey Plaza

Aubrey Christina Plaza (born June 26, 1984) is an American actress and comedian. She is best known for her role as April Ludgate on the NBC sitcom Parks and Recreation. After appearing in supporting roles in several feature films, Plaza had her first leading role as Darius Britt in the 2012 film Safety ...read more.
23 Flava Flav
24
Melania Trump

Melania Trump is a Slovenian-American former fashion model, and a former First Lady of the United States, as wife of the 45th U.S. President Donald Trump. She was born in Novo Mesto, and grew up in Sevnica, in the Yugoslav republic of Slovenia.
She's pretty, just dumb asf
WHAT THE HELL PEOPLE? SHE IT ONE OF THE MOST PRETTY WOMEN I HAVE EVER SEEN. I LIKE HER COME ON BE NICE.
25
Taylor Swift

Taylor Alison Swift is an American singer-songwriter. ...read more.
You loOK like a Siamese cat and your not cute just because you think you are. Also I don't know what you did with your hair but you look like a crazy cartoon character. You also need to not starve yourself being skinny is fantastic being anorexic is not healthy.
She always blames every guy in her relationships and always thinks she is perfect. Maybe they got tired of looking at you. Your really not hot and less than average at most. You look like a single mom I would see at the dollar store.
Yes she has this face that looks like a cat. And my kitty is cuter. I mean her eyes look so mean and cruel. She should be number 1
Taylor Swift really does look like a single mom you would see at the dollar store.
PSearch List