My Top 10 Favorite Hanna Barbera Shows
Okay, this is my top 10 favorite Hanna Barbera Shows, which is also Non-Voteable so you cannot actually vote any lists that are actually my favorites or least favorites.
The Top Ten
The Flintstones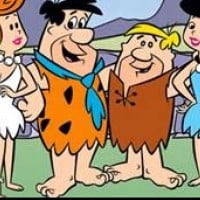 The Flintstones is the first animated prime-time American television series. It was broadcast from September 30, 1960 to April 1, 1966 on ABC.
This is my favorite Hanna Barbera cartoon of this show
Scooby Doo

The Jetsons

The Jetsons is an American animated sitcom produced by Hanna-Barbera, originally airing in primetime from September 23, 1962, to March 17, 1963, then later in syndication, with new episodes in 1985 to 1987 as part of The Funtastic World of Hanna-Barbera block.
I used to like this show a lot than The Flintstones last month, but right now, I started to like The Flintstones more than The Jetsons
The Yogi Bear Show

The Yogi Bear Show is an American animated television series about the misadventures of picnic basket stealing bear Yogi in Jellystone Park. The show debuted in syndication on January 30, 1961, and ran for 33 episodes until January 6, 1962, and included two segments, Snagglepuss and Yakky Doodle. The ...read more.
The Smurfs

The Smurfs is an American-Belgian animated fantasy-comedy children's television series that aired on NBC from 12 September 1981, to 2 December 1989. Produced by Hanna-Barbera Productions, it is based on the Belgian comic series by the same name, created by Belgian cartoonist Peyo and aired for 256 episodes ...read more.
Tom and Jerry

Tom and Jerry is an American animated series of comedy short films created in 1940 by William Hanna and Joseph Barbera. Best known for its 161 theatrical short films by Metro-Goldwyn-Mayer, the series centers on a rivalry between the title characters Tom, a cat, and Jerry, a mouse. Many shorts also ...read more.
Josie and the Pussycats

The Powerpuff Girls

The Powerpuff Girls is an American animated television series created by animator Craig McCracken for Cartoon Network.
Wacky Races

Wacky Races is an American animated television series produced by Hanna-Barbera Productions. The series features 11 different cars racing against each other in various road rallies throughout America, with each driver hoping to win the title of the "World's Wackiest Racer".
Johnny Bravo

Johnny Bravo is an American animated television series created by Van Partible for Cartoon Network, and the second of the network's Cartoon Cartoons.