Top Ten Animals You'd Least Want to Get Bitten By
These animals have the scariest bites!

Don't worry, don't be very afraid of these animals after reading this list, because chances of getting bitten by some of them are pretty low.

The Top Ten

1 Komodo Dragon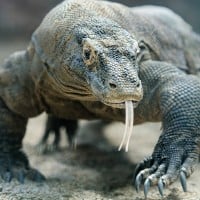 The Komodo dragon, also known as the Komodo monitor, is a large species of lizard found in the Indonesian islands of Komodo, Rinca, Flores, Gili Motang, and Padar.
Komodo dragon (Varanus komodoensis) is a large species of lizard found in Komodo Island, Indonesia. It's the largest lizard species found
Very venomous, aggressive, fast. Enough said
Once it bites you, you'll die over a few weeks thanks to its bacteria/venom.
Komodos are not "venomous." Their mouths are filthy with virulent bacteria.
It's not instant death, the venom will slowly and painfully kill you
2
Crocodile

Crocodiles or true crocodiles are large aquatic reptiles that live throughout the tropics in Africa, Asia, the Americas and Australia.
Crocodiles have the strongest bite force out of any animal. This is fitting for number 1.
Powerful jaws crushing bones, sharp teeth piercing through skin...
3
Black Mamba

The black mamba is a species of extremely venomous snake, a member of the family Elapidae native to parts of Sub-Saharan Africa.
It's also the fastest snake. Running away from it won't be an easy task
4
Bull Shark

The bull shark is a requiem shark that is considerably dangerous. These sharks live in both freshwater and saltwater environments. Bull sharks can be recognized by seeing a shark in freshwater and watching the shark due a hit and run.
Deadliest of all sharks. They've been known to attack humans for no known reasons and are responsible for more human deaths each year than any other shark.
5
Great White Shark

The great white shark, also known as the great white, white pointer, white shark, or white death, is a species of large lamniform shark which can be found in the coastal surface waters of all the major oceans.
6
Mosquito

Spanish for "small fly," mosquitoes are insects that have been known to cause various diseases. A sample of diseases caused by mosquitoes: malaria, yellow fever, Chikungunya, West Nile virus, dengue fever, filariasis, Zika virus.
Not only that it leaves SUPER ANNOYING ITCHES, but it spreads some of the deadliest diseases known

Note: Last time I said that chances of getting bitten by the animals in this list is low, but that doesn't apply to this animal...
I got bitten by this once. It was not nice.
I have been bitten by mosquitos over six times. Itches like crazy and grows pus bubbles. eck
7
Goblin Shark

Goblin shark (Mitsukurina owstoni) is a rare species of deep-sea-dwelling shark and is the only member of the genus Mitsukurina remaining (others are extinct). Often referred as the "living fossil"
Lots of thin, sharp, long, needle-like teeth piercing through your body over and over again. Considering I have a fear of needles, this is terrifying
Very unlikely to happen because it lives very far below the surface of the ocean.
8
Lamprey

Lampreys (also known as sea lampreys) are primitive parasites that feed off other organisms. Inside their tubular mouths are razor-sharp teeth, arranged in circular rows, which work like a can opener. By boring a hole in their victim's flesh, the lamprey is able to expose the raw and bloody muscle beneath. ...read more.
Lampreys are jawless fish from the order Petromyzontiformes (the name "lamprey eel" is inaccurate. It's a fish not an eel)

Hundreds of tiny but sharp teeth piercing through your skin, sucking your blood.
9
Alligator

An alligator is a crocodilian in the genus Alligator of the family Alligatoridae. The two living species are the American alligator and the Chinese alligator. Additionally, several extinct species of alligator are known from fossil remains.
10
Boomslang

Boomslang (Dispholidus typus) is a large species of venomous snake native to Sub-Saharan Africa

The bite of this snake gives a terrifying effect. You'll bleed from all openings on your body
The Contenders
11
Leatherback Turtle

The Leatherback Sea Turtle is the largest of all living turtles and the heaviest reptile besides crocodiles with a weight of 600 kg and a length of about 2 meters. As for their name, it has a leather like shell. It is the only living species of a predominantly extinct genus of Dermochelys and the family ...read more.
Leatherback turtle (Dermochelys coriacea) is a species of turtle. It's the largest turtle species, and also the only member of the genus Dermochelys

It looks like an adorable, innocent animal, until you look at what's inside the mouth. hundreds of sharp, spike-like teeth piercing prey from all direction
12
Dog

The domestic dog is a wolf-like canid in the genus Canis, and is the most widely abundant terrestrial carnivore. It is active all around the world, and is one of the most popular domestic pets as of 2021. They come in more than 350 breeds.
Especially if it's wild and not vaccinated. You might get rabies
13
Hyena

Hyenas or hyaenas are any feliform carnivoran mammals of the family Hyaenidae /haɪˈɛnᵻdiː/. With only four extant species, it is the fifth-smallest biological family in the Carnivora, and one of the smallest in the class Mammalia.
Whether if it's spotted, striped or brown... It has one of the strongest bites in the animal kingdom. You may not want to touch one.
14
King Cobra

The king cobra is an elapid found predominantly in forests from India through Southeast Asia. ...read more.
15
Piranha

A piranha or piraña, a member of family Characidae in order Characiformes, is a freshwater fish that inhabits South American rivers, floodplains, lakes and reservoirs.
Piranha is a member of the family Characidae

Yes, a piranha is tiny, but a swarm of hungry piranhas can take almost any animal down. Scarier and faster if the victim is covered with blood
16
Fire Ant

One time a stepped in an anthill full of these, and let me tell you it was one of the worst experiences I've ever had in my life.
17 Black Widow
18
Cookie Cutter Shark

Cookie cutter shark (Isistius brasiliensis) is a species of dogfish shark

Look at that mouth filled with sharp teeth forming a "sinister smile"...
19
Bulldog Ant

20
Human

Humans are not exactly wild animals, but they are not domesticated either. Humans are proven to be the most intelligent species of animals on Earth. Humans' colours vary from almost pepper black to milky white.
21
Inland Taipan

The Inland Taipan, is a venomous snake of the taipan genus commonly found in semi-arid regions of central east Australia. The inland taipan is not just a venomous snake it's considered the most venomous snake in the world by many people. When compared drop for drop and based on the median lethal dose ...read more.
I am glad to not live in Australia where these live.
Most poisonous snake in the world.
22
Tiger

The tiger is the largest cat species, most recognizable for their pattern of dark vertical stripes on reddish-orange fur with a lighter underside.
23
Hippopotamus

The common hippopotamus, or hippo, is a large, mostly herbivorous mammal in sub-Saharan Africa, and one of only two extant species in the family Hippopotamidae, the other being the pygmy hippopotamus.
24
Dragonfish

Dragonfish is a deep-sea-dwelling fish
Not only that it has needle-like teeth, it also have "teeth" on its tongue!
25
Tarantula Hawk

The tarantula hawk is a spider wasp that preys on tarantulas. They belong to any of the many species in the genera Pepsis and Hemipepsis and are one of the largest of their kind.
PSearch List