Most Annoying PBS Kids Characters
The Top Ten
1
Caillou (Caillou)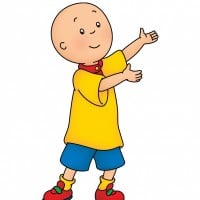 I think that is what
2
Barney The Dinosaur

Barney The Dinosaur is a purple dinosaur from the TV series "Barney and Friends", as well as the VHS series before that known as "Barney and the Backyard Gang". He was created by Sheryl Leach in 1987, to entertain her 2 year old son. He is infamously known for his "I Love You" song, and his TV series ...read more.
3 D.W. (Arthur)
4 Becky Botsford (WordGirl)
5 Thomas the Tank Engine
6 Laa-Laa (Teletubbies)
7
Elmo (Sesame Street)

Elmo is a Muppet character on the children's television show Sesame Street. He is a furry red monster with a falsetto voice, who hosts the last full fifteen-minute segment on Sesame Street, "Elmo's World", which is aimed at toddlers.
8
Big Bird (Sesame Street)

Big Bird is the main protagonist of the children's television show Sesame Street. Officially performed by Caroll Spinney (1969-2015), Daniel Seagren (1969-1970) and Matt Vogel (since 1998), and voiced by Carroll Spinney (1969-2018) and Matt Vogel (since 2002).
9 Pig (Super Why!)
10
Prince Wednesday (Daniel Tiger's Neighborhood)
He back in fead Rogers to.
The Contenders
11
Tiny (Dinosaur Train)
Maybe don.
12
Sid (Sid the Science Kid)

You don't remember what the and Caillou said, he'll come back at 11:30 am on pbs kids.

Or she comes at 12:00, 12:30.
13
Peg (Peg + Cat)
I think it's math for kids
14 Rosie (Caillou)
15
Riff (Barney & Friends)

Riff modes and razors and eazros.
BAdd New Item