Best Fire Pokemon
The Top Ten
1
Charizard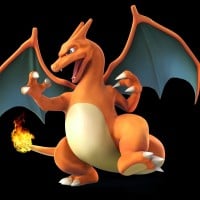 Charizard, known in Japan as Lizardon, is a Pokémon species in Nintendo and Game Freak's Pokémon franchise. Created by Ken Sugimori, Charizard first appeared in the video games Pokémon Red and Blue and subsequent sequels. They have later appeared in various merchandise, spinoff titles and animated ...read more.
Charizard is the best. He alone owned blastoise which is a water type pokemon. He also beat artocuno and even mewtwo himself said that charizard is a very powerful pokemon. There are also charizards in the charicific valley where all of them are more than three times the size of ashes charizard and they beat him in one hit.
That's what the main storyline says, overrating charizard. Have fun with his 84 attack stat.
CHARIZARD IS A DUAL TYPED POKEMON (FIRE/FLYING) which in fact is strong against fighting types like infernape and blaziken.. And is my favorite pokemon... CHARIZARD IS AWEESOME! AND COOL, BRAVE, POWERFUL WITH DRAGON TYPE FEATURES!
Well I use use charizard in my team and that is only because I think its way cooler than arcanine, but with arcanines physical attack and speed they are I guess equal
That what about the Pokemon that has higher or equal speed and special attack than charizard
My favorite Pokemon, my Charizard just KOs every Pokemon. Just imagine what would happen if you fused his two Mega Evolutions together and Gigantamaxed it and let it not die of too much energy. LET'S GO CHARIZARD!
2
Blaziken

Blaziken, known in Japan as Bashāmo, is a Pokémon species in Nintendo and Game Freak's Pokémon franchise.
Blaziken should be FIRST! He is way better and is rated uber on smogon. Plus, he has the ability speed boost which practically makes him a one man team!
I actually managed to solo the champion with this epic starter! It's also a dual type fighting and fire to add up the awesomeness
I hate to say that Blaziken is the best fire type because I really want to say that it is Infernape, but Blaziken was able to make it into the UBER tier in competitive battles which is literally the highest tier. I'm talking about regular Blaziken, not just Mega Blaziken. I also believe that it does say better than other fire type pokemon because of its mega evolution. You could say that Sharks are is better because it has 2 mega evolutions, but Dragon and flying just don't have enough coverage, while fighting types cover 5 different types alone. Blaziken also gets a good amount of coverage moves like earthquake, high jump kick, solar beam, stone edge, brave bird, night slash, poison jab, shadow claw, etc. Just because you don't like a pokemon as much as another, doesn't mean that pokemon is bad, which I think I just proved. I still prefer Arcanine and Infernape, but Blaziken is just better.
This is possibly the coolest Pokemon of all time. My favorite by far. Blaziken is way better than Charizard who is super overrated and overused in everything while also being four time weak to rock. BLaziken is fast and powerful and amazing.
3
Infernape

Infernape, known in Japan as Goukazaru, is a Pokémon species in Nintendo and Game Freak's Pokémon franchise.
Even though I said that blaziken was better ( I still stand by that) I still really like him
A Fire and a Fighting Type is enough for me!
My favourite of all the fire starter final evolutions! Remember the one Ash has in the anime? It is probally the only one of Ash's pokemon to have a chance against Ash-Greninja in battle, along with Pikachu for obvious reasons.
Infernape is really strong if he use flare blitz its really powerful
4
Typhlosion

Typhlosion, known in Japan as Bakphoon, is a Pokémon species in Nintendo and Game Freak's Pokémon franchise.
It comes from possibly the cutest pokemon... And transforms into some beast! Truly awesome pokemon! May not be a classic like Charizard, (Who rocks), but it's still cool as hell!
My favorite gem two starter solely because of design ( and also choice band eruption need I say more )
I have a typhlosion and he beat the crud out of 7 feraligatrs in a row, and they were higher level then my typhlosion by at least 10! It is so cute when it is a cynaquil! Yo
this beast is magnificent,
my favorite mon after tyranitar in johto
5
Arcanine

Arcanine, known in Japan as Windie, is a Pokémon species in Nintendo and Game Freak's Pokémon franchise.
By the way this is purely based on the game, cause I don't care about what happend in the anime, because charizard beat blastoise in the johto league but in the game "blastoise used hydro pump" and the end. Anyway back on track, is arcanine the best fire type? Yes and I can give you plenty of reasons why. Firstly it has access to STAB flare blitz that can demolish anything that's weak to fire types. Water types gonna try stop ya, arcanine blows water types away with wild charge. And don't get me started on max happiness return. Arcanine max happiness with 252 evs in attack and speed and holding silk scarf can wipe the floor with almost any poke that stands in his way, and if the opponent has a focus sash and just somehow miraculously survived the return, no sweat, just finish em off with extreme speed. My arcanine using the set above always gets me at least one KO because its just so good. It's a million light years ahead of that bird man blaziken and that flying salamander charizard. ...more
I personally will always love Arcanine. The moment I got my hands on a Growlithe and wiped the floor with that little pup- I knew, this was a Pokemon that will stay with me throughout the generations... and then I found out my demon of a dog could evolve. With it's amazing speed and killer attack stat, Arcanine can tear apart a team if played right. Now if you are gonna put him against a water type that is faster, sure he'll take a few hits-- but then WHAM Wild charge, and with Life Orb? Oh, ya done son. with a 30% boost to an already monster attack stat, you might wanna kiss that shrimpy little water boy goodbye. Also-- Arcanine can beat those three above him. Fire types are pretty weak to ground, and Arcanine, like any good dog, can learn Dig. (But be wary of them knowing Earthquake so I'd get the Air Balloon or use your other Pokemon in your team to scout it out a bit. If they don't, have at it- if they do- don't take that double damage by being underground in an earthquake) Oh but ...more
Ever since... Well WAY before I played the games, this one was my favorite. I always thought he was a legendary and the design was awesome enough to make it a legendary. After I played games like Heart Gold and the Black and White series so far so on, I seemed to forget about him during these times... But when I wanted to pick my favorite Pokemon (not favorite fire type Pokemon) this one came to mind. yes, I could have picked CHarizard or Blaziken because those were the next best fire Pokemon, but starters? Give me a break. Arcanine was MEANT to be a legendary and always will be in my belief and has awesome moveset, great design, and the stats? Well... how about ALMOST as good as Dragonite, Garchomp, Tyranitar, etc. 555 is a CRAZY number Charizard and Blaziken WISH they had. What can you not like about this beast?
BEST AND CUTEST.Incredible moveset and very balanced stats.
6
Ho-oh

Ho-Oh, known in Japan as Houou, is a Legendary Pokémon species in Nintendo and Game Freak's Pokémon franchise.
This is a awesome legendary rainbow fire bird. It's just amazing.
It is the boss of all Pokemon, my favorite along with Arceus, in first top ten Pokemon seen in anime/
Ho oh is just too powerful. It is the master of three other legal diaries, including entei, and can clearly destroy moltres and the other legendary fire types easily.
He's a legendary pokemon from the first anime isn't it suppose to be like the 3rd or something?
7
Flareon

Flareon, known in Japan as Booster, is a Pokémon species in Nintendo and Game Freak's Pokémon franchise.
So Cute! The stats are decent, but the move pool isn't the best.
Then again, SO CUTE!
flareon is easily the best fire type as it is an eeveelution and eeveelutions are so op. And plus flareon is so cute and it can use baby-doll-eye which makes it even more powerful!
Awesome. Should defiantly be higher on this list. Joleteon is my favorite though.
Flareon is my favorite Eevee Evolution That it evolves from
8
Houndoom

Why isn't he higher? His design is awesome, he has high special attack and access to Nasty Plot and Flamethrower, he's got an awesome shiny, a mega-evolution, and not to mention an awesome name! Also, he was my first shiny.
Come on now, internet. Houndoom is a beast. Use nasty plot a few times, make sure it has good speed and boom, flamethrower and dark pulse make it pretty much an instant two-hit kill, if not a one-hit KO. Houndoom wins.
I have a full art Houndoom EX and I spent an hour trying to figure out how much it's worth, but it is in mint condition and to be honest, totally awesome. I would never trade that card away. It is by far my favorite card!
are you kidding me? houndoom pwns charizard! its got cool typing, great move set and amazing sp. attack! how can he not kick ass?
9
Magmortar

It's a bad ass monkey with fire cannons. I bet it would beat dragonite.
I loved using magmortar on my black 2 version and on Pokemon X. It just obliterated everything in his way.
This pokemon that comes from the 4th gen is the best non-legendary fire pokemon ever! With its super amazing special attack stats, it can send pokemons flying into their own grave. If a pokemon fights with Magmortar with Psychic, Flamethrower/PPupped Fire Blast, Thunder, and Hyper Beam, they are digging their own graves.
He could break the Pokemon league in one magma shot that is how incredible he is. At least boost him up 2 ranks to 7th place he is super tough.
10
Volcarona

My absolute favorite bug type and a really overpowered Pokémon
All you need is quiver dance, fiery dance, heat wave and bug buzz and you can wipe the floor with anyone!
Really good setups, typing what else could you possibly want. And not to mention the shiny is badass
One of the most powerful sweepers in the game. Quiver dance combined with awesome stats scare anything away besides heatran. My personal set is quiver dance, fiery dance (good to use if you want a boost but can't use quiver dance, or to revenge kill), bug buzz (raw power), and psychic, because that provides near perfect coverage (excluding heatran) well, that's my volcarona. Thanks!
The Contenders
11
Chandelure

Chandelure burns the spirit out of people. Think about that. It doesn't burn them, it burns their SOUL.
Chandelure rules. I remember trying to beat the elite four in black with my OP samurott, and this beast got in my way, energy balling and shadow balling me. He is a beast special attacker. I also remember being in that grave tower to meet skyla or something like that, and finding stupid candle dudes named litwick. As soon as I found out that they were in common, I headed straight for (even though I'm not a fire type fan). seriously, this dude should at least make the top ten he is OP, with it's really nice 520 base stat total, and 130 special attack. How is this 15?!
Why isn't this awesome guy higher? Everything I have read about chandelure in black 2 is good. And seriously I don't blame them. So here I was evolving my lampent into chandelure because his design is awesome. Afterwards Soulblaze helped exponentially. He could have destroyed every elite four if I didn't have the decency to let my others gain exp. He delivered the winning blow to the champion's Pokemon every time, saving my butt again and again. He is way better than that stupid gengar.
This guy should be #5, or something, not 15, he is one of my favorite Pokemon, he is my favorite fire, non legendary
12
Entei

Entei, known in Japan as the same name, is a Legendary Pokémon species in Nintendo and Game Freak's Pokémon franchise.
why does it matter it is just another legendary what's your problem
According to research, when Entei roars, a volcano will erupt on the other side of the world.
HELLO! He's Legendary! And AWESOME!
If you have entei you have everything great pokemon, charizard is a real pushover compared to entei, stupid list. WHOEVER MADE THIS LIST IS NUTS THEY HAVE NO CLUE WHAT THEY ARE TALKING ABOUT, GO ENTEI!
Its not the person that made the list; more people just voted for charizard - CutiePoops
13
Moltres

Moltres, known in Japan as Fire, is a Legendary Pokémon species in Nintendo and Game Freak's Pokémon franchise.
I really like this cool legendary bird. Mine KOs practically every Pokemon.
King of fire pokemon, legendary and most powerful after charizard and Blaziken.
it is a legendary and it helped me in Pokemon lets go hahahahah
Cool it's a flaming birdy. Laugh out loud!
14
Ninetales

Ninetales, known in Japan as Kyukon, is a Pokémon species in Nintendo and Game Freak's Pokémon franchise.
It looks amazing. That's the reason I voted for it. Then again, if you look at the stats, they aren't very good and not even close to things like arcanine. Also, his moves aren't very diverse. Not the best, but so cute!
Ninetails is one of the cuter fire types, and is extremely strong. Love ninetails!
Ninetales is the only fire type Pokemon (besides Vulpix) that can have the hidden ability drought.
Ninetales is especially useful for the mid-game stretch. In Gen 1 Vulpix learned Flamethrower at Level 35, 15 levels earlier than Growlithe. In Gen 2 Vulpix learned it even earlier at Level 31, which can help a lot against Jasmine and Pryce. In Gen 3 it learned Flamethrower at Level 29, early enough to help against Erika. It can also help against Champion Steven as well in RSE, since Ninetales is faster than Torkoal.
15
Rapidash

Rapidash, known in Japan as Gallop, is a Pokémon species in Nintendo and Game Freak's Pokémon franchise.
Rapidash should work for Garden Force, literally the most retarded Pokemon, in this one episode Ash is naughtily slapping one on the bottom and call it rude names, whilst groaning furiously.
I agree with the garden force comment, the dapper gentleman who submitted that comment, really knows his pokemon.

RAPIDASH IS FAST THAN LIGHTNING AND COMBINE IT WITH A FIRE TYPE MOVE AND SEE HOW BLAZIKEN WILL FIGHT
This was my fire type of my 3man team in Pearl. Sorry Palkia, but this horse isn't messing around
16
Reshiram

Reshiram, known in Japan as the same name, is a Legendary Pokémon species in Nintendo and Game Freak's Pokémon franchise.
Touch it and your a gonna, reshiram is so much more powerful than charizard!
This sucks but at least resheram is the best fire type in unova so I'll take it with
It's a legendary pokemon. It's fire and dragon type! Does the name vast white pokemon mean nothing to you people? Maybe you guys belong in a mental hospital. And with Arceus, he's not a fire type. He can be but that's not his true type.
HOW IS HE LOWER THAN ENTEI AND MOLTRES? They suck compared to Reshiram. This fire dragon deserves a much higher place, fire negates ice and fairy weakness.
17
Victini

Victini, known in Japan as the same name, is a Legendary Pokémon species in Nintendo and Game Freak's Pokémon franchise.
It looks cute, and it is an underused legendary. It's stats are VERY well balanced and pretty high overall. It's combination of Fire, Psychic Fighting and Normal type moves is okay. It's ability is good for attacks like Overheat, Inferno or Zen Headbutt. It should be higher
If a pok'emon had the power of victory it defeat you no matter how good are you
Victini has a special ability to win a game when he say "I win. That is cool right!
Its epic having the event one since you can just kill everybody with v create... Well minus the water types... and y know
18
Incineroar

Incineroar, known in Japan as Gaogaen, is a Pokémon species in Nintendo and Game Freak's Pokémon franchise.
My favorite pokemon,
I remember using this beast in ultra sun and he destroyed many totems and sweeped the elite four
Has one of the best dark moves and can learn flare blitz and overheat.
Not as good as blaziken or infernape or charizard but still deserves top 10
Take John cena and a cat and fire you get this beast!
This thing can beat charizard! It should be in the top 10 in my opinion!
19
Talonflame

Talonflame is an all round beast being a fire and flying type he can learn such moves as "flame charge" and "fire blast" plus it has all round good base stats and speed plus in the anime it look like a boss using fire blast
I believe Talonflame should be rated higher than 20 cause the heck it battled two legendary bird pokemon in the anime plus it is really badass.
Super quick. Using flames to generate speed equals absolute epic fire type! In my opinion, should be at number 1 or if it just loses to Charizard then number 2.
I think talonflame should me in the top ten, he is such a good fire type and an amazing flying type too!
20
Fennekin

Fennekin, known in Japan as Fokko, is a Pokémon species in Nintendo and Game Freak's Pokémon franchise.
Great for a psychic/Fire type, it can be weak at times so I understand why it's so low on this list.
Fennekin totally cute! Adorable in first form strong and powerful in others. IT ROCKS THIS CITY. AS GREAT AS HELL!
Shes awesome with her psychic
Absolutely adorable, such a successful evolution line, even the middle stage is well-known and respected. Delphox (final evolution) says boss battle like no other and has a massively interesting type. Fire and Psysic. This was my first Pokémon and I have no regrets.
21
Delphox

Delphox, known in Japan as Mahoxy, is a Pokémon species in Nintendo and Game Freak's Pokémon franchise.
She looks like a female sensei. When Braixen evolved I was pumped. Plus she can use psychic power to make a big swirly fire!
I just love Delphox because it's just so strong + I love the design.
Being a fire/psychic, Delphox, if used correctly, can beat Blaziken, Infernape, and Emboar. If it's taught the right moves Delphox would make an excellent member of any team as long as you have Pokemon to cover its weaknesses "water, dark, ghost, ground, and rock". I suggest teaching it the moves Blast Burn, Overheat, Psychic, and Solar Beam all of which are high powered attacks and they help to nullify one of its weaknesses.
It should be higher up on the list! It can beat most of the other fire starter Pokemon (most of the others are fire/fighting, psychic beats fighting! ).
22
Torkoal

Torkoal is my favorite fire type next to typhlosion. Torkoal has great defense, but nothing else. It's worst stat is speed. But there is trick room for that! But you can give Torkoal Shell smash and rapid spin followed by a life orb will mean you'll have the time of your life. However, you can't just pick up torkoal and be like "I'm gonna use Torkoal! " No, you gotta know the thing before using it! Filthy casual!

I also like Torkoal cause Flannery uses Torkoal and I like... yeah
I won the battle tower and Pokemon league only by the torkoal it is awesome
He's a flaming turtle. There's no reason not to like him.
Torkoal is the boss.
23
Braixen

It's stats are actually good and it evolves into a REALLY strong pokemon!
Braixen is still the best
Charizard mvp props to char char
Really good, It's got good stats too! Which is also great when you evolve from such a cute pokemon like Fennkin!
24
Growlithe

Growlithe, known in Japan as Gardie, is a Pokémon species in Nintendo and Game Freak's Pokémon franchise.
its known as the PUPPY POKEMON! Its adorable, cute, super strong, has big personality AND has the most cutest voice! Whats NOT to love?
Growlithe is epic! It's cute, strong, fast, loyal, powerful, friendly and just generally amazing-what more could you want from a Pokemon?
He's so cute nothing bad about him just an all round good Pokemon what more do could you ask for
Why is there should not be any unevolved pokemon in the top 50
25
Heatran

HEATRAN THE TANK - why this title? - This Pokemon, the only fire/steel type, has five resistances 25% damage, 2 immunities 0%, and four regular times 2 resistances 50%... Offensively this is the only Pokemon with Magma Storm, the only partial-trap move with 100+ which lets me switch and murder any Pokemon.

More facts- Learns Dragon Pulse for coverage. PERFECT STATS! 91 HP (386 life), 106 definitely (342), and 106 special definitely (342) makes his life to defense 1:1 which means it has the highest the potential of taking hits on both sides with its total stats.
I don't think heatran should be last. I think it should be number 5.
Fire steel... What more could you want
Dude heat ran is a legendary he should be up there
PSearch List