Top 10 Best Lyricists of All Time
Marcopwnzatdrums
The Contenders: Page 2
21
David Bowie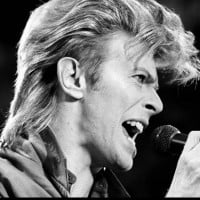 David Robert Jones was born in London on January 8, 1947, the son of a fundraiser and a waitress. He died in New York on January 10, 2016 at the age of 69, a hero to millions. ...read more.
David Bowie really was an amazing lyricist. His songs evoke such images and show such thought. The way his lyrics flow are amazing, his innovations were delightful, and his lyrics fit the music so well! Maybe Bob Dylan was better at evoking images and maybe Bob Dylan was more innovative, but it was usually at the almost complete sacrifice of actual music.
Stone love - she kneels before the grave
A brave son - who gave his life
To save the slogans
That hovers between the headstone and her eyes
For they penetrate her grieving

New love - a boy and girl are talking
New words - that only they can share in
New words - a love so strong it tears their hearts

To sleep - through the fleeting hours of morning

Just a small part of Bowie's Soul Love.
Always inspired and always setting the scene of his highly original songs.
He's been consistently a fantastic lyricist for almost 50 years and desrves to be a lot higher.
22
Lou Reed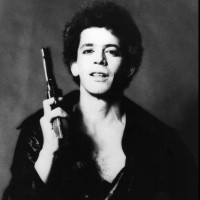 Better than Dylan. Period. He stepped out of the boundaries of social norms to give commentary on things most people were to scared or ignorant to talk about. He was able to write some of the most sad and depressing songs ever written; so true to reality that you can't help but feel depressed. His 90's music was more relevant than any of your whiny Grunge bands, and, in the 60's, he was one of the first people to blatantly talk about drugs in their music. He also, along with the Kinks, talked about the transgender community in his music. I may be one of the few people who thinks Lou is better than Dylan, but ya gotta agree he should immediately after. If you disagree, well, besides the fact that you're wrong, you need to listen to his album, "Berlin."
When I listen to lou reed its like I just melt into the music. the music and lyrics go together perfectly throughout all his songs. Heroin is such a unique and effective song. having said this I did vote for bob Dylan. I think this is why he has 1 % cause most people who appreciate good music and actually listen to the lyrics would appreciate and love both artists but when it comes to voting lyrically speaking bob Dylan would have to be number 1.
Why is Lou Reed all the way down here. I voted for Dylan but Reed had a way of telling truths through his lyrics, terrifying the listeners, and evoking emotions. He is far better than most of the crap at the top, namely Robert Plant (Led Zeppelin is great but its lyrics are not), Eminem (there is nothing deep to his lyrics. period. ), or Freddy Mercury (he had a few good songs but most of it is just insubstantial pomp)
The lyrics to the entire album 'New York' are just superb.
V 1 Comment
23
Maynard James Keenan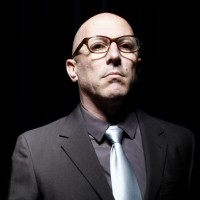 Maynard James Keenan, often referred to by his initials MJK, is an American musician, record producer, winemaker, and actor, best known as the vocalist for Grammy Award-winning progressive metal band Tool.
I had never heard anyone use words and voice so masterfully until I stumbled across Maynard Keenan and his many musical endeavours. It felt like it was not just the well selected words and eye-opening phrases that had meaning, but that each and every syllable was purposefully sung in a way that got the most beautiful and effective sound from it that merged effortlessly with the journey that the music was taking - no small feat given how complex Tool's music is for example. Maynard has been my creative hero ever since.
REALLY!
ONE PERSON on this list can come freakin close to Maynard.
That's John Lennon.
I like rush and nirvana more than the beatles, and I can still say that.
Best lyricist of all time, hands down. His lyrics are so complex, yet he makes them make so much sense
24
Cat Stevens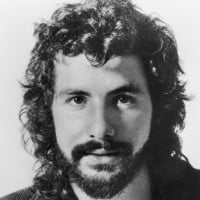 Yusuf Islam, commonly known by his former stage name Cat Stevens, is a British singer-songwriter, multi-instrumentalist, humanitarian, and education philanthropist.
He's written so many good lyrics, but my favourite is 'If you want to sing out, sing out'. Chorus: "You can do what you want, the opportunity's on, and if you can find a new way, you can do it today, you can make it all true and you can make it undo, you see, it's easy, you only need to know...". Very uplifting and inspiring, as is the movie 'Harold & Maude', in which the song is used as soundtrack.
At times Cat Stevens seems like a less pretentious Bob Dylan, carefully weaving words together to get his message across. "I know we've come a long way, we're changing day to day, but tell me, where will the children play? "
25
Morrissey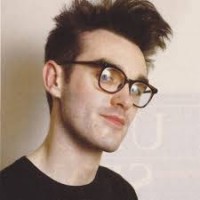 Steven Patrick Morrissey (born 22 May, 1959), known as Morrissey, is an English singer, songwriter and author, rose to prominence as the lead singer of The Smiths, an indie rock band - which was active from 1982 to 1987 . Since then, Morrissey has had a solo career making the top ten of the UK singles ...read more.
Okay, I'm a big fan of the Beatles, the Stones, Pink Floyd, the Who and Led Zep. Let's face it, no one can do music like us British. The Americans just copied whatever went on in England, America did start punk with the Ramones though. But it wasn't until the late 80/90s when American developed their own tastes and invented grunge. Meanwhile in Britain, we were shoved with Britpop. Good music but the musicians were too phony. It was like the long haired glam rockers from the 70s (love Bowie by the way)! Indie rock in very much a British thing and one of the few 'real' bands who sung about real things and didn't do what everyone else was doing was the Smiths. Metal is nice and all (also invented by the British: Sabbath and Maiden), but the Smiths' lyrics were way more edgy and Morrissey was king of the 80s. He was a real person who you could talk to. Check out his lyrics on There Is A Light That Never Goes Out, Please Please Please Let Me Get What I Want, Cementary Gates, Frankly Mr ...more
Surprised and disappointed he is not in the top 5, top 10 at least, along with Cohen. Even more shocking, Alex Turner above Morrissey. Arctic Monkeys are great, I own a couple of their albums and sure, I can't say I haven't swooned over some of his lyrics, but this placement is pretty disgraceful. Nonetheless, Morrissey is, in my mind, the best lyricist.
"In a river the color of lead
Immerse the baby's head
Wrap her up in the News Of The World
Dump her on a doorstep, girl"
How in the world is morrissey not number one. it's the best LYRICISTS of all time not the greatest musicians. tops of too dylan and all but morrissey is something different. he tells a story in the most literate of ways. a true genius and without a doubt the GREATEST LYRICIST OF ALL TIME
Why the hell is Alex Turner over Morrissey?
V 9 Comments
26
Notorious B.I.G.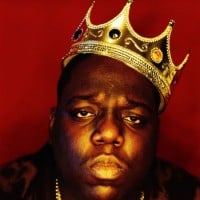 Christopher George Latore Wallace, better known by his stage name, The Notorious B.I.G (a.k.a. Biggie Smalls), is consistently ranked as one of the best rappers of all time. The Notorious B.I.G was born May 21, 1972, he was born in Brooklyn, New York. At the age of 24 The Notorious B.I.G was murdered ...read more.
Should be in top 10 above em and pac
How is even the beatles above him lyric wise?
Big is the best lyricist of all time period
27
Mark Knopfler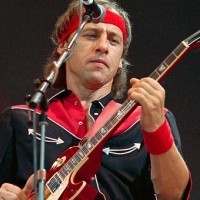 Mark Freuder Knopfler, OBE is a British singer, songwriter, guitarist, record producer and film score composer.
Just listen to sultans of swing or romeo and julliet
Its embarrasing that I have to add this
V 1 Comment
28
Jimi Hendrix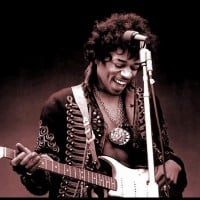 Jimi Hendrix (born November 27, 1942 - September 18, 1970) was an American rock guitarist, singer, and songwriter . Although his mainstream career spanned only four years, he is widely regarded as one of the most influential electric guitarists in the history of popular music, and one of the most celebrated ...read more.
His brilliant lyrics are largely overshadowed by his guitar playing, but Jimi was an absolute genius as far as writing lyrics goes. The man was an absolute poet, and it's a shame most people take his lyrics for granted.
Best guitarist ever, but on a bad day there was always Hendrix to lull me back. He's well above a lot of these guys.
29
Thom Yorke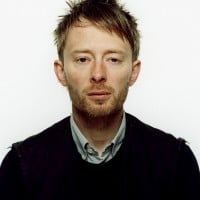 Thomas Edward "Thom" Yorke is an English musician best known as the singer and principal songwriter of the alternative rock band Radiohead.
I've been listening to radiohead for a while now yet the most astonishingly beautiful verse has this genius Thom Yorke has ever written only popped up in my way very recently, it's from the early acoustic version of motion picture soundtrack, here it is:

"Beautiful angel

Pulled apart at birth

Limbless and helpless

I can't even recognize you

I think you're crazy, maybe

I will see you in the next life"
His lyrics are the incontrovertible proof that he thinks in music
Why is Alex Turner over Thom Yorke? I can't believe this.
He's a genius. Most people don't get his lyrics.
V 1 Comment
30
Joni Mitchell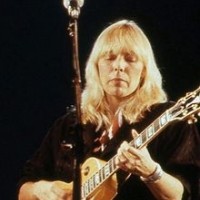 What a sad and strange world we live in when Eminem comes in at No 2 and Joni is down here.
Joni is genius, her work speaks to generations and she has a great talent of making listeners relate to her situations. She should be much higher. Her authenticity cannot be ignored.
This list is a joke. Nothing comes close to this woman's poetic genius.
Little Green, I had a King, they break my heart; that and the fact she's so low on this list.
V 3 Comments
31
Nas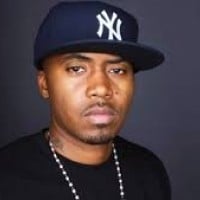 Nasir bin Olu Dara Jones, better known by his stage name Nas, is an American rapper. His album, Illmatic, is considered to be one of the best rap albums of all time. He is also considered to be one of the best rappers of all time.
How any rapper is ahead of Nas on this list is just insane. With Illmatic Nas wrote the bible of rap, showing others who came after how to paint a picture with you lyrics. Listen to "NY State Of Mind" or "One Mic" and I'll be very surprised if you can't picture what he says"
Nas is a very talented rapper with him there is always a story one you can relate to you can listen and just feel it the lyrics just put a smile on your face
Seeing things like Tupac being ranked a better lyricist than nas makes me actually feel ill, nas painted a picture with everything he said and his flow was/is untouchable
Great lyricist! However, Eminem and Tupac are better.
V 4 Comments
32
Tim Mcllrath
"Life for you's been less than kind, so take a number, stand in line. We've all been sorry, we've all been hurt but how we survive is what makes us who we are. "

"hiding from the laughter in the closets of our lives, but the door hinges are sqeaking, letting in thin shards of light. And now a hand's extending outward, quiet comfort they invite. Do we dare take what they offer? Do we walk into the light? "

"a hero of war. Is that what they see? Just medals and scars? So damn proud of me? "

"do you still believe in all the things that you stood by before? Are you out there on the front lines or at home keeping score? "

"too much blood has flown from the wrists of the children shamed for those they cose to kiss? Who will rise to stop the blood? "

I could name a million more. This guy is a genius.
33
George Harrison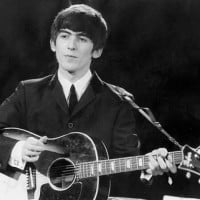 George Harrison was an English guitarist, singer, songwriter, and music and film producer who achieved international fame as the lead guitarist of the Beatles.
George Harrison throughout his career is very much under-rated both in terms of his guitar and his lyrics.. He's a brilliant writer.. Drawing inspiration some of the greats in the field like Dylan & Lennon he's lyrics both in the later Beatles (Within You Without You, Something etc) and his solo career are excellent...
I'd take George over John and Paul ANY day.
34
W. S. Gilbert
WS Gilbert should be top! He was a poetical genius, rather than an ordinary songwriter! Paul Simon is great, but WS Gilbert is in another league to all the rest! - MikeFuller
35
Zack de la Rocha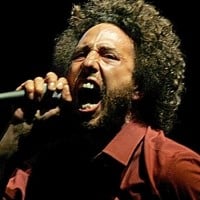 Zacharias Manuel "Zack" de la Rocha (born January 12, 1970) is an American musician, poet, rapper, and activist best known as the vocalist and lyricist of rap metal band Rage Against the Machine from 1991–2000, and after the band's reunion in 2007 until their last show in 2011. He left Rage Against ...read more.
36 Ryan Adams
37
Jesse Lacey
Jesse lacey should be much higher on this list. His lyrics are incredible. Go listen to the devil and god are raging inside me.. you'll see what I'm talking about!
How on earth is Jesse Lacey all the way down here? I can't even pick an example of his best lyrics. Just Google literally any Brand New song.
He's a Genius. 'enough said.
His lyrics play with words in dark, yet very clever ways that you probably wouldn't have thought about before.
V 1 Comment
38
Sixto Rodriguez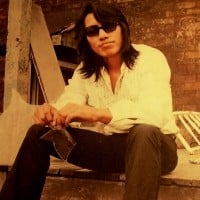 Sixto Diaz Rodriguez, going only by his surname Rodriguez as his stage name, is an American singer-songwriter and guitarist born on July 10th, 1942 in Detroit, Michigan. In the 70s, Rodriguez released the two albums "Cold Fact" and "Coming from Reality", both of which were a commercial failure ...read more.
If you don't Know his work listen the song "Like Janis"..
39
Serj Tankian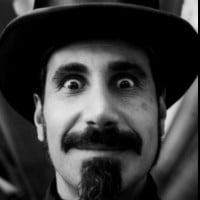 Serj Tankian is a Lebanese-born Armenian-American singer-songwriter, composer, multi-instrumentalist, record producer, poet, and political activist.
Come on if you have to listen to the song again to make sure that that's what he said then he is really good
Serj fuses dead serious topics, delivery, and gravity while maintaining a sense of delightful absurdism in many of the songs he has been responsible for.
40
Eddie Vedder (Pearl Jam)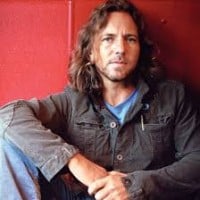 Eddie Vedder is an American musician, singer and songwriter best known as a member of the rock band Pearl Jam, with whom he performs lead vocals and is one of three guitarists.
Deep, ironic, political, fun, relevant to the times, rock n' roll. What else do you need in music?
Eddie Vedder would have to be in the top 5!
I wish I was the peddle brake that you depended on
V 1 Comment
PSearch List
Recommended Lists
Related Lists

Best Rappers of All Time

Best Singers of All Time
Best Songs of All Time

Best Rock Bands of All Time

Best Female Singers of All Time
List StatsUpdated 20 Feb 2017
3,000 votes
255 listings
7 years, 179 days old

Top Remixes (29)

1. Bob Dylan
2. Tom Waits
3. Townes Van Zandt
thatwasme

1. Mark Knopfler
2. Bob Dylan
3. Roger Waters
Dob_Bylan

1. Richey Edwards
2. Alex Turner
3. Morrissey
fliuch
View All 29
Posts
Error Reporting
See a factual error in these listings? Report it
here
.