As I Lay Dying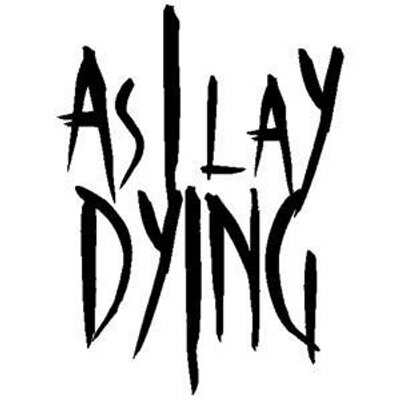 Found on twimg.com
Info
As I Lay Dying is an American metalcore band from San Diego, California. Founded in 2000 by vocalist Tim Lambesis, the establishment of the band's first full lineup, which included drummer Jordan Mancino, occurred in 2001. As I Lay Dying has released six albums, one split album, and two compilation ...
read more
.
Comments
Top
Popular
Newest
Indisputable superiority of the As I Lay Dying. The first time I heard them was something delirious. I felt it would be the metalcore band that would mark my life. Impossible to describe the delirious feeling that touched me. Deep. Intense. Magic. I could see a bright talent and outstanding creativity. I like the weight they bring to their music, the rhythmic guitar, the mind-blowing guitar solos, the powerful growling vocals and drums. There is harmony in this band. There is strength, good melodies and beautiful compositions. Worth listening to them. The as I lay dying deserves a biography by his story. Tragic separation in the end, but they left a major intervention in the contemporary metal. They became unforgettable. Good night!
Their compositions are full of meaning, sometimes making implicit references to Christianity. They were a Christian band although this may be doubted. However, the lyrics of their songs are beautiful references to Christianity, without forgetting the style of the band. Their songs are deep and mix heavy instrumental with rare intensity and beauty compositions. In the past they showed a sharper affinity with the Christian faith, but today we know that they have lost their way. Still, we should consider them one metalcore band linked to Christianity in a particular way and introducing heavy riffs and incredibly reflective compositions, pure poetry in some songs. But we should not rule your highly important heavy style that made ​​them the best metalcore band of all time. This junction is perfect! I miss them
I agree with the first one who commented. Bullet For My Valentine's songs are really rad, but they kinda suck live. But with as I lay dying, the albums, the concerts and everything else is just mind-blowing. They've been around for quite sometime now and they still kick serious ass along with other high-caliber metal bands like a7x, Bullet For My Valentine, killswitch engage, etc. Definitely in my top 3 best metal bands of all time, feet and hands down, hehe.
It goes like this

1) AS I LAY DYING
2) KILLSWITCH ENGAGE
3) AUGUST BURNS RED
4) PARKWAY DRIVE
5) TRIVIUM (not strictly metalcore)

After 5, it gets complicated, but those are the top metalcore bands ever. Each of these bands changed the game of metalcore in ways nobody else has since they've come around. They all have excellent guitar work, powerful lyrics, massive drums, and well thought out compositions. They never stick to the same thing over and over again, they always add something new with each album, evolving them to something more than just another metalcore band. I mean albums like Ascendancy, Deep Blue, An Ocean Between Us, Constellations, or Alive Or Just Breathing. All of these albums showcased the best metalcore for their times. They've all proven to be more than just metalcore junkies too. Trivium executing thrash in an excellent way on The Crusade, As I Lay Dying riffing away on almost all their albums telling all the "metalcore sucks ...more
Nothing left, overcome, parallels, anger and apathy, that badass intro song to An Ocean between us. This band kicks so much ass.
Love a7x but honestly they really aren't metalcore anymore...
Trivium has amazing songs but they also seem to just crap out on certain songs.
And bullet for my valentine number 2? Seriously, just an emo band. Scream aim fire was a good album, everything else sucks and temper temper is a crime against humanity.
As I Lay Dying is a awesome band but do not believe should be first. by what I see most of the comments justifying that As I Lay Dying is the best is compared to weaker bands like BMTH and AA. Listen to some Parkway Drive and draw your own conclusions, as Parkway Drive should really be band # 1 place. As I Lay Dying in # 2 course, for As I Lay Dying is very cool, but we should by in place and realize that Parkway Drive really deserves the first place. is not disrespecting the band, I like As I Lay Dying, but we must be fair. - Danoni
No comparison. They are the standard by which other metalcore bands are measured. It's like, when I have to pick a favorite metalcore band, I have to say, "You know, besides As I Lay Dying. " They continue to produce outstanding music, and they have yet to disappoint.
Of course this the best band ever. The only reason I didn't vote my favorite band Trivium is that their songs will get boring to listen to after some time. But these guys (as I la dying) are really amazing... The nice thing about their solos is that although they are not really super fast but they never fail to amuse you. Specialy the song "Wasted words"... by the way that back vocal (clean vocalist) really rocks! Love his voice
As I lay daying is just the best... Music and lyrics is what matters. East to west, north to south As I Lay Dying is the best.
no direspect to bullet but as I lay dying is a better. I use to be a major bullet fan until I heard as I lay dying. As I lay dying has major skill and is true metalcore. just listen to parallels or forsaken. in my opinion this band is the kings of metalcore.
p. s. august burns red should be higher too
As a true metalcore lover and a diehard AILD fan, it was my job to vote. This band is perfect. Those thinking otherwise listen to parallels. You will hear Bullet For My Valentine's true 'loserness' if you hear them play live. You wont hear their songs then.
I like AsI Lay Dying - they're borderline thrash - but don't a lot of these bands undermine their own belief system by the actions they engage in? I'm an atheist, so don't care, but what is Metalcore anymore - either by dilution or contradiction?
This band is unreal. Although there are others that are close to #1 in my opinion, this still beats them. I started out listening to BMTH, Memphis May Fire, Parkway Drive, etc., but As I Lay Dying still stood out. Every time I heard a song by them on Pandora I was instantly hooked. Every song is so different with meaningful lyrics, screaming, and fantastic guitar.
They're fantastic, just fantastic. I'm listening to their song "parallels" right now and I think it has one of the greatest drums riff ever, while their song "the sound of truth" has the greatest guitar riff ever. I really love this band
you just can't beat them. the riff quality, tim's vocals/lyrics, the perfectly done drums (not overkill). one of the first bands whose albums I can go through in one sitting, several days in a row without getting bored.
This band is just sick the singer is just awesome.
The drummer never saw someone drum so hard and good he's just the best drummer
Make this band number 1 if you do not
Then you don't know what good music is!
I have to say As I Lay Dying is an undisputed champion here. Lyrics, Music, DRUMS, DRUMS AGAIN, Riffs, Vocals they get everything right. I just wish they made longer songs so I could enjoy a song longer.
Tim and his brothers are extremely amazing.. The way they pull heavy metal to melodic riffs... AS I LAY DYING now belong's to Melodic Death Metal Genre. Hail all melodic death metal fans.. Philippines
Amazing band, very relateable lyrics, guitar is just orgasmic to listen to. Bullet is okay but not quite as good as aild because of the complexity and emotions pushed out in aild's music.
By far the best. Every time I come back and listen to one of their songs I remember why I fell in love with them in the first place. Just listen to Wrath Upon Ourselves; metalcore at its finest.
Definitely the king of metalcore. They have the coolest riffs, vocals, harmonies, drums, you name it. Scene bands like August Burns Red or Bring Me The Horizon don't remotely compare.
Glad to see As I Lay Dying on the top, and Bullet For My Valentine at the second, this is what I expected to see! All hail As I Lay Dying the best Death Metal/Metalcore band ever!
The best, no comparison. Bullet For My Valentine sucks as much as it can. And why the hell is children of bodom is in this list? It is a death metal band, and a really good one.
As I Lay Dying is a band that has shown their diverseness, with their new album Awakened, it is clear to see why they are on the top of this list. The only one colmplaint I have when it comes to As I Lay Dying, is their Decas album. I personally didn't enjoy it, but everything else "melts one's face off" as some might say.
Just Saw Them Last Night And I Can Honestly Say That They Were By far The Most Amazing Thing I've Ever Seen. When I Left The Show My Mind Was Blown Beyond Repair