Kishore Kumar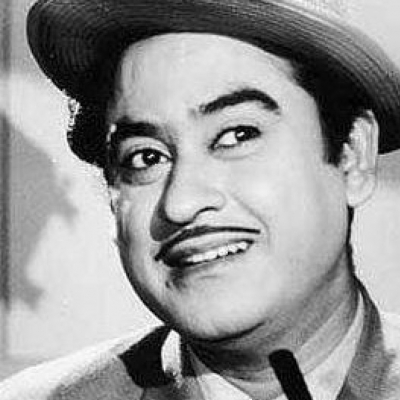 Found on huffpost.com
Info
Kishore Kumar was an Indian film playback singer, actor, lyricist, composer, producer, director, and screenwriter. He is considered one of the most successful playback singers of the Hindi film industry.
Comments
Top
Popular
Newest
Kishore Kumar was a multifaced personality... A complete singer, an actor, musician, comic, and a director too... If you look into the records, he has produced a few movies too...
A perfect blend of classical and modern music... The most versatile singer India has ever seen... Listen to his unforgettable numbers... The ever classical(mere naina sawan bhado) to the modern hip hop(om shanti om and dekha na hay re)... The withe range of moods reflected in his songs... Be it pensive mood(dukhi men mere ) to the most jovial(main hoon jhoom jhoom jhoomroo) to the most romantic(pal pal dil ke paas & kaante nahin kaatte )... Kishoreda enthralls you with his charismatic golden voice... Rafi ji and MannaDe ji comes close but in no way can surpass Kishore the. This top 10 ranking is flawed.. Type "kishore kumar" in google search, you'll get About 11,100,000 results, google"md rafi", you ll get About 714,000 results, About 9,970,000 results for atif aslam, About 4,770,000 ...more
Kishore the's voice was so powerful and manly, but at the same time could be soft and sentimental. He was a very versatile singer if not the not the most versatile singer in Bollywood. Some people want to believe he's not versatile because he wasn't classically trained, but they are wrong he was a god gifted singer and deserves all the praise I and hundreds of thousands others have given him. Even though he wasn't trained in classical music, he has excelled at some ghazals. He was also an all round entertainer, he wrote songs, composed, produced, directed, and also acted. I just want folks to realise music does not start or end at classical, and Kishore proved just how true this was by singing a wide variety of genres. May his music live on forever in the hearts music lovers and fans everywhere.
He has a beautiful voice that goes straight to the heart and if anyone has ever heard him do yodeling they will see that his voice is equally as good as that of Lata Mangeshkar and even that of the legendary Mohammed Rafi. Please rethink you decision when you rank someone on a chart like this.
That an untrained singer became no. 1 male singer in 1969 & remained there till his demise proves beyond any doubt that Kishore Kumar is the best of the lot. He is the only genius who died remaining at no. 1. Any doubt about his credibility is the headache of his critics or baiters. Let them find all his faults. As for the rest, come lets enjoy his music & drown in his God Gifted voice.
Kishore Kumar is the greatest singer our country has produced, although India has produced many other great singers. Can sing any kind of song, which only Asha Bhosle can match among singers. Most resected and idolized singer in the country... Just raw talent considering the fact that he never got trained.
I am surprised to see Kumar Sanu being ranked higher than Kishore Kumar.
The ranking given on this site seems ridiculous. I pity the voters level of understanding of music.
atif? sonu? shreya? really?
Kishore Da is No. 1 hands down!
you listen to any radio program for old songs and you'll get 8 out of 10 songs from Boss...
NOBODY LIKE KISHORDA... HE IS A GREAT PERSONALITY... GREAT... SINGER...
It doesn't matter what rank Kishore Kumar gets. What matters to me and million like me is we enjoy Kishore Kumar's songs more than any other singer. Its not just his voice, but his singing style, his matching his voice in accordance with actor, he being and actor, his eccentricities, his controversies, we enjoy everything.
Everything is just in his name"Kishore Kumar". For a true kishore kumar fan what matters is when we want to listen to his songs, we got a lot of variety with every kind of mood.
He was perhaps the most talented singers to have born in this great great country. My respects know no bounds
How Kishore kumar is at 5.He should be the top at this list.A singer of all kind, also a Director, Actor and Producer. No wonder he should be at #1.He is the soul of India.
When the sun rise in the morning and slowly the lights reach every dark corner of the earth kishore kumar's voice is like that when he start song we fell that the every darkness of our mind is lighting up and our heart is wash up and we are fresh
I simply pity this site which ranks singers according to the number of votes... Kishore Kumar is beyond voting, ranking and all such sheer stupidities... Rafi, Mukesh, Hemant, Manna, Talat, Lata, Asha, Geeta-all are god gifted singers and chance is very rare that anybody in future will come close to them... To me even they don't come within 10 miles of Kishore Kumar... He was not god gifted, he was far far beyond those god gifted singers of that golden age of singing... He is simply "incomparable"... All others are human, he was God.
Most talented singer of all times. He deserves to be a legend whom all the singers of the present generation should follow. His songs had an all together different quality in it. All his songs I like.
He got the most enthralling voice in India which sometimes tears you apart in pain sometimes makes you fall from bed in laugh... He is the GOD himself...
I think he should be number 1. He is the versatile among all
The best singer India has got and would get, no one can be kishore Kumar, such variations in his songs, such richness, treats him the top singer in the while world. India is lucky to have such singer
He should be number one. I am shocked Sonu and Shreya upper than him!. Only in Bollywood he can sing yodeling voice. No one can. He had won highest film fare award. Total 8 awards. Even Mohd Rafi had won 6. All singers= Kishore the. Really it hurts me a lot.
Kishore Dada is again a versatile genius artist par excellence! His throw of delivery is very powerful and fabulous;plus his voice is very unique. Where to find a great artist like him again?
Kishore kumar is the greatest singer in the world. Don't compare his genius with any other singers of India. All others in this list are typecast for a particular type or types of songs. Kishore kumar is universal.
Are you guys crazy,14th spot for kishore,?
Best Singer in India... Singing according to the actor personality... That nobody does till now
He should be number 1. Kind of insult to list such legend after Shreya Ghoshal and sonu nigam
Voice quality, throw, versatility and flow much better than others. I will rate him at the top. He is the best India has ever produced!
At 5th number? This is an insult to the greatest singer on this planet. Kishore Kumar and Mohammed Rafi both should be at number one. Both were unique and versatile with their own identity.
Related Lists

Best Kishore Kumar Songs