Mohammad Rafi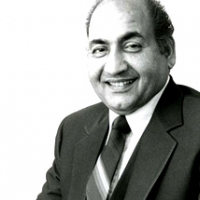 Found on iloveindia.com
Info
Mohammed Rafi was an Indian playback singer and one of the most popular singers of the Hindi film industry.
Comments
Top
Popular
Newest
Mohammed rafi is the best singer in the whole world because he has the best voice most versatile and has sung most difficult songs which other good singers found them very difficult to sing also it is a big shame to compare atif aslam who has sung very few songs to a great proven singer like mohammed rafi also his songs were sung at a time when the technology was very basic unlike todays singers who have a very advantage
Md Rafi was a great singer. He used to tune his voice to suit the actor on screen. When he sang for Johny Walker, it seemed Johnyji was singing. This is equally true for Dharmendra, Rajendra Kumar and many more famous actors. I strongly oppose no. 3 position of Atif Aslam. He has got neither a good range nor a melodious voice. I recall lines from a Manoj Kumar's song: Dhol Kanaster Pit pit ke, gala phaad ke chillana, yaar mere tum bura na mano, ye gana hai na bajana
I am from Pakistan and till few months back I considered Kishore as the best singer ever because I never listened to Rafi that deep but when I listened to Rafi I admitted what most of the people accept about Rafi that no doubt Rafi is the best singer India ever had and will be I can't see any singer till now of his caliber so Rafi is the best
I have listen to many different singers and every one has there own style suited to certain types of songs, there are some great versatile singers but Rafi saab's versatile range cannot be matched by no one. From ghazals, bajhans, folk, Devotional, Qawallis, Rock & Roll, romantic, sad, cabaret to Disco. Rafi excelled at all types of styles. Such a quiet and shy person in nature could transform himself behind the mic was amazing especially on stage. His voice was purely gifted in clarity and there has been no one like him since. His humble simple personality reflected in his greatness as a singer. His voice was as crisp and vibrant to his demise. His rendering of "Yamma Yamma " from the film Shaan was an example of how he would have sounded through the 80's if he had lived much longer, but GOD decided his time with us was up. He was the greastest ever singer EVER!
Amazing! A voice that touches your heart. When your heart is filled with joy, or when your heart is fled with love, or when your heart is filled with sadness, or when your heart is filled with mischief, you name it, Rafi's voice will touch your heart and make you swoon to its musical mood. The best Indian singer of all time. No doubt.
Many singers come and go, but only few singers will gain the top position in the hearts of the people, and from those little number, hardly one or two can become all time favourites and no one can ever beat them, no matter how good they sing or how many songs they sing. Yess, Rafi Sir is such a great singer, now and always he should be the NUMBER ONE singer of the India. SO PLEAE VOTE FOR HIM AND MAKE HIM all time BEST SINGER OF India, I just have done it.
Sonu Nigam himself says, that he is a follower of Md. Rafi. Even I am a singer and from all the genere of Indian music I love Rafi Sahib the most. Sonu, Atif or any other person does not and can not stand on front of this legendary and versatile singer.
never before never again no one like mohammed rafi he is imortal ligend there is one moon, one sun, and only one mohammed rafi in the world I miss his voice.
best singer best voice in the world.
with love
Even Sonu Nigam will admit it, people please see the tribute concert of Rafi in england by Sonu, when he raped his songs. He was nowhere in account of this crusader, The most Silky voice on this planet belongs to Rafi & in comparison to anyone in this list he is far far beyond to anyone
This list is totally wrong. I am a music fan and there are songs that I like by other singers as well but in comparison with Rafi there is not one singer who comes close to me. Number 1 forever.
The most complete singer should be the best singer. And there is no one who can even come close to Md. Rafi. He has sung, semi classical, romantic, qawwalies, sad and melancholic numbers, fast songs, comedy songs, sang for every type of music director and actor. He sang with lour music and with no music, changed his voice to fit the actor. I can go on and on. He therefore by far is number one singer in India
Since I was 5years old I hardly slept whole night when sound of songs of Md. Rafi from a good distance touched my ear and then my soft heart wherein I imbued myself with profound love, beauty and an imaginary colorful heaven. It still thrills my heart in the same manner at my 65.
I love md rafi so much your singing is so beautiful you r most important for India you r one only one man in this country I love you I am miss you so much I love you
MOHAMMED RAFI SAHAB Great, Superb, Fabulous, Marvellous, Brilliant, Excellent, Fantastic, Wonderful, The Best singer & human being in this whole universe. He was blessed with a Golden & Magical voice. Nobody in this whole world can sing like him. He was versatile singer whose voice always mesmerise us. In my opinion there is only one Sun, one Moon & one Mohammed Rafi in this whole world.

Prince Lalit Bhambhani
Atlanta, Georgia (USA)
Comparing Rafi with any other singer is unrealistic. The voice quality, melody, versatility, and range Mohd. Rafi had are beyond comparison to any living or dead Indian Pakistani playback singers.
The greatest singer of India who sang variety of songs. Rafi Saab, is indeed the best singer of all times. Today, 32 years after his death, he lives on eternally. His songs today are just as popular as they were during his lifetime.
Even after thirty three years since his death his songs even today sounds as though they have been recorded today, I wish I could have had the chance to meet this legend, my entire collection is none other then M. Rafi, may he always be in our hearts
The best singer, the good human, soft honest polite, real king, never worked for money, example is Rafi lata controversy for royalty issue: as Rafi stated that it is the producer who bets the money and the composer who creates the song, so his claim to the contribution of the song is compensated when the fees are paid.
Mohammad Rafi is the gretest singer in the subcotenant. Ilike him so much.
Rafi means the zenith so he was, he is and he will remain the best ever in the earth till the life of the earth. He was like an angel but he was not as the best singer like Lata because lata is a singer but rafi is an angel
HE CAN BE DESCRIBED IN ONLY ONE WORD "INCOMPARABLE", THERE HAS NEVER BEEN ANYONE LIKE HIM BEFORE, A TRUE VERSATILE SINGER, WITH A VOICE THAT TOUCHES THE HEART DIRECTLY, A TRUE LEGEND...!
His voice creates a ambiance which no other singer's voice can't do. It takes you to the situation of the songs subject and feels like that you are there which his voice explain.
I agree with everyone, a humble man with a gift to move people with his soft voice. Mohd Rafi's songs are heartfelt, for me no one and I mean no one comes close to the legend whose songs are still being played in households after 35 years of his death. In my eyes number one forever!
Rafi is just best in male singers, and inspiration for many singers, his voice touch your heart, sweet, silky and smooth, he is the only singer whose voice became even better with the age.
There is a saying that before being a good artist, one has to be good human being... Rafi saab was the best example for that... He was so humble the simple human being that many times he has sung without fees... That's why god had given him great voice