Ray Mears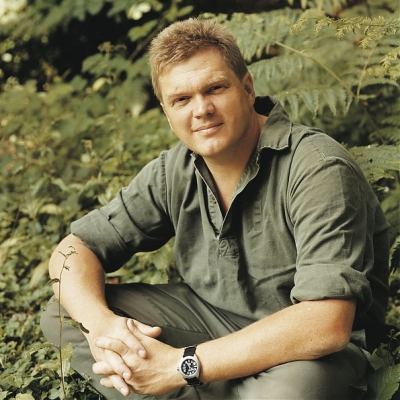 Uploaded by Ananya
Comments
Top
Popular
Newest
A treasure chest of knowledge, but always hungry for more. He is the most humble, and mindful in the group. Furthermore, he simply has skills, and attributes that many of the people on this list don't have. Watch any of his crafting videos to realize this for yourself.
Ray has a proven track record in this area over decades. All of his advice is sound, well thought out and many techniques stem from thousands of years of human evolution. If you don't want to just survive but live well, across a wide spectrum of environments, follow Mears.
I agree with the previous comments. Ray Mears is not a showman. What do we really need from a bush-crafts man, a survivalist? Tools that we can apply. And before that comes understanding. He gives it to you with providing plenty of details. He enlightens you, not entertain.
While Bear goes diving around in shit with no clothes on (which isn't useful survival technique at all) Ray actually explains and shows us how to survive and his really the person people should listen to. Ray is a legend and shows us that survival isn't just running around in the jungle like an idiot.
Ray is the real deal, he can do everything and has done everything seen on his programmes. He also comes across as a nice guy, and humble in his dealings with other cultures and people.
With Ray Mears you get not only lessons in bushcraft and survival, but a detailed history of their origins presented in the most humble and elegant of ways. Mears is not only a instructor, he is also an thoroughly educated researcher who have studied the cultures of people all over the world for over two decades. He has shown us that one man's "survival" can be, simply, another man's daily way of life.
When it comes to knowledge of how to survive in any terrain you can't go far past this pom. His extensive knowledge of plants that are edible or good for other uses in survival situations far surpasses most people in the same field.
Ray has extensive knowledge of how people in undeveloped countries live with the land. As someone with such experience of primitive cultures he has visited the USA many times.
Real tested information that focuses on how to do things not on trying to boost the presenters ego like many of the Discovery channel survival "experts"
Simply the only chap I would want to be stuck with ANYWHERE... All the others are fantastic, but having spoken to the guys, you would never be short of information or conversation.
Knowlegable yet fairly modest. Keen on passing on the knowledge that he has acquired through his own efforts to those interested without appearing boastful. Goes into great detail, with ought showing off, like some others that could be mentioned.
Ray has vast knowledge of the wild in every kind of habitat. He does not need gimmicks or a macho poseur image. Bear Grylls is a fraud and blatant show off.
If there was only one survivalist to follow, I would go with Ray Mears.
The guy who introduced survival skills to most people. Without the ego.
He shows what it really takes to the stuff he talks about, and knows How and why the stuff works or doesn't work.
An expert, a great teacher and a Man that T.V. didn't spoil!
Ray Mears has spent his life studying and practising survival skill in all areas of the world. He imparts his knowledge in a clear and unpretentious way. This makes his T.V. shows really interesting and educational. Unlike Bear Grylls Ray can easily find edible food and would never follow you around trying to eat your poo.
His calm demeanor and knowledge of different primitive techniques from various cultures has shown me why some people practice survival and he teaches bushcraft.
Plain simple instructions, no showboating
Ray Mears is calm, collected and highly knowledgable in many different environments. I would want to be with Ray over anyone else in a survival situation.
He is a survivor with real knowledge of how to live off the land, not a showman.
Great knowledge of the outdoors that can be matched with the rest of them.
He is the best of all, teaching us how to make things with clear and detail
Love this guy... Should be number 1 survival expert..
Most informative by far. Less drama and foolish risks, more quality info. Also gives a lot of history about local indigenous practices as he applies them with bushcraft.
Related Lists
Best Stevie Ray Vaughan Songs

Best Ray Charles Songs
Best Gamma Ray Songs
Best Sugar Ray Songs