Best Boondocks Episodes
The Top Ten
1
Return of the King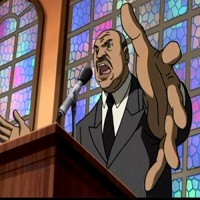 Martin Luther King Jr awakens from a coma and Huey persuades him to reach out to the public by hosting a party meeting and upon seeing how rambunctious everyone is acting Dr. King gets angry and yells at them referring to them by the N word appalled by the current generation's behavior by willfully assuming the negative racial stereotypes associate with them.
2
Smokin With Cigarettes

"Cause I'm a bad kid, I do bad things".
Riley's And Lamiltons Fight Was So Dope
3
The Trial of Robert Kelly

4
Wingmen

5
The Fund-Raiser

Riley organizes his own fund raiser along with Jazmine, Cindy and other students in order to make money but things quickly take a turn for the worst when the competitors come seeking revenge.
6 The Fried Chicken Flu
7
A Date With the Booty Warrior

Tom attempts to overcome his fear of going to prison and being anally raped by accompany a group of students including Huey and Riley on a scared stiff program but when they get to the prison Tom is the one who finds himself being intimidating by the other prisoners especially one of them who refers to himself as the Booty Warrior who in his own words "I likes you, and I want you, now we can do this the easy way or we can do it the hard way, the choice is yours" and when he tries to claim Tom for his own he freaks out and knocks him back which then leads to a riot as the prisoners take control of the prison and the children as Tom runs away while being pursued by the Booty Warrior who in fact was based on Fleese Johnson an inmate who was profiled the MSNBC show "Lockup".
8
The Story of Thugnificent
Rapper Thugnificent moves into the neighborhood but tension between him and Granddad leads to Thugnificent to release a diss record as Granddad fires back with a diss record of his own.
9
The Color Ruckus
The episode reveals more of Uncle Ruckus's past as he was taken in and raised by the Ruckus family and suffered an enormous amount of abuse by his adoptive father Mr. Ruckus, years later he is forced to deal with family again when his mean and angry grandmother shows up out of the blue claiming that she's dying and his family later shows up as his father wants to be their when his mother dies.
10 Stinkmeaner Strikes Back
The Contenders
11 The Story of Jimmy Rebel
12 The Red Ball
13
Attack of the Killer Kung-Fu Wolf Bitch
Robert meets with a woman Luna from an online dating site and invites her over for the weekend and despite her being really beautiful it turns out that she's a bit unstable and our of fear for his and the boys lives he tricks her into leaving but after realizing he lied to her Luna snaps and holds the Freeman's hostage in their own home.
14
The Itis
I love it when the rap song fades out and stop as the fat lady stabbed the other in the hand.
15
Invasion of the Katrinas
Granddad and the boys unwillingly take in his nephew Jericho Freeman and his family following hurricane Katrina but as much time passes with no sign of them leaving Granddad decides its time for these lazy you know whats to go but Jericho and the rest of the Freeman clan aren't leaving without a fight.
16
Or Die Trying
The Freeman's drag Jazmine with them into sneaking in to see the new Soul Plane movie meanwhile Jazmine is horrified over the though of them stealing a movie and things only get worse when Uncle Ruckus realizes that they didn't pay to get in and tries to hunt them down.
17
Pause
I hate to tell you, egnomac. But It's Alright to Crossdress for Christ is not listed in the end credits.
18
A Date With the Health Inspector
Imagine if the Health Inspector raped Davey Stone, a Tom DuBois lookalike! >:D
19 Ballin'
20 The Real
21 I Dream of Siri
22 A Huey Freeman Christmas
23 The New Black
24 Guess Hoe's Coming to Dinner
25 Grandad's Fight
PSearch List