Top Ten Most Disturbing Episodes of Children's Shows
The Top Ten
1
Dark Harvest (Invader Zim)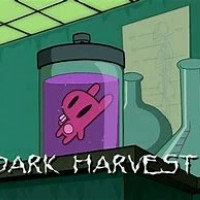 2 Ren's Toothache (The Ren & Stimpy Show)
3
Perfect (Courage the Cowardly Dog)
The one with the Blue Thing? NOPE (flips a table)
Nah wasn't disturbing to me - bobbythebrony
4
Arnold Visits Arnie (Hey Arnold)
Hey Arnold is my favorite show and I like this episode, but it was kind of creepy.
5
One Coarse Meal (Spongebob Squarepants)
Remove murder from this episode!
6
Changing Nature (Dinosaurs)
So sad and incredibly dark.
7
Angelica's Nightmare (Rugrats)
In the dream time was worse
8 A Pal for Gary (SpongeBob SquarePants)
9
1998 Pilot (Madeline)

10
Stimpy's Fan Club (The Ren & Stimpy Show)

The Contenders
11
Fart Baby (Sanjay and Craig)
This was :-*(
12 #OscartheOuch (Sam & Cat)
13 Monster Massachusetts (Timon & Pumbaa)
14 Brett Venom M.D. (Sanjay and Craig)
15
The Splinter (SpongeBob SquarePants)
I nearly puked
Never want to see that episode again
Oh god yeah! When SB's thumb is FULL of gross stuff…
16 Meat Dog's Friends (CatDog)
17 Tickle Me Mandy (The Grim Adventures of Billy & Mandy)
18
The Gift of Gum (SpongeBob SquarePants)
The only creepy thing about it was Patrick's underwear.
How is this episode creepy?
19 #Twinfection (Sam & Cat)
20 A Tale of Two Tables (The Loud House)
21 Nightmare (CatDog)
22 All Broken Up - Gumby
23 Bro-Cave-A-Rooney (Liv and Maddie)
24 Squid's Visit (SpongeBob SquarePants)
25
Pslightly Psycho (Dexter's Laboratory)
You know! For kids!
PSearch List