Top 10 Worst Games by Flipline Studios
Remember when you got to access the school computers, and proceeded to play the games like the Papa's (Insert food here)-ia series? That series specifically is made by a Flash game company called Flipline Studios. However, since Flash is going to end in 2020, and Apps are taking over, Flipline has Gone Downhill. Let us see some of their not finest moments since 2006, the year they started making flash games.

The Top Ten

1 Steak and Jake:Midnight March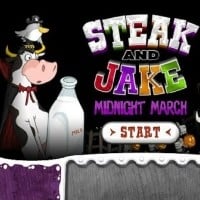 Everyone seems to have forgot about this game. It's kind of just a reskin of the original game, with some new levels, but Halloween themed. Yeah, there is a reason people forgot about this one game that came out of nowhere
2
Rock Garden Deluxe
A Very Forgotten game, and there probably is a reason it has not been mentioned at all lately by the creators of Flipline Studios themselves.
3
Papa Louie 3: When Sundaes Attack!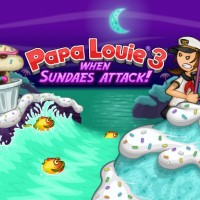 The Second installment really Revolutionized the whole plat-former sub-series of the Papa Louie Games. You can't really say the same thing for the 3rd installment, as the only new feature added was access to swimming. Compare that to playing as different characters, collecting hidden items, and whatnot. In here, they haven't even added new level or character slots! Really? There are newer characters and abilities, and another story, but at least We could have created our own characters or more levels
4
Papa's Freezeria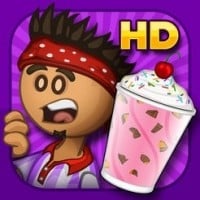 The Flash version of this game was beloved among the fans. However, you can't really say the same thing about the Version for Tablets. It was mainly disappointing due to a certain major feature added on the previous gameria. (Which is Holidays, and the predecessor was on flash).
5
Papa's Burgeria To Go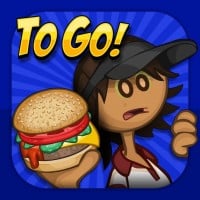 I don't think Flipline was ready to bring their games to mobile phones at the time. Sure this was the first one for mobile phones, it does cost a dollar to dish on this. This was made in early 2013, after the 7th installment of the Gameria series on Flash, but Lacks so many features. You know about the customizable lobbies introduced in late 2011 and heavily improved in late 2012? Yeah, that's gone. What about the feature to create custom workers from mid-2012? That's gone too. Etc.
6
Slider Scouts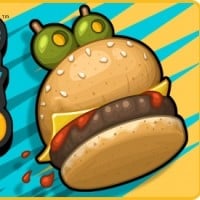 This was based on an easy minigame in the Gamerias. The concept is probably a little done down a lot, but flipline's version does have some interesting features like customization for that lodges. So I'll give them that. But after playing for a month or two, it gets a bit boring afterwards.
7
Papa's Wingeria
This was quite disappointing at the time when this was released. Sure, the ability to create your own workers was added, but it was lame back then. I don't remember what exactly the thing was that almost made me lose all interest for the series, but I'm glad Hot doggeria came to settle all these changes
8
Guppy Guard Express
Early Game for flipline studios, so I can't be that harsh to it. But it's not a very special arcade game rather than to avoid obstacles underwater
9 Papa's Cupcakeria
10 Meteor Blaster
The Contenders
11
Papa's Wingeria HD
Same thing for the Flash Version of this game. At least there is newer features added in the version for tablets, but still, there is no holidays. It was only until 2015 where they were implemented into the versions for Tablets and Mobile phones.
12 When Pizzas Attack!
13
Papa's Pizzeria
This game gets quite boring as there are no unlockables or holidays.
14 Papas Pancakeria
15 Papa Louie 2: When Burgers Attack
16 Papa's Pastaria
BAdd New Item