Best Guitarists That Were Influenced by Jimi Hendrix
The Top Ten
1
Stevie Ray Vaughan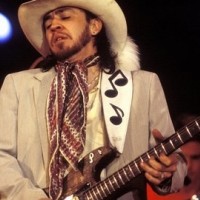 Stephen "Stevie" Ray Vaughan (October 3, 1954 – August 27, 1990) was an American musician, singer, songwriter, and record producer. In spite of a short-lived mainstream career spanning seven years, he is widely considered one of the most influential electric guitarists in the history of music, and ...read more.
SRV transcended the typical 'Hendrix influenced guitarist' and became something greater. He is a much better playing than Hendrix.
Stevie ray Vaughn, is the perfect of a guitarist ; born in a blue combat boot =- with all that soul! Sincerely, Shannon Jamel Gillespie
2
John Frusciante

John Anthony Frusciante is an American guitarist, singer, producer and composer.He is best known for his time with the Funk Rock California based band the Red Hot Chili Peppers. He was also part of the Mars Volta, Swahili Blonde, Ataxia and more.
I like SRV on the top spot, cause it's the most obvious answer(and I don't mean that to be bad) but he made his own style with Hendrix's playing. Froosh is like a cleaner version of the guy. He helped a generation of players understand the playing technique he and Jimi shared when internet wasn't around to snoop info back into the 60's. John is spot on, and light years ahead of Slash(currently #2, while Froosh is on #3) just by creativity alone. The rest are good, but loosely revolve around Hendrix. John is the closest to Hendrix we'll hear. Plus his current indie material makes good use of the technique.
This guy is definitely the most influenced by Jimi Hendrix. His style of play is really the only thing that stands out from him and Hendrix, but his sound and solos sound so alike. Just watch some Dani California live performances on youtube. His performance at Slane Castle was other worldly. Watch those two performances - connor2738
3
Slash

Saul Hudson, known professionally as Slash, is a British-American musician and songwriter. He is best known as the lead guitarist of the American hard rock band Guns N' Roses, with whom he achieved worldwide success in the late 1980s and early 1990s.
This list just means best guitarists except Hendrix
4
Steve Vai

Steven Siro "Steve" Vai is an American guitarist, composer, singer, songwriter, and producer, born and raised on Long Island, New York.
5
Eddie Van Halen

Edward Lodewijk "Eddie" Van Halen (January 26, 1955 – October 6, 2020) was a Dutch-American musician, songwriter, producer, and inventor. He was best known as the lead guitarist, occasional keyboardist and co-founder of the hard rock band Van Halen.
It's Eric Clapton who influence Eddie Van Halen, NOT the OVERRATED Jimi Hendrix
He was a very good guitar player and mencend in bill and teds exlent atvencure
6
Eddie Hazel
He's the closest thing to Hendrix.
Maggot Brain
7
Joe Satriani

Joseph Satriani (born July 15, 1956) is an American instrumental rock guitarist and multi-instrumentalist. Early in his career, Satriani worked as a guitar instructor, with many of his former students achieving fame, such as Steve Vai, Larry LaLonde, Rick Hunolt, Kirk Hammett, Andy Timmons, Charlie ...read more.
8
Brian May

Brian Harold May is an English musician, singer, songwriter and astrophysicist, best known as the lead guitarist of the rock band Queen.
9
Yngwie Malmsteen

Yngwie Johan Malmsteen is a Swedish guitarist, songwriter and bandleader who was born on June 30th, 1963, in Stockholm, Sweden. He was known for his neoclassical metal playing style back in the 1980s.
10
Prince

Prince Rogers Nelson (June 7, 1958 - April 21st, 2016) was an American musician, best known for being one of the most popular and influential artists from the 80s, with songs such as "Purple Rain", "Little Red Corvette", "1999", and "When Doves Cry" .
The Contenders
11
Billy Gibbons

William Frederick "Billy" Gibbons is an American musician, singer, songwriter, producer, and actor, best known as the guitarist and lead vocalist of the American rock band ZZ Top.
12
Robin Trower
I can't believe The Master Of The Stratocaster is so far down the list.
Why does trower get so overlooked...my god the man has been playing live for about 4 decades and doesn't even have a picture here...what a travesty
13
Eric Clapton

Eric Patrick Clapton is an English rock and blues guitarist, singer and songwriter. He is the only three-time inductee to the Rock and Roll Hall of Fame: once as a solo artist and separately as a member of the Yardbirds and Cream. He has also been a member of Derek and the Dominos.
More like a friend and kindred spirit, but Hendrix definitely influenced him, plus EC may be the only guitarist that Jimi considered a "peer", if not necessarily an equal.
14
John Mayer

John Clayton Mayer is an American singer-songwriter, guitarist, and record producer. Born in Bridgeport, Connecticut, Mayer attended Berklee College of Music in Boston, but disenrolled and moved to Atlanta in 1997 with Clay Cook. Together, they formed a short-lived two-man band called Lo-Fi Masters.
15
Zakk Wylde

Zakk Wylde is an American musician, singer, songwriter, multi-instrumentalist and occasional actor who is best known as the former guitarist for Ozzy Osbourne, and founder of the heavy metal band Black Label Society.
16
Randy California
The founder of "Spirit" was given his name by Hendrix himself, when two of his band members were both named "Randy".
RIP Randy.
Many fans may not know that Randy died a hero, saving his son from drowning in heavy Hawaiian surf, but Randy did not make it out.
17
Lenny Kravitz

Leonard Albert "Lenny" Kravitz is an American singer, songwriter, actor and record producer, whose "retro" style incorporates elements of rock, blues, soul, R&B, funk, jazz, reggae, hard rock, psychedelic, pop, folk, and ballads.
Are You Gonna Go My Way is a fantastic Hendrix-influenced song. The riff is so much like a Jimi riff and the "But what I really want to know is..." part, he sounds almost like he's Hendrix's twin on that part. - BrianScott01
18 Frank Marino
19
KK Downing

Kenneth "K. K." Downing Jr. is an English guitarist and songwriter, and one of the founder members of the British heavy metal band Judas Priest.
20
Uli Jon Roth

Uli Jon Roth is a German guitarist, who became famous as the Scorpions lead guitarist, and is one of the earliest contributors to the neoclassical metal genre.
Uli Jon Roth is one of the greatest Hendrix influenced rock guitarists both in his work with Scorpions in the 1970s and his own band Electric Sun and other solo work.
Roth has taken Hendrix acid rock style and developed it further in many interesting ways.
21
Eric Johnson

Eric Johnson (born August 17, 1954) is an American guitarist, songwriter, and vocalist from Austin, Texas. Best known for his electric guitar skills, Johnson is also a highly proficient acoustic, lap steel, resonator, and bass guitarist as well as an accomplished pianist and vocalist.
22
Mike McCready
There are so many songs by Pearl Jam that pay tribute to Hendrix
23
Ritchie Blackmore

Richard Hugh "Ritchie" Blackmore is an English guitarist and songwriter, best known for his work in the hard rock/metal bands Deep Purple and Rainbow. He was ranked number 16 on Guitar World's "100 Greatest Metal Guitarists of All Time" in 2004, and number 50 in Rolling Stone magazine's list of the ...read more.
24
Dave Murray

David Michael Murray is an English guitarist and songwriter best known as one of the earliest members of the British heavy metal band Iron Maiden.
BAdd New Item