Best Little Mix Singers
The Top Ten
1
Perrie Edwards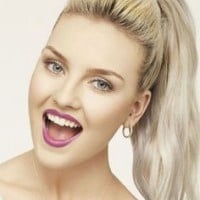 Perrie Louis Edwards is an English singer and a member of Little Mix who won the X Factor 2011. She is known for her strong and deep voice who inspired everyone during Little Mix's X Factor performances and during their Salute Tour. In Little Mix's songs: Move, Turn Your Face, Good Enough, Secret Love ...read more.
Perrie has the factor that when you hear her your heart melts with the power in her amazing voice! The best in the whole group"
In my opinion, she's the most powerful one. I'm not saying she sings the highest notes, but she's the most powerful.
It was a very tough decision between Jade and Perrie, but I have to honestly choose Pez even though Jade is my favorite. Listen to something about that boy, where I think she SLAYS the most. Like she does in every song, but in this song, she brings the house down. She's a powerhouse. A real icon.
Perrie Edwards has the best vocals. She can hit at any note which makes her the first. But her high notes are so next level I just love how she sings.. I love all of them but I just have to make perrie the first 🤍
2
Jade Thirlwall

Jade Amelia Thirlwall is an English singer and a band member of Little Mix that won the X Factor UK 2011.
Has the most powerful voice out of them all in my opinion and sings with loads and I mean loads of emotion
Jade is right below perrie. Her voice can do a lot of things. LOVE that.
She's the best . I mean singing high doesn't mean you have the best voice. But if you have a unique voice or voice control that would be it
Jade has a very versatile voice. She can go low, and high. She helps Perrie's notes sound higher than they actually are. She stands out to me the most, my opinion. She sings with such emotion, and it's makes me feel the emotion. If she sings with anger, I feel the anger. If she sings with sadness, I kinda wanna cry. When she sings happily, it brings a smile to my face, and makes me want to dance. I can always point out her solos in songs, and identify her in harmonies.
3
Leigh-Anne Pinnock
Leigh-Anne has a very angelic voice and a versatility that leads her to be able to rap, to sing using the high notes, the belts and a head voice.
She honestly just sings like an angel.
Plus she wrote their To The One I've Been Missing
My favourite Christmas song
Leigh-anne's voice had got better though out the years. she had the most progress. Her voice is unique to me.
All of them have their own strengths
4
Jesy Nelson
He voice sounds like no other. I love the way she puts her heart into every songs she sings.
Jesy's voice is always full of emotion. I can always understand her through her singing. Her vibrato is just the best. She hits all the high notes and all the low notes.
She's the one who shows most emotion when singing, in my opinion.
She is amazing she has got a great voice that's why I picked her