Band Ratings for TopTenners #2
I got a decent amount of comments from my last one, so I decided to do another one. Obviously every time I make a new one, the bands will be averagely less famous. Rate them out of 10 stars, or whatever you would prefer.

The Top Ten

1 Black Sabbath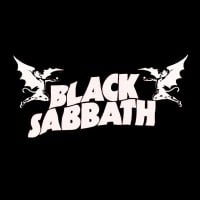 Black Sabbath were a Heavy Metal band formed in Birmingham, England in 1968 by guitarist and songwriter Tony Iommi, singer John "Ozzy" Osbourne, bassist and main lyricist Geezer Butler and drummer Bill Ward. ...read more.
5/10. A better hard rock band, but still not my style.
8/10. I once would have had them topped out, but I've cooled on Metal. Still, there is no denying the imagery associated to the band, and the unique guitar riffs were groundbreaking in the early 70's. Trail blazers, despite what some would have us believe.
5.5/10 - I'm not much of a fan. Their music is boring and I don't like Ozzy's voice. Paranoid and Sabbath Bloody Sabbath are good songs though.
4/10 I never liked Black Sabbath even if I'm much into rock and metal
2
Green Day

Green Day are an American pop punk, punk rock, and alternative rock band formed in East Bay, California in 1986. The members include Billie Joe Armstrong (vocals and guitar), Mike Dirnt (bass), Tré Cool (drums) and Jason White (guitar) . Green Day are associated with punk rock, pop punk and alternative ...read more.
7/10. Got some very good songs, but the singing can get a little annoying.
4/10. I think Billie Joe has become a good songwriter, but I also think Green Day got their foot in the door by plagiarizing some bands I love, The Clash and Stiff Little Fingers, to name 2 of them. There are some punk rock purists I know that absolutely hate Green Day, and I do see their point. But my daughter loves them, so having been exposed to much of the band's material, on a loop at times, I will admit there is some good stuff there.
8/10. Their earlier stuff was better than their later stuff
8/10 - they're good, but they've went downhill. Their best songs are on their older albums.
3
Red Hot Chili Peppers

The Red Hot Chili Peppers is an American funk-rock and alternative rock band, that was founded in 1983. ...read more.
8.5/10. Just fantastic, they have very consistently good music.
9/10. Made a seamless transition from an underground novelty, to a more pop oriented sound, and I think, back to somewhere in between, while maintaining their pop sensibilities. Theyve taken a unique concept a very long ways, and spawned many copycat acts, but none can match the original. I obviously like the band very much. They were a trip to see live, especially before they popped.
6.5/10. They are alright. They have some good songs, but their albums aren't very good. Songs like Under the Bridge, Otherside, Californication, Scar Tissue are good. Albums like Californication, By the Way, Stadium Arcadium etc aren't very good. Just too much filler and boring songs.
5/10 - I only like Under The Bridge. Their other songs don't interest me.
4
Iron Maiden

Iron Maiden are an English Heavy Metal / Hard Rock band formed in Leyton, East London, in 1975 by bassist and primary songwriter Steve Harris. The most critically acclaimed period for the band was from 1983-1989. With vocalist Bruce Dickinson, bassist Steve Harris, lead guitarist Dave Murray, rhythm ...read more.
4/10. Another metal band that, again, doesn't change my thoughts on the genre.
10/10. This gotta be one of my favorite metal bands of all time. The band members are very talented and their riffs and solos are all great
10/10. The best metal band of all time by far. Everything from the instrumentals to the lyrics and the singing is just spot on.
4/10. Again, I'm not a metal fan.
5
Rush

Rush is a Canadian progressive rock band that was formed in 1968. The band has had an iconic lineup since 1975, which included Neil Peart (Drums, Percussion), Geddy Lee (Vocals, Bass, Keyboards), and the guitarist, Alex Lifeson. Peart passed away after a 3 year battle with brain cancer in January of ...read more.
6/10. Such a unique style, and Canadian. But I'm not a much of a fan. RIP: Neil Peart
9/10. That such great sounds came from a 3 piece band has always been astounding to me, and many others. Its their 70's stuff that really resonates with me, but the whole catalog is pretty consistently good.
4/10 - I hate Geddy Lee's voice, he is what prevents me from enjoying their music.
5/10. Never heard any of their songs, so I wouldn't know.
6
Aerosmith

Aerosmith is an American rock band, sometimes referred to as "the Bad Boys from Boston" and "America's Greatest Rock and Roll Band".
7/10. They're a little cheesy, but still produced some great stuff. - TheHabsFan
7/10. A band that has 2 distinct personalities to me, and even the band owns up to this. Their albums "Rocks" and "Toys in the Attic" are 2 of the most iconic hard rock albums of all time, and remain among my favorites. The mid 80's on version of the band took a decided turn towards catchy, pop oriented songs, and I personally like very little of it. In an interview I saw, Steven Tyler was asked why the band came back with such a differant sound, and he plainly and honestly stated the goal was to make money, lots of it, as they were all broke. When asked where all the money the band made in the 70's had went, he again answered honestly by pointing to his nostrils. - CyberRat
3/10 - I really don't like them. - RiverVibeZ
6.5/10. They have some great songs, but they also have some bad songs. - NickelodeonYesAddminNo
7
The Who

The Who is an English rock band formed in London, England in 1964. The most recognizable lineup was Roger Daltrey (lead vocals), Pete Townshend (guitar), John Entwistle (bass guitar), and Keith Moon (drums). They are best known for their live performances and hit songs Baba O'Riley, My Generation, and ...read more.
5.5/10. Nothing much here, highly overrated.
7/10. I'm a bit torn when it comes to the Who. One one hand, I see a band that used a lot of simple chords and melodies, and certainly took great advantage of writing lyrics that resonated with many for the times they were introduced. On the other hand, as I had dove deeper into their catalog, I've come to madly respect the genius that is Pete Townshend, perhaps the best songwriter of rocks golden area. He really knows how to build songs... There's a lot of stuff that speaks to me, and a lot that doesn't.
7.5/10. Talkin bout my geeeeneraaation.
8
Linkin Park

Linkin Park is an American rock band formed in Agoura Hills, California, in 1996. The members currently include Mike Shinoda (vocals, keyboards, rhythm guitar), Brad Delson (guitar), Dave "Phoenix" Farrell (bass), Joe Hahn (DJ) and Rob Bourdon (drums). Linkin Park are associated with a mixture of Alternative ...read more.
2.5/10. No offense to Linkin Park fans, but I think their music sucks.
I used to hate them but you know I started to think they aren't that bad still not a band that I frequently listen to.
6/10. I like the band, but think some of that sound that I found so unique when they popped, also wore out rather quickly.
5/10. Sorry to say, but I've never heard any of their songs. I will get to it though.
9
Radiohead

Radiohead are an English rock band from Abingdon, Oxfordshire, formed in 1985. The band consists of Thom Yorke (lead vocals, guitar, piano, keyboards), Jonny Greenwood (lead guitar, keyboards, other instruments), Colin Greenwoood (bass guitar), Phil Selway (drums), and Ed O'Brien (guitar).
6/10. Creep is an amazing song, otherwise not much.
7/10. Not the biggest fan of them, but they do have some great songs
6.5/10. Again, very mediocre.
4/10 - it's boring and not my thing. They're kinda pretetinous too.
10
The Jimi Hendrix Experience

The Jimi Hendrix Experience was an English-American rock band that formed in Westminster, London, in September 1966. Composed of singer, songwriter, and guitarist Jimi Hendrix, bassist and backing vocalist Noel Redding, and drummer Mitch Mitchell, the band was active until June 1969. During this time ...read more.
6/10. Guitar is legendary!
8/10. Really revolutionary guitar rock for its time, brilliant. But obviously, Jimi left us wanting more.
Great list TheHabsFan. Its interesting to read all the differant viewpoints on these bands.
5/10 - not into them, but they're listenable.