Top 10 Good Music Albums with Bad Cover Arts
The Top Ten
1
Electric Ladyland - The Jimi Hendrix Experience
Here you see the original cover that was replaced with Jimi's photo.
As you see, there were many naked women on the original cover - 19 nude women.
OK, not always 19 naked women would look bad... but I don't like them on this cover.
2
Stay Hungry - Twisted Sister
3
Yesterday and Today - The Beatles
This is the original cover that was replaced with a band's photo. For a reason.
4
Pet Sounds - The Beach Boys
Music in this album was critically acclaimed - it was called a masterpiece. But this cover... oh boy, I can't call it a masterpiece.
I love animals, make lists about them and all, but...
Ah, it's a funny cover. I think what bothers me more is the font and how outdated the idea of having a track listing on the front cover seems.
5
Diamond Dogs - David Bowie
This cover is a huge mistake... And on this image you don't even see the entire cover, where David Bowie's lower part of the body has dog legs (it continues on the back cover)
6
Love to Love You Baby - Donna Summer
Great list. Most of the album covers on the list look absolutely horrible. They are terribly shot, over the top, or are simply weird for no purpose.

But this one and "Power Metal" look just completely normal to me, for their respective time and genres. Especially this one has nothing outstanding to it, neither negatively nor positively. It's just her in a dress in front of shining lights.
An album that represents the music trends of the 70s (disco) - it is a good album from this subgenre but its cover is a very cheap attempt at getting attention.
7
Silk Purse - Linda Ronstadt
8
Power Metal - Pantera
They look silly on the cover due to the 80s glam metal appearance but music in the album can't be called bad. Because of this cover, many people probably concluded that music wasn't good.
9
Live It Up - Crosby, Stills and Nash
10
Dance of Death - Iron Maiden
The Contenders
11
Get Yer Ya-Ya's Out! - The Rolling Stones
12
Meddle - Pink Floyd
Interesting cover, I don't think is bad.
13
Strange Days - The Doors
I love this album, but the cover freaks me out. Two guys (one is not tall at all, the other is very tall and very fat) have their arms spread out. One guy is juggling balls, and another guy is lifting yet another guy by the waist. It is weird.
14
The Life of Pablo - Kanye West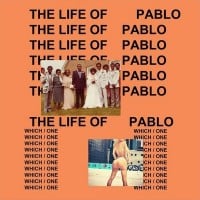 15
Time 'N' Place - Kero Kero Bonito
16
The Uplift Mofo Party Plan - Red Hot Chili Peppers
17
Close to the Edge - Yes
18
Streisand Superman - Barbra Streisand
How did this classy woman agree to this? Oh, probably Superman made her...
19
Around the Fur - Deftones
20
Kollegah - Kollegah
Kollegah... I love your music, man.
I love the way you twist and turn the German language around to bring a whole new meaning to phrases, idioms and proverbs by completely deconstructing them. I love that in each line almost every syllable rhymes with at least one another. And I love your entire over-the-top gangsta attitude - especially on this great, great, great hip hop record where you are much more light hearted and humorous than on your usual sinister street oriented albums.

But heck, this monstrosity of an album cover is unexcusable. Where did he find this background? Was this a pre-installed screensaver on a 90s computer (the album is from 2008)? What happened to his left arm? Why is it so long? And why does his face look like that from a 12 year old? One year later, he looks like a menacing biker on the cover. Who designed this logo? An assurancy company? There was a time where I seriously considered printing a cover myself and exchange it.
Yeah, this cover looks kinda cheap...
21
It's Only Rock 'N Roll - The Rolling Stones
22
Open Up and Say... Ahh! - Poison
23
An Awesome Wave - Alt-J
24
Pure Heroine - Lorde
25
Happy Songs for Happy People - Mogwai
PSearch List