Top 10 Currently or Formerly Lost Nickelodeon Pilots
A pilot is something that can give you a first impression on the viewers or the studio sent to it. But some of them don't even get produced at all. And some never get found. The one kids channel I think of when it comes to that, Nickelodeon. Hi, I'm Pnut. And today, I'll be telling you the Top 10 Currently or Formerly Lost Nickelodeon Pilots. I will also includes shows that were pitched to Nickelodeon but never aired on it if they got picked up.

The Top Ten

1 Blue Prints (Blue's Clues)

One of the more well known lost pilots not just on Nick, but in the entire history of cartoon pilots. Blues Clues was not only a popular children's show, but was one of my childhood cartoons. I loved watching it when I was a small kid. It first aired in 1996, but not that many people know about the 1994 unreleased pilot when it was called Blue Prints. The plot wasn't that big, as it had the same premise of the first official episode of Blue's Clues, Snack Time. It was originally going to have a female host, but since kids loved Steve so much, he got the role. It was only shown on Fox Kids to test out the show's formulas and elements. So far, it hasn't been fully found, but one of the co-creators said she had a copy of it, so who knows? Maybe it'll be released someday to the public.

This is a good one

2 2002 Unaired Pilot (Drake and Josh)

Drake and Josh was known for being a very popular Nickelodeon sitcom from 2004 to 2008. It starred the brothers of, well, Drake and Josh. Originally though, in 2002, there was a pilot created for the show. It was made before Nickelodeon could pick it up, and started production in 2001. Not much was known except the plot was the same as the first episode and the dad's actor was different. In 2013, the creator of the show Dan Schneider posted pictures of the unaired pilot. I think the pilot was also on YouTube as well but was later privated. Eventually a small part of the pilot has been uploaded so it could still be found as of this video.

3 Spongeboy Ahoy! (SpongeBob SquarePants)

Before SpongeBob SquarePants became a thing, the creator Stephen Hillenburg and several other staff members from Rocko's Modern Life all came together to create a pitch pilot. SpongeBob wasn't the name at that moment, as he was called Spongeboy. But while working, it was scrapped due to a mopping brand already having the name Spongeboy. It was speculated that there was a different version of Help Wanted, the first ever SpongeBob episode, as it featured a different intro sequence with it. In 2009, the original intro sequence was uploaded onto YouTube and someone also found a rare screenshot that not many people have seen, but that was all that was found in the pilot at that time. But as of now today, it can actually be fully seen by streamable, that's what people say at least. It's very important since it kicked off the beginning of the iconic show.

4 Me and My Friends (The Backyardigans)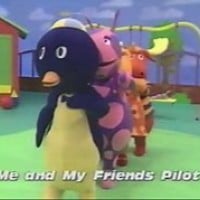 Me and My Friends is quite the weird one, and for some reason, it always creeps me out. It would serve as a pilot which would eventually become the hit animated series The Backyardigans. It was taped at Nickelodeon Studios in Orlando, Florida, all the way back in 1998. It was declined by Nick, but characters in the pilot were used in the 2002 Backyardigans pilot, which got picked up. There isn't that much of the pilot right now, as there was only a 3 second clip in a video of old Nick members. The biggest change had to be the style. In the final product, it was CGI. But instead was a live action show with people in the characters costumes. But for some reason it creeps me out very much, such as a GIF where there are 4 animal costumes dancing in a conga line.
5
2002 Pilot (Peppa Pig)
Let's all say it right now, no users don't like it when someone hates on a baby show, like this one. It may set a bad example for kids, but it fascinates me for what it is. Originally, Peppa Pig began on a cartoon block called Tickle-U. But there was actually a pitch pilot all the way back in 2002. Originally, the pilot was lost and almost had no information, but just recently, it's been found fully! Even though it never aired on TV, it was found at two cartoon forums, one in 2002, and one recently in 2017. Not that much is displayed here though, as it introduces Peppa and her family, and doing all sorts of things you would expect from a normal family. And I'll quite admit, it was interesting to see it.
6
1999 Pilot (Super Why?)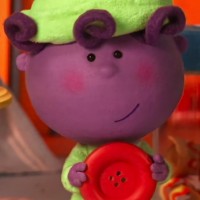 Super Why would originally be pitched to Nickelodeon, but it instead ended up on PBS Kids, and would begin airing in 2007. But 8 years before that, Super Why had a different kind of style when it was pitched over to the folks at Nickelodeon. There were several differences with the pilot from the original show. Instead of CGI, it was fully produced in stop-motion. The intro's theme song was completely different from the one on PBS Kids. And not all of the characters from the original cartoon appeared in this pilot. As of now, it is partially found, but the search is still on to find it.
7
The Umizumiz (Team Umizoomi)
Team Umizoomi was a Nick Jr. show that ran in the 2010s with a little bit of success. I remember watching it all the time when I was little. Originally in 2006, it was picked up by Nickelodeon. Eventually, in 2008, the pilot was complete. Instead of Milli, Geo and Bot, there were 3 other characters that were in the pilot but not in the final series. (Technically it's 2 because the car named Zipmobile became UmiCar.) The pilot never aired on TV, but on YouTube, there was a 10 second clip with no audio showing it. So far, some of it has been found, but as of now, it has not been fully found.
8
Johnny Quasar (Jimmy Neutron)
I remember the long search when I was a wee young lad. Johnny Quasar was known for being a precursor to the Nick cartoon Jimmy Neutron. In 1994, the character was created by John A. Davis, the character he thought of since all the way from the 80s. When he moved, he pitched the idea to the company SIGGRAPH. It was lost for a long time but on August 15th, 2017, the pilot would be posted by the voice actor of Johnny Quasar. It even has two pilots!
9
Pilot (Dora the Explorer)
Ah yes. A Nick Jr. hated so much on this website, we even got more hate than it. (Wink wink). But like I was gonna say, Dora the Explorer had an original pilot and a test pilot as well. There was also a synopsis for something involving another pilot episode as well, with Dora and Boots having to travel to some giant cupcake. The test pilot just had a scene of Dora and Boots simply walking, so it could be a test animation for them. Finally, a pilot has now been partially uploaded so far if it has more, with Dora and her friends going to the beach.
10 2012 Unaired Pilot (Blaze and the Monster Machines)
The Contenders
11 Lost Spinoff Pilot (Clarissa Explains It All!)
12
2006 Unaired Pilot (Bubble Guppies)
Not a lot to say here, but it's about the Nick Jr. cartoon Bubble Guppies and it's original pilot made back 2006. Bubble Guppies was in a competition to see who would get picked with Team Umizoomi, but they ended up both getting picked up. A episode titled Happy Clam Day was produced and ready to go in 2007, but it never aired. It would have some different voice acting and major design differences. As of now, almost nothing from it is here. Only a few images.
13 2001 Pilot (Constant Payne)
14 2007 Unaired Pilot (The Modifyers)
BAdd New Item