Angel Locsin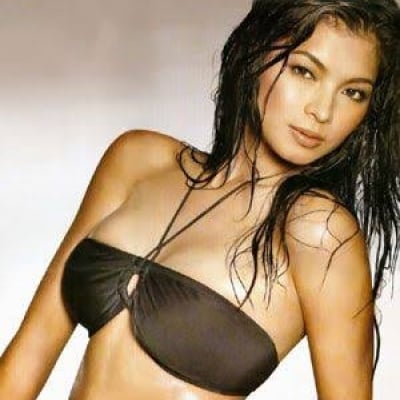 Uploaded by Ark-M
Info
Angel Locsin is a Filipina television and film actress, commercial model, film producer and fashion designer.
Comments
Top
Popular
Newest
A perfect Angel of the Philippines! The sexiest body, the sexiest face, and the sexiest HEART. The Philippines deserves to have a REAL ROLE MODEL who is not only sexy outside but also has the HEART to share her love to people especially in time of need without any media coverage. Someone who's posting on Instagram, Facebook and other social media sites NOT ONLY her sexy photos but also posting to ENCOURAGE and INSPIRE people to save and help others who are in desperate needs. She is truly THE SEXIEST PINAY with an incredibly sexy heart!
Angel is beautiful and talented. For me nothing can compare to her. She is my no.1 sexiest body in the philipines. She had a talent to design, acting. She is the rightful place as the sexiest body in the philipines. she is kind, humble and insecureness. I LOVE YOU ANGEL. HOPE YOU MAINTAIN AS THE SEXIEST BODY IN THE PHILIPINES. thats allI can say.
.. With a vital statistics of 36-24-37, she is really the sexiest woman in the Philippines. Not just that, she has also an angelic yet alluring face that can seduce anyone man on Earth. She's the best! From head to toe, she's really stunning! And oh, her ayes are very gorgeous.. When she stares, anyone will fall her.
Super like! ;)
the simplicity that made her beautiful
I truly adore angel locsin!
for me she's perfect, angelic face, the body, her personality as a star. I want to be like her hopefully! hehe
Angel Locsin is not only known because of her beauty but also she was known because of a very kind heart, and I think that's the most important of all. That's a true Filipina, a beauty of inside and out.
She's nice and truly beautiful inside and out... I love her with all my heart and soul.. She's the most sexiest women here in the Philippines and no one can bit that position.
Angel is one of a kind actress, and a sexy star. She possesses good attitude inside and out, as a number one spot you should be good in public, because it measures your beauty and characteristics, if you are not like angel don't be too ambitious to be the number one spot.
for me, ms. locsin deserves to be in the top spot. all the girls in the lists are all sexy. but consider this. angel locsin is voluptous. that is all I can say.
Angel is the most sexiest woman in the Philippines. The she is not only in here body but she have every thing attitude good heart. I love angel since she is started in showbiz. I hope she more show in abs cbn because she deserve it.
.. She has a perfect body! With an angelic yet alluring face, anyone could fall for her. Her generosity and kindness is another factor why people around the world considers her sexy.. And the way she carries herself is the true manifestation of being sexy..
SEXINESS IS NOT JUST THE BODY... ITS HER WHOLE BEING... AN APPEAL IN EVERY ASPECT THAT CANNOT BUY... SHE HAS THIS AMAZING APPEAL THAT SO RARE TO HAVE BY OTHERS... HER LOOKS... HER SMILE... HER BEAUTY... HER TALENT... HER BODY... HER PERSONALITY AS WELL IS REALLY TRULY you CAN SAY OF A SEXY WOMAN
She deserves to be the Number 1! She's the one! She will always be the number one sexiest women in the Philippines! I Love You Ms. Angel!
Angel is the bomb and no one could ever take that. Poor Marian Rivera, you are going downhill baby. HAHA - hatcher234
just look at her in darna... a "wow" body. perfect! - niceepinay
Angel Locsin deserves the number one spot of the Philippines' Sexiest Woman. A very flexible actress who can do and act any role. She is very beautiful, and sexy. She is the 'Angel of all Stars'... The category maybe to be crowned as the sexiest woman is not only having a beautiful physical outlook but also in inside beauty. See Angel, she has that beauty inside and out... Gogogogo Idol... Angel Locsin
No doubt she is the sexiest woman alive in the whole world with her pretty face and perfect body. The goddess, smart, wit and very intelligent.
I like angel locsin very much,in the way he project..
I really like angel locsin, kasi natural beauty talaga the fact she's real and not a fake thats why I vote angel locsin for the most sexiest women.
Stunningly so sexy, gorgeous, pretty, beautiful inside and out. Envied by detractors, adored/loved by millions!
Angel locsin still the most beautiful and sexy actress in the Philippines industry...
She deserve number 1 spot.. Vote for angel.
Inside and out, sexiest.. No word can describe her beautiful face, body I mean all she has.
Because, Angel is one of the best, lovely and awesome. I like her so much!. And she deserve to be the best among the others.
Nothing could ever defeated her, being one of the kind. Beautiful, sexy, intellegent, sweet, humble and kind. Astonishing Ever. We love you Angel, you're the one!...
For me angel is the sexiest in the Philippines, she is also beautiful, kind, smart, best actress, and joker. Go angel you deserve to became a sexiest in the Philippines go idol
Angel.
Angel is sexy inside and out. She deserves the title "Philippines sexiest woman" more than anybody else. If I were given the chance to vote a billion times, I would vote for her only over and over again. Why? Well, it needs no more questions and further arguments. Everyone knows about it. Just look at her and you will know. She has everything what a sexiest woman should have.
Angel deserves the title simply because she has a beautiful body a perfect body indeed and a beautiful face and a beautiful attitude simply and down to earth and classy woman.
Related Lists
Best Angel Songs
Best Morbid Angel Songs
Best Morbid Angel Albums

Best Songs On Judas Priest's Angel of Retribution