Top 10 USA Olympic Swimmers
As a country with a rich history in competitive swimming, the USA has produced a phenomenal roster of athletes who've excelled in the pool at the Olympic Games. We're talking about talented individuals who've cut through water with lightning speed, set jaw-dropping world records, and accumulated heaps of glittering medals. These swimmers have not only been athletes but also inspirations, their stories reaching beyond the lanes of the pool and into our collective consciousness.

But, who are these aquatic dynamos, these USA Olympic swimmers? They range from those who've dominated their era with unstoppable power and finesse to those who've left a memorable impression with a single, shining Olympic performance. From the sprinters who explode off the blocks to the distance swimmers who embody the very spirit of endurance, the USA's Olympic swimmers are a diverse lot, each bringing their own unique flair to the sport.

The Top Ten

1 Michael Phelps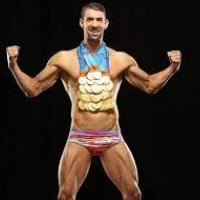 Often hailed as the greatest swimmer of all time, Maryland native Phelps amassed an astonishing 23 Olympic gold medals in his illustrious career. A specialist in butterfly and freestyle, he also excelled in individual medleys. Phelps' competitive prowess was first showcased at the 2000 Sydney Olympics, leading to an exceptional career that spanned four more Olympic games. His sportsmanship, dedication, and decorated record have cemented his status as a swimming icon.
He's an amazing swimmer and everyone should know that. I know he was caught with a bong but whatever I respect him anyway.

He is definitely the best of the best. Go Phelps!
Michael Phelps is an amazing swimmer. He is obviously one of the best swimmers in the world. He inspired me for swimming. I've been swimming since I was about 1 or 2 years old.
I think he is an amazing swimmer because he spends all his time swimming. I am a swimmer and I really want to grow up and be exactly like him and how he swims.
2
Dara Torres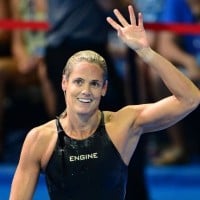 Torres defied age norms in swimming, competing in five Olympic games and winning a total of 12 medals, including four gold. Known for her exceptional comebacks, she first made waves at the 1984 Los Angeles Olympics and notably competed in the 2008 Beijing Olympics at the age of 41. Dara Torres' story is one of unyielding determination and inspiring longevity in the sport.
3
Mark Spitz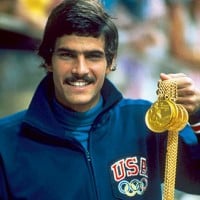 One of the dominant forces in swimming during his era, Spitz set an astounding record at the 1972 Munich Olympics, winning seven gold medals - all in world record times. He began his Olympic journey in 1968 in Mexico City and finished with a total of nine Olympic golds. Spitz's remarkable achievements and charismatic personality left a lasting legacy in swimming history.
He was the first to get seven medals in one olympics. Ever. In swimming that is and has one stuff beyond imagination!
4
Katie Ledecky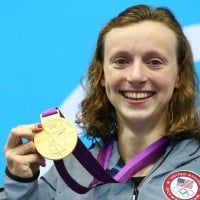 Known for her domination in distance freestyle events, Ledecky exploded onto the Olympic scene at just 15 in the 2012 London Games. She quickly became a sensation by securing gold in the 800m freestyle. Her success only multiplied, and by the end of the 2020 Tokyo Olympics, she'd gathered a total of seven gold and three silver medals. Ledecky's athletic prowess and humble demeanor have made her a beloved figure in the swimming world.
A very good distance freestyler. She gets every single person in the pool cheering for her.

She is amazing!
She is one of the youngest swimmers! But she showed me an lesson. It doesn't matter!
Come on people! She won 18 medals! All gold! Almost as much as Michael Phelps!
5 Jenny Thompson With 12 Olympic medals, including eight gold, Thompson is among the most successful female Olympians in history. A freestyle and butterfly specialist, she shone both individually and as a crucial member of the U.S. relay teams. Debuting in the 1992 Barcelona Olympics and continuing through Athens 2004, Thompson's consistency and team spirit were integral to her storied career.
6 Tom Wilkens Tom Wilkens represented the U.S. in the 2000 Sydney Olympics in the individual medley events. Securing a bronze medal in the 200m individual medley, Wilkens made his mark with his impressive versatility in the pool. His competitive spirit and strong work ethic underlined his short but memorable Olympic career.
7 Johnny Weissmuller An iconic figure in the swimming world and beyond, Weissmuller was the star of the pool in the 1920s. He collected five Olympic gold medals in freestyle events across the 1924 and 1928 Games. His swimming prowess was later overshadowed by his fame as an actor, most notably playing Tarzan in several films, but his impact on the sport remains indelible.
8
Kurt Grote
A Stanford University graduate and an elite swimmer, Grote excelled in breaststroke events. His pinnacle moment came in the 1996 Atlanta Olympics where he won a gold medal in the 200m breaststroke. He also contributed to a gold-winning performance in the 4x100m medley relay during the 1998 World Championships. Despite a relatively brief career, Grote left a notable impact on American swimming.
He set outrages goals and always defeated them.
9
Cullen Jones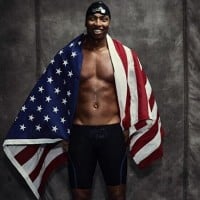 A prominent figure in American swimming, Jones etched his name in history by becoming the second African-American to win an Olympic gold in swimming. His first taste of glory came in the 2008 Beijing Olympics, where he was part of the victorious 4x100m freestyle relay team. Jones added to his medal count in London 2012, earning gold in the 4x100m medley relay and two silver medals in freestyle events. His prowess in the pool and dedication to promoting water safety have made him an influential figure in the sport.
10
Maya DiRado
A standout performer in the 2016 Rio Olympics, DiRado displayed exceptional versatility by securing medals in backstroke, freestyle, and medley events. She earned gold in the 200m backstroke and the 4x200m freestyle relay, along with silver in the 400m individual medley and bronze in the 200m individual medley. DiRado's singular Olympic performance marked a high point in her swimming career, one she concluded shortly after the Rio Games.
She got two gold in her first Olympics.
The Contenders
11
Nathan Adrian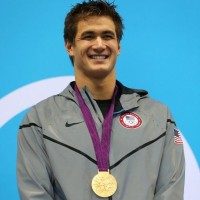 A mainstay of the U.S. men's relay teams for three consecutive Olympics (2008-2016), Adrian has earned five Olympic gold medals. He cemented his individual legacy by winning the 100m freestyle in the 2012 London Olympics. Adrian's powerful sprinting abilities and team spirit have made him a revered figure in American swimming.
12
Aaron Peirsol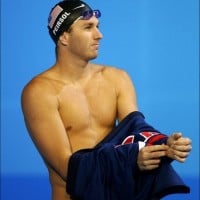 Known for his backstroke prowess, Peirsol claimed seven Olympic medals (five gold and two silver) over three Olympic Games from 2000 to 2008. He repeatedly shattered world records, establishing himself as one of the greatest backstrokers of all time. Peirsol's engaging personality and passion for environmental causes have endeared him to fans both in and out of the pool.
I visited his beautiful home in the hills in Costa Rica while still under construction last year. Beautiful place and location Aaron! Keep up the good work with keeping the oceans and the environment clean...
Had second most medals in 08 only to Phelps.
13
Ryan Lochte
One of the most decorated swimmers in history, Lochte boasts 12 Olympic medals, including six gold. Excelling in backstroke and individual medley events, he was often seen as a major competitor to Michael Phelps. A fixture in the Olympics from 2004 to 2016, Lochte combined power and versatility in the pool, earning him a place among swimming's elite.
I love Ryan Lochte because he is 28 years old and he is execellent.
14
Missy Franklin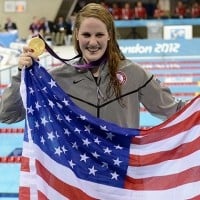 Bursting onto the international stage at the 2012 London Olympics, Franklin captured four gold medals and a bronze at the age of 17. Excelling in backstroke and freestyle, she set world records and captured hearts with her infectious enthusiasm. Franklin continued her Olympic journey at the 2016 Rio Games, rounding off her career with a total of five Olympic medals.
Great personality, an excellent person to represent the United States, excellent attitude towards her sport and of life.
Missy Franklin should be up in the top 10. She made it in swimming at age 16 and has only gotten better. My hero and role model
She got 4 gold and one bronze in her first olympics! Come on people!
Two world records! How much did phelps get in Sydney? A big donut hole.
Give her at least number 9
15
Tom Dolan
A champion in medley events, Dolan made a splash in the 1996 Atlanta Olympics where he won gold in the 400m individual medley. He repeated this feat four years later in Sydney, becoming the first man to defend the 400m individual medley title. Overcoming asthma to reach his Olympic dreams, Dolan's story is one of determination and resilience.
One of the greatest swimmers in history and a dedicated swimmer
16
Natalie Coughlin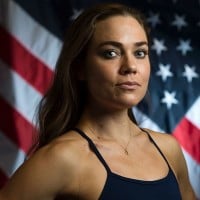 With her speed and consistency, Coughlin was a force in backstroke and freestyle events. She competed in three Olympic Games (2004-2012), collecting 12 medals, including three gold. Notably, she was the first woman to win back-to-back golds in the 100m backstroke. Coughlin's longevity and tenacity in the pool have made her one of the most respected figures in swimming.
Very good at everything and most decorated female swimmer!
My swim team coach is married to her. And I love her!
17
Brendan Hanson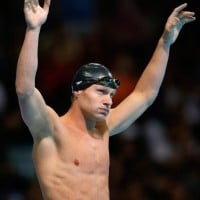 A breaststroke specialist, Hansen represented the U.S. in three Olympics (2004, 2008, 2012), amassing six medals, including four gold. Notably, he was part of the legendary 4x100m medley relay team that won gold in three consecutive Games. Hansen's contribution to American swimming extends beyond his competitive career, as he has actively promoted the sport in various coaching and administrative roles.
He is amazing at breast stroke.
18
Rebecca Soni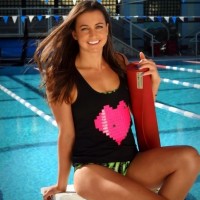 Known for her powerful and efficient stroke, Soni left her mark in breaststroke events. She won three Olympic golds and three silvers over the 2008 and 2012 Games. Her impressive victory in the 200m breaststroke at London 2012, in which she set a world record, remains a highlight of her career. Soni's unyielding work ethic and sporting spirit continue to inspire up-and-coming swimmers.
She is a great swimmer. She has competed in 2 Olympic Games and she won the medals in both of them. Rebecca is the best breaststroker in the United States, she is not as good as Michael phelps but she deserves to be on the top ten list.
She should be on the top ten list. She inspires me in everything she does, and I couldn't have asked for a better idol.
19
Leah Smith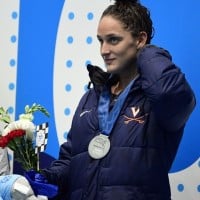 A strong competitor in middle-distance and distance freestyle events, Smith won gold and bronze in her Olympic debut at the 2016 Rio Games. Her robust performances, particularly as part of the victorious 4x200m freestyle relay team, established her as an integral part of U.S. women's swimming. Smith's dedication to the sport and her team-focused mentality underpin her success.
So fast! In my opinion, she is one of the fastest swimmer!
One of the top freestylers! She is so cool!
20 Mary T. Meagher Nicknamed "Madame Butterfly," Meagher was a dominant force in butterfly events in the early 1980s. Her peak came at the 1984 Los Angeles Olympics, where she captured three gold medals. Her world records in the 100m and 200m butterfly stood for nearly two decades, a testament to her enduring impact on the sport.
21
Janet Evans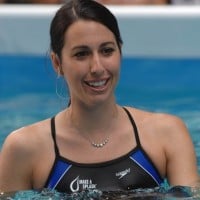 Known for her unique windmill stroke, Evans was a dominant figure in distance freestyle in the late 80s and early 90s. Over the course of three Olympic Games (1988-1996), she won four golds and one silver. Evans' perseverance, coupled with her advocacy for clean sport, have made her a respected figure in the swimming community.
22 Matt Grevers Standing at 6'8", Grevers used his height advantage to excel in backstroke and freestyle events. He won four Olympic medals, including gold in the 100m backstroke at the 2012 London Games. His performances in relay events also played a crucial role in the U.S. team's success. Grevers' competitive spirit and leadership skills are lauded in the world of swimming.
23 Kevin Cordes A specialist in breaststroke events, Cordes made his Olympic debut in the 2016 Rio Games. He contributed to the U.S. team's success by securing a gold medal as part of the 4x100m medley relay team. Cordes is celebrated for his technical proficiency and unrelenting drive, both of which have seen him excel at various international competitions.
24 Rowdy Gaines Primarily known today as the voice of American swimming broadcasts, Gaines was a freestyle sprint powerhouse in his competitive days. He clinched three gold medals at the 1984 Los Angeles Olympics, establishing himself as a star of the U.S. swimming team. Post-retirement, his passionate commentary and advocacy for the sport have continued to elevate his stature in the swimming community.
25 Cody Miller Noted for his prowess in breaststroke, Miller represented the U.S. in the 2016 Rio Olympics. He took home a bronze in the 100m breaststroke and contributed to a gold-winning performance in the 4x100m medley relay. His impressive athletic feats and candid sharing of his experiences with pectus excavatum, a chest condition, have made him a well-respected figure in and out of the pool.
BAdd New Item