Top Ten Child Actors of All Time
The Top Ten
Shirley Temple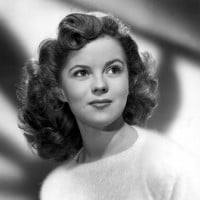 Shirley Temple Black (April 23, 1928 – February 10, 2014) was an American actress, singer, dancer, businesswoman, and diplomat who was Hollywood's number one box-office draw as a child actress from 1935 to 1938. As an adult, she was named United States ambassador to Ghana and to Czechoslovakia and ...read more.
She could win you over no matter what the part was. So much talent for her age, she was truly a natural. It's no wounder Americans filled the theaters to see her.
She sang, she danced (with the best dancers in the biz), she was cute as a bug & her acting could bring tears to your eyes in a heartbeat. There's a reason she was the #1 box office attraction for many years, and she's the top pro on this list, that's for sure.
Shirley Temple's performances are and will likely always be untouchable. She's one of a kind! When you think of all of the talent that lived inside of that little body, you KNOW that she is the only option for #1. No contest.
There is nobody that can outshine her, singing, dancing, and acting and she did all three brilliantly, starting out at the age of two or three! I love watching her movies and to me she will always be #1!
Dakota Fanning

Hannah Dakota Fanning is an American actress and model. At age seven, her performance in the 2001 film I Am Sam earned her a nomination for a Screen Actors Guild Award at age eight in 2002, making her the youngest nominee in history.
Absolutly beautifull young lady and Is compelling in every scene and movie.Her acting skill should warrant a paycheck BIG AS or =2 most major A List Adults.
Best young actress to see love her in Twilight though her performances are always the best
From. War of the worlds,MAn on fire, Uptown girls, The dreamer, I am Sam.
very believable in War of the Worlds and all her other movies!
Macaulay Culkin

Macaulay Carson Culkin is an American actor, author, painter, podcaster, musician and president of Bunnyears. He became famous as a child actor for his role as Kevin McCallister in the family comedy Home Alone, for which he was nominated for a Golden Globe Award for Best Actor – Motion Picture Musical ...read more.
Fine, sure, Home Alone is great. I love it. Watch that... and The Good Son. He was great, back in the day. Both of those performances are phenomenal and combined, they show how great of an actor Culkin actually is.
Culkin is the best and most natural of all time. His skill alone tramples everyone else with never using cue cards and just memorizing lines.
No one can touch culkin.. He is the best ever and fanning is no where near him so. Admit it.. He is number 1. Whole world knows it.
1 reason why home alone 3 and 4 aren't as good as 1 and 2 is because for 3 and 4 they couldn't Culkin, and nobody does it like Macaulay
Emma Watson

Emma Charlotte Duerre Watson is a British actress, model, and activist. Born in Paris and brought up in Oxfordshire, Watson attended the Dragon School as a child and trained as an actress at the Oxford branch of Stagecoach Theatre Arts.
Grace and beauty combined with acting skill. You can't help but love every part she plays.
I believe that she might be a real-life Miss hot,spicy,cute...and at last Ginger!
Great actress love all her performances
Favourite actor/actress of all time.
Daniel Radcliffe

Daniel Jacob Radcliffe is an English actor who rose to prominence as the title character in the Harry Potter film series.
Very good at Harry Potter so lucky that he was chosen to play Potter in all the movies along siege Rupert Grint and Emma Watson+ others
Daniel Radcliffe was such an adorable child actor. Having succeeded with Harry Potter on his shoulders is an achievement. With his portrayal, Harry Potter for me became the cutest movie character ever.
He is a great actor. He is very focused with his acting career. That made the today him.
Not all of his movies are good. The only movie that sucks is Victor Frankenstien for his acting.
Katie Kurtzman
I was not that familiar with Katie's work ecept for "The New Adventures of Heidi". I just saw "When Everyday Was The 4th of July". I must say that Katie's performance in that film was as good as it gets!
Mickey Rooney

Who else could it be? The only ones I can think of who are in that class are Sammy Davis jr. and Judy Garland. All were just magical!
Best ever. All of his movies as a teen were big hits.0
R.I.P. Mickey
Millie Bobby Brown

Millie Bobby Brown is an English actress and model. She is known for her breakout role as Jane "Eleven" Ives in the Netflix science fiction drama series Stranger Things.
She is amazing in Stranger things , intruders Godzilla king of monsters , modern family , once upon a time in wonderland she should definitely be 1st for a fact x
Acting emotions like sorrow, misery, and abandonment, while at the same time carrying a romantical weight is hard enough for adults. But for a child to do this in such a believable way, is simply overwhelming. Millie Bobby Brown steals the show as Eleven, both figuratively and literaly. From Eleven's flashbacks when she kills some henchmen (awesome, by the way) and then passes out in papa's arm, to that climactic moment in Mileven's inocent and short romance, Brown acts it in a fantastical way. Most certainly, Brown's role as the one girl who could make fans want to shave their head and binge-eat eggos, will go down in history as one of the best performances by a child ever recorded.
If only I could vote for two people, I would vote for Emma Watson and Millie Brown. Millie is such a great actress! She only had little lines on the show "Stranger Things", but she was still able to express her feelings.
Amazing in Stranger Things. Showed so much depth and made Eleven one of the favorite characters of the series. Has natural talent you just don't see in very many 12 year old actresses.
Haley Joel Osment

Haley Joel Osment is an American actor. After a series of roles in television and film during the 1990s, including a small part in Forrest Gump playing the title character's son, Osment rose to fame for his performance as a young unwilling medium in The Sixth Sense..
The most attractable cutest boy I've ever seen. His performance made me cry in A.I (Artificial Intelligence).. Adorable amiably slanting blue eyes with a mouth like a charming red ring.. I wish him all happiness in this life and the next.
Should be at first! Whenever I think of good child actor, I think this guy! He was nominated for Sixth Sense(should have won) and great performances in a.i, pay it forward, all the movies he was in as a kid
Pay it forward is completely underrated and The Sixth Sense was perfect. Anyone who thinks there has been a better child actor there crazy.
Their are many great child actors, but Osment is the only only one to have been able to be up their with the greatest adult actors as a child.
Rupert Grint

Rupert Alexander Lloyd Grint is an English actor who rose to prominence playing Ron Weasley, one of the three main characters in the Harry Potter film series.
I love that series I've read 4 books lupin is by far the best defense against the dark arts teacher so far while lockhart is the worst spoiler alert lockhart is self-oriented
Very underrated . . . in my opinion he's better that both Watson and Radcliffe (and Ron is better than Hermione and Harry)
David Copperfield and Harry Potter. That is a lot of main roles for a child. He is amazing!
In the early HArry potter films.
The Contenders
Cole and Dylan Sprouse
For me, I think Cole is more talented. He was the one that really moved in on in acting, while Dylan just stayed a kid actor.
I love suite life of zack and cody! I mean they were so cute! They still ar
Big Daddy, Friends and Suite life of Zack and cody
They act awesome in suite life
Chloe Grace Moretz

Chloë Grace Moretz is an American actress and model. She began her acting career in 2004 at the age of seven, and her first award nomination came the following year for The Amityville Horror.
My friend Chloe can really kick asses.. But I guess she deserves here because others who r at the top ten, they deserve it.. But I m still in doubt for Dakota fanning! Is she really that good? I don't think so
People don't know who she is I suppose. Here's a hint for you, she's hit girl go watch Kick ass now and tell me how she do not belong as number one?
Have you people seen Kick-Ass, she was outstanding in that movie! How is she not #1, or at least in the top ten
She played Angie in Diary of a wimpy Kid!
Judy Garland

Judy Garland, born Frances Ethel Gumm (June 10, 1922 – June 22, 1969) was an American singer, actress, and vaudevillian. The American Film Institute named her 8th greatest female star of classic American cinema. She's also the mother of actress and singer Liza Minnelli.
I would have to put her and Shirley Temple tided at #1. She was a triple threat, great actress, singer and dancer. She could do it all.
She honestly should be number one! She was in a class of her own!
Millie Bobby Brown above Judy is the definition of a joke.
This isn't on here. Losing faith in humanity.
Asa Butterfield

Asa Maxwell Thornton Farr Butterfield is an English actor. He began his acting career at the age of 9 in the television drama After Thomas and the comedy film Son of Rambow.
Loved him in hugo
Deserves number 1!
Cameron Boyce

Cameron Boyce (May 28, 1999 - July 6, 2019) was an American teen actor best known for his roles in the feature films Mirrors, Eagle Eye, Descendants, Grown Ups, and Grown Ups 2, as well as for his starring roles as Luke Ross on the Disney Channel comedy series Jessie and as Conor on the Disney XD series ...read more.
Cameron is awesome in jessie grown ups all movies
He was such a great actor. He passed away too soon.
Corey Haim

Corey Haim was born on December 23 1971, in Toronto Ontario. He grew up in the Toronto suburbs of Thornhill and Willowdale, and attended such schools as Pineway Public School, Baythorn Public School, German Mills Public School, and Zion Heights Junior High School. ...read more.
Love lost boys and silver bullet. Too bad he died in 2010.
Jacob Tremblay
NO. I don't accept this. He cannot be lower than Peyton List, he is incredible! Such a moving performance in Room and you can tell that he will be successful if he keeps up with his acting!
He's adorable! Best of Wonder and The Book of Henry! Love you Jacob!
He is such an amazing actor! The talent he had to have when he portrayed Auggie in Wonder...
Did great in room. If he carries on, one day he'll a great actor.
River Phoenix

River Jude Phoenix, born River Jude Bottom (August 23, 1970 – October 31, 1993) was an American actor, musician, and activist. He was the older brother of Rain Phoenix, Joaquin Phoenix, Liberty Phoenix and Summer Phoenix.
I cannot believe people like 'Mary-Kate and Ashely Olsen' or 'Frankie Muniz' are on this list... now i understand that sadly much of the world has forgotten River... But just check out some of his work... stand by me or running on empty perhaps, and you will see what i mean. These guys dont stand a chance against the actor he was. Read up on him too... hes the most inspiring person in the whole world.
One of the best actors I've ever seen. His best 3 performances are stand by me, running on empty, and my own preivate Idaho. Cannot believe he didn't receive and oscar nod for stand by me.
There was no one quite like river. His brother joaquin is pretty damn good too.
R.I.P. river!
This list is messed up. If River is not at least in the the top five of any best child actors list, something is truly messed up. He was pure talent. RIP River
River Phoenix was extremely talented and wise beyond his years. His performance in Stand By Me is as good as any A-list actor's. So talented.
Jake Short

Jake Short (born May 30, 1997 in Indiana is an American actor,known for his roles as Fletcher Quimby in Disney Channel's comedy series A.N.T. Farm and as Oliver in the Disney XD original series Mighty Med and Lab Rats: Elite Force.
Corey Feldman

Corey Scott Feldman is an American actor and singer. He became well known during the 1980s, with roles as a youth in films such as The Fox and the Hound, Friday the 13th: The Final Chapter, The Goonies, Stand by Me, The Lost Boys, Gremlins and The 'Burbs.
The fox and the hound, The goonies, stand by me (Coolest movie ever) and much more!
He is great and will always be my number 1 celebrity crush😁
Freddie Highmore

Alfred Thomas "Freddie" Highmore is an English actor. He made his professional acting debut in the comedy film Women Talking Dirty.
Freddie Highmore... no one knows his name but they know his work.
Everyone knows him
-Charlie and The Chocolate factory
-Five children and it
-The Spiderwick Chronicles
-Arthur and the Minimoys trilogy
-August Rush
and now his new movie "The Art of Getting By" with Emma Roberts!
His awesome and loveable too!
Wow. I love this guy.. My 2nd favorite after Macaulay culkin. love his movies.
I love Charlie and the chocolate factory and I love spider wick
Charlie and the Chocolate factory, five children and it.
Selena Gomez

Selena Marie Gomez is an American actress and singer. She is best known for songs like "Come & Get It", "Good For You", "Same Old Love", and "It Ain't Me". Selena Gomez's voice is mezzo-soprano but she usually sings in alto. She is best known for her role as Alex Russo in Wizards of Waverly Place.
She is a very good singer and I love her acting that's why all are like her.There is nothing to hate her. so, I love you forever JELENA.
Not only gorgeous,bubbly,pretty,and hot but also she all the qualities of a good actor and a well-known singer.
Best actor ever also love her singing she is a great actor
Pretty and so cute love her singing and her acting
Josh Hutcherson

Joshua Ryan "Josh" Hutcherson is an American actor. A native of Kentucky, Hutcherson began his acting career in the early 2000s and appeared in several commercials and minor film and television roles before landing his first major role in 2002 in the pilot episode of House Blend.
Josh was a very cute boy (he's still cute now). He appeared in different movies and always succeeded in making an impact.
Was he in that dolphin movie?
Was he peeta in hunger games?
Such a good actor x
AnnaSophia-Robb
Bridge to Terabithia and Charlie and the Chocolate Factory. Great movies, if you haven't seen them. Both, obviously, had AnnaSophia-Robb.
Bridge to Terabithia,i have watched this movie in hindi dubbing and I think best dubbing ever by india,you can watch this movie again and again
Bridge to terabithia.and the reaper
Bridge to Terabithia is garbage.
Noah Schnapp

Noah Schnapp is an American actor who portrays Will Byers in the Netflix science fiction series Stranger Things. He voiced Charlie Brown in The Peanuts Movie and also appeared in the 2015 Steven Spielberg film Bridge of Spies.
Noah Schnapp is amazing. He deserves at least #1. He's great at showing different emotions, crying, happiness, depressed, even at like not himself whatsoever. He's awesome
He is amazing! He can cry and scream like there is a demon inside of him! He deserves to be number 12.
He's the best in the stranger things cast.
Love him!
PSearch List