Top 10 Yoga Destinations for 2017
If traveling is one of your resolutions for 2017, don't let the enthusiasm of a fresh new start fade away, start planning now, put a pin on a map and get ready for the best months of your life yet.

Should practicing yoga happens to also be one of your goals this year, why not doing both simultaneously on a yoga retreat? Need some help to choose where to go?

We've used our statistics to put together a list of the ten best yoga destinations that you should really consider checking out in 2017:

The Top Ten

1 India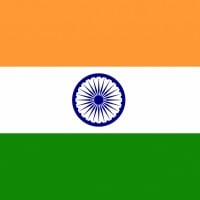 India, officially the Republic of India, is a country in South Asia. It is the seventh-largest country by area, the second-most populous country (with over 1.2 billion people), and the most populous democracy in the world. Its capital is New Delhi. Some other major cities are Mumbai, Chennai, and Ahemdabad. ...read more.
If you took a look at our list in 2016, you'll realize that our highest ranked country hasn't changed much; India remains rock-solid on top of the podium. And unless a catastrophe occurs, we don't really see it changing for a good while. After all, it is where yoga originated and is by far the best place on earth to experience a truly authentic yoga retreat.
One of the things that make this place so special is that millions of people from all over the world come to India to radically transform their lives through the teachings of yoga and meditation. Here, you don't only practice yoga, you get to live out the 8 limbs of the philosophy. That's why many experienced practitioners travel to India for a yoga teacher training and become certified instructors.
The most popular places in India for a yoga holiday are: Goa, Kerala and Rishikesh.
2
Thailand

Thailand, officially the Kingdom of Thailand, formerly known as Siam, is a country at the centre of the Indochinese peninsula in Mainland Southeast Asia.
With sunsets like the one above, who wouldn't love to go on a yoga retreat in Thailand? It is one of the most visited countries in the world for many good reasons ; from its delicious food, to the warm weather, the beaches, its friendly people, and a very affordable way of life, Thailand is just the perfect destination for travelers of all kind, including yoga practitioners!
With over 300 yoga retreats available for yogis who want to deepen their practice in this Asian jewel, we're certain there are options for all budgets, preferences and length of stay. The most popular destinations in Thailand are: Ko Samui, Phuket, Chiang Mai, and Ko Phangan.
3
Indonesia

Indonesia, officially the Republic of Indonesia, is a country in Southeast Asia. Ruled by the Dutch for over 300 years and Japan for 3 years and 6 months, the country gained independence in 1945, or exactly in 17th August 1945. Jakarta is the capital city, located in the island of Java. Major languages ...read more.
Indonesia is easily one of the most famous yoga destinations in the entire world. Its gorgeous beaches, Ubud's rainforest, the characteristic rice paddies, and the Zen atmosphere in Bali, are some of the main things that attract a lot of yogis from all over the globe.
Similar to other destinations in Southeastern Asia, there are many affordable yoga retreats in Indonesia for yogi travelers on a budget. And thanks to all the gorgeous beaches all along the islands, it also offers the possibility of combining yoga with surf. A match made in heaven!
Most popular yoga places in Indonesia: Bali (Balian Beach, Ubud).
4
Spain

Spain, officially the Kingdom of Spain, is a sovereign state largely located on the Iberian Peninsula in southwestern Europe, with archipelagos in the Atlantic Ocean and Mediterranean Sea, and several small territories on and near the north African coast.
Its warm weather, spectacular beaches, exquisite cuisine, and a cheerful population make Spain the top yoga destination in Europe and number four in the world. Each year, this folkloric country seems to offer more yoga holidays, which has helped for its steady climb on top of the list. In 2015 it was number 6, and in 2016 number 5, so who knows? Maybe next year Spain will finally debunk one of the Asian yoga monsters listed above for a spot among the top 3.
If you can't travel to Asia and are looking for a place to do yoga in the European continent, then don't hesitate and book yourself to a yoga retreat in Spain! Good wine, delicious food, and yoga… what else do we need to be happy?
The most recommended destinations for yoga in Spain are: Ibiza, the Canary Islands, Tenerife, Malaga, and Alicante.
5
Greece

Greece, officially the Hellenic Republic, also known since ancient times as Hellas is a country located in southeastern Europe.
This year, Greece has skyrocketed on our list of top yoga destinations. It wasn't even ranked in 2016, but this year, its rich history, splendid architecture and warm culture make for a terrific setting for a yoga holiday, which has aided its cause to position it as a top 5 yoga destination in the world.
Crete, Kythira Island, Paros are some of the most popular options in Greece that you have to strike your best asanas if you're looking to travel for a yoga retreat.
6
Italy

Italy, in italian Repubblica Italiana, is a unitary parliamentary republic in Europe. ...read more.
Beaches? Check. Mountains? Check. Joyous people? Check. Great food? Check. Rich history? Check. In other words, Italy has everything you need to travel and do yoga!
Privileged by its geographical location, this southern country offers diversity in its territory and nice weather to practice outdoors most time of the year. This makes Italy really attractive for organizers looking for a good location for a yoga retreat, which results in almost 200 options available for you to choose.
The most visited areas in Italy by yogis are: Tuscany, Sicily and Sardinia.
7
Portugal

Portugal (est.1152), officially the Portuguese Republic, is a country located mostly on the Iberian Peninsula in southwestern Europe. It is the westernmost country of mainland Europe, bordered to the west and south by the Atlantic Ocean and to the north and east by Spain. Its territory also includes ...read more.
The fourth and last European country on the list, Portugal surely deserves a spot with its breath-taking beaches, nice hills to hike and, like Bali, a characteristic surf culture that combines yoga and surfing sessions to make it an ideal destination for active yogis.
And if you're not so much into water sports, you will still feel the Portuguese magic with all the cobblestone streets, impressive castles and picturesque vineyards. The Azores, Lisbon, Porto and Algarve are the main places to visit in Portugal if you're looking for a yoga retreat.
8
Costa Rica

Costa Rica, officially the Republic of Costa Rica, is a country in Central America, bordered by Nicaragua to the north, Panama to the southeast, the Pacific Ocean to the west, the Caribbean Sea to the east, and Ecuador to the south of Cocos Island.
Costa Rica, the lone but proud representative of Latin America, fell 4 spots compared to last year. But don't get fooled by its drop, Costa Rica still has no rival when it comes to wildlife, beaches, sunsets and relaxed lifestyle.
Though it has a relatively small territory, it offers almost 350 yoga retreat programs and yoga teacher trainings. Puntarenas, San Pablo, and Montezuma are some of the most concurred destinations in Costa Rica, but to be fair, no matter where you are you'll be greatly impressed by the beauty of this tropical country.
9
United States

The United States of America, or the U.S.A. for short, is a federal republic composed of 50 states, 48 of them are contiguous states. There are two other states, Alaska and Hawaii, which are north and south of the contiguous states, respectively. The United States declared its independence from the ...read more.
As long as California and Hawaii remain part of the American territory, it will be tough to remove the United States from this list. The array of retreats and yoga studios in the state of California is incredible, thus it's no surprise how popular the practice is in this state of the US. And with so many options, if you have the fortune of living here, you don't even have to travel more than one or two hours to find yoga programs that combine it with detox, surf, Ayurveda, meditation, Reiki or any other activity you can think of.
If you feel like going to a more tranquil place, Hawaii and its ever-positive vibe will be happy to host you. Other yoga options in the US aside from this two are: New York, Colorado, Florida and Maine.
10
Nepal

Nepal, officially the Federal Democratic Republic of Nepal, is a sovereign state located in South Asia. ...read more.
Nepal- being a buddest country, offers tranquil temples perfect for yoga!
The Contenders
11
Sri Lanka

Sri Lanka, officially the Democratic Socialist Republic of Sri Lanka and known from the beginning of British colonial rule until 1972 as Ceylon, is an island country in South Asia near south-east India.
What a pleasant surprise it is to have Sri Lanka completing our list! This island in South Asia wasn't intimidated by the fiery competition of other big nations and cracked the top 10. A yoga retreat in Sri Lanka is a great way to nurture your spirituality and gain mindfulness in a little paradise. Being an island, you can imagine that most accommodation is offered next to the beach, which makes it ideal to go fishing or do some other water activities such as SUP yoga or kayak.
The hottest yoga spots in Sri Lanka are: Kandy, Kalutara, Tangalle and Ahangama.
12
Bhutan

Bhutan, officially the Kingdom of Bhutan, is a landlocked country in South Asia at the eastern end of the Himalayas.
Without a doubt, Bhutan deserves to be on the high end of the list, offering peaceful mountains, tranquil Buddhist temples and a culture like no other.
BAdd New Item