Best African-American Metal Musicians
The Top Ten
1
Howard Jones (Killswitch Engage)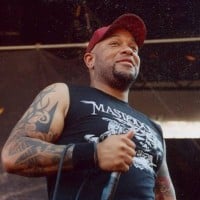 Howard Jones (Born July 20th, 1970) is an American Heavy Metal vocalist. He currently fronts the band Light the Torch (Formerly Devil You Know), but is best known for his tenure in the band Killswitch Engage from 2002 to 2012 and was a vocalist for the now defunct Blood Had Been Shed.
One of the best vocalists in metalcore history. He made Killswitch more popular than they were before Jesse left. His screams are powerful an his cleans are absolutely godlike. I'm glad that Jesse is back in Killswitch, but Howard brought them to fame.
Best black man ever live!
One of my favorite metal singers he has such a beautiful clean voice and his screams are amazing with the lyric flow he has amazing
2
Lajon Witherspoon (Sevendust)
Very underrated vocalist. He does some awesome clean vocals in many of Sevendust's songs.
Greatest Range, best feeling, awesome interpretation. Best! One Mic to rule them all!
Great, powerful vocals. Very underrated band.
Lejon Witherspoon's music is awesome.he does clean vocals and unbelievable he's when it comes to screaming.
3
Derrick Green (Sepultura)
Possibly the greatest African American metal singer I have ever heard. Better than Max Cavalera in recent years. And also a really cool guy.
I'm sure a lot of people freaked out when Max left. He made Sepultura. But honestly, Derrick is an awesome frontman for the band with great vocals and guitar riffs.
I actually don't like Derrick Green. Sepultura hasn't put out anything worth listening to since Max left
4
Adam Warren (Oceano)
One word... Amazing. Adam has some of the most brutal vocals in death metal/deathcore music right up there with Phil Bozeman. There's even YouTube videos where he sings normal clean vocals that sound amazing.
5
Tosin Abasi (Animals as Leaders)

Oluwatosin Ayoyinka Olumide "Tosin" Abasi (born January 7, 1983), is a Nigerian American musician, best known as the founder and lead guitarist of the instrumental progressive metal band Animals as Leaders. Before founding Animals as Leaders, he was the guitarist for the technical metalcore band Reflux. ...read more.
Not only the best African-American metal musician, he is already one of the best guitar players of our time!
The man is the greatest modern metal guitarist out there. Black or White, Hispanic, Asian, etc.
6
Mike Smith (Suffocation)
Flawless drummer. He does some of the cleanest blast beats and double bass in death metal. Very underrated death metal drummer.
7
Terrance Hobbs (Suffocation)
He's done some really great work in Suffocation which for me is the greatest death metal band alive. I really like the guitar distortion and riffs that he plays.
He's the greatest African American to ever grace metal with his precise guitar solos and sweeps.
8
Byron Davis (God Forbid)
He can do some of the bet metalcore-style screams out there. God Forbid is a very underrated metalcore band overall with very underrated musicians.
9
Doc Coyle (God Forbid)
This dude plays some really awesome guitar solos.
10
Cammie Gilbert (Oceans of Slumber)
Cammie is clearly the most soulful vocalist in Metal today.. - Koli P. Bolden
The Contenders
11
Corey Pierce (God Forbid)b
And once again I forget to log in before uploading a list. Laugh out loud!
Really skilled and underrated drummer.
12
Slash (Guns N' Roses)

Saul Hudson, known professionally as Slash, is a British-American musician and songwriter. He is best known as the lead guitarist of the American hard rock band Guns N' Roses, with whom he achieved worldwide success in the late 1980s and early 1990s.
13
Dallas Coyle (God Forbid)
He plays some really melodic and awesome metalcore riffs.
14 William DuVall (Alice In Chains)
15 Tommy Vext
BAdd New Item