Best Albums of 2018
The Top Ten
1
Kids See Ghosts - Kids See Ghosts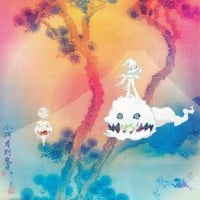 I don't understand why everyone likes this album. It's full of filler and its just not that interesting
Who would've ever known that all Cudi had to do was link up with Kanye in order to make an amazing project? Cudi is simply at his strongest and coldest both lyrically and vocally on this album, and I love how Kanye shows his appreciation to Cudi's psychedelic production style here. There's seriously not a single bad song on this album. It's so damn good. I never would've thought that Ye and Cudi would make such a great team, but here they are.
Sorry, but I hate kanye. Everything after Graduation with him rapping on it is just cringe and unlistenable. If this were just Kid Cudi then maybe I could like this.
I'm sorry but have you even heard Kanye rap on this? This is the best rapping he's done since Late Registration! - Mcgillacuddy
This sucked honestly
You people need to stop whining this album was absolute garbage. I like Lil Pump but I don't expect lyrical genius from him like I do from Kanye and Cudi. But instead they brought lazy, fake deep lyrics, trash vocals, and a generally boring sound with decent production the only thing that made it worth listening to. - LilPumpTheGod
2
You Won't Get What You Want - Daughters

This album is BRUTAL. This album is NOISY. This album is HEAVY. This is what people listen to when they wanna tear down the drywall in their bedroom. This is what it sounds like in the mind of a psychopathic madman chasing after you in a dark swamp with a rusty meat cleaver. This is the album that we definitely needed this year, maybe the whole decade! This dropped at the perfect time in the mood for the Halloween spirit; everyone on this site should be listening to this.
I wouldn't say brutal or heavy rather than this album is like the soundtrack to an apocalyptic nightmare. The Daughters album that would fit the heavy brutal noise description better would be their self-titled record. - cjWriter1997
Listening to this is like watching a serial killer slowly dismember his latest victim.
So, how many extra snob points do I get for listening to this before Fantano reviewed it?
How can one not adore this
3
Firepower - Judas Priest

WHAT Lightning Strike is #1 song while THIS HERE at NUMBER THREE? Don't be kidding it's JUDAS PRIEST modern music sucks these legends keep rocking upvote them please

Being sarcastic of course, there is no reason a rehash of a 40-year old hard rock (!) band's old work should be considered the best album of a year in the 21st century or even one of the best
I really liked this album. Especially Lightning Strike and Sea of Red.
Long live rock and metal, even if it's not in the mainstream. (Popularly =/= Rate)
Judas Priest is one of the most mainstream metal bands though - Alkadikce
Best album to come out in YEARS! Fantastic odyssey from the pioneers of metal!
4
Ta13oo - Denzel Curry

How the hell did this get so high on the list lol? This album could've been so much better but yet again Denzel let me down, I guess he's just not my kind of artist. The first few tracks were good, but then after that the quality of the songs went down more and more. Denzel just isn't that lyrical like everybody says, he's like the new Kendrick Lamar (a rapper with overhyped lyricism). Listen to Locksmith and he makes this guy sound basic.
Then you don't respect hip hop or skill and have no place in hip hop if you just wanna listen to basic trash. I'm not saying you have to be "lyrical miracle" all the time, but at least more lyrical than this guy. This guy ain't nothing special. - DaWyteNight
This is Denzel at his best. His executions are amazing here. Not really a fan of dark music but this is a helluva good listen. 10/10
Very underrated, album has a ton of variety and the couple of features are good
Such a great album. Probably one of the best rap albums of the 2010's.
5
Vector - Haken

I'm really surprised to see this here definitely the best of 2018
The only problem with this album is it's to short well at lest for Haken. Other then that it's easily the best album of the year.
It's actually their longest album because as turned out, Vector is only the first half of a double concept - Alkadikce
6
Twin Fantasy - Car Seat Headrest

Gotta love it when an album makes you want to smile, cry, jump, and embarrass yourself by singing along, and often all at the same time. In all honesty, few albums have made me feel as deeply as Twin Fantasy. The bitterness and hurt on the original is replaced with newfound wisdom and perspective, replacing heartbreak and spite, with reflection and forgiveness. It's beautiful to see an aspiring musician's vision fully realized, especially when we get to go along that journey with him, at least in a musical sense, and that's what makes Twin Fantasy such an experience.
DO YOU HAVE SOMETHING AGAINST DOGS?!?
7
Kamikaze - Eminem

As a die hard Lil Pump fan, this is hard for me to admit but this album is amazing
Should be number 1
Should be #1 over that awful album "Kids See Ghosts"
Saved a genre
8
Trench - Twenty One Pilots

After getting a record player for my birthday, I would just like to say that this album is the first album I've bought a vinyl copy of. I know I've said it before, but I love it.
It gives very unique and very good modern day feel to it. It's good.
This album was absolutely amazing, they worked so long and hard on it.. I think it deserves more recognition.
This album chill
9
Daytona - Pusha T

I've been waiting for another Pusha T album for a while since his release of Darkest Before Dawn, and unfortunately it didn't turn out to be the sequel like we were promised, but I am completely satisfied with the fact that Pusha still brings his snarling vibe and Kanye brings his flawless production.
GOAT!
Zzzz...boring
10
Liberation - Christina Aguilera

This should have been the follow up to "Back to Basics", then her discography would have been perfect.
It just have to be the 1
The intro is like you're borning
I don't need you little money aahhh this is so adcting ahhh
The Contenders
11
Die Lit - Playboi Carti

Carti continues to do what he does best - hypnotically ad-lib over spacy beats - so don't expect anything mindblowing here. Backpackers will hate it because he's not saying anything, and it's repetitive, and yadda yadda yadda, but to be honest, sometimes all you need is a good beat and to sound dope over it.
Bleh, playboi doesn't have much lyrical content but his productions are solid
12
Wide Awake! - Parquet Courts

Everyone can stand this, everyone.
It's not metal, it's rock. And it's rock that's a lot more appropriatley appealing.
13
Beerbongs & Bentleys - Post Malone

Best trap album by miles. 8/10
I give it a 4/5, Post Malone is pretty good in my opinion.
My love for Post Malone tells me to put this album here!
A little bit better than his last album Stoney. 7/10
14
My Dear Melancholy, - The Weeknd

The Weeknd went back to his R&B roots and it sounds amazing. His voice on Call Out My Name sounds so perfect. In this autotune world, The Weeknd is one of the only ones who does not need it and has talent.
Full of emotion. There were some really great songs on here!
This album is underrated. This is a masterpiece.
Usually not a fan of the weeknd or his voice or his kind of r&b but this was actually good.
15
Tranquility Base Hotel + Casino - Arctic Monkeys

Arctic Monkeys have always changed for each album, but I wasn't expecting this. They toned way down on the guitars and instead mostly relied on pianos and synthesizers to create this glam/lounge-like sound. This album can basically be described as David Bowie meets Elton John.
I get why people might not like it but just remember, AM have always been experimental and in my opinion this album is brilliant.
It's a hard album to get into. I never could imagine Arctic Monkeys going in this direction. Either way fantastic album.
One of the only albums this year I actually liked. Looking further into AM.
16
Joy as an Act of Resistance - Idles

17
Year of the Snitch - Death Grips

MELON
18
Little Dark Age - MGMT

Honestly, this equals MGMT's best works. It's at the level of Congratulations. The difference between the two albums is that you could do acid and listen to congratulations and zone out with surreal feelings. But with this album, while you're on acid, there's a flurry of real life emotions going on through your head. From suicidal thoughts to relationships that didn't work out to does to friendship. This album has a great amount of emotional content in it. Definitely my favourite of 2018.
19
Astroworld - Travis Scott

Awesome productions and it was super enjoyable, his flows and vocals are quite enjoyable. 9/10
Awesome productions. Travis best work. 9/10
Only Travis Scott can take a genre like trap rap and make it actually good.
2nd best rap album of 2018!
20
Safe in the Hands of Love - Yves Tumor

21
Black Panther: The Album - Various Artists

22
? - Xxxtentacion

Nope, stop it. Stop it right now. 1/10
Get this off the list right now please.
Lots if bangers off this album honestly. But people hated the change in style, I like it though. Solid album.
Not good. Had some production occasionally but manipulative lyrics. 3/10
23
Dead Magic - Anna Von Hausswolff

24
Loved - Ken Mode

If anything, this is heading to be my metal album of the year
25
Ye - Kanye West

I have a question: how did it become a thing since last year that American hip hop or hip hop crossover albums are that short? XXXTentacion, Lil Peep, Kanye West, Pusha T,... they all released studio albums lasting for just over 20 minutes. For mixtapes or EPs that's an okay length, but from full studio albums I'd expect at least something around 40 minutes (35-45 minutes) on average, and everything that's longer is just awesome - I wanna get something for my money. I also dislike the lack of physical releases from many US hip hop artists.
Also don't get me wrong, I rated "ye" 4 and a half stars out of five. I just wished it would have been a bit longer, it could have at least included the singles. - Martin_Canine
Amazing
KANYE THE GOAT IS BACK WITH ANOTHER CLASSIC!
THE GOAT
PSearch List