Greatest Athletes of All Time
This is not a list of the greatest players of all time, although many of the athletes on the list may have been great players. This is a list of the greatest athletes which begs the question, what makes someone a great athlete. For the purpose of this list, athletic greatness is defined as possessing a variety of attributes that contribute to athletic prowess. These include speed, quickness, endurance, power and hand-eye coordination. That is why this list does not include specialized athletes such as marathon runners or bicyclists. While it is clear that Lance Armstrong is a master in his field, he has not proven that he could compete in other sports where more is required than pumping his thighs for hours on end.
The Top Ten
1
Michael Jordan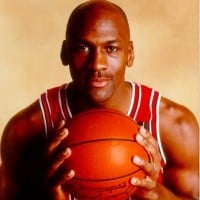 Michael Jeffrey Jordan, also known by his initials, MJ, is an American retired professional basketball player.
There may be a very few human beings that could keep up athletically with MJ (Bo Jackson, Carl Lewis etc. )... There are a very few human beings that might keep up with MJ's skill, coordination, and grace (Kobe Bryant, Zinedine, Roger Federer)... There are even fewer who might be able to match his mental game and competitiveness (Tiger woods, Larry Bird)... But there is no one- NO ONE-who has ever possessed all of these qualities on the level that MJ did. The Greatest Athlete that ever lived... Without a shadow of a doubt... Its Michael Jordan.
MJ is the best! There will never be another Michael Jordan. He is without doubt the greatest athlete of all time!
Mj reinvented basketball. If it wasn't for MJ, many moves, dunks, and styles wouldn't exist
Yeah, other athletes like Muhammed Ali, Nadal, Federer, Gretzky, and others are legends. I like them too; they're true, big inspirations to us. I also favor them. But, what makes Michael great though is he NEVER gave up, he ALWAYS strived and thrived, and he had BEYOND brilliant and amazing moves and skills. Sure, other athletes are SUCCESSFUL, but I think Michael chased after SUCCESS AND EXCELLENCE. He had a massive passion for basketball; just played and played, and his name is still being mentioned up to this day. He will forever be a legend. And, even though he might not have been the most successful and best athlete of all time in some others' opinions, he is always gonna be the sports #1 inspiration and legend. Another pro he has: unlike Lance Armstrong, or some other cheaters, M.J. nEVER cheated, NEVER did anything majorly illegal, and... What else can I say? SERIOUSLY. He literally pushed himself to max, and twice the power each game. The freethrows; the show-offs; the dunks; ...more
2
Muhammad Ali

Muhammad Ali (January 17th 1942 - June 3rd 2016) was an American former professional boxer . He was generally considered among the greatest heavyweights in the history of the sport.
He's got more endurance, speed, accuracy, determination, and most importantly heart then any other athlete ever to walk the planet. Defiantly the best all around athlete. PERIOD.
If we were to show another species the strength, courage, love and intelligence that Man has, Muhammad Ali would be Mankind's Representative.
His passion, dedication, confidence, attitude... No doubt The Greatest... He should have been number 1... The Man had it all.. His fellows respected him. What more do you want
This man is THE GOAT not Jordan this man was literally bigger than Boxing..
3
Wayne Gretzky

Wayne Douglas Gretzky CC is a Canadian former professional ice hockey player and former head coach. He played 20 seasons in the National Hockey League for four teams from 1979 to 1999.
The "Great One" changed the face of hockey as he brings a new era of speed, skill, and scoring touch into the game. Entered the NHL erasing almost all scoring records he quickly built the Oilers Dynasty with amazing haste. Along with his hockey sensation Gretzky is recognized for his charity work and a strong connection with the game of Hockey.
No player in the history of sports has ever come close to dominating their sport like The Great One
THE GREAT ONE. Enough said. He holds every important record in hockey. Arguably the toughest sport to play
Wayne Gretzky is the GOAT of all sports, I respect Michal Jordan and Ali but just take a peek at Gretzky's career totals.
4
Babe Ruth

George Herman Ruth Jr., better known as Babe Ruth, was an American professional baseball player whose career in Major League Baseball spanned 22 seasons, from 1914 through 1935.
Ruth is baseball's GOAT. No question. He had a 2.28 career ERA, which is enough to put anybody into the hall of fame in itself. Add in 7 World Series rings, a .342 batting average (yes, he can pitch and hit), and 714 career home runs, and you've got one of the greatest, if not the greatest, athlete ever. Also, Ruth didn't even learn how to play baseball until he was like 16 years old.
This is a no-brainer. No one in any sport was superior or more dominant than Babe Ruth. Seeing Jordan at number one is an insult.
Okay Babe Ruth was probably the greatest power hitter of all time, but to call this man the greatest athlete of all time is absurd. Baseball is my favorite sport, but I have no illusions that dunking a basketball requires a far greater amount of athleticism than hitting a homerun. Does anyone seriously think Babe Ruth could run faster or jump higher than pretty much anybody in the NBA? Of course not because that'd be stupid. Babe Ruth changed the way the game of baseball was played, and it's not hard to argue that he is the greatest baseball player of all time, but baseball is a different kind of sport. It's less based on athleticism than most sports. That's not saying it's inferior; I love baseball more than any sport on the planet, but come on people. You need to be more athletic to play basketball or soccer than you do baseball. Not saying there aren't athletic baseball players. Willie Mays is easily one of the greatest athletes of all time. But look at Babe Ruth. The greatest ...more
Let's be real, people. Until this guy is voted to the top spot then this list should be considered a joke! He was out-homering ENTIRE teams in an era when the ball was more dead than alive! And yes, he could pitch as well. His head to head record against Walter Johnson was 11-1! Are you serious?! And, wrap your brain around this if you can. He did all this while partying like it was 1999 EVERY NIGHT! RUN THAT UP YOUR FLAGPOLE AND SALUTE IT! Enough said.
The thing is consistency also needs to be considered. He may have close to the most homers ever but he also has one of the largest figures for strikeouts too. Also he was only really amazing at batting. He was a good pitcher yes but there's a reason he's known for batting only
5
Usain Bolt

Usain St. Leo Bolt is a Jamaican sprinter. Regarded as the fastest person ever timed, he is the first man to hold both the 100 metres and 200 metres world records since fully automatic time measurements became mandatory in 1977. Along with his teammates, he also set the world record in the 4×100 metres ...read more.
Another cool name. And fastest man EVER
I'd suggest that anyone not familiar with track records, especially the 100M, take a look a at what this man has accomplished ( the first to break the 9.7 barrier and a month later the 9.6 barrier) and you'll see why I already place him as the greatest athlete of the century and perhaps all-time. They say he's capable of breaking his current record of 9.58, and if he does look for it to be the eventual longest lasting track and field record ever. I'm headed for bed after reaching #16, but I know one athlete that's not going to be listed, and he may be, as many have argued, the greatest athlete ever; Mikhail Baryshnikov. The same hang-time as M.J. - 0.9. I would list my top three as Babe Ruth, Tiger Woods, and Jim Brown when you consider how great they were compared to the rest of their competition in their prime. In lesser followed sports, there's no doubt that "Lightning" Bolt is #1.
Usain Bolt is the best 200m runner ever hands down, so good he can even dominate the glamour 100m event as well. Loads more gold coming in London 2012.
he should be at least no.2 and if anyone other than MJ is no.1 then he should be no.1 HE IS THE FASTEST PERSON ON EARTH!
6
Michael Phelps

Michael Fred Phelps II is an American competition swimmer and the most decorated Olympian of all time, with a total of 22 medals in three Olympiads.
Michael Phelps is the greatest athlete of all time, as he didn't just win a gold medal in the hardest sport, he did it 8 times over. No other athlete can match his determination, mental preparedness, or physical ability.
39 World Records. 22 Olympic Medals, 18 of them Gold, with 11 of the Gold coming from individual events. He dominated a sport like nobody has ever dominated any sport. 16 years of being the uncontested greatest in the world. He could keep going, but he already has everything locked down.

There is no comparison, because nobody has ever won anything to the degree he has outside of Jordan, and he competed in a team sport.
Undoubtedly the most amazing swimmer the world has ever seen! He dominates every corner of the sport while clearly showing the world what truly makes an athlete!
He is the best. How can people like Wayne Gretzky be even considered better than him.
7
Jim Thorpe

James Francis "Jim" Thorpe was an American athlete and Olympic gold medalist. A member of the Sac and Fox Nation, Thorpe became the first Native American to win a gold medal for the United States.
Please, enough of this MJ worship! Greatest Basketball player is an acceptable choice, but this guy has never shown to be proficient at any other sport! He was a minor league baseball flop, still has a laughable handicap in golf and has never been known for lightening speed. Unlike this one sport star, Jim Thorpe, with little expert training or equipment, was voted into the College and Pro Football Hall of Fame, along with the Track & Field Hall of Fame! Thorpe also had no business playing Major League Baseball at first, but learned on the fly and finished with a respectable .252 batting average in 7 part-time seasons. Jim Thorpe was successful in three sports to Jordan's one, doing this as an impoverished ward of the government and enduring untold racial bigotry. No athlete came so far with so little! He's Jim Brown, Jesse Owens and Bo Jackson rolled into one. Hand's down the Greatest Athlete Of All Time!
The greatest athlete ever to come from Lawrence KS (Haskell Indian Jr. college) which is saying something since other mentionables include Wilt Chamberlain, Gayle Sayers, Jim Ryun, Danny Manning, Paul Pierce, John Riggins and others. Local legends of the man still recount tails of him drop kicking balls through the goalpost from the 20 yard line (opposing) into the wind. Winning every event he entered in a track meet after he forgot his shoes. Not to mention being good at anything he tried.
All are great in their own worlds but Jim Thorpe was a gold medal decathlete, world champion ballroom dancer, nfl football player and semi-professional baseball player. Wilt Chamberlain should also be on the list. He averaged over 50 points a game in the NBA, played professional volleyball, bowled a 300 game, ran a 4:15 mile, high-jumped over 7 feet, benched over 300 pounds. He could also do it all.
Don't get me wrong, Gretzky, Jordan, Ali, and Phelps are all great at their chosen sport, and each of them could claim the top spot on a list of greatest hockey players, basketball players, greatest boxers, and greatest swimmers of all time. However, if this is a list of all time greatest athletes then Jim Thorpe undeniably takes 1st place. This guy played football, baseball, basketball, competed and won in worldclass athletics competitions, and won two Olympic gold medals in what are arguably the toughest sports contested at the Olympics, the pentathlon and decathlon. To this day we still say the olympic gold medal winner of the men's decathalon is the greatest athlete of the time. The same way we say that the Olympic gold medal winner of the men's 100m race, Ussain Bolt, is the fastest man on earth of the time. No disrespect to the Gretzky's, Jordan's, and Bolt's of the world, but their records will be broken as they broke the records of their predecessors. Thorpe, on the other ...more
8
Pele (Edson Arantes do Nascimento)

Edson Arantes do Nascimento, known as "Pelé", is a retired Brazilian professional footballer who played as a forward. He is one of the best players in football, hence why he's nicknamed the "king of football".
All-time soccer leading scorer in history with over 1,000 goals in his career, and champion in two world cups with his native country Brazil making him the best soccer player in history over Argentinian astro player Diego Armando Maradona.
Pele is and still the best soccer player in the world he made #10 what it is now, anybody that wears that # in the soccer field knows the weigh of that # 10 you have to be the best, that means pele.
Pele has scored 1152 goals in 1220 games that I legendary compared to anybody else on this list he should be number one he is a pure hero to the world and especially Brazilians
I was looking at some of the ones higher then pele and I almost dropped dead. Some I can believe like gretzky and jordan and ali and ruth but woods and federer
Complete player with both legs.
Mid Field player, not forward, and still best scorer of all time.
-Voted IOC Athelete of the Century.
-Voted FIFA Footballer of the Century.
-MOST AWARDED ATHELETE OF ALL TIME
-MOST RECOGNIZED ATHLETE OF ALL TIME.

Both sides of civil war in Africa stopped to watch him play.
Ronald Reagan:" My name is Ronald Reagan ,president of the United States of America, but you need no introduction, because everyone knows who Pele is!"
Received by Kings and Presidents all over the world.
First athlete featured in a videogame.
Etc...etc..etc..
9
Bo Jackson

Vincent Edward "Bo" Jackson is a former baseball and American football player. He is the only athlete in history to be named an All-Star in both baseball and football, and one of few to do so in two major sports.
Bo knows... And he's the greatest athlete ever. Ever argue at the bar over this one? The only thing anyone will ever say to shoot down Bo Jackson is the fact that his career was too short. But length of service is only one thing. His two sport versatility easily compensates for this.

Bo hit 141 hr in 2300 games, which is close to on pace with the likes of Mike Schmidt. That was before the pre 1996 hr derby style baseball too. Imagine a healthy Bo Jackson slugging 50 homers a season and hitting 500 home runs in his career. Would there be any doubt then who was the greatest ever to step on the field? That's not even counting his ridiculous range in the OF.

Oh, and that's just baseball. Hey MJ fans, you want to see athletic dominance? Watch a Bo Jackson football highlight reel. Then tell me he wasn't the best athlete ever. Had he focused on football, and stayed healthy, he'd own Emmit Smith, and Barry Sanders. Every scout agreed that he was THE BEST ever. Speed, power, ...more
OH MY GOSH! What is this dude not doing at least at number 5?! Not many can say that they're an outstanding football and baseball player, at professional l level, be amazing (at times) at both, be able to break a bat on your knee, oh and do almost the impossible by running almost completely vertical on the fence, and act like its completely normal! The thing is, I believe he would be #1 no competition if it weren't for that devastating knee injury, that basically just happened cause he was a combine of a unbelievably strong, big, and with a speed that makes you go "what the heck just happened? " Don't even get me started on his arm, getting a ball from the warning track and throwing it- accurate and fast- to home to get an amazing out, with no bounces from the ball! MJ, an outstanding athlete, yes, but did he excel at two sports, a big fat no. For me, an athlete myself, I try to be the best I can be in my sport, and yet struggle to do that in other sports, and sometimes even in my ...more
Not only did he play in two professional sports, but he was a superstar in both. On the baseball diamond, Bo had a career batting average of.250 and hit 141 home runs in just under 694 career games. In 1989 he was selected to the American League All-Star team and went on to win the game's MVP award. And that doesn't count Bo's "hobby" sport. Bo the football player won the Sugar Bowl MVP award, the Liberty Bowl MVP award and then the Heisman Trophy. Then, when he decided to play pro football, he averaged 5.4 yards per carry for his short career and was named to the Pro Bowl team. At one time, Bo was in commercials with Jordan and Gretzky and if it weren't for his career ending hip injury, he would still be regarded as deserving of that type of company.
Reminds me of Wilt Chamberlain, freakishly athletic, played multiple sports, did whatever he wanted without anyone really stopping him at all, one of the greatest athletes ever period.
10
Roger Federer

Roger Federer (born 8 August 1981) is a Swiss professional tennis player who is currently ranked world No. 3 in men's singles tennis by the Association of Tennis Professionals (ATP). He has won 19 Grand Slam singles titles, the most in history for a male tennis player. He has held the world No. 1 spot ...read more.
To be consistent throughout his career is just astounding. And let's not forget the fact that he was the number one player for 237 weeks consecutively. The fact that he was dethroned after that did not stop him from getting back the top rank as he regained the position from Rafael Nadal and collected a total record of 285 weeks overall.
Roger Federer is Not only one of the best sportsman, but also the most respectful of all... Genuine, humble, passionate, dedicated, consistent and humane...
Federrer is Simply The Best. Both character & as a Tennis Player. He has the techniques to play tennis. He is my favourite. Djorkovic and Nadal are behind him
He is definitely the best tennis player of all time and is at least top 10 for all athletes. He is great.
The Newcomers
?
Yekaterina Larionova

?
Elmira Syzdykova

The Contenders
11
Joe Montana

Joseph Clifford "Joe" Montana, Jr., nicknamed Joe Cool and The Comeback Kid, is a retired American football quarterback.
He is good because of his team and Jerry Rice he is not even top 25 athlete of all time.
THERE ARE ONLY TWO NFL QUARTERBACKS WHO HAVE WON 4 SUPER BOWLS JOE MONTANA IS ONE OF THEM
Montana was known as a limited athlete. Didn't have a riffle arm, no Tarkenton or Vick when running. If this about athleticism no. If this about winning, being the best at your craft, yes.
He is really good at football
12
LeBron James

LeBron Raymone James is an American professional basketball player for the Los Angeles Lakers of the National Basketball Association. LeBron has played for the Cleveland Cavaliers, Miami Heat, and the Lakers.
He is 6'9, has the body of an NFL linebacker, runs like a track star, and jumps as high as anyone in the NBA. I wouldn't be surprised if he could compete in any sport at a professional level.
Should be higher on This list. He is the most athletic person to ever step foot on this planet. Hear me out. I get mj is the greatest NBA player ever but do you people realize how physically dominate Lebron James is. He is a human wrecking ball. He's huge. He can out power anyone. Evan 7 foot centers. He can run the point guard position better then any point guard. He is the only player to ever be able to competitively play all 5 positions. The fact that he is out of the top 10 in my opinion is crazy. He should be top 5 with Jordan, Ali, bolt and phelps. He doesn't get enough credit. This man is the most physically dominate human that was ever created. That's a fact.
What people are clearly forgetting when voting is that this list is about the greatest ATHLETES ever, not players in their sports ever. MJ, Ali, Thorpe, Phelps, Bo and Bolt are decent choices but LeBron is the greatest athlete ever. MJ was fast and could leap, but he wasn't nearly as strong as LeBron. Ali's athleticism was limited to a ring so he couldn't truly show us what he was capable of. Thorpe lived in a time before modern practices where athletes were a fraction of what they are today. At the time, Thorpe may have been the greatest athlete ever, but he isn't anymore. Phelps is the greatest swimmer but he doesn't have the strength or speed on land that LeBron does. Usain is clearly the fastest dude. No one on this list can touch that but he doesn't show us any other ability (i.e. jumping, upper-body strength, agility) because of his sport. Finally, Bo, the biggest threat that LeBron has, in my opinion. Bo was stronger, and more talented at other sports (which isn't inherently an ...more
Better than MJ. But the greatest would be Khabib Nurmagomedov.
13
Bruce Lee

Bruce Lee was a Hong Kong American martial artist, action film actor, martial arts instructor, philosopher, filmmaker, and the founder of Jeet Kune Do.
WHEN YOU SAY WHO IS THE GREATEST ATHLETE OF ALL TIME IT IS BRUCE LEE. WHO ELSE DO KNOW THAT CAN DO 50 ONE ARM PULL UPS IN A ROW WITHOUT STOPING. CAN SOMEONE TELL ME WHY MICHAEL JORDAN IS NUMBER 1 WHEN ALL HE IS MOST POPULAR FOR IS DUNKS. KNOW THINK ABOUT IT HE DOESN'T HAVE THE MOST RINGS, THE MOST POINTS AND OTHER MOST EITHER I'M NOT SAYING WHETHER HE IS THE BEST OR NOT I'M JUST SAYING HE MIGHT BE THE BEST ATHLETE IN BASKETBALL BUT NOT EVER. BRUCE LEE NOT ONLY IS BEST ATHLETE BUT THE SMARTEST TO, HIS IQ WHICH IS 200 IS THE HIGHEST OUT OF ALL OF THESE GUYS ON THIS LIST. I JUST CAN'T BELIEVE BRUCE LEE IS NUMBER 16 ON THIS LIST, THIS LIST IS A JOKE. WHO ELSE CAN SEND SOMEONE FAR BACK FROM A ONE INCH PUNCH. Their IS A LOT MORE TO BE SAID BUT MJ REALLY IS AT THE TOP BECAUSE THE NBA IS THE MOST POPULAR SPORT OF THEM ALL, JUST LOOK AT THE VIDEO GAME SELLING FOR NBA. MJ COULD BARELY DUNK FROM THE ENTIRE FREE THROW LINE AND IS YOU GO YOUTUBE AND SEE SERGE IBAKA HE IS THE ON NBA PLAYER WHO ...more
135 Lbs, and he can kick a 300 lb heavy bag to the ceiling. He has a national China championship in Boxing, and knows multiple martial arts (Kung Fu, Tae Kwon Do, etc etc etc.) he started and mastered fundamentals for Jiu Jitsu, and made his own, called Jeet Kune Do. Chuck Norris admitted Bruce was physically superior and far more skilled as well, note that Chuck Norris has a Black belt in Judo, a 3rd degree black belt in Jiu Jitsu, 5th in Karate, 8th in Tae Kwon Do, 9th in Tang so Do, and 10th in Chun Kuk Do. Chuck also is a 6-time karate world champion, and was also in the military acquiring 5 medals. Most people that weigh 135 can barely move a 300 pound heavy bag (strength). Bruce Lee does the Dragon Flag with ease (strength), one finger pushups (strength), plays ping pong with nunchucks at a pro level (awareness, and concentration), and can do 50 one arm pullups like its no big deal (strength, and endurance) and can kill a man with a punch from only a inch away. Bruce Lee when ...more
Bruce lee is superhumanly fast, he's also extremely strong and powerful. He was one of the most committed and determined athletes to ever live. He is easily the most influential martial art master of all time.
2 finger push up, inhuman strength, strong both physically and mentally, multi-talented, just an alien
14
Leo Messi
I think Messi should be the world's best athlete for the moment. He has a blend of all footballers rated above him and his best is yet to come. His speed, ball control, and ability to trick and score are 1 of the best seen so far. Plus, his modest and non-arrogant attitude puts him at his best.
He's fast, skilled, and at the top of his sport.
Messi doesn't desreve to be out of the top 10
He has shown his superhuman capabilities time and time again.
Never failing to perform
Leo is one of the best players to play soccer he should be put up higher on the list
15
Cristiano Ronaldo

Cristiano Ronaldo dos Santos Aveiro is a Portuguese professional footballer who plays as a forward for Italian club Juventus and the Portugal national team.
Complete player just like Brazilian Ronaldo, but he is even more complete with his in-air abilities, he is rapid and strong, skillful, with Messi the most clinical finisher of all time, and along with Messi the greatest player of all time, I cannot separate them
Simply the best, and he still have more ten years to show his quality as soccer player! Keep counting his goals (already broke all Real Madrid's records).
He has got immense football skills and the ways he does dribbling is a magic. He is the most expensive player in the football world. The way he plays against the Brazilian players is phenomenon. He also holds record of scoring most number of goals for Manchester United and Real Madrid in one year. He is still young and has achieved great landmarks
The most complete Football player in world for the moment. He scores with both feet, head and also he know how to strike from free kicks and penalty spot. One of the best.
16
Bobby Orr

Robert Gordon Orr is a Canadian former professional ice hockey player, widely acknowledged as one of the greatest hockey players of all time.
Anybody who plays hockey is automatically an incredible athlete, and Orr was as good as it can get.
Beyond merely changing the game of hockey, Bobby Orr could keep control of the puck and make the other 9 players on the ice look like idiotic little kids. no one had seen that before, or since, not even in Gretzky. His +/- record of +124 wont be broken in the next 50 years, possibly ever. He simply dominated every game, end to end, that he ever played, and often on only one good knee. no one could touch him. The maradona of hockey in my opinion.
Watching Bobby Orr on an end-to-end rush was a sight to behold. He even won the scoring title one year, as a defenseman! I can't think of any comparable feat in any sport. Bobby Orr revolutionized the game of hockey. He had the artistry of Roger Federer and the grit and toughness of Rafael Nadal. As a Montreal Canadiens fan, I've seen a lot of great players, going back to Rocket Richard. None could compare with Bobby Orr.
Watching this guy was an event. I have yet to see a hockey player enhance this game like this man did. Today our kids play this game with superior skates/equipment than dreamed of at that time. Still watch his acceleration, his puck control.
17
Jesse Owens

Owens held or shared the 100 meter world record for 20 years and also held the Long Jump world record for 25 years! As much as like Usain Bolt and admire his fabulous times it is hard to put Bolt ahead of Owens.
he beat the nazis in Munich 8 yrs befor D-Day
In 1936 Jesse Owens won 4 gold medals in Germany a country ruled by the face of EVIL (Hitler) who thought the Aryan race was superior. Jesse owens overcame all the obstacles facing him and brought home the gold
Jesse owens was hard working, talented and won medals at the time when there was racism. He is a role model to all
18
Donald Bradman

Sir Donald George Bradman often referred to as "The Don", was an Australian international cricketer, widely acknowledged as the greatest batsman of all time. Bradman's career Test batting average of 99.94 has been cited as the greatest achievement by any sportsman in any major sport.
Bradman owns! Statistically he stands so far above everyone else that it is impossible for him not to be the number 1. List is biased against sports not popular in America... Also took a year off cricket once and won the South Australian open squash tournament.
It is crazy how biased these results are to American sports. Don Bradman is the only athlete ever to be statisically twice as good as as the rest of his time! And even decades later the next best averages are around 40% lower. And for your info Americans, India alone makes cricket a higher played sport than your American basketball, baseball and nfl. Not too mention the other 100's of millions in the other commonwealth countries. Bottom line is if you did your research you would find it hard to argue against bradman, whose hand-eye coordination is so far ahead of ANYONE else ever to have lived, including federer. And if you were going to argue against bradman, it could only be with bruce lee, as as a purely physical specimen no one can match him. He would have kicked ali's arse in a boxing match blindfolded, and you know it
No other sports person has ever dominated statistics compared to all players in their sport, than Don Bradman. His record will never be beaten.
Sir Donald Bradman the greatest cricketer of all time in the toughest sport of all time in one of the toughest periods on earth of all time. Batting Average of 99.94.06 from being perfect that's why he is the greatest to be that close to being perfect is an amazing feat.
19
Wilt Chamberlain

Wilton Norman "Wilt" Chamberlain was an American basketball player . He was born on August 21, 1936 in Philadelphia and died on October 12, 1999 in Los Angeles due to heart failure . ...read more.
Ok idc what anyone thinks about Wilt, he was one of the greatest all around athletes ever. Sure, he was extremely selfish but to say all these other people are better than him is non-sense. I'd say he's up there with Ali, Jordan, Bo, and Bruce. This man did whatever he wanted to do. Led the league in assists because he felt like it, his defense was almost impossible to get by, his scoring was just insane, also a track star growing up and is in the volleyball hall of fame. He beat Jim Brown in a race, can bench more than Shaq and Wallace in his 50s, could grab a quarter off the top of the backboard (could jump to 13 feet), had an estimated 50 inch vertical, and lastly he kept his promises. When Magic Johnson entered the league he challenged him to a 1v1 and Wilt said to him "your not making any lay ups in this gym" and he proceeded to block all of Magic's shots. Also, during an NBA game he was matched up with NBA hall of famer, Walt Bellamy, who was averaging 31 points that season. ...more
The only big man to lead the NBA in assists. His rebounding and shot blocking I know they didn't record shot blocking for most of his career. He also blocked shots that remained in play instead of in the stands so the other team kept control of the ball. Rebounding was not only great but his ability to block other players so his teammates could get rebounds is almost never talked about. His scoring is talked about but not that during his 50 points a game season. If he scored only 27 points in one game (what's King James average last season that makes him so great? ) he would have to score 73 points to just get to his average! I know we do not compare centers with other positions or the era in which he played, but who has done it better please be specific with numbers. I know he didn't win many titles but he did when given teammates who could actually effect a game. Any body remember 1972 when Wilt and the Laker won 33 games in a row? Or 68 games for the season I know the Bulls won 69 ...more
NO JUST NO! Bill Russell was one million times better! You know why, because Bill Russell cared about his team winning over his own stats. whereas Wilt Just wanted fame. If his team lost by 10 000 points, but he put up a triple double, he wouldn't care about his team and he would go off to some fancy dinner place to celebrate. 100 points doesn't mean crap to me. He was a jerk! how is he over Kobe Bryant
One of the greatest players in nba history. And arguably more athletic ability than any other center, in my opinion.
20
Tom Brady

Thomas Edward Patrick Brady, Jr., is an American football quarterback for the Tampa Bay Buccaneers of the National Football League. Brady is known for being the only quarterback in history to win 6 Super Bowls, and is often considered one of the best quarterbacks of all time. Brady is also frequently ...read more.
GOAT. I had my friends fill out a survey, and Brady won over Michael Jordan for who was a better athlete by quite a bit. Can't believe he's this low.
Your list is great especially the top 5 but makes no sense Montana. We are talking about athletes so how in the heck do you list him over Vick. If Vick has the weapons Montana head they would have won 5 straight Super Bowls
After the Super Bowl 51 comeback, Brady won his fifth SuperBowl (most all time) and became a 4 time SuperBowl MVP (most all time). After this historic win, he's the greatest of all time in all sports, not just football. I watch him play ever since he got drafted. After watching him win all five of his SuperBowls, he's the greatest athlete to ever walk the earth. He's gonna keep winning more titles, especially a 6th SuperBowl. The rest is pretty much self explanatory. Love him or hate him, he's the GOAT for real, there's no question about it anymore, you can't dream of a career like his. There won't ever be someone better than Tom Brady.
I know many people hate him, but what other athlete has accomplished so much over so long a period of time, in a sport that is designed to not let you stay on top with the Salary cap. There are some amazing athletes on the list above him, but None of these other athletes played in such a challenging and competitive system that makes racking up championships repeatedly so hard. I really think this guy deserves his due as the best athlete ever.
21
Gordie Howe

Gordon "Gordie" Howe OC (March 31, 1928 – June 10, 2016) was a Canadian professional ice hockey player. From 1946 to 1980, he played twenty-six seasons in the National Hockey League (NHL).
Awe. #1 All around best athlete ever! What he did when being a hockey player meant keeping your job the hard way and totally loved to play. He owned the league and made it look easy. Tough, Good and a true idol for millions. Amazing. Chris
He played in the NHL until he was 51, he dominated every aspect of the game. One of the greatest athletes of all time.
Should be in the Top 10 simply for his longevity. Had tons of records as well.
Toughest Hockey Player Ever! That's saying something.
22
Jerry Rice

Jerry Lee Rice is a former American football wide receiver who played 20 seasons in the National Football League, primarily with the San Francisco 49ers.
First of all JERRY RICE IS THE GREATEST ATHLETE OF ALL TIME! Case closed. His records, someday may be eclipsed. No man showed more determination than Jerry, todays wide receivers catch the ball and fall down or try to get out of bounds(smart sometimes)Jerry would break free and score more touchdowns than any other player in the history of the game. 3 super bowl rings (super bowl MVP)more all purpose yards than any other man. A true SPORTS LEGEND JERRY RICE.
The best wide receiver to ever live. They took all of jerry rices records one time, and compared them to every person who has ever played in the nfl. And there was only 7 men in all of history, who even had half.
A legend and just think if he hadn't that knee injury his numbers would have been untouchable for many more years. He is the greatest receiver of all time without a doubt. I do feel that as far the greatest football play er of all time he is in the top 5 for sure.
Best nfl player of all time by far. His records double every other wide receiver's career high, He can never be replaced. He is one in a million
23
Jim Brown

James Nathaniel Brown is a former professional American football player and actor. He was a running back for the Cleveland Browns of the National Football League from 1957 through 1965.
obivously a top ten all time caliber running back (may have been best ever except he stopped playing at age 30), but was also offered to pitch for the yankees, one of the greatest lacrosse players ever (in hall of fame), good track athlete (5th in national decathalon), and could have won a national championship for syracuse if there had been no rule for not allowing 3 african american players to start for a team (Brown didn't go out his senior year because he may not have started over 2 other players)
104.3 yards per game. 0 NFL games missed. 5.22 yards per carry. Led the NFL in rushing 8 of his 9 seasons, and the season he didn't finish first he played most of the season with a broken arm. Enough said. Greatest NFL player of all time and was so dominant in lacrosse that they made a rule after him (Having a crease around the goal). Former NFL players have been on record saying at age 50 he could still win the MVP in the NFL.
Not only was he one of the greatest football players of all-time, but he was perhaps the greatest lacrosse player of all-time too. And he could play basketball and baseball well enough to attract the pro scouts.
Not only the greatest runningback of all-time in the NFL, but the man was the greatest lacrosse player to. And he was excellent in basketball and baseball and could have made the pros in those sports.
24
Tiger Woods

Eldrick Tont "Tiger" Woods is an American professional golfer who is among the most successful golfers of all time.
Tiger dominated his sport like no ever has during a time where the depth of talent in the fields was greater than ever before. He changed the sport of golf forever and created a new generation of players. And just when everyone was ready to count him out he came back and beat them all on the biggest stage in golf marking the greatest comeback in sports history. 82 wins 15 majors and countless unforgettable moments. Quite simply the GOAT. And he isn't done yet
Tiger woods dominated a sport unlike anybody has in any sport since or before him. I suppose he is only this low on the list because less people play golf then other sports. He literally was the inspiration for a full generation of golfers and is now competing and beating them.
Isn't this greatest ATHLETE? I'm sorry, but the definition of athlete, according to Merriam Webster, is a person who is trained or skilled in exercises, sports, or games requiring physical strength, agility, or stamina, or in other words, the exact opposite of a golfer.
If Tiger wasn't injured for about 4 years he would most likely be the greatest golfer of all time. But as of now, he is second in overall PGA tour wins (81), and major title wins (15). But I think he could possibly be better than Jack, when he got his 71st win, statistics showed that Tiger won 30% of tournaments he entered. Knowing how hard it is to do that against other big talents like Ernie Els, Vijay Singh. and Phil Mickelson. If you disagree that he is the greatest golfer ever, look at some of his victories, he won a couple of his tournaments by over 10 shots. Some of these wins were lucky, because the other competitors missed some easy putts, but that was because they were pressured by Tiger. Try golf out for yourselves and see some of Tiger's greatest shot and you will start to believe that Tiger is not possibly the greatest golfer of all time, but possibly one of the greatest and most dominant athletes ever.
25
John Cena

John Felix Anthony Cena Jr. (/ˈsiːnə/; born April 23, 1977) is an American professional wrestler, rapper, actor, and reality television show host signed to WWE, where he is assigned to the SmackDown brand. ...read more.
He is just an entertainer and not an athlete. The one who put his name in this list must be totally dumb.
I can't see him
He's a wwe wrestler, they are fakers
He is ever the best I wrestling world and sport world
PSearch List