Top 10 Best Snooker Players of All Time
The Top Ten
1
Ronnie O'Sullivan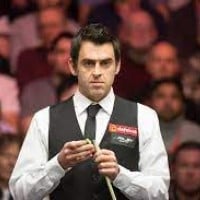 Without doubt, the most talented player the world has ever seen! Great names from the past include Joe Davis, Ray Reardon, Alex Higgins, Steve Davis and Stephen Hendry, all brilliant and dominant in their time. However, every sport continues to move to the next level and snooker is no exception. Ronnie has another gear that his opponents simply do not have. And unfortunately for them he finds it when pressure is at its most intense. A very rare gift indeed. The majority of sportsman succumb to nerves in big moments...this never happens with Ronnie. He loves and craves that pressure cooker! This is a sport requiring the steadiest of hands, lightest of touch and a calmness of mind underneath those Crucible lights. With thousands of mesmerised fans just yards away and many millions watching around the world, Ronnie continues to produce the best and most sublime snooker. Few can do it when it really matters, but this man adores and needs those moments! Despite his rather relaxed point of ...more
This is easily the most accurate list I've ever seen. It's almost as if mine has been copied. It's not just a balanced opinion it's a gracious one as well as Grizleybear has a lot of positive things to say about all of the top ten contenders. Of course it can never be completely accurate as young players mature like for example Judd Trump who would not be at 10 now. Also older players lose their form as people don't realise that a player walks many miles around the table in a long match and has innumerable mental decisions which are tiring. Add to that the psychological hammering they have to endure and this is the reason why to some extent it's a young mans game. When Joe retired he was so frustrated with his game that he said he couldn't even make a 14 break. Yet in his heyday he made the first 147.
He's overtaken Hendry's century haul and it's worth noting Hendry's success was short lived, after 1999 Hendry has never won a world title again, his success rapidly declined when Ronnie, Higgins & Williams solidified their dominance, if Hendry really was the king he'd have had some major titles after 1999, even in his late 30s Ronnie has managed to grab two world titles, should have been 3 but oh well he faltered last year at the last hurdle. He still remains competitive despite playing a lot less than his biggest rivals. Fact he has the most and fastest maximums is testament he has the greatest aptitude in breaking, tactically he can't be the best else he'd never lose considering his talent at the game. So while he hasn't had a long streak of titles like the previous masters he has won at least one world title within every 4 years since 2001, not as impressive as Hendry's 5year streak in short term but he's lasted longer as a supreme player despite not having the mental fortitude ...more
Ronnie o'sullivan is most peoples favorite snooker player right now. He is the showman of snooker and that's what the crowd want to see. He's fast with a very quick snooker brain and plays some brilliant shots. The 147 world record clearance he made in just 5 mins and 20 secs in most peoples eyes is trully stunning. Will it ever be beaten its very very unlikely but never say never. Ronnie is in his forties and still going strong over the years he has threatened countless times but he hasn't as of yet. I know he has everyone on his back expecting him to win title after title and I think sometimes because of this he gets so stressed and deserves a break. He could go on and win a few more titles most people would love to see him achieve this. In the mean time though a lot of people would agree to be the best you need a break now and then. he's faced a lot of things in his life for personal reasons and what not and to carry on achieving what he has done is truly remarkable. I hope the ...more
2
Stephen Hendry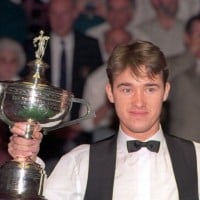 Although Ronnie O'Sullivan is the most exciting, entertaining and (probably/arguably) most talented professional snooker player in history (or the professional/modern era at least), I would still say seven-time World Champion Stephen Hendry is the greatest to ever play the game.
He was truly the master - A brilliant champion, with an aura of invincibility who could finish off a frame in one visit. An incredible break builder, and of maximums and centuries (who alongside O'Sullivan, as such amazing statistics)

Hendry's influence and impact on the game and the generation/s who've followed (also must mention as Steve Davis in the 1980's, of course) will stand the test of time.

The perfect player (and a great bloke too so it seems, with a cracking sense of humour off the table) - The King of The Crucible, Stephen Hendry.

Comment written by Chris Wilson, a snooker fan.
Consistency and the fact that he had most players beaten mentally before a ball had been struck sets him apart from his peers. He had the steeliness of Steve Davis and, in his prime, he could match the flair players such as O'Sullivan, White and Higgins. Let's not forget, he was no slouch around the table but the reason he gets overlooked in the excitement stakes was probably because he made it all look so easy as he rarely got out of position. Just edges Ronnie for me.
A dedicated champion who was unbeatable in the 90's. Maybe didn't have the raw talent and natural ability of O' O'Sullivan, Alex Higgins and J. White but made up for it with his dedication to practice, commitment and bottle for the big occasion. it was easy to see why he was unstoppable and always consistent in his day. For me though he was never the most exciting to watch.
The ability to beat a player before they broke off, is something maybe only Steve Davis also had. When Hendry was at his peak no one could match him. Shame Williams/Higgins/O'Sullivan didn't come on the scene 10 years earlier then there would have been no question. Hendry the greatest by some distance.
3
Steve Davis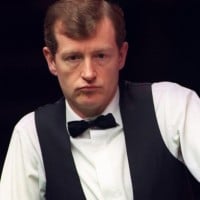 Davis clearly set the bar in snooker and could have had 7 world titles if he hadn't missed that infamous black against Taylor. That said, Hendry was lucky in a way that White bottled his final frame against Hendry in the World Chapionship Final, so we're looking at fractions. For me Davis is the best all round player as he was undoubtedbly the master tactition in the sport. Football managers could only dream of such consistency and the bookies feared his unbeatable reputation. Davis was and still one of the best ambassadors for snooker and for sport in general. He is legendary and a true inspiration to many. A knighthood is well deserved and overdue.
If he'd realised Hendry would follow him and break most of his records, he'd have undoubtedly have won more of everything in his heyday. The most feared player in his prime and first truly top class professional Snooker king that others copied to try to dominate the game.
At his peak, by far the best. Hendry probably #2. Crying shame that Davis, Hendry and O'Sullivan never played each other when they were all at their best, their careers never really overlapped in that way. What a clash of the Titans that would have been.
The Stephen Hendry of the 80's. Cool, calm and collective. A true legend of the modern game..even if he played on slower tables with heavier balls. I think that final against Dennis Taylor made snooker what it is today in terms of T.V. appeal...even if he was pipped.
4
Alex Higgins
"The one true genius snooker has ever produced" -Steve Davis. Alex is the best snooker player there has ever been. He is the most gifted, the most unique and the most flamboyant. He is largely responsible for what snooker became in the 80's and is definitely responsible for the increase in quality over the last 30 years. Every professional snooker player of today grew up wanting to be Alex Higgins. Jimmy White learnt from him, Ronnie O'Sullivan idolised him and Judd Trump reads about him. He is the creator of modern snooker. He is the reason Steve Davis had to be so consistent, he is reason Stephan Henry came through so young, he is the reason we have Ronnie O'Sullivan and Judd Trump. He was a genius, and sadly like most genius in the world, he couldn't handle it. The fact will always remain, if you could play any snooker player from any era, if you could watch any player from any era, it would always be Alex Higgins. Ronnie O'Sullivan made a 5 minute 147, that's amazing but in my ...more
The one true snooker genius. He was the reason many of us watched snooker in the 80's. I remember many late nights watching the excitement he created, especially in the duels with Davis. Rubbed many up the wrong way, but dragged snooker from dingy clubs to a huge audience. Some of the shots and breaks he made were unbelievable. Such a sad end for him, if somewhat caused by his lifestyle. The world of snooker should be ashamed the way it treated one of the greats and by far the most gifted player ever.
A Little guidance and Higgins would have gone a lot further. It was sickening to see so many faces at his funeral of stars who hadn't given him the time of day during his ill health. Still that is the nature of the game. The fact is, Higgins wasn't just trying to beat opponents at the table but in the gentlemens parlour who tried to block the progress of this working class hero at every turn. Only two titles, yes but he had to fight the snobs of the snooker establishment to get them. All power to Alex. The greatest.
After Alex won his first world championship I had the privelige to referee him on a set of exhibition matches, we had a beer, Vodka and a game of bingo in the club snug, alex had a great time chatting with the old ladies and playing bingo, he was so good with them, so so talented a natural genius but boy when things went wrong he loses himself, if he could have harnessed his temperament maybe he would have dominated the 70s or maybe it was that same temperament that made him the genius that he was. For me the most outstanding natural player of all time
5
John Higgins
Definitely without doubt top 3 player of all time, even O'Sullivan who is the best player ever said that this man is the second toughest player he has played behind Hendry and he has played them all.
He's definitely worth his place at the top table. Probably 4th behind O'Sullivan, Hendry, Davis. Maybe even a place behind Higgins & white if we're to go by natural raw talent but with his haul of silverware he's certainly a top 5
Agree he is the most complete snooker player. And tremendous longevity - 19 years between his first and most recent world championship final in snooker's most competitive era.
Should be in the top 5 in my opinion. Can't think of anyone who has maintained their performance at the very highest level for as long as John Higgins has. Legend of the sport.
6
Joe Davis
15 times world champion and arguably its greatest ever promoter; a man without whom it is doubtful Snooker would have survived as a pastime, much less become a global sport. It is also worth remembering that had Joe Davis not stopped competing in the world championship - which he himself invented to begin with - in 1946, the evidence is that he would likely have won another 20 times. The game was different then, largely because the equipment was much more unreliable, and the techniques relied upon by modern players were simply impossible. In addition the modern player benefits from the experience of earlier players (and most notably one J Davis) and professional coaches. Add to that the fact that Davis wasn't just a snooker player - he was Billiards champion for years as well - and the case is still strong for Joe Davis to be #1. Certainly if any modern player had played him on the older (pre-1973) equipment, they would likely have been trounced. On modern tables I think he would have ...more
The past players were also good and my father always ranked Joe Davis. Both are now dead and my father also ranked Ronnie O Sullivan. He, Joe was at his time the best and was nearly unbeatable from what I have heard or read about him I have noted that the list is mainly close or nearly past Players. Please do not forget the past invented and obviously again also played snooker.
Only 3 people in the world championships when he was winning it. Consistent yes but his record can't really be compared seriously with modern players
He would have destroyed the new easier tables and was 2nd best billiard player ever too!
7
Jimmy White
Will always be remembered for never winning a world title but that would be unfair to dismiss his case for being listed up there with the best. While Davis, Hendry and John Higgins were probably the 3 most successful players (until O'Sullivan won his last 2 world titles) I like to think of White as being in the top 3 most naturally talented players to ever Grace the game along with Ronnie O'Sullivan and Alex Higgins. Not bad company to be compared with at all.
Great player. Unlucky at least twice in World Cup finals. Goes without saying, had he been more disciplined in his alcohol intake and a little more lucky, he would have been World Champion, and in my eyes was.
Is an injustice he's yet to get the world title but he hasn't quit yet, hope it happens and he'll make the record of the oldest champion!
A crime he never won a world title. Many a lesser player has; but then again, that adds to the romance of a player justifiably tagged "the peoples champion"
8
Mark Selby
The most underrated player in Snooker history. This man had dominated the World Number 1 spot for the last 5 years. At the top of his game, not enough the great and naturally gifted Ronnie O'Sullivan can beat him.
We often talk about players being 'unplayable', on a Selby-good day, there is not a single player that can beat him. But it's not just technical ability, Selby is mentally the best player to play the game. Just when you think you have him on the ropes he has the mental strength to come back and finish you off. An incredible man and an incredible player. Easily in the top 3, if not number 1.
Toughest player the game has ever seen. Even when he is out of form and only playing his B game, he is still very tough to beat. And when he is playing well, he is pretty much unplayable and would beat every player. He's been world number one, for quite some time now and so much farther of everyone else and would take a hell of a lot to take him off the number one spot. Brilliant at matchplay, great safety, can score great as well, and can manage to win even when he's struggling with his form. He's also extremely mentally tough, and also handles defeat in grace (like when he got knocked out of World Championship 2015 in the second round). Great number one to have for the game, and at his best, I am sure he could have beaten even Hendry or Davis or White (who are all excellent too).
Selby has been ranked number 1 in world at the end of every season in the last 5 year, he can break build as good as the best of them, his safety/ tactical game is the best in the world, and his temperament is the greatest in the history of the game. He is the ultimate all round player with no weaknesses.
A great player, gentleman and also humorous person. One point signs him as an extra player which is his ability to fight in almost lost situations with very good safeplay and positional shots back in a match. I think this may gets more weight when we look a few years further.
9
Ray Reardon
Never saw him play live. Only reruns but it's probably a bit unfair to compare players of different generations. The equipment, tables and balls were much more cumbersome then. Should be higher placed to acknowledge his true worth of silverware.
Six times world champion, and four places behind Judd Trump? Pretty obvious that Dracula - an absolute legend of the game, and one of its great, all-time masters - needs to be far higher than this. Top six, at the very least.
Smashed Higgins consistently, and was still spectacular at 50 yrs old. Hendry no1, Joe Davies no2, Reardon has to be no3. Imagine how much O'Sullivan would pout, with the amount of clever safety from old ray..
A great great player,only Alex Hurricane Higgins was able to raise his game that wee bit more Reardon would have lifted a seventh title in 1982. Certainly one of the all time greats.
10
Mark Williams
One of only three players to win the triple crown in a single season (others being Hendry and Davis) - not even Ronnie's done that! Fantastic temperament and brilliant potter of the ball. My all time favourite player. If we're talking about 'the best ever', then you'd have to put Hendry, O'Sullivan, Davis and probably John Higgins ahead, but being as modest as he is Williams would be the first to admit that. Nobody else should be placed ahead of him though and he has always been my favourite player to watch. True legend of the sport.
A great champion who had two spells as undisputed number one and then rose to the top a third time after dropping outside the top 40. Possibly the greatest single-ball potter of all time. At his peak (1999-2000 and 2002-2003) the best big match temperament of any player. Won all the biggest titles twice, so why is he ranked below White, Trump, Murphy, Taylor and Doherty, who haven't won them all even once?
In my opinion the best player of all time in his prime. He doesn't score as heavily as Hendry or Ronnie, but it doesn't need to make a147 to win a frame. With his unbelievable potting ability, you cannot give him even half a chance because he'll just take it from nothing and score just enough to beat you.
He was class in his prime 99 - early 00's and won all the major trophies more than once against the top players who were all around their own prime too so I think 11th is a bit unfair. He is certainly a top 10 player. Probably 7/8th on my list.
The Contenders
11
Judd Trump
Over the next 10 years of he maintains his increasing form & talent he is capable of raising the bar beyond Stephen hendry & Ronnie O'Sullivan.
Trump and Rocket... Rocket and Trump... Trump is currently my number 1, although Ronnie is more the genius. Trump has been great lately!
I agree that Ronnie is the best, but Trump should be way higher than 13...
Best long pot ever. He is the mini OSullivan. But no where near as good.
12
Neil Robertson
Never knew why, but when I was a child I always loved to watch Neil play - even before I could comprehend the greatness of Ronnie O'Sullivan. Still gives me great joy to watch him and I always root for him when he's playing. He really did great things for the sport as someone who's not from the typical countries that play snooker. I wish him the best.
If you are born and learned the game in country without any significant snooker tradition and high class competition, if you have to spend you whole life away from home and an environment you were used to, you have to rate the achievements of a guy like Neil Robertson (World champion an by now 19 time ranking event winner) far higher than these of all the British or Chinese players. Of course you cannot just say - if he would be an englishman he would have won twice as much titles. But you have to acknowledge that this highly ambitiuos but always courteous Aussie guy sacrifices a whole lot more than the most other players. To me (no I'm not an Aussie, but middle European) the most inspiring snooker player on the planet. And it's a shame that he hasn't won the Australian Sports Awards yet.
Will never be the best, but will always be the best to watch. Probably the best long potter of all time. Cue ball control sometimes lets him down.
Neil Ronertson should be much higher, at least 11th. He has won the triple crown, first player to make 100 centuries in a season 2nd is Ding Junhui with 82 and 3rd is Judd Trump with 62. Neil if better than than both of these players with neither winning the triple crown.
13
Dennis Taylor
Won that famous match against Davis in the world final and in doing so probably kick started the massive T.V. audience to the sport. I think he's doing well though to be considered 12th in my opinion.
A real sticker of a player but not overly blessed with talent.
14
Pankaj Advani
Best indian snooker player...
Awesome player ever seen..!
We are proud of you sir
Great peace of mind
15
Ding Junhui
Another top class player of the modern game along with Selby, Robertson' Trump and Co. But still too soon to be considered along with the all time elites. Time will tell for all this generation of players.
I understand when his achievement is compared to Hendry's but it has to be remembered that tactical play in Hendry's era was superior to the current one.
Ding took Judd Trump apart in the 2013 German Masters... Cue ball control was amazing.
5 ranking events in a season with today's standard of play compared to Hendry's era was something special, even the great Ronnie O'Sullivan, Higgins and Davis couldn't achieve that.
16
Ken Doherty
Great come back player.
For someone who won a world championship he should be way higher than 45
The come back King
17
Shaun Murphy
Most underrated player ever but a complete Gentleman! A lesson to others?
18
Cliff Thorburn
His style of play was effective but nowadays a similar style may put people off the game and ruin the sports reputation.
Deserves to be ahead of any player that has not won a World Championship.
Also the first make a 147 at Embassy.
Best player to win only one World Championship.
Should be top 10
First perfect game in a world championship backed by several accomplishments
19
Paul Hunter
His life and snooker career cut short! Natural talent that would have achieved so much! River Phoenix of snooker! Lost but not forgotten. RIP.
Allure, prestigious presence! The dandy posing as a gentleman! Exquisite!
Love you paul hunter
20
Mark Allen
I love watching Mark Allen play snooker, after Alex Higgins Mark Allen is the second greatest snooker player to come of Northern Ireland. I love to see him win the world title one day.
21 John Spencer
22 Eddie Charlton
23
Fred Davis
Without his brother, Fred would have won many more world titles. Always a smiling gentleman, and utterly gracious in victory or defeat
24
Joe Johnson
Also the only modern-era player to make the final the following year after winning the World Title for the first time.
25
Tony Drago
He's better than many of the above!
PSearch List