Top 10 Best Cyclists of All Time
The Top Ten
1
Eddy Merckx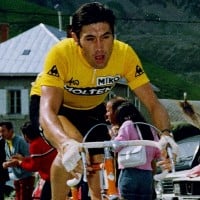 Wow to watch the cannibal at work was truly amazing, what a powerhouse, even when he was not at his best he made you suffer to rival his unending attacks-he would attack anywhere, that's what made him dangerously unpredictable, how do you control a guy like that? Easy ans. Take his bike away.
A complete master of the pedals who excelled in all disciplines. No one will ever come close to matching or surpassing his palmares. The nickname he earned,The Cannibal, is most fitting as he could devour any competitor foolish enough to present a challenge in his domain during his prime.
This is what Bernard Hinault once said : "It is sometimes said that I am the second rider of all time behind Merckx. I gladly accept that analysis because if you can be the second behind such a great champion... "
Merckx is simply the best because he won classics, world championships, stage races, criteriums and track events and was the most aggressive cyclist who defeated the best.
2
Lance Armstrong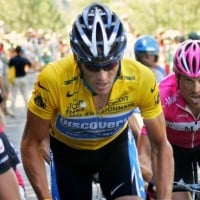 Lance Edward Armstrong is a former American professional road racing cyclist. At age 16, Armstrong began competing as a triathlete and was a national sprint-course triathlon champion in 1989 and 1990.
How do you put Lance this high even with his stripped results. Yes, he is in the discussion for the greatest tour de france rider in history, a case can be made for Merckx who had more stage wins and spent more days in yellow, and won the polka dot and green jersey over the course of his career. Lance NEVER won a Giro or a Vuelta so even by Grand Tour standards he is average. Indurain won as many (the tour giro double twice is way more impressive than winning the two additional tours) Contador has 9 if you count his stripped results and winning each Grand Tour 3 times again more impressive than Lance's 7 tours. Lance NEVER won a Monument. In my eyes, his laser focus on the tour, necessitated by his doping, knocks him way down the list. Everyone else on the list raced throughout the cycling season through the peak of their career.
What can I say, will never forget that stage when Lance and Ullrich were going at it and Ullrich crashed, Lance stopped for the big German let him get back on his bike then resumed the attack, that's a true sportsman, not that garbage Contador pulled on Andy Schleck, when Andys chain came off, Contador saw what happened and attacked putting 30 seconds between himself and Andy. By the way that's the deficit that won the race for Alberto.
Seriously people, can anyone say for certain no one other than Lance Armstrong took enhancements in pro cycling? His critics, like Greg LeMond could have been juicing as well. No drug tests back in those days.
The France has stolen billions from American businesses over the years. The 7 titles they stole from Lance Armstrong should be returned to the man.
Even before his drug bust, or even had he been totally clean I should say (it was always obvious he was a cheat) I barely considered him a top 10 golfer of all time. He only starred in 1 event- Tour de France, while other greats dominated and performed year round, and did so at the time of the weakest overall field ever, facing no all time greats at all, and being carried by the strongest single team (U.S Postal ever). Now after his drug best he probably isn't even a top 100 cylcist of all time.
3
Miguel Indurain
In my opinion Miguel Indurain is without a doubt Top 3 all time. Only two that are close are Merck and Hinualt. He won 5 consecutive Tours. Could've easily won 7 if he hadn't been baby sitting Pedro Delgado in 1989 and 1990. That is with no doping and complete domination of his very good competion. He also won 2 consecutive Giros, an Olympic Gold medal is 96', a World Championship Gold medal in 95'. A beast in time trial who demolished orher great racers and a natural.climber who almost never left his seat. On top of it all, he was a true sportsman and a gentleman, who doesn't get the respect he deserves. For those of you who never saw him race please YouTube any of his races and see how great this guy was.
Indurain was unstoppable in his time, his bodily statistics (VO2 max, lung size, blood pace, etc. ) showed that he was not only an amazing cyclist but an incredible all-round sportsman who could have dominated any cardio-sport he wanted.
Should be higher on this list. Absolute domination of the sport for 5 years. And I completely agree with earlier comment, could've won at least another Tour if not two.
Indurain was the gentleman, he won 5 Tour and 2 Giro and other races, but the difference with the others was his kindness with his rivals and his humility. He could have won more but he neednt it.
4
Fausto Coppi
Coppi won 7 great tours, a world championship, the hour record and many monument classics (5 times Milano Sanremo! ). He was the dominant international cyclist of the years each side of the Second World War but he suffered from 5 years forced break in World War 2. His successes have been exceeded only by Eddy Merckx and Bernard Hinault but how many races he could have won without the World War 2 break?
The time gaps he was able to inflict to the man in second place were amazing, 15-20 minutes or more.
Coppi won his second Tour by 28minutes and 27seconds and the organiser had to double the prizes for lower placings to keep other riders interested. He have ridden only three Tour de France and won two.
If Coppi isn't the greatest rider of all time, then he is second only to Eddy Merckx.
Coppi was the greatest cyclist ever, no doubt about that and he would have beaten anybody as he was capable of winning races out of this world. Merckx, surely more consistent and physically stronger, but not even him was good enough for the best Coppi.
We must consider that Coppi was forced out of racing for 7 years in what could have been his best winning spell, and he could have almost doubled his wins..
Great cyclist, however suffered from two things:

1. Had a severe and deadly disease AND recovered from it. Couldn't have done much better.
2. Suffered from 5 years forced break in World War 2 and probably would have won a few trophies there.

However, I still think he wouldn't be greater than Eddy Merckx even without these problems. He's just something else.
The Cannibal was the strongest, but the Campionissimo was the greatest! Besides, Coppi suffered from 5 years forced pause of WW2, just imagine how many more victories could have done otherwise.
5
Peter Sagan
Merckx is unreachable because cycling has changed, but Sagan is the biggest star at least in 30 years. After Hinault, after Indurain, but much more of a star than them. Much more capable in terms of communicating, not to mention the results, he's only midway his career.
who else can win the Green Jersey 7 times, World Championship 3 times, Roubaix, Flanders, Tour of California- Overall and noumerous sprint stages in various races? That is the answer to those of you who ask who is the best cyclist! Only Eddy was able to win more than Peter Sagan. But Peter brings fans to cycling, he is funny, kind and the master of cycling. Many people watch the races just because of him. Peter makes the races exciting. A true champion!
Over 100 career wins. 3 World Championships in a row. Ranked #1 in the individual UCI World rankings. 6 Tour de France green jersey Championships. European Championship. Paris Roubaix Champion. On and on...
Not to mention one of, if not the most exciting and charismatic riders in the history of cycling.
This man is a pleasure to watch ride he is so talented I don't think he even realizes it. His interviews are cool check him out
6
Bernard Hinault
Last Frenchman to win the Tour de France and won it 5 times. Also won 3 Giro and was one of the most aggressive cyclists ever.
Best ever. Most exiting to watch.
7
Sean Kelly
Grand tour winner, Green jerseys, Classics, could have been higher in Tour GC or won more Greens if he hadn't been trying to win both at the same time. Amazing talent.
Incredibly tough, a sprinter who could also climb, a master tactician who reigned supreme in the classics but also podiums in the grand tour's and winner in the Vuelta. Name a more complete cyclist since Kelly dominated the 80s.
Top sprinter, time trial winner, Grand Tour Winner, Classics champion and world number one for half a decade in the Eightys. Incredibly tough cyclist.
Strong, honest & super tactical in a race finish. Had to fend for himself most of the time, better team would have brought even more race wins
8
Jacques Anquetil
5 Tours de France, 2 Giros, absolute master of time-trials, a phenomenal cyclist.
9
Felice Gimondi
How many races he would have won had Eddy not being participating.
10
Alberto Contador
No disrespect to Cancellara and Sagan, but how are they better overall riders than the 9-time winner of all grand tours? Let me make it short. I didn't know Cycling, but I did know El Pistolero! His a sheer fighter! Remember what he did in Tour 2014? He climbed a relentless mountain with a broken leg over one and half minute faster than the bunch! Remember what he did in Mortirolo in Giro 2015! He just turned his rivals into the ashes while he was 1 minute behind the peloton!
Sorry don't think of this guy as much of a sportsman, yes he is talented but there in lies the problem, he knows it. Ask Andy Schleck about it.
I'm young (23 years old) but in this year I've never seen anyone like him. Always fighting. Amazing!
Best cyclist in the past 20 years! Explosive on climbs best cyclist to watch best attacks!
The Contenders
11
Chris Froome
Should be much higher than this! Plus it was very impressive when he ran up the hill in the
Tour de France (and entertaining) recently. Like others on this list he is underrated.
Best rider of present, maybe he can win all 3 grand tours in one year. But this would be extremely hard.
When I hear his name The picture comes into my mind of him attacking his team leader on the tour.
Most complete rider of his generation and of this millennium.
12
Jan Ullrich
One of the greatest cycling talents. Unfortunately grew up in the Iron Curtain period, which made him susceptible to all kinds of temptations. Physically great, mentally weak, physically and technically unbelievable.
Best cycling young talent of the 20th century, and still managed to come 2nd without doping on the same level as Armstrong. Probably was the greatest rider in his generation of cyclists if drugs did not exist.
The greatest cycling talent ever. Could show up in The Tour at 85 kg and still end up 2nd! Would surely have won The Tour 6 times, had it not been for reckless cheaters like Armstrong and Pantani.
13
Alfredo Binda
Binda and Guerra, those were the days.
He is the greatest
14
Mario Cipollini
Very fast, good showman. Made the sport more popular.
15
Gino Bartali
He was stopped 7 years from races because of second war and because fascist regime don't want him to race outside Italy. He won Tour first time at less than 22 and second time at 32 with more than 30 minutes advantage on the second.
Not only the best of his era, in a career cut short by the war but he was a war hero too. A fascinating life story and exceptional cyclist.
A great man very strong cyclist whose duel with Coppi are legendary.
Should be much higher. Won the TDF 10 years apart and has many other major victories including the Giro D'Italia 3 times.
16
Greg LeMond
The greatest American cyclist of all time. Rode as a second and in suppory of Laurent Fignon in 1984 and second to Benard Hinault in 1985. He was arguably the better rider both those years. Won his first Tour in 1986. He sat out 1987 and 88' after a horrible hunting accident where he was shot in the back and side with a shotgun. 60 pellets lodged in his body and internal organs. Ok now try to take this is in...with 35 shotgun pellets still in his body, including three in the lining of his heart and five more embedded in his liver he came back in 1989 and won the Tour again. And again in 1990. This guy was an absolute monster. Hence the nickname LeMonster given to him by the French fans. Top 5 of all time. Completely underrated. One of the most determined riders ever. Puts Armstrong to shame.
Potentially the greatest of all time. Definitely the unluckiest. To have that much genetic advantage and talent and get shot. He picked the wrong team in 85. He entered his prime years during the giant technical leap in doping.

Probably the most amazing thing is he may actually be the only rider in the history of cycling not to dope. His behavior and performance and record (only 3 tour wins and 2 world championships) basically support that.
LeMond had a much more successful career in cycling than Andy Schleck. He is also largely responsible for bringing pro cycling to the USA. He was an unbelievable talent in his time, equal to the Badger. If he hadn't gotten shot, he may have had 2 additional successful seasons with possible Tour and Classics wins. Doping in the peloton forced him out early.
Since Armstrong's titles have been stripped he is the only American to win the Tour De France. He won it 3 times winning two of them after coming back from getting shot by his brother in law in a hunting accident. You do that you should be on the list.
17
Mark Cavendish
He has tried so hard to be where he is today. Coaches have called him fat and said that he would never be able to be a pro. Well look where he is today. 25 Tour de France stages. World Champion. British Champion. Green Jersey winner. Over 100 wins in his pro career. The figures speak for themselves. Cav I respect you.
A rider to be proud of. CLEAN, and an absolute great sprinter.
Best sprinter ever. Practically unbeatable
Number 1 sprinter ever! 2nd Marcel Little.
18
Andy Schleck
A very good cyclist!
19
Fabian Cancellara
Not only good at time trials, Cancellara is a dominant one-day rider and a threat in any one-day event he enters. The greatest one-day rider of his generation. Also, unlike most sprinters and time-triallists, is not useless in the mountains and can hold his own.
If you need to explain to someone why Spartacus is one of the greatest cyclists of ever, they just aren't worth your time.
Time trails and cobbles he is just about unbeatable. He can kick up a little sprint to so he must be the best
Winning a tour event is as much about the team. Winning a TT or spring classic is all about the rider.
20
Cadel Evans
An understated, versatile legend, and a physiological freak, who crushed a world-class (and partially doped) cross-country mtb and road fields as a junior- a key indication of a raw, natural talent. Unlucky that his road career happened to coincide with the worst streak of systemic doping in the history of the sport, but he stayed thereabouts (just) despite uncompetitive teams with his drive and ability to turn himself absolutely inside-out leave it all on the road. It was so nice to see him achieve success (worlds, TDF) towards the backend. With a level playing field, he'd have won 5 or more GT's, and be right up this list.
Won the most exciting Tour (2011) in absolutely courageous fashion, close second twice also and probably should have won those too, podium in all three grand tours.
World Champion of mountain biking (1998) and road biking (2009), and then he won the Tour de France in 2011.
His only fault was being clean. Should have more GT wins, if his competition wasn't doped up.
21
Alejandro Valverde
How can you not include Valverde in the top 5 riders of all time? He has 123 professional wins and in all of cyclings rankings he is always listed in the top 10. And he is the only rider presently racing who is listed in the top 10. There are only two riders in today's peloton who have more wins. Mark Cavendish and Andre Greipel. And both of them are sprinters. He can do it all. He can sprint, climb, time-trial, descend and he is the best puncher in the world. Jens Voight better. That is a joke and I do like Jens, but really? I do not know who is doing the voting, but even pros think he is the best rider of this generation.
7 medals in world championships, finally got over the top with his win in '18 (at age 38! ). Was overshadowed by Contador and his Grand Tour success, but his longevity and all-around excellence are unmatched in the modern era.
Don't like him but he's a good cyclist.
He came forth in the 2014 Tour de France.
22
Marco Pantani
A great man and a great cyclist he reminded me of the great Fausto Coppi.
The emotion he created, maybe no one else, never.
Why no list of his accomplishments?
The best climber ever!
23
Tom Boonen
Boonen is for me the best cyclist ever. Great sprinter very strong
One of the best one-day riders of the past 30 years.
3 times tour of flanders, 4 times Paris Roubaix, 5 Times E3 prijs Vlaanderen, 3 Times Gent Wevelgem, World Champion 2005, Green Jersey in the Tour,...
More then 100 victories so far...
24
Bradley Wiggins
I'd have put Bradley Wiggins somewhere near the top if not right at the top, which is where I would have put him... as I can't think of another cyclist who has achieved in many various cycling events as Bradley Wiggins. He's a brilliant time trialist and was the only one to have achieved 19.57 at Knowsley Safari Park (Tour of Britain) in wet conditions - remarkable!
Bradley Wiggins is my favourite cyclist because he was the first British tour d' France winner, won Paris-nice, tour of romandie and the dauphin in the same season and because he won an time trial in the Olympics! Amazing!
Bradley has just got the hour record which means he has beat everyone who attempted it so he is the best rider ever!
First brit to win the tour de France olympic time trail champion he's brilliant
25
Joop Zoetemelk
One of the greats of his time, a pure cyclist with a great personality to match. Could have been the most decorated Tour cyclist had things gone just a bit differently (6 second place finishes and 1 win! ).
Rode the Tour de France an amazing 16 times! One win, and 6 2nd place finishes
PSearch List