Usain Bolt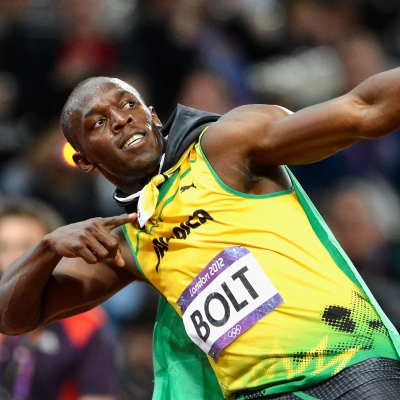 Found on static.independent.co.uk
Info
Usain St. Leo Bolt is a Jamaican sprinter. Regarded as the fastest person ever timed, he is the first man to hold both the 100 metres and 200 metres world records since fully automatic time measurements became mandatory in 1977. Along with his teammates, he also set the world record in the 4×100 metres ...
read more
.
Comments
Top
Popular
Newest
USAIN BOLT is the world's best athlete as his athletic skill is measured by adding the culmination of 75 years of the world's fastest men. He blew away all their achievements effortlessly and at the age of 21 will obviously get better. To break both the 100 and 200 meter distances, seemingly without any effort, is much more difficult than any other sporting record or accomplishment. -
I think the list is some what flawed in that Ato Boldon is ahead of Usain Bolt. Tiger Woods and Pele is definitely in the top three. We should probably base our judgement on the person influence on a global scale.
Usain Bolt dedicates most of his life to the track. He works extremely hard to achieve he world record and to defend his double sprint. That is something no other athlete has ever done. So I vote bolt most famous athlete of all times mainly because of his achievements
Usain Bolt got 3 gold stars in Beijing, how can you not think him to be the best athlete? Look, he is the fastest man in history, he broke his records numerous times and seriously, he's probably gonna break them some more. Finally, the guy has SWAGGER!
If Usain St. Leo Bolt repeat the golden triple at the Rio 2016 Olympics (Brazil), he would have achieved a milestone that may never be replicated and surely never exceeded. The legendary Usain Bolt is the greatest athlete of them all.
oh come on! Michael Johnson was good but usain bolt won the 100 and set a world record without trying. Then he beat Michael Johnson's time in the 200m setting another world record. Usain Bolt or bolt of lightning all the way.
It's very difficult to compare between sports so I think it should be the fastest man of all time. That's not debatable and he only does 3 events but has been very dominant in them. He is very hard working and confident so he is a great personality as well as a great sportsman.
Every era produces an exceptional talent that supercedes all others in that field. Usain has superceded all other track athletes and he is by far, the best athlete the has ever seen and maybe, will ever see. That's my few words.
People doesn't understand how difficult to train for a sprinting event. You have two practices in one day, and you most likely throw up after doing a sprinting workout. Greatest athletes work hard to become great athletes.
To be the best, means that you are able to inspire and make others believe the "dream". Usain Bolt's personality and on the field supremacy makes him the greatest athlete in the sports of track and field.
He is breaking limits that have been placed on humanity. He is literally the fastest man is the world, an achievement that demands respect. I mean, he is the closest we have ever come to a real-life Flash! In a way, what Usain Bolt has is a super power.
Fastest man ever, without even trying too much. He is athletically better than any other runner, ever. for example, he holds world record for 100 meters and its not even his favoured event - dan161993
The most naturally gifted athlete, seeing as you would have to be in order to run fast. A basketball player simply has to be tall to succeed in a majority of cases, no one has anything on Bolt.
Would deserve top 3 and maybe #1 if he just added a 3rd event. I think he could have dominated the 400 or long jump, heck maybe even both, if he really wanted to. He was unwilling to make the risk and push himself, and while his dominance of the 100 and 200 is amazing and to a level never seen before, even someone like Carl Lewis was more versatile due to his long jump dominance. - feisty37
He's just simply the best since he was young; ran disgusting inhuman, unbelievable times and is most exciting athlete to watch with best enthusiasm & humor. P.S check the records and his videos
Usain all the way Look at the record. Beijing 2008 three gold medals three world record. Berlin 2009 world games three gold medals two world records, 2011 world games Daewu two gold medals one world record, 2012 olympics three gold medals one world record. No athlete in history has consistently received gold and made some many records
He can run faster than cheetah and absolutely legend the greatest ever pure runner to born in this earth I want him to participate in the 2020 Tokyo olympic and retire with 12 olympic gold medal
By far the fastest man on earth. He won the 100m and 200m with such ease and fluidity. I know speed may be his one and only asset (at least from what we've seen), but for him not to make the top 10? Tiger Woods and golf? Comeone that barely takes any raw athletic ability.
Bolt was not the fastest man EVER, but definitely the fastest consistently. "Bullet" Bob Hayes was wildly inconsistent, but when he was "on" even Bolt could not have beaten him. Check the grainy footage of Hayes' anchor leg in the 4X100 relay at the 1964 Olympics. Hayes got the baton badly in last place, running against the 5 other fastest people in the world. He looked like he was rocket-propelled, passing the other champions like they were elementary schoolers. Not eligible for a record, nonetheless his time was a non-human 8.6.
Usain is easily the best athlete in the world he makes everything so much easier and also makes people what he does. GREATEST ATHLETE EVER!
Usain is the best ever they will have to change the speed limit in London. He will be flying up this after London.
He is the fastest man hands down, there are no athletes that can come close to his speed. Usain "Lightning" Bolt is undoubtedly number 1
Bobby Orr is second best all time. He is an ultimate player on boston and he set many unbelievable records.
Judged by the clock, what can be more objective? And he is way faster than everyone else, no one come close. And that's not my opinion, it is the clock that tells you. All of that is the most important discipline - 100m flat - of the sport that defines athletes. So, no doubt here, he is the greatest athlete of all time - at least for now.
I am proud of Usain and his talent on the field, I hope he keep fit and less inquiry for the next Olympic in Brazil. I am Proud of him representing our Island Jamaica.