Wayne Gretzky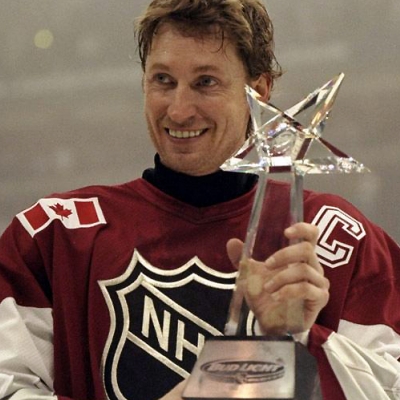 Found on sportsup365.com
Comments
Top
Popular
Newest
Let's take a look at some important stats. He got his first thousand points the fastest ever, and then got his next thousand the second fastest ever. So he is both the best and the second best ice hockey player who ever lived by an incredibly wide margin. And if you watch clips of his games, it becomes questionable why he isn't the greatest athlete of all time. Statistically, even though he leads, he should be far more in first than he is. He would often skate the puck down the ice through an entire team before making a pass for an assist. He would set his teammates up as often as he could, and if he didn't, he would be by far the greatest athlete ever statistically.
Besides having to learn a whole new skill set (i.E. skating without breaking your neck), the Great One owns every important stat in his sport, other than goalie stats. Not only was he an automatic entry into the hockey hall of fame (that's right kids, no five year wait), he has a room dedicated to him. Jordan was great at his sport, no doubt, but he is still compared to Kobe and LeBron. No one gets compared to Wayne; there is no comparison. People say, "So and so is the Jordan of their sport, " and call that high praise. How about Jordan is the Gretzky of basketball. Truly the best and deserving of the name, The Great One.
The records speak for themselves.

50 goals in 39 games.

92 goals in 80 games. This year Stamkos might score 60 to lead the NHL.

163 assists in a season. The assist leader this year Sedin might get 70 assists.

215 points in 82 games. To put this into perspective, the scoring race will be won in 2012 by a player with somewhere probably between 110-115 points.

4 Stanley Cups, 9 Hart trophies and holds every meaningful offensive record in the NHL.
He was not blessed with a great body, as so many were..He made himself the greatest..Many were faster,stronger but nobody was as skilled in any sport as Gretzky. Weighed 160 pounds, in a sport as brutal as they come..Could feel,see,sense, like no other athlete..There are great athletes, but not like him..For what he was born with,Gretzky is the Greatest of all time..
Wayne Gretzky was a tremendous player and really brought Hockey to a larger audience than we had seen in the past. "The Great One" has records the will NEVER be touched. Wayne Gretzky has almost 1000 more points than the second place person for points in the Regular Season. Overall a fantastic athlete that is still very active in the game today.
He and babe Ruth are the best no doubt then behind is Michael Jordan Gretzky has scored 92 goals in a season how is he 8th place he is number one he was the king of the oilers although I can't stand them I have to admit he is the best vote for Gretzky he is the best
Without doubt the greatest athlete of all time. Own his sports record book, and unlike any other name on this list Gretzky made everyone of his team mates better. No other team sport athlete could affect their teams performance as did The Great One. Its hard to place any athlete above Jim Thorpe, but if anyone deserves that spot its Gretzky. Greatest Ever...
No other professional sports player has been so much better than the other people in their sport. He has more assists than anyone else has points and has almost 1000 more points than mark messier who is second in career points with around 1800. If you don't know hockey a great season is scoring over 100 points he did that almost every season. He is also the only player ever to score 200 points in a single season. #1 in my opinion. Also hockey has more world diversirty than any other sport
Wayne Gretzky could skate circles around anyone on this list (in his prime), besides perhaps Bobby Orr or Mario Lemieux (when in their prime).
All that Ali did (no disrespect to him) was punch people in the face.
Who's the real athlete here? - BKAllmighty
Wayne Gretzky is easily the greatest athlete of all-time. He owns just about every offensive record in hockey. No player, not even Babe Ruth or Michael jordan have even come close.
Far more significant to his sport than Jordan. His stats alone and the fact that no other hockey player ever comes close to his numbers makes him the greatest of all time - no question.
They do not call him the great one for nothing. Know one was even close to him in the 80's, in another stratosphere. Most Americans won't appreciate just how good he was compared to a Michael Jordan, in the same league.
No one dominated there sport as consistently as Gretzky! Just look at his all-time stats! Jordan's great but he doesn't dominate the NBA record book the way Gretzky does the NHL
Wayne is clearly the greatest Hockey player of all time but it is unfair to even create this list because so many people have different qualities and if your asking best athlete they should be able to play all sports so yes greatest hockey player of all time but people like dieon Sanders need to be on this list for being great at multiple sports!
92 goals in one season. Only player to ever score 200+ points in a season (4 times at that). Fact is he is called "the Great One" for a reason and nobody has dominated a sport like Gretzky did in the NHL.
Played in another realm. His ability to physically and mentally play the game will never be surpassed. However, his physical ability is sometimes diminished, because of his positional play. He was a physically tough and a very athletic player.
Arguments can be made for just about anyone on is list being second best at what they do, except for Wayne. Nobody with half a brain really believes there's a better hockey player than The Great One. - Biggoron
He and babe Ruth are the best ever more people should recognize this he was the king of the oilers although I can't stand him I mean 92 goals in one season how can he be number eight vote for Gretzky
Wayne Gretzky is number one because I truly dominated NHL. He broke almost al of the records in NHL, MJ did not do this in NBA, Babe did not do this in MLB. Only Wayne did this.
I don't understand why he isn't number 1 on the list! He is by far the best athlete in history and I don't see anyone topping him anytime soon..
I don't follow hockey but I do understand how awesome Wayne Gretzky was, man dominated that sport like no one else has in any other. - lopedogg55
Statistics are facts, opinions aren't... And The Great One has the record in nearly every statistical category for his position, let alone the entire sport.
He's the Great One.. need I say more. He shattered records unlike like anyone before and made them virtually untouchable.
Has over 2000 points when the 2nd most points in the NHL is just over 1000. He dominated his sport his sport like no other athlete.
No one can touch gretzky because he's the best at hockey and hockey is the best sport ever!