Top Ten Best Action Cartoon Shows
The Top Ten
1
Avatar: The Last Airbender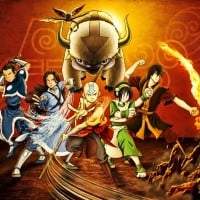 Avatar: The Last Airbender is an American animated television series that aired for three seasons on Nickelodeon from 2005 to 2008. Avatar: The Last Airbender is set in an Asiatic-like world in which some people are able to manipulate the classical elements by use of psychokinetic variants of Chinese ...read more.
One of the greatest cartoons of all time!
One of the best ever!
The best cartoon ever, it was a big part of my childhood and can stand the test of time!
Literally the best show ever
2
Star Wars: The Clone Wars

Star Wars: The Clone Wars is an American 3D CGI animated television series created by George Lucas and produced by Lucasfilm Animation with the division Lucasfilm Animation Singapore, Lucasfilm and CGCG Inc.
Great show! For sure there's a few boring episodes, but aside from that, amazing show for kids and fans of Star Wars (like me)!
Appealed to adults as well as kids. Would of liked to see episodes involving a young Han Solo and Lando.
the space battles are just as good as in the movies!
Everything is amazing in the clone wars movie and T.V. series, the animation is fantastic and the characters awesome. This show deserves to be number one!
3
Young Justice

Young Justice is an American animated television series developed by Brandon Vietti and Greg Weisman for Cartoon Network.
Loved the show and when they cancelled it I went crazy but now its rebotted and they have introduced many new dc universe characters too
By far the best cartoon that has ever been made; complex storyline, great graphics!
Best superhero show of all time
Young justice is so amazing!
4
Dragon Ball Z

Dragon Ball Z is a Japanese anime television series produced by Toei Animation. Dragon Ball Z follows the adventures of Goku who, along with the Z Warriors, defends the Earth against evil. The action adventures are entertaining and reinforce the concept of good versus evil. Dragon Ball Z teaches valuable ...read more.
The oldest show on this list and for good reason. It's stood the test of time.
Complex plot. Great action. Original has too much filler, try DBZ Kai.
Dragonball Z is the best action cartoon. Ever. Widely imaginative, intriguing stories, over the top fighting scenes, & the quality of the animation itself is great (considering it came out in the 80's). It doesn't get better than DBZ.
This is truly an ageless and timeless classic. This show is so universal in how it appeals to not only kids, but also teens and adults. The characters are so well developed and charming, and they give us reasons to both laugh and cry. It's a fascinating universe, with such an incridibly trilling story, that you can't possibly avoid being captured by. Nothing beats Dragon Ball Z!
5
Teen Titans

Teen Titans is an American animated television series created by Glen Murakami, based on the DC Comics characters of the same name.
This show is crazy action. Robin can beat slade with his kung fu. Starfire can make laser come from her eyes or hands. Cyborg killed brother blood like crazy with one arm. Beast boy can turn into any animal and he's my favorite character next to raven. Raven can control anything she's awesome she's my favorite character she killed trigon the most powerful thing in their universe.

Best Teen titans Episodes
1 The Prophecy
2 Titans Together
3 The Apprentice pt 1 & 2
4 Haunted
5 The End Parts 1, 2, &3
6 Mask
7 Terra
8 Aftershock pt 1&2
9 Bunny Raven
10 How Long is Forever
11 Titan Rising
12 Betrayal
13 Kole
14 Birthmark
15 Fear Itself
16 Divide And Conquer
17 Lightspeed
18 Final Exam
19 Nevermore
20 X

Worst teen titans episodes

1 Crash
2 Things Change
3 Overdrive
4 Deception
5 Titans East pt 1
6 Fractured
7 Mother Mae Eyed
8 Waverength
9 Forces Of Nature
10 Trust
11 For ...more
Awesome animation and lite yet in depth and continuous story telling
You don't know I know not u
IT'S BEST
6
Justice League Unlimited

Justice League is an American animated television series which ran from 2001 to 2004 on Cartoon Network.
I got into ut late. But enjoyed it for the most part. I thought it was short, like most american cartoons, for the amount of material they had in the comics.
7
Kim Possible

Kim Possible is an American animated children's television series created by Bob Schooley and Mark McCorkle for Disney Channel.
It's a action cartoon for people who like butt kicking women. And it is awesome.
This is terrible
8
Transformers: Prime

Transformers prime is an awesome cartoon
It's a spectacular show! You wouldn't regret watching it.
Best cartoon I had ever seen. I love optimus prime
It should be in top 5
Best cartoon ever saw
9
Wolverine and the X-Men

Wolverine and the X-Men is a 2009 American animated series by Marvel Animation. It is the fourth of five animated adaptations of the X-Men characters, the other four being Pryde of the X-Men, X-Men: The Animated Series, X-Men: Evolution, and an anime adaptation known simply as X-Men.
X men is a good show and awesome and badass and I hope they could bring back the xmen as badass and not like the damn teen titans go and I need you bring back xmen to life in T.V. series
10
Teenage Mutant Ninja Turtles

Teenage Mutant Ninja Turtles is an American 3D rendered computer animated television series based on the fictional superhero team. It aired on Nickelodeon in the United States from September 29, 2012 to November 12, 2017.
I like season 1-3 I wasn't a huge fan of April being like a mutant and father being mutated but I was able to go through it but the whole space thing was my least favorite part about the show just forgetting there are two tnmt in this new timeline and season 5 it should of just ended with shredder being defeated at the end of season 4 that was a satisfying end now the whole show is just messy
Good cartoon but we need new episodes there but I still watch
Best show ever. This has to be number 1!
Yess that is good
The Contenders
11
Naruto

Naruto is an anime and manga franchise Naruto, created by Masashi Kishimoto. The manga was later adapted into a television anime, which was produced by Studio Pierrot and Aniplex. It premiered across Japan on the terrestrial TV Tokyo and other TX Network stations on October 3, 2002. The first series ...read more.
Ending episodes not there in English.
People how can you forget this cool cartoons
Best ninja cartoon
Really the best cartoon I have ever seen...
12
The Spectacular Spider-Man

The Spectacular Spider-Man is an American animated television series based on the superhero character published by Marvel Comics and developed for television by Greg Weisman and Victor Cook.
Good lord this is great. It had a unique art style and a pretty good look on the whole Spider-Man thing, I really enjoyed it and am disappointed that it ends so abruptly but it's a good watch if you are desperate.
Good
13
Batman the Animated Series
Loved this show from the storylines, characters, to the action scenes.
Personally, this is my favourite show of ALL time. Ever.
One of the best written animated superhero shows ever. Very dark too.
I like this but I like Pokemon very well
14
Pokemon

Pokémon, abbreviated from the Japanese title of Pocket Monsters and currently advertised in English as Pokémon: The Series, is a Japanese anime television series, which has been adapted for the international television markets.
Pokemon is the best series of all cartoons. It should be top 5
I say that this is the best cartoon in world
It's the best anime series there was and there will be
Pokemon ever like anime series its best forever
15
Justice League of America

Justice League is an American animated television series which ran from 2001 to 2004 on Cartoon Network.
Justice league is the KING of action cartoons, and the GOD of all superhero cartoons (and Justice League Unlimited obv). Characters, development, complexity, animation, plot... And every episode even has classical literary, philosophical, and/or mythological subtext. Genius.
16
Ben 10

Ben 10 is a media franchise created by Man of Action Studios and produced by Cartoon Network Studios. The franchise revolves around a boy named Ben Tennyson who acquires a watch-like alien device, the Omnitrix, which allows him to transform into ten different alien creatures.
it has great story and great action and great voice actors I love it
I love this one. It's perfect along with the 2 sequels. The 4 one sucked
Best action cartoon series ever made. Wish to see more new episodes in the style of classic or past been 10 sequel to the Ben 10 ultimate Alien.
Why no 20 it should be number 1
17
X-Men
Best american cartoon ever. And all the movies are based on the episodes.
There's a character that everyone can relate to in some way!
Best show ever. I've watch nearly all these series.
18
Transformers
The coolest show ever
What! How can transformers be at 17?
I like transformers
19
Beyblade: Metal Fusion
Best of the best
Best of all other Anime shows... In this Anime show my favourite Character for whom I will support Forever.. Is one and only Blader number 1 "Gingka Hagane"... For him Bladres Recognised the '"True Bey spirit"... He Is the best... He has Gave the lesson Of true bey spirit... love you Gingka forever...
CN's best Action cartoon show comes on 11.30 P.m Bangladesh TIME.You can see some grate fight here.
Ginga hagane,kyoya both are strong baldders so was rayuga with an evil inside him
tactically sound sholud be in top 10
20
The Legend Of Korra

The Legend of Korra is an American animated television series that aired on the Nickelodeon television network from 2012 to 2014. It was created by Bryan Konietzko and Michael Dante DiMartino as a sequel to Avatar: The Last Airbender.
By far the most well written storyboard with a bunch of charismatic and powerful antagonist, probably the best of the genre
This had three great story arcs.
Great show..!
The fight scenes are better than the original. advanced bending makes for more exciting movesets and villains. The plot twists are also incredibly awesome.
21
Spider-Man
Yo yo spiderman
awesome!
He is amazing his style his speaking his jokes all are amazing l8ke a amazing spiderman.
22
Huntik: Secrets and Seekers
I like this show but also wait for further story
My favourite series of all time.
23
The Tick

The Tick: The Animated Series is an American animated television series adaptation of the New England Comics satirical superhero The Tick.
Light hearted comical fun and the Moth guy is funny.
24
Idaten Jump
Best cartoon for ever
Plese idaten jump come back with season 2
Idaten Jump is based on a child named SHO YAMATO who is a fond of MTB riding and they accidently transported to X-ZONE which is a mysterious world and it is full action show of IDATEN bikes and MTBs
Please upload on T.V.
25
Gargoyles

Gargoyles is an American animated series produced by Walt Disney Television Animation and Buena Vista Television, and originally aired from October 24, 1994 to February 15, 1997. The series features a species of nocturnal creatures known as gargoyles that turn to stone during the day.
Amazing, if you read between the lines
PSearch List