Il Volo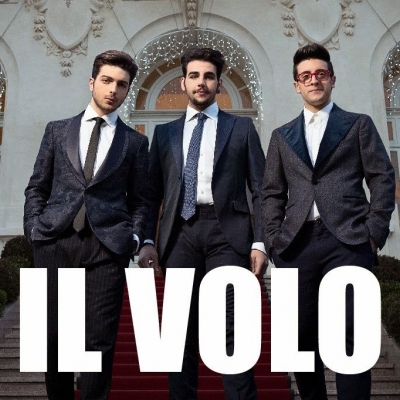 Found on files.wordpress.com
Info
Il Volo is an Italian pop trio, consisting of singers: the baritone Gianluca Ginoble, and two tenors, Piero Barone and Ignazio Boschetto.They describe their music as "popera".
Comments
Top
Popular
Newest
Il Volo is a group of TALENT. They're not like other boy bands who rely on auto tune to make records. Their voices are truly a gift from God and they are forever humble of their success across the globe. Gianluca, Piero, and Ignazio are so kind to their fans, working harder than anyone I know for them. They deserve this more than anyone. THANK YOU, Il Volo, for making me smile everyday and fly with your music.
Il Volo is different to all other boy bands... The way they sing, their marvelous voices are so full of emotion... Their songs are love songs but in a different way. I just love them. Their music is great, they sing in several languages, which is unheard of in many of the boy bands as we know them... For all that, they are not only different, but the best of all boy bands ever...
Out of this world. Pure singing talent no electronic correction needed..real music by real song writers. Classier than most "boy bands", these young men will have fabulous careers for the next 50 years! IL VOLO is changing the face of music all over the world. They're Italian, gorgeous, sexy, sweet, LOVE their fans! Piero Barone (20) Ignazio Boschetto (19) Gianluca Ginoble (18) WOW!
They are really talented! And they are dedicated to what they do! They ALWAYS give 100% to their Ilvolovers! And they are the most HUMBLEST guys!
IL VOLO is more than just a young group, they are the people that make each song feel a special magic, and make you see that all dreams may come true, but IL VOLO is more than three voices, they are a soul.
They are very young, but the have 3 special and beautiful voices, they are very very talented! When I saw them sung was amazing I LOVE THIS GUYS! They are the best band
Best group in the World! Their voices blend to a wonderful sound! They sing lyrical pop and lift me up! No drug, no alcohol are necessary to reach a happy state when you listen to the wonderful singers Gianluca, Ignazio and Piero!
Gianluca, Piero, and Ignazio are the sweetest, hardest working, most dedicated, and down to earth people I've ever known. They work so hard and are so talented. I've seen them twice in concert before and my jaw couldn't help but hang open during every song they sang. BEAUTIFUL!
They have brought REAL MUSIC back to the teeny-bopper boy band genre. Their operatic pop style is so refreshing - yet they have the light show and staging effects everyone seems to like so much. Plus, they have loads of fun! At age 71, I'm enjoying them immensely!
Il Volo is a group with a POWERFUL VOICE, they have a long career in the future.
It is ludicrous that ILVOLO in this category is at # 51, we must have an epidemic of deafness or what..they are world known.. Believe me, all walks of life, ages, characteristics..are true fans.. The talent of Gianluca Ginoble, Piero Barone and Ignazio Boschetto are incredible and the dedication is extreme, with voices to be valued..
From 9-99. Their music is for ALL the ages! Multitalented musicians and singers, they have had huge success in USA and Latin America. 18, 19, and 20 years old their charm, good looks, and incredible voices are going to keep them "flying high"!
This is a group of three teenagers (two tenors and baritone)... All three are beautiful and an amazing voice.. I love them!
I really wouldn't consider Il Volo a boy band, it actually makes me cringe a little to consider them that in this list, but my love for them makes me vote here. Il Volo is BEYOND any boy band there has ever been, and I have seen most of them from Menudo, NKOTB, Backstreet Boys & N'sync, etc etc etc...and NONE of these can compare to the talent, heart & passion that these young men display in everything they do, and to make the perfect combination their humbleness, love & dedication to their fans makes everyone from young to old & in between fall in love with them every time, which is why we fans call ourselves Ilvolovers!
Il Volo is what I call true music. It's not about appearance and electric background music or auto-tuned voices. They are known for their pure, raw talent and amazing voices. For them to be so good at such a young age is amazing and they will no doubt have even more success in the future.
Il Volo is just wonderful even though they are not a boy band they are he best group in the world. Every feeling that they make you feel when you listen to them. Their higly trained voices make them unique! And let's not forget how handsome these three Italians are! I just love them
IL VOLO really belongs in a class all by themselves. These young men can really sing, with no electronic aids. If you have ever heard them sing acapella, you would hear it for yourself. These 3 young Italian gentlemen are easy on the eyes, but pack a wallop with their voices. Their close harmonies bring tears to my eyes. Each of the guys is good enough to have successful careers as soloists. But their real power is when they sing together. Their appeal crosses over all ages, genders, & nationalities. I'm proud to be an IL VOLOVER.
Gianluca, Piero & Ignazio are the best singers in all the world, his music is beautiful IL VOLO the best
The best boy band ever! The are handsome Italian guys and they had the most beautiful voices that I ever heard in my life!
Finally, real talent, no screaming. Unbelievable sound. They are honest, hard-working, down-to-earth boys that aim to please their ever-growing fan base. They are really too pure to be on this list.
The last time I got excited about a band was when the Beatles came to America. IL VOLO certainly has my ear and my heart. They could sing almost anything and it would be beautiful. Three voices one Heart.
It will be so much fun watching these young boys advance in the music business. The whole world is falling in love with them.
Refreshing! Blending of voices, multiple languages--amazingly good looking---the best thing to happen to the music world in a long time..
Three voices--one soul --brings song and enjoyment to all ages through out the world---all 3 are greatly talented individually--but together they are amazing! ---
They are great singers in the world, and amazing people!