Top Ten Best Capital Cities
The Top Ten
1
Islamabad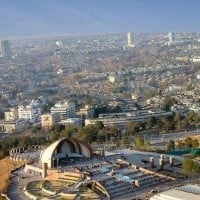 It is an amazing; highly developed and absolutely safe capital city, but also regarded as one of the best capitals in Asia and can be competed with any glorious capital city in the world - even from a highly developed country. There is no doubt that international developments are rapidly appearing in nearly every corner of the city. Its unique and awe-inspiring surrounding makes it more than a capital! If compared with Delhi (capital of India) it will surely win. Each and every Pakistani should pleased with such a world-class capital, despite the financial crisis political and religious conflicts, vulnerability to terrorism across the country and several other issues. Thus making a Pakistani proud for what he/she has.
Most beautiful and calm capital city in the world. It is less polluted, very less populated and has natural and breathtaking landscapes or lofty peaks, beautiful lakes, well planned infrastructure, beautiful wildlife of tropical forests, amazing monuments, beautiful mountain top restaurants, hill stations, huge entertainment, best shopping destination, world class dining facilities, luxurious 5 start hotels to 5 star malls, home of world's renowned universities, science and technological center, also the home of one of the world's largest and beautiful Mosques, diverse culture, hosts one of the best air shows or army parades, world class designers and fashion shows, delicious cuisines and amazing culture. Simply wow!
Indeed, we are proud to be Pakistani citizens, it's the country facing terrorism and extremism and so many other challenges to its integrity like ethnicity, etc. Insh-Allah we'll overcome these challenges through collective efforts and with the cooperation of the government. Instead of these challenges, government trying its best to promote tourism in the country. Pakistan is best place for tourism and the foreigners are warm welcome to our country. Here are God gifted natural sights including Northern areas and specially our the natural location of our beautiful capital Islamabad. Regards - Sohail. A Islamabad, Pakistan.
I love this city I search in Internet for this city is so beautiful I have never been there always wanna be there but I live in London it is in Pakistan I have heard that Pakistan is so beautiful place to visit I love this country always wanna be there I love there national anthem as well I can't understand in there language but the translation is so beautiful
2
London

In my opinion London is the capital in the world, and to the Parisians below me look at all of the "immigrants" sleeping in shanty towns and tents, London has also got more green spaces than New York and Paris so we can go outdoors more, London is also a hub more many businesses around the world come to London to do it. London has a diverse culture due to the British Empire which was once the world capital from a Indian takeaway to middle eastern cuisine London has it all. London also has some very beautiful architecture such as houses of parliament, Buckingham palace, the Shards, London Oprah house and West end and an arrange of nightclubs London dominates in night life as well.
"When a man is tired of London! He is tired of life" - You can find almost anything and anyone (one of the most multi-cultural cities in the world, anyone from any country will surely find a restaurant or shop or community centre belonging to theirs), there's constantly new things opening here and new areas to explore (I.E dalston and Stratford being redeveloped), there's something for everyone and it's so easy to get around with the underground transport, this is also where much of the world has been ruled and developed from historically and where so much has and will happen.
Best museums in the world amazing buildings history comming out of every corner a capital that is easy to get around most amazing stadiums and beautiful public parks a diverse culture there is no place like in in the world New York big but London 5 out of the 10 best museums in the world an free entry the home of cricket and football no where comes close and all very easy to get to with the most knolagable taxi drivers in the world by far studying for over 3 years before they can even pick up a passenger.
London is the natural and totally apt international cosmopolitan capital of the cultural world. No other city can come close to the historical, cultural diversity, architectural, commercial, financial and internationally connected hub that London is. It spans the globe and belongs to everyone on the planet!
3
Paris

Paris is the capital and most populous city of France, with an area of 105 square kilometres and an official estimated population of 2,140,526 residents as of 1 January 2019. Since the 17th century, Paris has been one of Europe's major centres of finance, diplomacy, commerce, fashion, science, and the ...read more.
Splendid city, architectures from ages to modern building, among the most numerous cathedrals and Churches, abundance of all kinds of restaurants offering top international cuisine and of course French one.

So many theaters, exhibitions, festivals etc... And that also through the country France. :-))
Paris is for sure the most beautiful city in the world, and has so much landmarks! If I were a country, it would be the 11th economy in the world! Paris is strong on all fronts and is therefore, the world's best capital city.
Paris is economically one of the three strongest cities in the world, bustling with economic activities and also a "Grand" and beautifully made city thanks to Napoléon III & Haussmann. Paris as a city also has the second largest revenue amongst it's companies at around 1.4 trillion USD per year. This makes Paris the second strongest city in the world just behind Tokyo.
None of the other capitals throughout the world can be compared to Paris. No one is so beautiful, romantic, has such an excellent food and such a strong history that can be reflected by every of its monuments! Paris is definitely the best city ♥
4
Tokyo

Tokyo, officially Tokyo Metropolis, one of the 47 prefectures of Japan, has served as the Japanese capital since 1869. As of 2018, the Greater Tokyo Area ranked as the most populous metropolitan area in the world.
Tokyo is the most incredible city in the World. Fashionable, a mix between crazy fashion, sexy fashion and Business fashion. You are most likely to meet really good looking people, from Japanese to other nationalities, models and rich people everywhere and the technology is just BY FAR way better then anywhere else. LOVE Tokyo
Tokyo, Japan is an amazing city to live in and visit since there are so many things to do in this capital city and many job opportunities as well.
Japanese people are not that good at speaking English, yet they are so helpful and caring. Police are kind looking. Taxi drivers' look can be trusted. People speak softly, it gives me the impression that Japanese are kind people. The place has buildings and subways and plenty of people.
I have been there and liked it, the people are nice, the culture is nice, relatively clean, safe, food is nice, technologically advanced, smart, and unique. Tokyo has the mix of traditionally Japanese and modern into a package of cool city that I like.
5
Berlin

Was difficult deciding between Berlin, Tokyo or London. I don't know how Islamabad is good because I have been there and there is nothing special. I remembered the crappy traffic you find in London is more crap compared to the other 2 and Berlin seems to have a greater history. Being a great city after becoming ruins in WW2.
So much history and very nice people, I would say this is by far better than London as it is safe and not full of drug smugglers who want to mug you. There is a diverse culture, many museums and fantastic architecture. So vote for the best!
Best city I have been too! Amazing culture, great history, people are friendly, lots to see and do. Great public transport, mega cheap for a capital city, easy to get around and amazing nightlife! So much more I could say!
A must visit before you die city! Loved my experience and I stayed for 1 month and returned for more two weeks. Felt safe walking at night, cheap prices, warm and polite people, easy and good public transport... Perfect!
6
Ottawa

Ottawa is the capital city of Canada. It stands on the south bank of the Ottawa River in the eastern portion of Southern Ontario.
Ottawa is magnificent. The Neo Gothic Parliament Buildings are second to none. The Parliament Buildings are situated on Parliament Hill, on a precipice overlooking the Ottawa River and Province of Quebec across the river. Ottawa has some of the best "green belt" parks of any city in the world, let alone a capital city. It is a compact city, easy for walking. In the winter, it is glorious to skate on the Rideau Canal, a UNESCO Heritage Site. Is amazing to see civil servants, with their long coats, suits, ties and brief cases, skating to work on the Rideau Canal. Where else in the world would one see this? Amazing. In May the tulip festival is also worth a visit. The tulips are an annual gift from The Netherlands in thanks for Canada harbouring Queen Juliana, who gave birth to one of her daughters while in exile during WW2 in Ottawa. The Dutch have never forgotten. Ironically, it was the Canadian army that liberated most of Holland in WW2. In the summer, there is Chamberfest, an annual ...more
Ottawa is a beautiful open green city...easy to get around...quiet but cultured...parklands and tree lined boulevards throughout...two rivers and a canal cutting accross in different directions...beautiful gothic style parliament buidings on a strategic spot on a slight hill beside the Ottawa River...Rideau Hall - the Governor General's residence - is sorrounded by spectacular treed grounds...no slums or rundown areas...big enough (metro population over 1, 000, 000) but not too big...it's just a great place in which to live or simply to visit...
I visited Ottawa in winter and it was amazing! The glittering snow on the towering Gothic turrets and the city is just yelling that it's friendly. I'm from Toronto which is about 5 hours away, but geez it's worth the visit. Ottawa by far is one of the nicest capitals on earth.
Its perfect! Good night life, world class museums, many land marks, great places for site seeing, great food and culture. Also it's not a concrete city, balancing nature with the city, a great place to visit in all seasons

Beautiful Ottawa
7
Washington, D.C.

I'm American and I have family in DC. It used to be quite violent but in the last ten years it has emerged as a clean, safe, nice city. Great History and a lot to do.
Incredible city with a very unique nightlife. A lot of interesting history packed into a fairly combat place. Strongly recommend.
Sure it has a high crime rate, but from 1995 to 2010 almost 50% percent of the crime lowered.
Lol, just about all of these cities on this list are on my bucket list...
8
Copenhagen

Copenhagen is the capital of the Kingdom of Denmark. At a population of 591,481 inhabitants as of January 2016, it is also the largest city in the country. It is located in the Hovedstaden region of Denmark and is home to the world famous Tivoli Gardens, one of the oldest operating amusement parks in ...read more.
No Danish people are probably the most kind people in the world even though I'm not danish I'm a tourist(13) year old I thought that if u wanna see smiles then go there. Just meet the local residents and then you'll see how great they are and those rude people u see are tourists as well who come for vocations and then stay there for longer illegally
Copenhagen has everything from clean air, shopping, art to wild nightlife. The city never sleeps and contains beautifull danish people in it
How could CPH not make it to the top 10?! This is the most awesome capital in the whole world!
Because I have been there and it's so beatiful place that I ever been
9
Athens

Athens is a beautiful city, and it has so much. It is way better than Delhi, because it is much more beautiful, and has a much better quality of life! Its skyline is amazing. Yes, it may not be buzzing with ugly skyscrapers, and yes its buildings might be white, but at least they are white and beautiful, unlike buildidngs of London, which are ugly, brown, and depressing. Rome is ugly also, full of poorly maintained ugly buildings. About Delhi, how can you even mention it as a beautiful city?
This city is so beautiful, friendly people, great food and great culture but Athens is very dirty. But I love this city some much I know it's dirty but doesn't matter. It has lots of beautiful culture and history
It's a lovely city I think it should be higher in the list because of the amazing climate, the museums, the safety it provides to you and the great food.
The best mythic city I had visited, great people and fabulous food. For sure you must see the Athens b4 you die. Just excellent.
10
Rome

Can't believe Rome is not in top 3. This city is incredible. It's like a huge museum all around. Everywhere you look there is something interesting which is hundreds or thousands of years old. The churches are beautiful. The weather is perfect. I'll admit though that it is not the cleanest city but that's because of poor administration and bad politicians.

I know this list is for capital cities only, but I suggest visiting Naples, just over 2 hours south of Rome by car or 1 hour on the high speed train. Naples is such a beautiful and underrated city.
Dirty, dark, chaotic, noisy, outdated, aging, obsolete, overpriced. Hotel offers are among the most expensive and the stars mean here nothing, a palace in Rome, and Italy as a matter of fact, is really less comfortable than a basic Holidays In. Food are just basic and impossible to east Indian, Japanese (Asian in general), Spanish or even French. Therefore at the end we cut our stay to visit some other better European countries. And also main point, Italian people are extremely unfriendly.
Rome is wonderful city, which I have visited. It is wonderful to see such great constructions and historical legacy Rome have, especially the monuments speaks their history and culture
Rome is the city of life, love, yearning! Its combination of ancient ruins along with the glory of the renaissance structures makes itr ann absolute feast for the senses.
The Contenders
11
New Delhi

New Delhi is the capital and seat of government of India. It is also a municipality and district in Delhi and serves as the seat of Government of Delhi.
I am amazed it sits are 11, it should be 111, it is a polluted city and way behind many in Asia and nothing fashionable about it.

Been to London, Dublin, Paris, Istanbul, Vienna, Amsterdam, Belfast etc but Islamabad absolutely shocked me..it is much more beautiful and nicer people than New Delhi.
Such planned, broad streets coupled with parks all over the capital city, make New Delhi one of the best capital cities in the world! And yeah, not to forget the city's world-class metro system and the fabulous airport!
This should be first because this is the only city to have thousands of visiting places. This is 12th beautiful capital in the world. It has many monuments to visit! (It has 195 monuments)
Yes, New Delhi provides you a long lasting impression... here in New Delhi people comes form the different different part of the world, its spicy food and many more
12
Madrid

Just amazing! A beautiful city were history is in the air, it's also remarkable that it was the most powerful city in the world during the Spanish Empire. Best gastronomy on the whole globe. Full of museum, amazing monuments and one of europe's biggest parks, the Parque del Retiro, with statues and a big pond with little boats on it. A modern, metropolitan city where tradition and modernity are combined wisely.
Madrid is cool, but would not be in my top 10. I lived in Madrid for 14 years and it doesn't have as much to offer as other cities (other than party and some monuments) in my opinion.
Latest among the European capitals, dates only from the sixteenth century. Lacking in History, just like a new-town.
Amazing nightlife, amazing culture, amazing art, amazing people! Number 1 for me and I am from Barcelona.
13
Oslo

Oslo is the best city in the world. It has amazing restaurants that serve really delicious food. The city is clean everywhere including its public transportation and the people even make sure that Oslo does not get dirty. It's also really safe in Oslo and the people are very kind and even help out tourists if they need any help; they are even fluent in English. The tourist spots in Oslo are perfect for picture taking. Especially its cold weather which is perfect for tourists coming from hot countries to escape the heat.
Visited Oslo for the first time in the Summer of 2013. I had no idea of what I was going to find or see there and I never planed a visit to this town. The only thing about Norway I knew was the group A-ha and that they have the Fjords. So then one friend invited me to go with him and I said yes and bought the ticket and just went without any expectation. I was amazed by the polite people since the airport workers, train workers, bus workers, people in the buses very talkative (loudly by the way). This feeling of happyness was wonderful and it would be already a good reason to love this charming and almost unknown town... but there are many things to love about Oslo: good vibration of it's people, amazing new archtecture, old colorful wood houses perfectly preserved, wonderful restaurants, cleanliness of it's streets, ""forest, river and waterfall" in the middle of the town! (clean river by the way - very rare to see in any capital of the world). If there is a place on ...more
Such a great place, why isn't this higher in the list?! what?! the people here are VERY friendly, and so filled with glee, you can even tell! my friend was going on a trip to oslo for vacation and to meet relatives and I wasnt very motivated to go because I thought norway was just snow and cold, but I was wrong-ish. yes, it is a bit cold, but we stayed there til late spring and it totally started to warm up. but that didn't really matter in my opinion, I felt kind of safe due to the people being so friendly. we did not speak much scandinavian languages, we only knew a bit of norsk but people helped us that spoke english. the place in general had such a great charm, too. it's a bit unexplainable but its very varied, and there much to do! my favorite place that we went had to be the downtown. especially when it snowed or it was at night, it was so beautiful! my friends' relative made me take a chance at skiing, I sucked at it, but it was a good experience. it was great, I did NOT want ...more
Born there, very safe, welcoming people and no racism
14
Moscow

Old city with long history and lots of skyscrapers!
Amazing city with a lots of old and modern things
Awful people, gangsters, skinheads...
Best place with the best women
15
Stockholm

Number one its beautiful, low crime rate, and clean as hell what more do you need.
I lived in Stockholm for a year, it's a very safe and friendly place
If are in Stockholm visit the Vasa museum. It is a whole ship in there! And also go to Gröna Lund to go on eclipse. You can't not hate This city.
Stockholm is love, Stockholm is life
16
Canberra

Fun fact: Melbourne and Sydney got in a dispute over which city should be capital in the early 20th Century. So some people built a smaller city (Canberra) right between the two and said "Chill guys, neither of you get to be the capital, this place between you is". I think I quoted that word for word.
Canberra is a very nice city to visit and live in.
There are lots of major sights that you can have a look around and Australia's important buildings or institutions.
There are lots of historical sights to learn about Australia's history.
Canberra is a definitely pleasant capital city.
I live in Canberra and I find it a very nice and safe place, however it can get very boring compared to other cities as it is not as large and is mostly suburbs.
Canberra is certainly one of the most amazing capital cities in the world in terms of wealth, education, security and environment.
17
Vienna

Vienna should be in the top 10. Friendly, safe, clean, historical, worlds capitol for classic music, according to MERCER index the best city to live in the world, architecture like Paris and, thank god, without the French
The most beautiful city I have ever seen! It's really hard to find ugly building.
Very beautiful, excellent life style, safe and clean.
Very beautiful, safe and clean place.
18
Bangkok

Bangkok is the capital and most populous city of Thailand. It is known in Thai as Krung Thep Maha Nakhon or simply Krung Thep.
Totally agree
The people are very very nice and friendly.
Food are delicious and clean. Everything is wonderful in Bangkok.
I want to go there every single months if possible.
It might not be the most beautiful capital but I think Bangkok has its own charm and filled of endless things to do.
Awesome city that have awesome people.
Really attractive city with both traditional and modern parts.
Beautiful beach and friendly people. The land of smile
19
Amsterdam

Beautiful, human scale city, excellent public transport, excellent for cycling, Van Gogh and Rembrandt paintings, beautiful people and lots of joy of living. Should bee the second better capital
World capital of art. Within 1 sq. Kilometer all the top museums of the world. Scenic canals, great restaurants and lovely people!
Lovely town old and full of history. Very kind helpful people can't wait to visit again
Comfortable city, beautiful historic city with a safe village feel.
20
Budapest

Budapest=The Pearl of the Danube. An enchanting city that I have recently visited. It is the city of history and culture, the city of lights, of spa, of gorgeous bridges.The city of iconic sights and beautiful surroundings. The city where eveything is lovely, friendly people, excellent transport, quite streets. Budapest is a must visit fairytale town. It deserves a place among the world's 10 best.
Budapest = classical music. Don't miss the Art Deco style Academy of Music and the Opera!
Beautiful city, friendly people, good food and excellent Hungarian wine
I forgot to add a detail to describe this Pearl of the Danube: It is actually a very SAFE city. (Souhila from Algeria)
21
Wellington

More coffee shops per capital than New York! You've got a beach, you've walking trails, you've got charming people. So metropolitan but also a real sense of community. WELLY, I LOVE YOU
Great place to live or visit, with tourist attractions worthy of visiting. Friendly people that are always up for helping anyone who needs it.
New Zealand is a amazing country and Wellington is the most wonderful capital among all countries.
Beautiful city, beautiful people and a relaxed environment
22
Buenos Aires

I'm Brazilian and I love this city! I was mind blown when I first visited there, indeed it is the Paris of South America, people there are beautiful too! Both men and women, amazing place!
It's amazing.. Beautiful people, amazing food, great views
Best capital you'll ever see.
Best capital city in worldy
23
Brasilia

Moving and good nightlife a
Unique architecture!
24
Cairo

Beautiful city and great food. People are very kind and friendly and everyone knows each other. The only time people fight is when they are driving. You hear the athan from the Masjid in your house. Tourism JUST NEVER ENDS. It's a lot more than just the pyramids. People are always lively and they play music so loud in the streets at 2 am. Only flaw is the trash everywhere and the pollution.
Cairo isn't very good it's dangerous and lots of ignorance
25
Kiev

Very nice better than Stockholm
It is the best

Yeah!
PSearch List