Sierra Boggess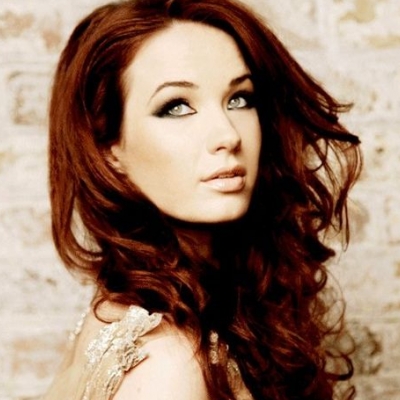 Uploaded by mood333
Comments
Top
Popular
Newest
Sierra is one of the best Christine ever. Her acting matches her angelic voice perfectly. Plus, even though Christine is a soprano, Sierra's voice is not that operatic, and has more of an angelic and high-pitched quality, something that Christine SHOULD have. Secondly, her face and expressions is something that I would picture Christine as.
Well, she is the original Christine of "Love Never Dies" which makes me think that Sir Andrew Lloyd-Webber came to think that he must make a further story of Christine and the Phantom after watching their chemistry together as a couple on the stage. She is THE Christine in my head. Let alone the great portrayal of Christine and beautiful dancing, her voice wins it all.
I have listened to the other sopranos and I think Sierra Boggess is the best Christine Daae yet! She has the power, range, acting, dance, performance.she plays the character perfectly, and of course she is cute.if you are a member of choir or an opera singer as I am, then I believe you know exactly how she sounds.she has been chosen for the 25th Anniversary, that means that Sierra Boggess is the best compare to the previous Christine's.
For me it has to be this lady. I totally believe her portrayal as the young, naive Christine. She plays this part with such passion; you can actually feel every emotion that Christine feels; lust, love, frightened and unsure of this masked man, luring you into his world... She's just wonderful to watch and so beautiful. - Britgirl
Sierra just has such a stage presence.. Her voice simply captures the role of Christine really well. When I saw the 25th anniversary, I was simply captured by her acting and singing.. Now that I have watched the Singapore Production.. It leaves me wanting to see Sierra live once again
Sierra Boggess is the greatest Christine ever. She has everything: angelic but powerful voice, great acting and beautiful looks. Sierra showed Christine's torment perfectly, especially in Final Lair, it truly brought me to tears. Her love for Raoul was very sweet and innocent while her relationship with Phantom was very dark and passionate. Sierra's Christine wasn't just stupid and annoying teenager. And also her WYWSHA was a true MASTERPIECE. So much emotions... :') Sierra IS Christine
Sierra is just so good at her vocals, and why she is chosen in the 25th anniversary production is because her acting is also so good mixed with her singing. I would want Sierra to continue to be Christine in the show. Bravo!
Her acting skills and singing skills were superb and with perfection. I think that was the main reason for her to be chosen as Christine in the 25th anniversary production. I will never get bores to hear her singing.
If you'd have told me 10years ago that I'd be listening to show tunes in my 40's and loving it I'd have laughed in your face, but here I am not getting enough of the Phantom and especially Sierra as Christine. She is hands down the best all around singer for Christine's songs with her power and passion. Her gift and hard work shows.
By far the best! Skilled and unstoppable vibrato. You can almost mistake her for an opera singer! She was also, by far, the most emotional. But I think she captured it all beautifully. The way she was torn between the Phantom and Raoul, the confusion between the Phantom and Raoul, and the love between the Phantom and Raoul. I give her 11 stars out of 5!
If you have had the pleasure of watching Phantom at The Royal Albert Hall you'll realise that Sierra was born to be Christine. Not only does she look and fit the description and vision which the book holds for Christine Daae (and Andrews) but she is a gorgeous singer, actress and dancer. The look, the voice, the acting and the dancing are all key points for Christine and Sierra gets a 10 in all of them. She is perfect.
Sierra is truly amazing in every way, understanding how the role should be sung and played, she moves effortlessly through the stages of the character, through the innocence to the scared, the transfixed to the confused. She is a true genius on stage and her performance as Christine is unbelievably good.
Her voice is amazing and she is definitely the best Christine on the planet. Out of all the actresses in the world she is the best! LOVE HER!
Not only is her voice absolutely flawless, but her acting is absolutely SPECTACULAR. She brings something to Christine's character that I have never seen in any other actress. I think she plays Christine exactly how she was intended to be played.
SHE IS CHRISTINE INCARNATED. Her acting is bout only the best but she plays Christine absolutely how she should be played. An innocent young lady, then it progresses. & OH MY GOSH, her Wishing You Were Somehow Here Again is the crème de la crème! Also the way she played Christine at the end of Final Lair? One of a kind! Not to forget get pristine voice. And it just adds that she so beautiful.
Her performance was flawless, when I think of Christine I picture Sierra. Her acting made her stand out from any other Christine. I'd love to see her as Christine again. Her performances were the best I've seen. Go Sierra!
Sierra Boggess is INCREDIBLE! I heard her sing and she was just hands down amazing. Her acting is also incredible, not just that but her and ramin karimloo have so much of a connection that it's easy for them to re create the love!
Sierra Boggess is the best singer, actress and dancer ever! She was brilliant in the 25th anniversary of the Phantom of the Opera, and Love Never Dies. And the chemistry between her and Ramin Karimloo was fantastic.
Out of all the Christine's I have ever listened to she is the best overall by far. She caught my attention the first time she started singing and kept it till the very last note of the play.
Sierra Boggess brings not just a beautiful voice, but great acting skills into the role of Christine. She plays the part as though it was made for her, and her on-stage chemistry with Ramin Karimloo is absolutely fantastic! She has the innocence, and manages to turn into a beautiful young woman. Perfectly representing Christine!
She is an amazing singer, actress and dancer. Also, not only does she have the voice of an angel, but the heart of one too! Sierra Boggess is very kind and inspirational. That's one of the reasons she's my role-model.
YAY! Sierra Boggess is the first place! I know some people have bad opinions about her, but I strongly disagree. I am a big fan of her, and I know she IS ACTUALLY like Christine Daee. After I saw her singing in a video at 25th Anniversary, I thought other actresses who sang as Christine Daee can't be the best choice to pick as best Christine! (No Offense though) She has EVERYTHING she needs as Christine Daee. Voice of an angel, beautiful face and emotions. Her expressions are real! I agree, OF COURSE she IS the best of the best. I LOVE HER VOICE, ACTING SKILLS AND HER BEAUTIFUL FACE!
I saw Phantom in London with the original cast back in the 80's, but Sierra blew me away when I saw her performance at the 25th Anniversary. Great range of emotion as well as musical range.
She is one of the most talented actresses on Broadway today! Her fresh beauty and effortless singing and acting make her a pleasure to watch on stage.
Light beautiful voice that the character Christine needs. Well suited for the role! Her acting is also spot on!