Take That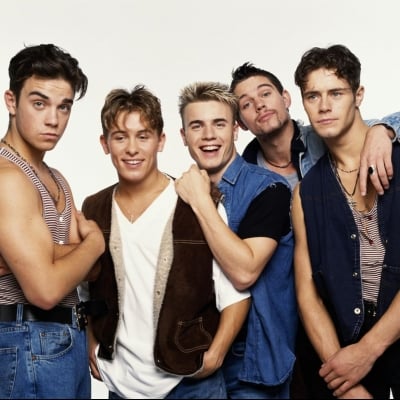 Uploaded by DynastiSugarPop
Info
Take That are an English pop group from Manchester, formed in 1989. The group currently consists of Gary Barlow, Howard Donald, and Mark Owen.
Comments
Top
Popular
Newest
Take That are the most amazing group, they are all down to earth & care so much about their fans. They interact with their audience and at album signings or any other time they meet fans they take time to chat to you as if they had known you for ages. Each song written by them has a meaning. I was in my late 30's when they began and am now 62 but still sang and danced the night away at two of their concerts this year. They really care about others and do so much for charity, not only in public but behind the scenes too. Their music brings out every emotion in me. What they have achieved over 25 years is incredible. They absolutely deserve to win #TakeThatForever I'm so proud of them xx
This band is more than music to me. They make me truly happy no matter how horrible my day was they can always cheer me up, these lads are not only super talented musicians, they're also the kindest, sweetest, nicest funniest guys ever. Oh and their shows are more brilliant than any other show that was ever performed. #thatterforever
They are amazing, had the best time this year. Have not been more accepted into a wonderful fan base. Gary following me in august was the best feeling in the world.
Beautiful singing, beautiful songs they write themselves, beautiful albums, beautiful smiles, beautiful eyes, beautiful bodies, beautiful humour, beautiful charisma, beautiful all-round kindness, beautiful modesty and gratitude... to sum it up they are simply BEAUTIFUL!
For such a long time they deliver great music, great shows. They improved over the years so much and became wonderful musicians, dancers and they still give us the feeling they are the boys next door.
Because they are the best have always captured an audience wit the tours which are not just a concert but a stage spectacular have never left me disappointed and would go again and again if my funds could afford it!
Such inspirational people, a band that gets the WHOLE crowd on their feet arms in the air chanting "NEVER FORGET" at the top of their voices in every concert, who can top that?! The queen loves them, I love them, other Thatters love them, everyone loves them who doesn't love them!
An amazing band. The best live shows ever. They mean the world to a lot of fans. They are the true come back kings. The music industry just wouldn't be the same without them.
Their shows are just amazing, overwhelming! When they're on tour they're not only singing, but also doing dance routines and the decors are beautiful! I'm really a fan!
Beautiful melodies, always eager to try something new and still relevant after all those years. Best live shows EVER. And such decent, polite, funny and sexy men.
Think its going to be hard to beat the Beatles but I truly believe Take That deserve it. They put on such a show, give back to charities and their fans repeatedly and release current music every time they write a new album.
Not many bands can claim to still be relevant and doing their best shows ever 25 years later!
The best Band in the world! Have their hearts on the right place! And love the Fans so much! And the shows of them are always brilliant
Awesome guys who always have time for fans. Put on a great show whether in an arena, stadium or a more intimate setting. Always sing live and smash it!
Totally deserve to be top spot, not many bands can appeal to the whole family but these boys definitely do!
They are such good entertainers, they put so much into there shows and really enjoy themselves and have time for there fans too!
Take That deserve the top spot. Never ever seen a band put on a show as amazing as they do. True Entertainers. Take That are the best
Great music, great genuine people, great showmen and entertainers. They're always happy to meet and great their fans, they really appreciate them. Have loved them, from the beginning when they were 5, and still love them now that they're 3, always will love them! (Especially Gary! )xx
Take that's Concerts are the best. You have to call it a show. There are always fantastic sets, dancers,great costumes, special effects and props not to mention over 2 hours of fantastic music performed by 3 of the most tallented guys in the music industry. At the end of every Tour you always think they will never better that, but each time they do. They are an amazing dedicated band. Long may they reign.
Beat the Beatles by a mile...take that have got to be best group do so much more than any other group all round entertainers sing..dance..comedians..charity work but best of all is the genuine friendship and respect they have for each other but more than that is there respect they have for their fans and it shows on every performance they give 100% and more
Was not keen on them 1st time around but I think the 10 yrs they weren't in the limelight has made them more humble and they've come back in charge of their careers instead of them being pushed around by management in the early years
So massive congratulations to them all got my support and many millions of others I'm sure
They are such inspirational men and are loved by thousands all over the world. They have an amazing fan base and their music is incredible! They never just put on a show, they put on a fantastic performance which every generation can enjoy x They are amazing and I love them
I'll never forget how I saw you the first time, I was 10 years old and you have robbed me of my heart thank you for 24 wonderful years
Their fans are so important to them. They always give us everything. The best music, the best live shows ever. So so talented.
These men are amazing their shows are brilliant and their all gorgeous love em all to bits. They so deserve to win xxx
Take That have proved they have stood the test of time. Chart topping, crowd pleasing monster hits, awe inspiring tours, an affinity with their fans like no other band and 5, then 4 then 5 then 3 all round nice guys who just love what they do. Take That Forever! #Proudthatter
They deserve the no one spot as they are true showmen. They love their fans. Their music gets better with each album.