Top 10 Best Hip Hop Artists
The Top Ten
1
Eminem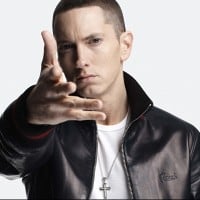 Eminem, born Marshall Bruce Mathers III, is an American rapper, actor and music producer born on October 17, 1972 in St. Joseph, Missouri. Eminem has sold over 300 million records making him the bestselling hip-hop artist of all time. In addition to his solo career, he is a member of D12 and (with Royce ...read more.
I guess this one is not about being a good rapper (where Slim is best too) but about being a good artist. Watch his lives! They are super. It isn't lip sync because he prepares his songs. SS forever.
His music videos! Just lose it, lose yourself, not afraid, love the way you lie, when I am gone etc...
(2 years later when I finish counting them). Best movie ever - 8 mile. Super autobiography.
IF Michael JACKSON IS CONSIDERED THE KING OF POP...
Eminem MUST BE THE GOD OF RAP...
KEEP rocking' EM...
Eminem's rapping style is unique. In every song, Slim has something novel to offer. After a really bad day, listening to Em's songs refreshes anyone who likes good music.
Eminem has kept the same incredible, jaw dropping momentum for about 20 years. His lyricism and wordplay is intuitive, thought provoking, and intricate almost to the point of being incomprehensible. His vocal delivery is very articulate and his lines are very cohesive. Every single line is written in a way that can be dissected and it will often take the average listen more than one listen in order to comprehend it all. Never is one of his lines 'filler,' every single line makes a point whether it be subliminal, ambiguous, or a reference. This is what happens when an absolute genius, goes into music. He has been #1 on my list for a long time now, and I don't think that will ever change. Although his music is not for anyone, his skill and stature can not be denied.
2
2Pac

Tupac Amaru Shakur, also known as 2Pac, was an American rapper and actor born on June 16, 1971 in East Harlem, New York. Tupac sold over 75 million records worldwide and has been referred to in multiple major publications such as Rolling Stone as one of the greatest music artists of all time. 2Pac was ...read more.
All his songs have meaning, he was a tough guy who grew from concrete, when tupac was young he was poor and a lot of people crushed his dreams from him becoming a rapper so he was slangin to support his mother and younger sister, pac is a real man, when he and biggie died, hip hop died along with them. ALTHOUGH I am rooting for 2014 MAKAVELLI!
Well here is my 2 cents in this, I believe that if you ask who is the BEST RAPPER EVER? It would be Eminem because he is a very well rounded rapper. He got the whole package (flow, wordplay, technique, content, metaphors, etc.). But if you ask who is the BEST HIP HOP ARTIST OR MUSICIAN? I'm going to say TUPAC because he influence the game time. He rap every song from his heart and all of his songs had a purpose. More importantly, he made songs about REAL LIFE and wanted to change the world and life style through his music!
All his song was so enjoyable,meaningful and above all was fearless
THE GOAT, made perhaps the greatest hip hop album of all time! All Eyez On Me, and every song makes a difference!
3
Notorious B.I.G.

Christopher George Latore Wallace, born May 21, 1972, better known by his stage name The Notorious B.I.G (sometimes Biggie Smalls or just simply Biggie), is an American rapper from Brooklyn, New York. On March 9, 1997, he was murdered in a drive by shooting in Los Angeles, California at the age of only ...read more.
The rule "nobody's perfectdidn't apply to Biggie: You'll be hard pressed to prove he wasn't the most skillful ever on the mic. His approach to rhyming amazing his flow is untouchable he has the abillity to freestyle on the spot he has swagger charm example he charm faith evans and married her over 2 years and they thad a kid together, He his great as a person great beats and the first ever rapper to get a diamond the lyrical genius a big voice and big talent and a big lost after his tragic death it has been a big lost to the hip hop industry. HE change the world and he was peaceful. He and Tupac have set the highest bar no other rapper can hit.
The best hip hop rap artist ever he should be first place me and my mates think biggie is the strait up G he comes first in our list but I am not sad with third but he was better then Eminem but slim is one of the best he was the first hip hop artist I liked.
He is the Notorious B. I. G. the greatest rap lyricist of all time, and if he was still alive he would be the best there is in the Hip Hop industry - roblist
Biggie Smalls is definitely better than Eminem! MArshall MAthers might be a lyrical genius, but Biggie is a lyrical MASTER!
4
Nas

Nasir bin Olu Dara Jones, better known by his stage name Nas, is an American rapper and entrepreneur born on September 14, 1973 in New York City. His album, Illmatic, is considered to be one of the best rap albums of all time. He is also considered to be one of the best rappers of all time.
If nas was killed hed be higher then 2pac and biggie on this list lol
GOAT no doubt
The disrespect towards Nas is just too damm high.
The man is a poet, hands down the best lyricist of all time, a storyteller like no one before or after.
I honestly believe that the only reason he isn't more publicly acclaimed is because he wasnt looking for fame, but to get is message out there. he's way better than jay z, and to be real here probably better than pac and BIG, but because of their tragic early deaths they became a sensation, icons maybe if they had live longer they would have prove me wrong, and eminem, well great as he is, he's no Nas, but the fact that he managed to make hip hop more mainstream, gained him a legion of fans (including me), but still nothing like Nasty Nas.
Nas deserves better recognition as a TRUE lyricist, rapper and MC. ILLMMATIC is probably one of the best albums I've heard and he's got plenty more. Especially when he did this at the age of 19 and dropped out of school. I would put him as number 1 cause I've realised what he brings to the table that other rappers do or don't. He brings a message and he delivers it.
5
Kanye West

Kanye Omari West is an American rapper, songwriter, and fashion designer. He was born on June 8, 1977 in Atlanta, Georgia. After West's parents divorced, him and his single mother moved to Chicago, Illinois. At the age of 10, West temporarily moved to Nanjing, China, because his mother was teaching ...read more.
Name one rapper with a discography as diverse and prestigious as his. You can't.
YES! This is why I looked this up. Kanye is the hip-hop GOAT! While not being the most amazing RAPPER of all times, he is a jack of all trades kind of master of all. He's one of the most influential cultural icons of our time and deserves to be #1 on this list.
Kanye's music is inspiring art. Every single track he puts out is fire and he's very talented and smart. Don't be fooled by the media, when they benefit they like him but when they don't they hate him.
This list is for ARTIST! Not rappers! Yeah Eminem is of course a better rapper than Kanye. But listen to kanye's music and tell me who influenced the hip-hop scene the most out of all these artists on this list.
6
Kendrick Lamar

Kendrick Lamar Duckworth (born June 17, 1987) is an American rapper and songwriter. Raised in Compton, California, Lamar embarked on his musical career as a teenager under the stage name K-Dot, releasing a mixtape that garnered local attention and led to his signing with indie record label Top Dawg ...read more.
Bar none the greatest lyricist of all time. Deepest lyrics of all time. Sing about me, I'm dying of thirst is mind blowing. If you doubt me look up the lyrical analysis of that. He also has very intelligent insights on popular issues. Blacker the berry is also a great example on how his lyrics often can have many meanings and hold two thoughts. He makes a statement on racism the entire song, but at the end the song comes full circle which adds a whole new thought to it. He talks about the presence of racism in America the whole time, while hinting that what he is saying is hypocritical. At the end (I don't want to give it all away) another message that the song embodies is that racism can come from everybody and everybody has been racist. The most poetic lyrics and is technically adept - Themusicman
Kendrick Lamar could only be second to Tupac. Not only for his lyrics, which are pure poetry relating to every possible theme, from the hood ghetto life, to love, from politics to religion, black emancipation and so on, and each of these themes is seen and told by a whole new perspective; but he also has an outstanding sense of music, with old school, funky, jazz, blues, classic and soul influences. No better rapper or artist in general. He is making a revolution not only in the industry, but also in music history.
Kendrick lamar is the best rappee in the world I like him so much
Kendrick entails three things most artistes lack; rap creativity, humility- he don' like money, but deeply loves God. And thirdly, truth about life. He actually talks about modern-day situations and challenges which makes us rethink about our own personal lives. Think of him as the only philosopher who raps- a musical and rapping philosopher.
7
Dr. Dre

Andre Romelle Young, better known by his stage name Dr. Dre, is an American rapper, record producer, and entrepreneur born on February 18, 1965 in Compton, CA. He is the founder and current CEO of Aftermath Entertainment and Beats Electronics.
I wouldn't say Dre is the best rapper but he has had the biggest influence over Hip Hop/rap... he has made some of the kings of rap, including a god (Eminem) and has also made 2 of the best rap albums out there (2001 and The Chronic
Dr. Dre has without doubt the best beats of any producer to have ever been active in the rap scene. So even if he isn't the best rapper he is certainly the best producer.
Dr. Dre never wrote his own raps, he always had ghostwriters so I don't consider him a rapper
he got talent but he is too now
8
Jay-Z

Shawn Corey Carter, known by his stage name JAY-Z, is an American rapper, record producer, entrepreneur and investor born on December 4, 1969 in Brooklyn, New York. He is best known for his albums Reasonable Doubt, The Blueprint, and The Black Album. He is considered to be one of the best rappers of ...read more.
JAY Z King of New York. Best Rapper Alive! All his albums are classic in rap history. Jay's dominance is largely fueled by his Grammy and BET omnipresence. Even if he hadn't taken home a single statue at these shows, his 16 Grammy nods and 23 BET nods would put him near the top; he earns the title thanks to his seven Grammy and nine BET wins, plus a handful of AMA and MTV wins.
I've always like Jay Z's flow and voice. I think he's 1 of the best Rappers ever.
This man has got talent - ROONEY
Jay why the list is wrong man why jay z 6 jay must to be 1 but jay I like your character king of antichrist and king of hip pop In New York and in the world I like you
9
Snoop Dogg

Cordozar Calvin Broadus Jr., (born, October 20, 1971) known professionally as Snoop Dogg, is an American rapper, actor, record producer, and television personality from Long Beach, California.
Snoop Dogg is the Boss dogg and is the greatest Hip Hop artist of this century. He may not have many followers but his songs are superb and humorous. Rhythms are sensible and crakalakin. He's got the jagger outta all em' kids. Go Snoop Doggy Dogg! - damiantop10
I love Snoop Dogg cause his music makes me feel much more cool and awesome than I already am!
I like the voice of snoop Dogg and his raping style...
I just like him because he's sasha banks's cousin
10
Rakim

William Michael Griffin, Jr., better known by his stage name Rakim, is an American rapper. He was born on January 28, 1968.
In rap you either rapped BR or AR. Before Rakim or after!

He changed rap and Pac, Biggie, M, non of them would be who they are today without him. Of course the best rappers are the ones still doing it because they can still innovate. But you must respect the history. We stand on the shoulders of GODS! Respect
Kanye higher than Rakim? - DaWyteNight
The 18th letter always and forever! The true GOD MC.
Re got underground hood hits by the pound!
The Newcomers
? Tophamhat-Kyo
?
Stefflon Don

The Contenders
11
Wu-Tang Clan

The Wu-Tang Clan is an American hip hop group from New York City, originally composed of East Coast rappers RZA, GZA, Method Man, Raekwon, Ghostface Killah, Inspectah Deck, U-God, Masta Killa, Ol' Dirty Bastard and Cappadonna.
The Wu made such a big impact with its huge amount of members, each one of them with their unique style. RZA, GZA, Inspectah Deck, Raekwon, U-God, Masta Killah, Ghostface Killah, Method Man, Ol' Dirty Bastard.
These guy's are awesome
They are the best ever!
The greatest rap group. They defined a generation. Wu-Tang's individual members could be considered for this list. Raekwon Meth ghost face Killah GZA inspecta deck. That's unheard of to have so much talent. Also C.R.E.A.M. is in my opinion the greatest rap song ever. They could have fun with protect ya neck and method man but also spit the honest truth about drug addiction and the struggle of the hood in CREAM and Can it all be so Simple. Every track has a smooth beat and intelligent lyrics that mean something. Their not just talking about money and hoes but about life. More than you can say about most of the other artists on this list.
12
Ice Cube

O'Shea Jackson, born June 15, 1969 in Baldwin Hills, CA, known by his stage name Ice Cube, is an American rapper, record producer, actor, and filmmaker. He began his career as a member of the hip-hop group C.I.A and later joined the seminal gangster rap group N.W.A. After leaving N.W.A in December 1989, ...read more.
Ice Cube GhostWrote Eazy-E's song! It is not far to have him infront of Ice Cube! That makes Ice Cube upset! The greatest rapper of all time is definitely O Shea, he is even better than Tupac! And the greatest member of the NWA!
The greatest hardcore West coast rapper of all time! A true innovator and legend in the game! Death Certificate was his best work!
I have no idea how he isn't in at least the top 5, he should definitely be ahead of Dre, considering he wrote many of his songs.
The original gangster of hip hop and always will be! Ice Cube chops Lil Wayne in half! - roblist
13
Big L

Lamont Coleman (May 30, 1974 – February 15, 1999), best known by his stage name Big L, was an American hip hop recording artist, born and raised in Harlem, New York City, New York. Coleman embarked on his career in rapping, with the hip hop trio, Three the Hard Way. His first notable appearance came ...read more.
How the hell is Big L below Drake? You people don't know real hip hop
He is the definition of the best hip hop
I have maad respect for big l and mad love for him my favorite song is unexpected flava Rest In Peace
BIG L WAY BETTER THEN EMINEM
14
Run DMC
They are the "King of Rock".
Best group of rappers in the 80s Era of hip hop. - Mymanqw
Rock... not hip hop
15
Tribe Called Quest
Awesome band and if you don't think they are better than Meninem you should listen to them all the time
How is tribe called quest not placed higher than 22? They are the best MC in hip hop history; Tied with the roots and geto boys. However I don't even see the other two listed on here. Sad, that people consider the TURD FACE Lil Wayne better than the amazing, ATCQ
If Tribe isn't in your top ten and you listen to hip hop or rap then I don't know what you're listening to...
This site is whack saying these legends are worse that "Lil herb"
16
50 Cent

Curtis James Jackson III, better known by his stage name 50 Cent, is an American rapper, actor, entrepreneur, investor, record, film, and television producer.
the most flawless, rythmic rapper of all time!
his cool attitude is awesome
He's awesome, Biggest Hip Hop star of all time
50 Cent is one of my favorite rappers he has a very sad story behind him but is still rocking it In the Club
He was one of the best rappers and he still continuous to bring that same gangsta rapper flow as when he started.
17
Lupe Fiasco

Wasalu Muhammad Jaco (born February 16, 1982), better known by his stage name Lupe Fiasco, is an American rapper, record producer, and entrepreneur. He rose to fame in 2006 following the success of his debut album, Lupe Fiasco's Food & Liquor. He also performs as the frontman of rock band Japanese Cartoon ...read more.
One of the only rappers that have countless videos and websites pages dedicated to trying to figure out what the meaning of his lyrics are. No other rapper has the wordplay ability to create such elusive metaphors. Truly one of the smartest to ever grab the mic. Although the I am willing to admit he does have a weak flow at times and doesn't have such great production to back him up.
Lupe should be at least top 15. I'd put him somewhere in the top ten or at least just outside of it...This list is almost as sad as my life is...
I understand lack of interest for the uneducated, but this man can be unstoppable if he wants to. Giving him the thumbs up.
18
Death Grips

Death Grips is an American experimental hip hop band from Sacramento, California, formed in 2010. The group consists of vocalist MC Ride, drummer and producer Zach Hill, and recording engineer Andy Morin.
Unapologetic, abrasive, confident, daring and exceptional. Best artists out there, let alone best hip hop outfit
kenan
By far one of the most game changing hip hop groups of the decade. They have created a very unique sound that is extremly abrasive, but remains to be catchy. Albums like No Love Deep Web, Exmilitary, and The Money Store have truly let death grips have their place in history. I can't believe Fetty Wap and Iggy are above a true original group suchas this.
19 Eric B.
20
OutKast

Outkast is an American hip hop duo formed in 1991, in East Point, Atlanta, Georgia, composed of Atlanta-based rappers André "André 3000" Benjamin (formerly known as Dré) and Antwan "Big Boi" Patton. The duo achieved both critical acclaim and commercial success in the 1990s and early 2000s, helping ...read more.
Sigh...how are they behind Eazy-E? No offense to Eazy, by the way, but he didn't have much of an album discography. Also, almost NONE of the rappers above can sing, whereas Andre CAN. Beat that suckers!
Andre doesn't have a good singing voice though in my opinion, I think he should only rap and never ever sing. - DaWyteNight
What the hell people, Eminem isn't near of being a hip hop artist he is hardly a rapper anymore, outkast is awesome
OutKast IS HIP HOP, plain and simple.
Most of the artists on this list are terrible.
Outkast have been in the game for a long time and they are the best duo ever.
It's Outkast. 'enough said.
21
Lil Wyte
Patrick Lanshaw, better known by his stage name Lil Wyte, is an American rapper from Memphis, Tennessee.
Hell yeah, I'm glad I got him up to 25. Let's get him even higher! - DaWyteNight
22
SevenSixx
This definitely deserves more attention
I voted for SevenSixx, because there music is lyrical high energy at its best! The hard songs like, "No Love","Get It Started" & "Not My Fault" get me pumped up and the soft songs like, "Deep", "Be Like This" "Miss Me" will have you sit back and think about life. Thank you guys! SevenSixx for life!
Great stage presence, well written music, needs more music videos!
Not bad! Who are these guys?
23 Matisyahu
24
B-Nasty

Who is this? - DaWyteNight
25
K-Rino

Eric Kaiser (born 9 September 1970), better known by his stage name K-Rino, is an American rapper and record producer from Houston, Texas. He is a pioneer of the Southern hip hop scene, and has been rapping since 1983. K-Rino's first release was the single "rocking It" with his group Real Chill in 1986, ...read more.
Drake is higher than this guy. Let that sink in... - DaWyteNight
PSearch List