Top 10 Sexiest Male Rappers
There are a lot of male rappers, but only a few are sexy.

The Top Ten

1 Eminem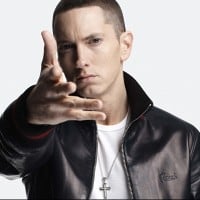 Eminem, born Marshall Bruce Mathers III, is an American rapper, actor and music producer born on October 17, 1972 in St. Joseph, Missouri. Eminem has sold over 300 million records making him the bestselling hip-hop artist of all time. In addition to his solo career, he is a member of D12 and (with Royce ...read more.
I love Eminem, he is not only the hottest celebrity, he is the hottest man to ever exist in the world. His face is perfect, his body is perfect, his voice is perfect, everything about him is perfect. He well deserved his place on this list, no matter what people say about him and other rappers on this list.
My GOD. He is so sexy. every time I look at this man, I just wanna... You get the idea. He is UNBELIEVABLY hot. Damn. Can someone say, walking sex? Amazing body, sexy voice, just looking at him and listening to his incredible voice is like being seduced. You cannot fathom the things I just wanna do to him. I'm almost breathless just talking about him. Sexiest man alive.
He's just so sexy. Like, every time I just look at him I get the feeling that I'm about to have an orgasm! I have dreams about him, I think of him all the time. I just want him in my arms and I just wanna kiss him!
He is not only the sexiest rapper, but in my opinion the sexiest men I've ever seen in general. His body is so hot, his eyes are beautiful, his voice is so seductive... I go crazy every time I see him...
2
Chris Brown

Christopher Maurice "Chris" Brown (born May 5, 1989) is an American singer, songwriter, dancer and actor. Born in Tappahannock, Virginia, he was involved in his church choir and several local talent shows from a young age. He is most well known for his physical assault towards the singer Rihanna in ...read more.
He is so sexy even when he was little I used to dream I could me him like still dream I been to 10 of this man shows like OOOMMMGGG!
He is amazing caring great performer and I wanna b wit him
He is just beautiful he can dance sing he's silly too
He is a good rapper and he is hot so he should be number one and not Eminem well... he did go to jail but he is the sexiest man ever
3
ASAP Rocky

Rakim Mayers, better known by his stage name ASAP Rocky, is an American rapper, record producer, director and actor from Harlem, New York.
Literally this mans everyone agrees he's hot. Have not met a person who's attracted to males who's not attracted to Rocky (I hope that makes sense).
ASAP Rocky should not be 23rd on this list, he should be number 1.. I'm thoroughly disappointed at this ranking system... lack of taste U ain't FASHION KILLA
Asap should be universally known as the most attractive rapper as he has obtained model status and is a fashion icon.
How is he Nr. 18? He pulls off every outfit, plus they're unique. And I mean just look at his face, just... LOOK AT IT

Damn handsome
4
Future

Hell no, he sounds like he's crying in his songs...
How could Ciara break up with him he's so cute
He's sexy when he got his sunglasses on
He straight he sexy sometimes
5
Drake

Aubrey Drake Graham, known professionally as Drake, is a Canadian rapper, singer, songwriter, record producer and actor, born on October 24, 1986 in Toronto, Canada. He started his career on Canadian reality show "Degrassi: The Next Generation".
Drizzy Is the best
Nice side beards, the G.O.A.T of the Canadian music industry.
Drake is a fashion Lord with Nike sneakers good sweatshirt and also his beautiful home at Toronto he should probably be on top of the list he's by far more handsome than Future and Chris brown Drake should be no 1 or 2
So damn sexy... he was so damn adorable and had a sensitive sexy look with his curls and in 2015 he went hard with the new haircut like damn and his bars and singing tops it all off...I'm not the type to have celebrity crushes because I don't know them personally but looking at Drake got you thinking some dirty ass things
I'm a straight guy so maybe I can't really have an opinion on this, but do women really think of drake as hot or sexy? If he wasn't famous he'd be the guy who couldn't even get a girl.
That's my baby, I love him so much one of my goals in life is to marry him. I love his music, it teaches a lesson. He is just perfect, so sexy. I wish I could have him
6
Trey Songz

Tremaine Aldon Neverson, born November 28, 1984, is an American singer, songwriter, rapper and actor. His debut album, I Gotta Make It, was released in 2005 through Atlantic Records. His follow-up album, Trey Day, spawned his first top 20 single, "Can't Help but Wait". Songz released his third album ...read more.
Trey songs is a very good looking guy as he sings he lights up the atmosphere in the room and brings a good vibe his melody which comes out his mouth is so sweet and lovely not forgetting his body his smooth shiny abbz are as buff as hell including his looks his that stunning I get butterfly's floating around in my tummy especially that smile is cute I just want to kiss him on the cheeks I'm telling you he is fine so fine people. He is that good amazing all I do is talk about him all day and all night long and I think my family get sick of it expecially my MUM.
Trey has abs like nobody and ever since he got a beard he been sexier if that's possible.
Sorry but why is eminem first and trey songz 10th what? treys better than most of these rappers
Trey Songz lips is so full and soft. The way his body built is literally hevean
7
T.I.

Clifford Joseph Harris, Jr., better known by his stage names T.I. and Tip, is an American hip hop recording artist and actor born on September 25, 1980 in Atlanta, GA.
T. I is the most attractive guy ever going. Every thing about him is sexyy for example his body is like gold and I bet you any money any guy would probably want to look like him you get me maybe not his height but who cares about that I am probably his number one and I'm only 14 so can you imagine how many other women would want him so let me let you know Tiny is a very very lucky woman and I wish when I'm older I find a man exactly the way T. I is he just says it all in one go and I'm Asian so he must be a very fit and buff guy so ladies watch out you ain't gonna get a guy like him because he is perfect in every single way possible I just love him to bits he's even more good looking then flipintrey songzzZz love you to bitsaas xxx
I think T.I. is incredibly attractive. He has one of the most gorgeous smiles I've ever seen, and I find his accent to be extremely cute. He just has the whole package. I would have no problem travelling from Barbados to the States just to see him perform live
R you kidding me, eminem? No way T.I. is hottest guy ever, and he got his swagga on, I love his attitude he raps about real things not like Em he only talks about his relationship with satan he should act like T.I., T.I. is hot!
How could someone not pick T. I as number one he is sexy! He way better then everyone else one this list... I love T. I
8
Tupac

Tupac Amaru Shakur, also known as 2Pac, was an American rapper and actor born on June 16, 1971 in East Harlem, New York. Tupac sold over 75 million records worldwide and has been referred to in multiple major publications such as Rolling Stone as one of the greatest music artists of all time. 2Pac was ...read more.
The hottest and fittest with them perfect pecs and the most famous tatoo in the world Thug Life official and the best rapper ever who changed the world and has been rated the god of rap. The hardest working man in music he made a double disk album in 2 weeks it normally takes months. The first rapper to be in big name block boster movies and while in prison he wrote a whole album and script for a movie.
Tupac's music is so inspirational his voice on the tracks was so damn fine.
He has kind brown eyes. And I like his style. Not a fan, but I respect him.
Best rapper ever he should of been dubbed the king of rap
9
Kid Cudi

Scott Ramon Seguro Mescudi, better known by his stage name Kid Cudi, is an American recording artist and actor from Cleveland, Ohio.
He's sexy because he's different from any other guy. He has his own style and way of doing things. And he's a down to earth guy with a sense of humor what's can be sexier than that?
He is like so sexy he needs to be #1 he can rap an look sexy at the same time
Its Cudi so he can get it
Should be 1st, sexiest rapper of all.
10
Young Thug

Jeffrey Lamar Williams, better known by his stage name Young Thug, is an American rapper from Atlanta, Georgia. He became known for his commercial debut single 'Stoner', as well as other songs such as 'Check', 'Digits', and 'Best Friend' ...read more.
The Contenders
11
Soulja Boy

DeAndre Cortez Way, known professionally as Soulja Boy Tell 'Em, or simply Soulja Boy, is an American rapper, record producer, actor, and entrepreneur.
If this dude got rid of those hideous tattoos, learnt how to rap and put on a little bit of weight, he would be hot.
babe central
12
Simmon Diggy
Why number fifteen why!
He deserves number one he is fine as hell

His looks...voice...sense of fashion and his music
I think he should be at the top of this list
He's out the spotlight, like where you at bro
He beat even the number one em
Talented young man I'm still trying to see how he get on the charts before jojo yawl remember j5 lol so puzzled about how that happen
13
Kendrick Lamar

Kendrick Lamar Duckworth (born June 17, 1987) is an American rapper and songwriter. Raised in Compton, California, Lamar embarked on his musical career as a teenager under the stage name K-Dot, releasing a mixtape that garnered local attention and led to his signing with indie record label Top Dawg ...read more.
I think Kendrick Lamar is hot and sexy! He is a cheerful kind of person. He always has a smile on his face. Kendrick has the best voice. I've had more than just a crush on him and wish, wishes came true, 'cause my one wish would be to marry him.
Love his music and his message just watched some of his inspirational performences this dude seriously should be higher. his voice is real sexy but at the same time he raps music with messages and fights for justice.
Um hello is he single?
I think Kendrick Lamar is cute! He has a boyish charm, and an addictive personality. Let's also not forget he's cold on the mic. I've had a crush on him for years. TDE Fool!
His music, ideals, talent and personality make him hot as hell. He also looks great!
14
Method Man

Clifford Smith, better known by his stage name Method Man, is an American rapper, producer, and actor. He is known as a member of the East Coast hip hop collective Wu-Tang Clan. He is also one half of the hip hop duo Method Man & Redman.
Yall really need to take another look at this man... Handsome... Sexy... Flava... And look at that smile
I really wanna do Meth...The rapper, not the drug.
Sexual chocolate can rap& dance his ass off!
Something about that thug look..
15
Wiz Khalifa

Cameron Jibril Thomaz, better known by his stage name Wiz Khalifa, is an American rapper, songwriter, and actor. He was born on September 8, 1987.
You are the best wiz keep on with the good, sexy look we love you TAYLOR GANG
Why is my husband so low? He's hella FINE
He's sexy as hell
He is cute but in this pic why he look like this emoji 😩
16
Kanye West

Kanye Omari West is an American rapper, songwriter, and fashion designer. He was born on June 8, 1977 in Atlanta, Georgia. After West's parents divorced, him and his single mother moved to Chicago, Illinois. At the age of 10, West temporarily moved to Nanjing, China, because his mother was teaching ...read more.
He is hot on fire, I mean I can listen to him all day and night... He might not be your type but, his looks are telling me he can put it down! !
The dude has the best discography and the best fashion sense and taste. He's a tastemaker
Good looking and best dressed. Also the best artist on this's list hands down
17
Lil B

Brandon Christopher McCartney, professionally known as Lil B and often known as The BasedGod, is an American rapper, record producer, author, activist and motivational speaker from Berkeley, California. He is often regarded as the pioneer of cloud rap.
How tf is lil b so hooot.

I wake up every morning.

lib b on my mind.

love that dude.
18
50 Cent

Curtis James Jackson III, better known by his stage name 50 Cent, is an American rapper, actor, entrepreneur, investor, record, film, and television producer.
#7! 50 needs to be higher on the list. OK are you really looking at this list? There are more sexier male rappers than the ones listed. Some are alright but not in the order listed here.
For my oppinon I think he is very attractive and he should be way higher come on the body is gourgouses
Almost every man wishes that his body was that muscular he a hunk.
I love 50 cent! Best rapper ever and fantastic live! He is the sexiest rapper out there no doubt!
Not only does he look great but his lyrics are sexy, too. "Unbutton your pants just a little bit"
19
Bow Wow

Bow Wow is super Gorgeous and funny! It was hard picking between him and T.I. I love them both SO MUCH, but I been crushing on Bow wow since he was in the Like Mike movie so he would take the title for Sexiest Male Rapper!
My oh my his eyes are so dreamy! He has a million dollar smile, and did I not mention he's gorgeous
I really think he should have been posted higher on the list. I absolutely love him!
Bow wow is damn hot especially when he's got that angry sort of facial expression
20
J. Cole

Jermaine Lamarr Cole, better known by his stage name J. Cole, is an American hip hop recording artist and record producer.
Handsome, talented and acutely intelligent! J. Cole is that high school boyfriend that you end up marrying! Love this guy!
J Cole should be way up in the top 10 at least! He's gorgeous - especially in 2014!
J. Coles eyebrows turn me on and his song Wet Dreamz is the best.
His music is great, He's great, everything about him is amazing
21
Big Sean

Sean Michael Leonard Anderson, known professionally as Big Sean, is an American hip hop recording artist from Detroit, Michigan.
Oh my god he is sexy as hell I want him my goal is to marry him have children with him his mustache makes him look sexy and if Ariana grande was still with big Sean I will kick her Ass.
The sexiest man alive!
And he's always looking dapper, he's smile is amazing!
He's so clean and well taken care of. I want to marry him...
I actually don't understand why he's all the way down here. After Drake and Eminem? Really though?
He should be with drake like they are both fine as hell
22
Nelly

Cornell Iral Haynes, Jr., known professionally as, Nelly, is an American rapper, singer, songwriter, entrepreneur, investor, and occasional actor from St.
Nelly is so hot because like his lips though! He is amazing and has big juicy lips that anyone would love to kiss
I loved Nelly every since I was little like his whole style and voice is sexy asf. He's always been cute as hell to me
He is very handsome man and an awesome rapper and he is in very good shape
OG pretty boy. You would never, NEVER, catch Nelly looking ashy. Lips stay moisturized
23
Machine Gun Kelly

Colson Baker, better known by his stage names MGK and Machine Gun Kelly, is an American rapper and actor, from Cleveland, Ohio.
He deserves to be much higher in this list.
MGK is attractive in many different ways. His tattoos, of course, are alluring, and so is his voice, his confidence, his body - everything. How inspiring he is is also very attractive.
He's incredibly, undeniably talented. He deserves to be up there with Eminem.
Who doesn't think MGK is incredibly sexy and badass? He only falls behind Eminem in my opinion
The HOTTEST! Man should be up there in top 5 this ranking is a joke pfft
Deserves to be up the list, 6'4 with an incredible face and tattoos
24
Mike Shinoda

Michael Kenji "Mike" Shinoda (born 11 February 1977) is an American musician, rapper, singer, songwriter, record producer, graphic designer, manager and film composer. He co-founded Linkin Park in 1996 and is the band's rhythm guitarist, primary songwriter, keyboardist, producer, and co-lead vocalist. ...read more.
He look like a man. just like a legit dadd. literally. and genius lyrics and not to mention he makes all his own beats from1995 to now and created one of the biggest rap metal bands of all time Linkin Park and his own thing Fort Minor. And have you seen his pics from 2000 to 2005? That red haiir was beyond god.
Mike is... So cool! I luffs him. Laugh out loud. I agree... He should be second after Eminem... He should at least be in the top five.
Can't beat mike. Really the hottest and sexiest man on earth. He should be on top. He deserves top rank.
He can't rap and he's not even close to hot and wheres A boogie like hello he's so hot
25
G-Eazy

Gerald Earl Gillum, better known by his stage name G-Eazy, is an American rapper, songwriter and record producer from Oakland, California.
Well, obviously his music is amazing and his face is... I have no words. He looks that good. He looks very dapper but he oozes swag. I just don't understand.
I'm sorry but G's the sexiest male artist in the whole music industry. definitely deserves 1st place on this list.
He is so hot and his raps are fire
Deserves to be number 1
PSearch List