Best Lead Guitarists of All Time
The Top Ten
1
Kirk Hammett - Metallica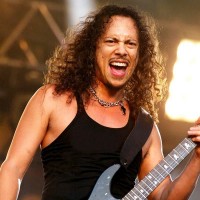 Kirk Lee Hammett is the lead guitarist and songwriter for the heavy metal band Metallica and has been a member of the band since 1983. Before joining Metallica he formed and named the band Exodus.
Anyway Kirk Hammett the best
n greatest guitarist absolutely
Kirk is the best guitarist. His speed is awesome. If you don't believe it see him playing master of puppets it was great
This should be richie sambora... Kirk maybe still great but no one can beat how sambora melodized the guitar
Why isn't Eddie Van Halen on this list?
2
Slash

Saul Hudson, known professionally as Slash, is a British-American musician and songwriter. He is best known as the lead guitarist of the American hard rock band Guns N' Roses, with whom he achieved worldwide success in the late 1980s and early 1990s.
Slash is damn good an a hell of a player but Angus is better put them against each other an all the players u dumbasses have against Angus an watch an c if he don't put them 2 shame
This is not fair at all. Kirk Hammett's solos do not have the emotion that Slash's solos have. BOO!
This guy is the king of all guitarists. He has such passion towards music. His fingers move like lightning all over the guitar.
Its pretty much hard to play slash parts of solo. I played every solo and conclude slash solos are a bit difficult than kirk
3
Ritchie Blackmore

Richard Hugh "Ritchie" Blackmore is an English guitarist and songwriter, best known for his work in the hard rock/metal bands Deep Purple and Rainbow. He was ranked number 16 on Guitar World's "100 Greatest Metal Guitarists of All Time" in 2004, and number 50 in Rolling Stone magazine's list of the ...read more.
After 5 years, 215 days, and 57 names, he wasn't on this list? Shame.
Surprisingly he wasn't on the list
4
Angus Young - AC/DC

Angus McKinnon Young is an Australian guitarist of Scottish origin, best known as the co-founder, lead guitarist, songwriter and sole constant member of the Australian hard rock band AC/DC. When performing live he does his own version of Chuck Berry's "duck walk" and has also spun on his side while ...read more.
The guy that can play guitar while lying on the floor with spasms
Really Angus above Ritchie Blackmore?
Angus is the best... Love that duck walk!
Eddie van halen
5
Dave Mustaine - Megadeth

David Scott "Dave" Mustaine (born September 13, 1961) is an American musician, singer, songwriter, actor and author. Mustaine is best known as a pioneer in Thrash Metal, being the former lead guitarist of Metallica before his dismissal in 1983, leading to finding and becoming the front man of his own ...read more.
Angus Young is a great guitar player in his style, Jimi Hendrix was great in his style, they are all great! Some are more technical than others, some are more soulfull than others...Dime was the greatest, period.
Way better than any body here!
I'm going Dave mustaine on this one to be the lead guitarist in the 2 biggest metal bands in the world u gotta be number one just for that and he plays rhythm and sings no one comes close to big pappa Dave
In a wrong list I think
6
Jeff Waters

Jeff Waters (born February 13, 1966) is a Canadian metal musician and founder of the metal band Annihilator. He's best known as the guitarist for Annihilator, appreciated for his fast riffs and solos. Waters is also the primary songwriter in the band. Very often he has taken on the role of lead singer, ...read more.
Annihilator - Alison Hell. He wrote the song and played the riffs and solo.
7
Jimi Hendrix - The Jimi Hendrix Experience

Jimi Hendrix (born November 27, 1942 - September 18, 1970) was an American rock guitarist, singer, and songwriter . Although his mainstream career spanned only four years, he is widely regarded as one of the most influential electric guitarists in the history of popular music, and one of the most celebrated ...read more.
What the hell? Is this a list or comedy. If Jimi Hendrix could be on top of best guitarist list then why he is low in this list. So, what was he? Wasn't he a lead guitarist? Lead guitar has rhythm parts in it. So, all lead guitarists are rhythm guitarists.
Mick Thompson better than Jimi Hendrix, that is comedy. LMAO I know this is someone's idea of a joke, and it's funny. Jimmy Page couldn't crack the top ten... it's getting funnier. I mean Page is no Kirk Hammet... we all no that, rofl!
Jimi is the greatest guitarist that has ever lived, is still living or ever will live.
Took the electric guitar to a new level. He was unique!
8
Eddie Van Halen

Edward Lodewijk "Eddie" Van Halen is a Dutch-American musician, songwriter and producer. He is best known as the lead guitarist, occasional keyboardist and co-founder of the hard rock band Van Halen.
Why would anybody in their right mind put Synyster Gates over Eddie Van Halen?! This is coming from an Avenged sevenfold fan too!
Should be in top 5.
The MASTER!
Eddie is #12? lol.
9
Joe Satriani

Joseph Satriani (born July 15, 1956) is an American instrumental rock guitarist and multi-instrumentalist. Early in his career, Satriani worked as a guitar instructor, with many of his former students achieving fame, such as Steve Vai, Larry LaLonde, Rick Hunolt, Kirk Hammett, Andy Timmons, Charlie ...read more.
Has both skill and class with the guitar. Was a virtual tie with Steve Vai. Also surprised Frank Zappa was not on the list...
Joe can sling it
The best!
10
Jimmy Page

James Patrick Page is an English musician, songwriter, and record producer who achieved international success as the guitarist and founder of the rock band Led Zeppelin.
Synyster gates? Better than jimmy page? I don't think so. Jimmy page was the second greatest guitarist that ever lived the first being jimi hendrix.
This guy should be 2nd, not 10th.
The Contenders
11
Brian May - Queen

Brian Harold May is an English musician, singer, songwriter and astrophysicist, best known as the lead guitarist of the rock band Queen.
Brian May is greatly under appreciated. He wrote many #1 hit songs, topping the music charts. He was also very creative using a six-pence coin instead of guitar picks using the rough side for special noises. He was also a member of the best band ever (Queen) and is a very famous astrophysicist. How many famous lead guitarists can say that. Or people in general.
Surely the most technically able guitarist of all time
He is simply the best
Slash before Slash
12
Jeff Loomis

Jeff Loomis is an American musician, best known for his role as lead guitarist in the progressive metal band Nevermore and death metal band Arch Enemy.
He's a technical beast.
13
Synyster Gates - Avenged Sevenfold

Brian Elwin Haner, Jr., better known by his stage name Synyster Gates or simply Syn, is an American musician, best known for being the lead guitarist and backing vocalist of the band Avenged Sevenfold.
Syn's skill is amazing! Sweep picking, dive bombs, hammer ons and pull offs, sliding. He's a master of it all. Most of his solos are superfast and clean at the same time. The solo from afterlife is what you should listen to. Jimi hendrix set his guitar on fire. Syn can do the same. ALL HE HAS TO DO IS PLAY IT! HE PLAYS SO FAST HE MAKES SLASH SEEM LIKE A ROOKIE!
FoREVer
You must be kidding me! He's the best lead guitarist ever born. Slash is nowhere even close to him.
Him and zacky and so many others inspired me to become a guitarist!
Syn great guitarist ever
14
Adrian Smith - Iron Maiden

Adrian Frederick "H" Smith is an English guitarist, best known as a member of Iron Maiden, for whom he writes songs and performs live backing vocals on some tracks.
15
Yngwie Malmsteen

Yngwie Johan Malmsteen is a Swedish guitarist, songwriter and bandleader who was born on June 30th, 1963, in Stockholm, Sweden. He was known for his neoclassical metal playing style back in the 1980s.
There has never been one like him!
Black Star is a masterpiece.
YJM deserves to be no. 1. You people heard of FBTS and BS
16
Joe Bonamassa

Joe Bonamassa is an American blues rock guitarist, singer and songwriter. When he was only 12 years old, Bonamassa opened for B.B. King. He was born 8th May 1977. He is known to be one of the greatest blues guitarists ever.
He was not on this list, really a shame, he beat Kirk Hammett on all fronts.
17
Eric Clapton

Eric Patrick Clapton is an English rock and blues guitarist, singer and songwriter. He is the only three-time inductee to the Rock and Roll Hall of Fame: once as a solo artist and separately as a member of the Yardbirds and Cream. He has also been a member of Derek and the Dominos.
He is by far the best rounded of any living guitarist. He continued to improve through the decades. He can play accoustic or electric equally well. He is the most respected by the best guitar players of every genre. He is probably the best developed guitarist alive.
Clapton's abilities far and away exceeds any of the top ten listed here. What moron put this list together?
It genuinely scares me that anybody would put Mick Thompson over Eric Clapton.
The graffiti in 1960's London alleyways said it all: "Clapton is God".
18
Marty Friedman

Martin Adam "Marty" Friedman is an American guitarist, known for his tenure as the lead guitarist for heavy metal band Megadeth which spanned nearly the full decade of the 1990s, as well as Cacophony alongside Jason Becker until 1989. Friedman has resided in Tokyo, Japan since 2003, where he has hosted ...read more.
The mastermind of thrash metal...melodic and technical at the same time...every single solo he writes is just amazing...he should be at 1
The only one who deserves to be in the top 10 in this whole list.
19
John Petrucci - Dream Theater

John Peter Petrucci is an American guitarist, composer and producer. He is best known as a founding member of the progressive metal band Dream Theater. Compared to his level of skill, John Petrucci is relatively unknown in the modern music industry.
Here is number one! The others are incredible in their own right but this guy is on another level. But most peons won't understand this fact.
Should be higher
NOWWTF IS THIS BULLCRAP, SYNYSTER GATES OVER A GOD?
20
Mark Knopfler

Mark Freuder Knopfler is a British singer, songwriter, guitarist, record producer and film score composer. He is best known for being the frontman of the British band Dire Straits.
He was also not in this list, really a shame.
He is very under rated on this site
Very under rated
21
Steve Vai

Steven Siro "Steve" Vai is an American guitarist, composer, singer, songwriter, and producer, born and raised on Long Island, New York.
22
Tony Iommi

Anthony Frank "Tony" Iommi is an English guitarist, songwriter and producer. Best known as lead guitarist and founding member of the pioneering heavy metal band Black Sabbath, he has been the band's sole continual member and primary composer. At age 17, he accidentally lost the fingertips of his middle ...read more.
Tony in #23 and Kirk on top? Kirk wrote wonderful solos and he's a great player, but I think he's overrated. Tony is so underrated as a lead guitarist. People say that there are guitarists that can solo better than Tony, but actually there are people that can solo better than Kirk and Tony is one of them. Kirk has made great choices of notes and phrasing and he's done some good bending, but there are guitarists including Tony that not only can do that, but they use more control whenever they use vibrato and they don't overuse wah pedals while soloing. Just listen to "War Pigs", "Black Sabbath", "NIB", "Planet Caravan", "Children Of The Grave", "Symptoms Of The Universe", "Neon Knights" "Heaven and Hell", "Lonely Is The Word", etc.
23
Dimebag Darrel - Pantera
dude, maybe Slipknot is you favorite band; but you're going to receive many bad comments in this list because you put Mick Thompson in first place... mainly because it is so wrong that he is before Jimi and Dimebag, and you forgot many great guitarists like Jimmy Page, Eddie Van Halen, Dave Mustaine, Marty Friedman, Alexi Liaho, Zakk Wylde, John Petrucci, Rhandy Rhoads, Michael Angelo Batio, Yngwie Malmsteen, Paul Gilbert, Eric Clapton, Glenn Tipton...
Dimebag Darrell is the greatest of all time! Kirk? There must be some crazy dope going around.
Don't get me wrong... Hammet is one fine gutarist, but he doesn't belong in the number one slot or even the top five (and Metallica is one of my favorite bands) I'm sorry to say that, but it's true! And Dimebag should be in the top three, he blows.. Or should I say.. Could have blown Hammet out of the water.
Picture? What the hell.
24
David Gilmour - Pink Floyd

David Jon Gilmour is an English singer, songwriter, composer, multi-instrumentalist, and record producer. He joined the progressive rock band Pink Floyd as guitarist and co-lead vocalist in 1968.
David Gilmour is probably the most soulful guitarist alive today. Kirk Hammett is very good, but no one can beat the soulful, inerrant style of David Gilmour.
Laughing at the list. He's on top 7 of "Best Guitarists Ever" list. And he's on 22 of best lead guitarist list.
He should be in the top 10. His feeling and playing style is amazing!
Most of those guitarists ranked above him bow to Gilmour
25
Alex Lifeson - Rush

Aleksandar Živojinović, better known by his stage name Alex Lifeson, is a Canadian musician, best known as the guitarist of the Canadian rock band Rush.
One of the most inspiring musicians out there. Deep variety, sound, quality, versatility. All of his work is unique.
Should be in the top 10
PSearch List