Best Male Singers in the Philippines
The Top Ten
1
Darren Espanto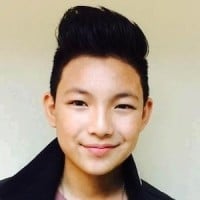 Darren Lyndon Espanto also known as Darren Espanto is a Filipino-Canadian singer. He was born in Calgary to Filipino parents. At ten years old, he won the Masters Finals of the Pinoy Singing Sensation competition in Edmonton.
Darren Espanto should be the winner! He deserves all this... He's a total performer and the best singer-dancer indeed! At the age of 13, the youngest amongst singers, well-deserve to be called as the "sold out concert prince" as most of his concerts here and abroad are always full to the brim and tickets were sold out in just one day or few days after the tickets been starting selling. This young man is truly in demand here and abroad for a show. And most of all, a very dedicated to his profession, no matter how tired he's been, he still make sure he will have his total performance every time. A very respectful young man, a role model to his fellowmen and although he grow up in Canada, he's heart belongs to us, Filipinos... He speaks Tagalog fluently and he's proud to be Pinoy! Netizens admired him so much, the way Darren's parents brought him up, kudos to Espanto couple who raises Darren so well... By voting him as the number 1, we believe that Darren will truly make us Filipino ...more
DARREN is great not just because of his handsomeness but because of his great tallent and discipline to his own self he may not be the greatest singer but he is a great dancer. The total performer perhaps, he got his own moves and own way to make his song unique and amazing... A boy that has great voice and also great dancing skills... The most amazing boy that I have met in my whole life... He may not be as famous as sarah, lea, taylor, Justin timberlake, usher, and ariana grande... His got the power to amaze people by his side... He know how to take care of his sister, he knows ho to handle his fans, and with his great looks and great voice all of the young or adults will surely vote for his not mater what will happened
Aside from being a total performer Darren was raised by his parents to be a very humble young man. He has got innate talent and charm that was able to captured the hearts of his fans. People continues to adore him because of his good heart as well. He has got this soft soothing voice when he sings. And he also can belt and will give you this wow effect. And just so you know Darren is also interested in acting. And we are waiting for that I'd say.At such young age he was able to make his own name in the music industry. Even the well known celebrities recognizes his talent and how good he is in performing. Darren deserves all the exposures that he can get. Talents like his should be introduce not just here in the Philippines but also abroad. He's been in the music industry or showbiz industry for just a year and yet he has achieved a lot of recognitions already. And now all his fans are waiting for more projects from Darren Espanto. I guess we couldn't get enough of him because seeing ...more
He's the best singer for me in today's generation because he is indeed a total package when it comes to performing, he can do both singing and dancing and that's a very hard to do.
2
Erik Santos
Because he's an ultimate balladeer in this generation... He admired me from being down to earth and he always sang w/ feelings and it is probably nice whenever I am watching him...
I love his songs so much. When I hear any of her song I feel I'm on heaven!
And while performing he can easily beats high notes and his emotion while singing very good too. Keep up the good work erik santos and god bless!
erik santos is my idol local male singer and besides that he is simple that's all.


He really has has an amazing voice that captivates every woman's heart as he sing songs from within the inner most part of his heart. He could clearly relay or impart the messages of every songs he delivered through the neatness and clarity of his melodious voice.
3
Gary Valenciano
No Filipino has been able to do what Gary has been doing for the past 25 years: sing, write and arrange his music, sing the back-up vocals for his songs, and perform out-of-this-world concerts with dance routines that is still unmatched! He is a one-of-a kind Filipino entertainer!
Because he is an amazing singer, and all of my classmates, school mates, and my family he is the one who idolizing and crush...
I love his song. He's so amazing, idol kita, I will join one of your shows, like x factor, see me,
God speaks through his heart every time he sings. Every word that comes out of his mouth truly expresses the message God wants us to hear!
4
Gerald Santos
The Sinatra of the Philippines!
Gerald Santos is my Idol.. Napakabait at down to earth..May puso kapag kumanta... The Theater Actor,The Prince of Ballad
Great singer, composer, dancer, and performer. Whether it be ballads, soft rock, pop or rap music, he delivers with versatility and much gusto. Being an actor on stage or in the small or big screen is just an added bonus in his personal and professional talents. Just one of the down-to-earth personalities there is around. Gerald Santos is a great entertainer groomed for success proven by non-stop hand clapping, foot stomping kind of music performed here and abroad.
He sings from the heart and you will feel it if you will listen to him live. Plus the fact that he is so down to earth and very approachable. He never discriminates gender. He just loves to render songs to everyone.
5
Martin Nievera
Martin Nievera sings with so much feeling and can render other artists original songs without imitating it but by giving more varied stylized renditions, sings with a lot of techniques and his voice is recognizable as his to be hid own.
Martin Nievera, the most promising male singer in the Philippines. He has a God-given and soulful voice. His talent has not just show up here in the Philippines yet in the whole Asia and us..
martin is all time the best singer.. he's the concert king all these years... voice melts you when he sings..
None Other than the Concert King Martin Nievera
6
Christian Bautista
He is getting international attention because of his undeniable talent. He should be on top of the list. Agree?
Just love him! He got the looks... The voice.. The height... He's face seem so charming together with his VOICE
Soothing voice.. Very relaxing.. And he's a kapamilya!
Love his song and his voice... Like a Prince Charming.. His smile makes me smile
7
Jed Madela
Only Jed Madela dominated the WCOPA. Need I say more? Oh yes, I do. He is a very talented singer, the transitions of his registers are very hard to identify. His voice is insanely powerful, he sings with such ease and with minimal effort. He is the best male singer in the Philippines. For me, he deserves to be on the top of this list.
The Voice of the World winner. A truly talented young man.
Jed Madela is a real belter. He can reach the high notes very solid and clear without shouting. And he can also sing the lower notes. What an amazing belter! You are deserving to be on top of the list.
. Your voice inspire me... And it makes me feel comfortable..
You had a great voice. Good luck
8
Ogie Alcasid
He is really a good composer and singer. he has a great balladeer voice and perhaps, the most distinguishable voice as well. I believe he should be at least in the top 5 greatest male singers in the country
He is a good singer and he is better than erik santos
The best... He serves as a benchmark and inspiration to every Filipino artist... He also leads organizations that promote the OPM to Filipinos.
OgRenians let's all vote for the Greatest Songwriter in the Philippines.
9
Mark Bautista
He's an excellent singer. His versatility will make him an ultimate performer in the near future. Mark, never forget the place where you came from.
He's one of the best! He has a voice that will make you fall in love..
Please vote me thank you...!
His low notes are simply jaw-dropping!
10
Jay-R
Jay r should be in first
The best and should be in number 1.
R'nB Prince of the Philippines
Kyla and Jay-R
Fan ko
The Contenders
11
Bamboo Mañalac

Bamboo is one of the most versatile artists the Philippines has heard. He can do any genre from jazz, rock, blues, ballad, and rap. A few examples are "Carousel", "Hallelujah", "Tatsulok", "Mr. Clay", "Alpha Beta Omega", "Truth", and "Much Has Been Said".
Bamboo should be in the top 10 or number 1
Baboo is a voice teacher that is why he need to win every competition I met him before his voice was amazing
I agree. Bamboo should be the number one.. As in.. Come on!
12
Arnel Pineda

Arnel Campaner Pineda is a Filipino singer and songwriter. He came to prominence in the Philippines during the 1980s and internationally in 2007 as the lead singer of the American rock band Journey.
Arnel Pineda is one of the best singer not only in the Philippines but the world and He is a humble person plus he share his wealth to the least fortunate people. God bless you and your family always.
Love Arnel. Similar vocally to Steve Perry but with a rich quality to his voice that surpasses his predecessor on Journey. Brilliant singer and brilliant guy.
Heard him and I am in love with his voice and his ways of thinking positive and his wonderful smile and he helps others, good man, keep singing, Happy New Year 2015.
The international singer like him is best for me he's the most mos wonderful and number 1 male singer in Philippines
13
Daniel Padilla

Daniel John Ford Padilla, also known as Daniel Padilla, is a Filipino actor and recording artist/bassist of the band, Parking 5. He is a talent of ABS-CBN and Star Magic and was chosen as one of the Original Pilipino Music Junior Ambassadors in promoting local music to the Filipino youth.
He has such good voice and looks as well that girls will definitely fall for.
I love his voice, especially when I first attended his major concert once. This guys really has the thing. HIs voice is unique too, according to my father who's a voice trainer.
I love Daniel because I already want to meet him he is so so handsome
We love daniel my sister NOR-AIMA MAUCD is your number 1 fan
14
JV Decena
It is passion to sing, and he gives his best every time. He definitely has a long way to go, but he's on the right track. Keep singing!
Just go on with your dreams, stay of what you are now you still have a long way to go. We will continue supporting you to that quest. We Love You JV.
"I think this artist deserves better than being at the top 20. "
JV's power singing could even match those who are on the top 5.
Still an amateur but in his young age, he is really amazing!
he is versatile and soulful.
he could be the Prince of Soul.
15
King
Just always sing as best as before
16
Janno Gibbs
One of the smoothest voice in the country. Janno Gibbs is the King of Soul of the Philippines, and the king deserves to be in the top 1
we had our own opinions when it comes to voice quality.. but for me, its still the king of soul! go janno...

No one can beat the King of Soul of the Philippines. He is the best. He must be at no. 1. He deserves to be no. 1 because he has good voice quality. He also composes very good song. He is better than of all the male singers in the Philippines
I don't know much about male singers but I'm perfectly aware that he sang "Fallin'" and that made me love him. I don't give a damn about the other male singers higher vocal range, all I know is he was the only one who managed to give me a soulful feeling while listening to his song.
17
Sam Milby
Very Smooth Voice. Every time he sings I feel like I'm in heaven.
Getting recognize all over the place by his charming voice and looks.
Love him!
Is a good voice than the other singers
Goddest of the singers sam milby
18
Jovit Baldivino
No one can compare to jovit.. He is unique and the voice is fantastic nothing but the best, only in the abs..
His voice is perfect.
Very powerful and humble voice, smooth and can reach any note.
I like his voice quality he's a good singer
19
Khalil Ramos
He's Good and Consistent
His a good singer and a handsome artist.
Very, very, very nice singer,..
yes
20
Piolo Pascual
When he sings, it reflects his total personality. Appealing and nerve wracking...
He has a good voice
Your a local now haha booo!
Meron syang kakaibang voice na wala sa ibang filipino singers.. He's good to be voted.
21
Vhong Navarro
Very nice actor and singer and very nice dancing
I love vhong because he has a nice voice and he also had very nice talents..
Good job Vhong! We are so proud of you!
I love chong because he has a really nice voice
Nice dancer singer and actor
22
Harry Santos
i like him when he sung VINCENT!
He sings from the heart :')
all over! santos here in this list ruled!
Josh groban of the Philippines
23
James Reid

Robert James Reid is a Filipino-Australian singer, actor, dancer, karateka, and songwriter with dual Filipino and Australian citizenship.
He has a soft and cool voice!
I love james.. Reggie salem
Milo everyday
U r the best
24
Alden Richards

Richard Reyes Faulkerson, Jr., also known by the stage name Alden Richards, is a Filipino television actor, host, model and recording artist signed with GMA Network.
Impressive
My name is jayvien kuirl yatasa idol or fun ni alden rich I'm vote to alden
25
Ariel Rivera
Ariel Rivera's voice is smooth and warming.
One of the best male singer's in the Philippines
Also known Kilabot ng Kolehiyala.
PSearch List