Darren Espanto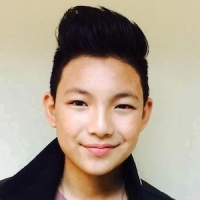 Found on famousbirthdays.com
Info
Darren Lyndon Espanto also known as Darren Espanto is a Filipino-Canadian singer. He was born in Calgary to Filipino parents. At ten years old, he won the Masters Finals of the Pinoy Singing Sensation competition in Edmonton.
Comments
Top
Popular
Newest
Fans, young and old, just love how this young man performs. He gives his best. Listeners, viewers are all in awe. Perfect pitch, perfect diction, perfect moves. There is nothing, to our recollection, that this kid cannot sing good. You can feel in his rendition the pureneas of his heart and his dedication to his piece. And don't take away, of course, his being so mannerly and his being so respectful. Traits that every Filipino should be proud of. The Title may have been elusive for Darren, nothing can stop him from being on top performance-wise. He has still lots ahead of him. Kudos to this young man.
Darren Espanto for me is a great singer and performer. With the age of 13, he has made his way from Canada to the Philippines just to find his luck in The Voice of the Philippines Kids Edition. Even though it's a little hard for him and his family to go back and forth from Canada to the Philippines because of an expensive fair for the plane, they never give up on Darren's dreams. As a teenager, he has served as a role model for me and an inspiration to follow my dreams. He also makes me become inspired to sing and he had taught me to never give up. I so love Darren and even though he didn't win in The Voice Kids, I will always support him.
He is by far the best for me.. At such a young age he already was able to accomplish a lot. He will indeed become the brightest star of his generation and perhaps the brightest star in philippine music industry.
At the age of 13 he has his own 3 major solo concert... A total performer with excellent performance every time he performed.. Amazingly excellent belter and an excellent dancer! What can we ask for from this young man? Nothing more he's almost perfect with his great looks, talent and great character!
His very powerful voice captured our attention. He knows how to handle his fans well. We loved him not only because of his talent but also because of his whole personality. His humility stands out every time he sings and every time he talks with other people specially to people older than him. This is the 1st time that I idolized someone and I didn't expect that my 1st idol would be a year older than me. Maybe that's the reason why I loved him... because I know how hard it is to sing high notes and to sing while dancing. I love singing to but I admit that he is better than me... I'm a girl but his voice is higher than mine. Yes, nobody is perfect but Darren is near to perfection... :D
I love how versatile and at a young age how he manage to create his own rendition of every song he sang that will made you think he owns that song... And plus factor his charm and good manners really stands out well...
Darren's Voice in impeccably one of the best, if not the greatest in today's generation. Reaching high notes easy breezy and with a solid voice. Remarkably with a perfect pitch and diction--He both can do ballad and pop with perfection.
He topped the iTunes 3 times! The youngest singer with an all original song album and the youngest artist with a 3 major solo concert! He deserved to be on top!
Darren Espanto should be the winner! He deserves all this... He's a total performer and the best singer-dancer indeed! At the age of 13, the youngest amongst singers, well-deserve to be called as the "sold out concert prince" as most of his concerts here and abroad are always full to the brim and tickets were sold out in just one day or few days after the tickets been starting selling. This young man is truly in demand here and abroad for a show. And most of all, a very dedicated to his profession, no matter how tired he's been, he still make sure he will have his total performance every time. A very respectful young man, a role model to his fellowmen and although he grow up in Canada, he's heart belongs to us, Filipinos...
Darren is a Total Performer in true essence. He always gives his best in every performances. He has this charisma that drew a lot of fans & supporters in all walks of life not only nationwide but worldwide! He is definitely a phenomenon creating a lot of milestones at a very young age.
Not many 13years old kid can make the history Darren is making right now. He is so blessed with superb/best talent, good looks and an attitude of an ordinary kid raised with a good family background. Many of his fans are not just teenagers but like us parents he is a great role model indeed. We love this kiddo! Soar high our big D!
Darren Espanto possesses an amazing God-given talent in singing and dancing, admirable character and attitude that the young generation should emulate not to mention his good looks and undeniable charm that brings sunshine to everyone - a CHILD PRODIGY indeed!
Darren is such a humble kid. He wasn't even affected despite all the bashers put him down, but instead he still stand tall. Very polite, always thanking his fans, down to earth, he's not just a total performer but he is a good influence to everybody. His attitude makes him the real total performer. That's why we, the fans of Darren Espanto, will support him all the way. Good luck!
DARREN is a MONSTER ON STAGE. He PERFORM WELL and GOOD Diction both English and Tagalog. A good looking young man with High Voice Range Quality. That's why I love Darren. Very humble and kindhearted.
With the powerful voice that he posseses plus his charm and talent in dancing, this kid really deserves the title. He has won the hearts of many the first time he sang on stage. In each of his performances he gives his all, the reason why he is now called the sold out king/prince since almost all of his concerts here and abroad are sold out. You can't blame us, his fans, for stalking all his concerts, mall shows and events because of the joy and satisfaction we are getting in all of his performances. This kid is really adorable and sincerity is all over him. Having a good family background is I guess the fundamental of this kid. He will still soar high in the years to come because he is a natural. You got my vote DARREN ESPANTO 👍
Darren has the most beautiful voice I have ever heard! Talented, good looking, humble and God-fearing! He never fails to thank God and everyone else for his success. His parents raised him very well!
Every songs that he sings he nailed it. He makes the songs beautifully and heartily rendition. You feel deep inside your heart and you amazed it that at his age he can do POP, RnB, Ballad, and rocks too. Dancing and singing is not easy but for him just wow. The multi talented Darren soar high on his journey to STARDOM. THE WORLD CLASS PERFORMER WITH A PURE HEART, KIND HEARTED, humble and respectful. And I think he is the one on top ten list. Thank you.
He's the best.. Really total performer.. Amazing kid with great charm and personality.. He already prove himself through all his sold out concerts.. We're crazy over you!..
Darren Espanto is the total Package of a best performer! With his amazing quality of voice, his killer dance moves, his good looks and his unique and humble personality says it all! He deserves to be on top. We have too many good male singers but Darren Espanto performances are truly breathtaking especially his high notes. Anywhere in the world this young man is being loved by many. He captured every Filipino's heart and even all over the world. First time in my life I became a fan and I am proud to be for Darren Espanto! :) he is just superb and amazing and a very kind humble kid.
Darren Espanto is a gifted child with extraordinary gifts and talents way above his years. He is a music prodigy! He has conquered the international music world at the age of 13, the youngest solo artist in the world to achieve that in the music industry with sold out solo concerts & all original songs for first solo album. He has surpassed Michael Jackson and Justin Bieber as a solo artist at this age.
Darren Espanto is the best singer of his age generation, can sung tagalog and English with a perfect diction and perfectly reaching the high notes.
His desire and craving to SING AND DANCE better is what helped him overcome his negative attitude towards his skill level of performing and to sing in front of the audiences. He may not a best singer around the world BUT he is the great one and a total performer. All I can say you are the one, you make me feel good when you sing and dance. You're the best among the rest. You got my vote DARREN ESPANTO
Darren Espanto is the best singer, dancer, performer and with his big pure heart, hooked lots of people. He captured love and affection by his humbleness, kindness and a amazing super duper talented young total performer, He is the BEST... The ONE AND ONLY DARREN ESPANTO
I love darren espanto because at his age had already his concert! Even he was so popular, he still humble, kindness and he didn't forget his fans! His well mannerly even he grows in calgary Canada!
Despite the super success in just 7 months he still managed to stay humble. A very excellent singer, dancer. A total performer!