Best Music Fan Bases
The Top Ten
Dears (Dimash Kudaibergen)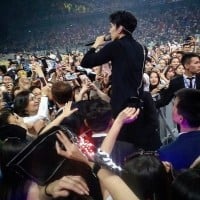 Dears or Dimash's Dears IS the Best Music Fan Base. We support Dimash 24/7. We make him #1 in every poll in no time, because nobody can compete with Dimash. He is a genius, he is brilliant in everything, singing, performing, dancing, comunicating with Dears. He is loving and caring, there is a strong connection between us, which makes him the most powerful man in the world.
The Dears. Consistently destroying voting power on lists since 2017.
Dimash Kudaibergen, has an incredible and unique voice, great stage presence, fabulous pronunciation and intonation, lovely expression. He is charismatic, unaffected, friendly, not proud. The crows go crazy when he sings and the other competitors are also amazed and appreciate him and his voice and his talent. God bless him.
We just started this year all over the world because he was just made known to us this 2017. Give us time. Even now we are surprisingly multiplying all over. We support Dimash K. in whatever, whenever 24/7 because we are all around the globe. And that's why we're the best fan base. We're everywhere. Best singer to be made known to the world this 2017.We love him for his unequivocally unique vocals, his emotional transmission through his singing that touches your soul, his charm, his warmth towards everyone that crosses his path, his maturity for such a young man, his focus, his drive. Just listen to him...
Dimash Kudaibergen 's "DEARS" is the best fan base! We are from all over the world and we support Dimash in every way possible and, because we are from all over the world that will be 24/7 because when one part goes to sleep the other is already awake and continuing the support. Dimash deserves the best of everything, his voice is miraculous, his personality is angelic, brilliant and uniquely talented, stage presence is unequivocally overpowering, you just can't take your eyes off him, his moves for dancing are awesome, even though he doesn't dance much, when he does everyone goes crazy, he's that good! There is a very strong connection between him and us, his "dears", it knows no boundaries, we are always there for him, and always will be.
Geng Fans (Han Geng)
So, a list of the best idolaters?
Attention, everyone on this website!
The spambots made this item number one just to look arrogant, so let's try to get them lower on this list!
But how can we do it?
Well, an excellent way to do so is by going on every device you could that has access to the internet (be it a PC, laptop, phone, tablet, PS4, Xbox One, Wii U (the Switch doesn't have the web browser yet). Here are a few steps how to (But remember, on each device, you can vote once a day.):
1. Go onto a device that has access to the internet.
2. Go onto that device's web browser search for TheTopTens.
3. On that website, search for the list: 'Best Music Fan Bases'.
4. Scroll down to see the item that has 'Arashi' on it.
5. Click or tap 'Vote' on Geng Fans (Han Geng).
6. Go onto another device and rinse and repeat until you have used all of your daily votes.
7. The next day, rinse and repeat.
I hope that helped you all! Peace.
Han geng is a good apple.
good.
E.L.F. (Super Junior)

We are the Ever Lasting Friends of Super Junior! We are not only fans, but their friends. We laugh, cry, and joke together. "Because there is Super Junior, there are ELF but because they are ELF, Super Junior is eternal! "
I am an ELF for Super Junior. For me, E.L.F. is the best Fandom. Because E.L.F. always support Super Junior by any chance. And Super Junior members are respect to E.L.F. I'm proud to be E.L.F. for Super Junior. Because of that I vote E.L.F. in this voting. Super Junior fighting!
ELF is the BEST FANDOM!
ELF and SUPER JUNIOR is ONE.
SJ is 15 1 = 16 ELF
I'm Proud to be an ELF!
I will always be an ELF no matter what happen to Super Junior good or bad..
ELF and SUPER JUNIOR FIGHTING!
Since the beginning, it has always been Super Junior and ELF, ELF and Super Junior. And though sometimes Super Junior and ELF go together with DBSK and Cassies and/or SHINee and Shawols, and/or other fandoms but at the end of the day, it is still just us - Super Junior and ELF. US IS ALL WE HAVE. Where will you ever find idols treating almost 600 of their fans to a warm cup of coffee after watching their performance on a chilly night? Where will you ever find idols praying and crying for their fans that died? Where will you ever find idols giving chocolates to their fans at their concerts? Where will you ever find idols treating their fans ice creams during summer? Why am I an ELF? Because it is all worth it. Because Super Junior is all worth it. I am an ELF. Because being an ELF is such an honor. I AM PROUDLY SAY I AM AN ELF THAT WILL SUPPORT 15 GUYS THAT WILL NEVER BE REPLACED


Cassiopeia (TVXQ, DBSK)
Always Keep the faith! That is what I could say about Cassie
I don't care you support JYJ or DBSK!
Please DBSK always 5 members not 2 or 3... We will always wait for the date that they are back together!
5 kings
Real Cassies are the best fans in the world
There aren't any fandom more strong than us, because NO ONE CAN'T RESIST OUR PAIN AT THIS TIME.
Cassiopeia is One family with DB5K, we love them, they love us I can't live without them because they are my life we will always keep the faith
Even DBSK just consists 2 members but to all Cassiopeia, DBSK still and always consists of 5 members and we always support them and keep the faith. Not matter what happen to them, we always believe that they are the MOST TALENTED Artist at Korea and the World...
Idiots (Green Day)
Haha this made me laugh. I wonder what Green Day fans were called before American Idiot came out. "Kerplunkers"?
Before American Idiot, they were called Nimrods. This fan base is funny, respectful, and enjoy anything with the band
Out of all the people that I've talked to from other fan bases, Idiots are by far the most down to earth people who are in it mainly for the music; that quality has seemed to have lost over how 'cute and handsome' the band may look
Whatever. At least one direction isn't in front of Green Day... Yet.
Vocaloids
Ahem.
Vocaloids.
Vocafans.
Vocaloid fans = Vocafans.
Simple.
Yet... They are filled with composer, lyricist, producer, remixer, movie maker, translator, utaite (dubber / cover-singer), choreographer, and Fans.
They are not only admire the song, they also make the song. They not only support Vocaloid with cheers. But also live with them, along with their creativity.
They live with everyone, from different country, culture, language, and yet they unite, they hear all songs, created by anon, and they give criticize about which one the bad at some song, and then they fix together. They simply are voice of vocaloid (in my country, they call them people who like vocaloid as 'VoV') representedc by Vocaloids themselves. So,
Let me tell you?
Can you guys make song and let your idol sing your custom song? That's bit, non-believable right?
So, how about us? Simply, we can show to world, we are different, but we united together, the second renaissance of ...more
There is no fanbase like the one for vocaloid. How many other fans can be as much a part of their favorite Singer's exploits as vocaloid fans? I say none. This isn't just a fanbase this a community. A community composed of people from all walks of life. It transcends borders, nationalities, ethnicities, even religions. Whether you're a professional or amateur, composer or just someone who hits the "like" button you are a vital part of this community. There is no community like the vocaloid community and I wouldn't give up being a part of it for the world.
All though it's just a program, it lived in people's heart! They will grow in people's heart.. Vocafans is normal. Don't underestimate the Vocaloids! The composers work hard for efforts!
Their fans are amazing. They are respects each others and have many knowledge and feelings about songs. Many of them would not insulted west music if the fans from the west music not insulted vocaloid. Yes, Vocaloid is not a human. Many people love them because Vocaloid is the place where many composers, artist, animators born and have their dreams come true with vocaloids. Vocaloid is the place where people can be creative. Many amateurs use their songs and cover it than become a singer with many fans. Dancers use vocaloid songs and do a cover dance with it, then they become famous. Vocaloids make people heart move, happy, their dreams come true! And... I don;t know what have to say vocaloid is amazing, amazing and amazing! Please don't hate them people. Sorry for the bad English I'm Asian.
Linkin Park Underground (Linkin Park)
These guys are dedicated to Linkin Park, attending most of their shows, buying their music, collecting all their items, they are one of the best fanatics for a band I've seen in a while, as they are extremely dedicated to Linkin Park, through out every single album they release
I do like linkin park but I wonder what there fan base is just kidding I'm a solder to not the fan base website
I love Linkin Park and I will always support them.
Linkin Park has one of the most dedicated fan bases in the world
Stans (Eminem)
This is actually one of the worst fan bases. Quick to anoint Eminem the greatest rapper even though they generally know nothing about Hip-Hop and are not part of The Hip-Hop community. If you even try to mention another rapper, these idiots immediately rip that rapper and say Eminem is the only good rapper and is superior to all rappers. These guys are total douchebags.
Marshall helped us so much through our lives and our problems. He can make us laugh, think, or cry. Even though I know there are better rappers out there, STAN FOREVER
haters. I don't care if you don't like him, just don't hate him
Stans are incredible and so dedicated!
Floydians (Pink Floyd)
Pink Floyd is arguably one of the best bands of all time, hands down beats 99.99% of other bands.
Best band, Best group of fans. The rest of the bands can piss off
Go hug any Floydian friend you might have. Floydians are the nicest people on Earth.
Yeah...and Led Zeppelin fans are called zeppians
Slayer
What other fan base carves the bands name into there body?
Should be higher than that trash called vocaloid.
The angels of death!
Thank god were above the no erectioners
The Contenders
Sones (SNSD)
I proud to be a Sone. Sone and SNSD belong together. SNSD number 1. SNSD always in Sone's heart.


One of the Best Fandom Ever who has 390 K Fanbase all over the world. Most powerful fandom in this century. Once a Sone, FOREVER a SONE. This deserves at #2 spot And Cassies at 1st
Sones are the best. You'll see what we'll be doing on Sooyoung's bday which is coming. Ask any fanbase about it. They should know.
No doubt the best girl group of Korea. They have the best fanbase ever. Yes, SOSHIFIED! It's Soshified. You guys should remember. They've got 99% of things about SNSD. Subbed shows? They have Streams? They have Pictures? They have Schedules? SNSD even mentioned that Soshified knew their schedule really well while SNSD, themselves aren't really clear about it. Fans? Aww, that's the most amazing thing they own in Soshified.
Now a SONE, Future a SONE, Forever a SONE. ; Right now it's SNSD, Future still SNSD, Forever SNSD.
SOSHI SARANGHAE!
Sones are always supportive of our dear girls. It does not matter if they do not receive any awards (though it will still be good if they did win), as we do know that they have done their best. It hurts us to see them working so hard and being so tired all the time. We believe in soshibond. We believe in the bond between the girls and us, Sones.

Right now, it's Girls' Generation.
From now on, it's Girls' Generation.
Forever, it's Girls' Generation.
Little Monsters (Lady Gaga)
We will always stand by her! Since her worldwide release she gives her best and make the impossible become possible for us, monsters! She's always trying to make us happy and also always fought for our rights! She even tried to break society rules to make "unusual" people feel equal and integrated! We all owe Lady Gaga so much! Paws Up forever!
Pretty much the same thing I said about Green Day worshippers. Just replace "idiots" with "monsters."
We all support her no matter what. She makes me happy and brave. I love Gaga. She also loves her fans very much.
Because she's flawless, and only we're enlightened enough to see that... Which means quite a few people in this world are enlightened.

LADY GAGA IS QUEEN! And we're the most supportive and coolest fanbase.
Pantera
A decent fan base
Moonwalkers (Michael Jackson)
Michael Jackson was and still is one of the most influential artists in the music industry. You will always hear an artist say that Michael Jackson was their inspiration one of the reasons why they wanted to make music for the world. Michael inspired Beyonc , Ariana Grande, Usher, Green Day, Justin Bieber, Jason Derulo, you name it. He's even inspired athletes! For example, he inspired a football player from the NFL with his song Man In The Mirror . He also adored children. He loved them from the bottom of his heart, but ignorant people decided to press charges make allegations that he was a child molestor. He never deserved any of the things he got. He changed the world with his music! Listen to his music, you'll understand. You don't see many artists write songs such as Heal The World , We Are The World , Man In The Mirror , Earth Song , etc all by Michael Jackson . He even wrote a poem called Planet Earth ! He had a very strong concern about our planet because of how we treat it. ...more
Michael Jackson was, is, and always will be one of the greatest singers ever. Pop music wouldn't be the same without him. There will never be another singer like him. I can't believe the press would make up those stupid lies about him (turning white on purpose, molesting children, etc.). Whenever someone told me he molested kids, I just want to punch them. No one loved kids more then him!
We are the largest fan base for a performer in the world! The number of Michael's fans have been estimated to be near a half a billion! Michael is the best entertainer of all time, he broke every possible music records on this planet! Genius and good man. Best humanitarian, helped and save lives of many chlidren. King of Pop and King of our hearts! We will always love you Michael
Moonwalkers are the best, because he's singing about making this world a better place. And what is his fans/moonwalkers do. We will make it a better place. And this fandom is one big ball of people who's listening to the realest and best music in the world. MOONWALKER 4ÆVER
Queen
Queenies are GREAT! I am a proud Queenie, and a huge server to Queeniekind!
I like their song
Queen has always been my favorite band since bohrap came out. when I couldn't stop watching the movie, I got obsessed. yes there are SOME toxic people in every fandom, but some like Queen can't stop this fanbase from being the best this fanbase can be
The Dear Darlings?
TripleS (SS501)
SS501 was first my K-pop group I got to know about... And you know, from the very beginning I was absolutely shocked (in a good sense) by these 5 singing cute, kind and funny (in their shows) guys. And though it's been almost 3 years since I first heard couple of their songs (those were 2 OST songs - 'Because I'm stupid' and 'Making a lover'), my playlist still got almost all of their songs, which are usually very bright, calming or energetic and so filled with love (like 'Confession', 'Haruman', 'Find', 'Green peas' and many others). So thankful that one day I got to know about these guys... And I do believe that there will be a day, when these guys them will make us, Triple S, absolutely happy by coming back as 5 once again! With much love and millions of kisses to our guys, warm hello from Kazakhstan!
SS5O1 - the name that never fail to make people love and trust them forever!
Do you know which boyband called them five stars as one? They are SS501 and we are Triple S will be in their side, waiting they to comeback! Triple S, please always believe SS501 will comeback!
I liked SS501 maybe because the first Korean song that I heard was, one of their songs & on that time they were the first & only handsome, young, cute & pretty face boy band I knew! But after awhile I watched more music videos & started to know more bands I understand these 5, are not the only handsome, young, cute, pretty faces in the Korea & there are much more bands which are really famous & there isn't just "MY SS501"!
Now, it's been 3 years years ago I watched the first Korean music video & I like it very much & I like singers more! I don't know what's happening right now whit SS501 & I don't know how many bands & singers will be added to Korea music industry, all I know is, I will always be a fan of SS501 & I hope they always stay as "501" like what they want to be at the first!
VIP (BIGBANG)
Being a VIP means to support Big Bang no matter what happens and that's what VIPs do. No matter what happens we will ALWAYS be faithful and love Big Bang.
Big bang is all of my love Love Big bang, love V.I. P
V.I. P, fighting. We'll the best fan base ever
Bigbang is VIP in our groups many beautiful boy and nice singers I love this band very much!
Big Bang certainly is the one group that had the biggest impact on me. They are people I look up to and one of the many reasons I admire and respect them is that they have gotten where they are through their music, not by being the lovable type. I find all members' personalities something I can look up to, they are free and beautiful, they invest so much sweat in what they do and are really funny. However, the one thing they conquered Kpop was their MUSIC, not their good looks/personalities etc; they didn't promote perfection, but music - that's also the reason you see them so rarely on variety shows. I remember G dragon said in an interview that they didn't become better by appearing on shows and that is their goal: becoming better, great performance, good music. I also remember Taeyang once said he wanted to "stand on any stage in the world and not be ashamed, that's the kind of singer I want to be".

I respect Big Bang, I love Big Bang; they made me love them trough their ...more
Musers (Muse)
We are and have been united and growing for more than ten years now. This is commitment you cannot deny. We've become more than just a fandom, more than just a group of people who demand to be heard by a group of people we love. We're a huge family, all together, with Muse themselves. We understand them, and they understand us. We are Musers.
It's nearly impossible to describe what being a muser is like for anyone outside of the fandom to relate to. Basically, musers are a unit, a team, a family. Plain and simple. We aren't collectively joined because we find the Muse members 'hot', it is because we all share the same love of the music. We aren't deluded or feel the need to thrust our fandom into others faces, we are considerate, we respect everyone. I haven't yet encountered a muser I genuinely dislike and that is because we all understand that there is no need for antagonism. We not only love the band, we love, care and respect each other. It is for the reason that musers are the best, all round fandom; we are Musers and we follow example from the kindest, funniest and most talented men in the music industry today.
Musers are a really tight-knit but also very large community. On facebook, there is an official page with over 10 million fans. Musers make up all sorts of fans that are united together by one band, which is uncommon to other fan bases. For example, a classical music fan, a hard-rock fan and a professional pop-rock fan might all like MUSE and have appreciated the other genres presented by the songs played by Muse.
Musers are one big happy family, and we love each other We have the best lolz for the band, the best fan pages and inside jokes, and we love muse forever and ever and ever... I AM PROUD TO BE A MUSER!
Fatinistic (Fatin Shidqia)
We're not fans, but we're family. We always support fatin shidqia lubis.
Willingness and sincerity is our symbol Fatinistic. We will support Shidqia Fatin. Anytime and anywhere. In joy and sorrow... Because we are the best fans in the world's fanbase
She is the amazing voice, unic voice and very very beautiful
We Are Not Enough A Fans, But We Are Family And We Always Support And Proud Our Idol's That Fatin Shidqia Lubis..! So, Why You Not Enjoy With Oue Family?
Nirvana - Nirvanics
Never in a million years. All of the nirvanics I've ever met are really up them selves and usually 70% of them can't name a nirvana song besides Smells Like Teen Spirit. And the one Nirvanic that's my friend is always like "Led Zeppelin is too old school and nirvana is the best band EVER".
Nirvana is a great band. But their best song truly is Come as you are
I think nirvana rocks
Megadeth
They hate Metallica else they're good
Galaxy Defenders (McFly)
McFlyers are the most dedicated fans that I know. I'm one of them and we are big family, because that four guys made of us a Family! I'm proud and I love to be a Galaxy Defender, McFlyer, part of the McFly army. And I have to say that I love the CAFE CO' LECHI, YOUGURT, I'M A BAD GIRL AND I GO INTO THE WOODS, I'm THAT GIRL, I'm KATE, I'm JOANNA. BECAUSE I THINK THAT ALL MCFLY SONGS ARE DEDICATED TO THE FANS, NOT JUST FOR KATE, JOANNA, ANNE, OR WHATEVER (except for Lindsay, that's other story). WE ARE THE BEST FANS, THEY LOVE US, AND WE WAIT FOR THE AMAZING ALBUM THEY ARE PREPARING AND THE FABULOUS TOUR! 'THE KEEP CALM AND PLAY LOUDER TOUR'. SERIOUSLY, THEY MEAN THE WORLD TO ME AND A MILLIONS GIRLS IN THE WORLD ARE FELLING THE SAME RIGHT NOW.

GALAXY DEFENDERS STAY HERE FOREVER!

IT'S NOT ALWAYS EASY BUT MCFLY'S HERE FOREVER!

THEY SAVE MY LIFE, AND IF YOU ARE ON THIS PAGE VOTING, IS BECAUSE THE SAVE YOUR LIFE TOO. SO VOTE FOR THEM. LOVE YOU ALL XX.
McFly is my life, they mean everything to me, they and their music where in the best and worst moments in my life, in many moments they are been with me... Not with me like in person, but their music always make me feel better and give me the power to continue in the difficult moments... This 4 guys, Tom, Danny, Dougie and Harry are too much for me... They are amazing, funny, talented, crazy, lovely guys, naughty guys, they always can make me laugh. They love us and try always to make us feel nearer to them, the best gift that they bring to us is their amazing music, that chords, the bass, the guitars, the drums, the lovely and charming voices, Tom lovely voice, Danny rocky voice, and Dougie cute voice, I don't know what my life could be without them (sorry for my English, I try my best to express everything or almost everything that I feel) ANOTHER YEAR OVER WE ARE STILL TOGETHER, IT'S NOT ALWAYS EASE BUT MCFLY IS HERE FOREVER! GALAXY DEFENDERS STAY FOREVER
We are the best! Because we love the BEST BAND IN THE WORLD. McFLY is everything for us. THANKS DOUGIE, TOM, DANNY AND HARRY FOR MAKING OUR LIVES BEAUTIFUL. We love your perfect songs, your good humour, your kindness, your performances and everything about you. IT'S NOT ALWAYS EASY BUT MCFLY'S HERE FOREVER.
GALAXY DEFENDERS STAY FOREVER.
I am so proud to be a Galaxy Defender! I honestly believe that the GDs are the nicest fanbase around! While all other fanbases are arguing or competing with each other we just sit back happy in the knowledge that us GDs can just appreciate our boys and their music and not get involved in any other fan drama! We have stuck with the boys through thick and thin and there is nothing better than being in the crowd of their concert and putting your fist in the air with all the other GDs and chanting "we don't care! "

GALAXY DEFENDERS STAY FOREVER
Lovatics (Demi Lovato)
Definitely an amazing fan base. She can honestly sing amazing! Not a fake like Selena or Miley. An ABSOLUTELY strong beautiful voice
Lovatics are perhaps the most supportive and loving people ever. We are the best fanbase. We may not have broken the Vevo record like Smilers did, but #LovaticsBrokeVevo. Who needs to break a record when you could break the company? That's the power of Lovatics. We stay strong for Demi because she stays strong for us. The support and bond between Demi and her fans is unbelievable.
Yes some of us are obnoxious, but we all have the crazy ones in our fan bases. Lovatics support demi no matter what others say. I don't know about the rest, but I don't attack other fanbases I just say my opinions. If your going to pick a fight with me I will defend demi and my fellow lovatics.
Lovatics are so sweet. They aren't hateful or overly-obsessed and they are very supportive of Demi and each other. They don't bash other fan bases, either.
Beatlesmaniacs (The Beatles)
The Beatles were loved almost universally (just 0.1 steps away), and they have fans from each generation. I understand why some people think that they were a mediocre band, and maybe that's because what they produced sounds traditional now. What they probably don't know, is that they started a new era of music, leading to what we call mainstream nowadays. This creativity spree was so new back then, even covering almost every genre known and possibly starting a new one. Their influence didn't just tackle music, it also touched everything else! From fashion, to even political and religious views and endeavours, that if you wanted to study about the '60's-'70s, you'd have to pay attention to the fab four's antics. So, going back to the fandom, I can say that we are a very supportive and well behaved (not really well behaved if you count the teens from the 60s who were part of beatlemania) fandom, just listening to and loving the music and encouraging those who aren't already ...more
Why are all these pop "artists" at the top? (Except for Green Day, I love you too.) Rock fans have really care about music, are (in general) nice people, and don't abandon bands when they stop being "cool".
The beatles? Absolute rubbish, mediocore musicians. As john lennon said 'we weren't that good.' He spoke the truth
YOUR KIDDING ME! There the Beatles and they're in 114 place! This list is a joke! The top ten of this list are all K pop bands I've never heard of and worst of all belibers and directioners are topping this? This is a disgrace to REAL MUSIC!
Annihilator
PSearch List