Top 10 Best Reggaeton Artists of All Time
The Top Ten
1
Daddy Yankee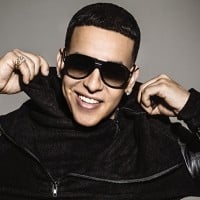 Ramón Luis Ayala Rodríguez, known by his stage name Daddy Yankee, is a Puerto Rican singer, songwriter, actor and record producer.
The Real King... anyone who swears anyone is better then him needs to read the music profile again. When anyone can do what he did for reggaeton. These new artist need to respect the people who paved the way cause without them there would be no reggaeton
Daddy Yankee is the King of reggaeton. When you listen his songs you feels it, even when you don't understand it. His style and music are loveable. He got the best lines in every songs.
Daddy Yankky is awesome! I did a projet on him in school and it was awesome! My favorit song is so lovumba! Its amazing and I could listend to it all day! YOUR AWESOME DADDY YANKEE! Also my mom really loves you because she does zumba and she uses like all your songs and she showed theme to me... That's how I started to like U. It would be pretty cool to meat you one day because I would like to thank you for all the amazing miusic you did and all the hard work... THANK YOU DADDY YANKEE!
Daddy Yankee has always been my favorite, he always creates good music. Barrio Fino straight classic. Reggeaton has changed with auto tune voice. So I hope he changes reggaeton back to its roots. Wisin y Yandel had a chance to do it, but they sing nothing but electro flow.
2
Don Omar
Don Omar is the best singer ever! He introduces non-hispanics to reggaeton! He is the reason why I love reggaeton. I'm Puerto Rican and I'm glad he is an artist because he brings Puerto Rico to the next level which is why I'm glad to be Puerto Rican. His music inspires me and my friends. After I showed my friends one of his songs, my friends took Spanish.
For me I prefer Don Omar lyrically to Daddy yankee. Daddy Yankee is talented no doubt (and some of his tunes are exceptional) but I feel Don Omar offers more diversity in his music
He is lovely... I really love him. He's just the best singer everr. He's the reason why I love reggaeton so much.. He's perfect. Don Omar makes a amazing song. He was, he is and he will be the best singer in the world.
Don Omar brings real singing to Reggaeton and he is able to spit rap lyrics at the drop of a dime... All around top performer and not too bad on the eyes either... El Rey!
3
Wisin
Neither Wisin or Yandel should be on the top ten list individually. Their like combining Transformers, individually they're ok but together they're amazing. Definitely worthy of a top five TOGETHER!
The Best duo!...their still huge even to this day. they went from selling and making hits as a duo and then they made hits alone
Awesome
I love them! Their lyrics are good and I just love how they work with aventuran and other great artists out there! They're so cute too! Don't y'all think?!
Should be number 1. They've done more as a duo than daddy yankee or don Omar
4
R.K.M & Ken-Y
Las canciones son Buenas la mejor cancion que tienen es TONTA
5
Alexis Y Fido
Great musica todo moves y todo de todo!
6
Tito El Bambino
He should be one of the tops, he's classics where the best.
Love him and his voice he should be number 2
One of the first reggation artist. His new song Pega Pega is catchy.
7
Zion & Lennox
They're the goat PERIOD,zion brings it every time on the hooks and lennox is a straight savage on the verses!
Great reggation duo and has great songs.
They are AMAZING! That's it.
8 Jowell & Randy
9
Arcangel
This guy has an amazing voice and has a great talent I think he should make more music. He needs to show the world what he is made of. His talents should be opened up to the world so everyone can see that he has an amazing voice.
Arcangel has a little something different from most reggaetoneros; he is clever and suave in his lyrics, sexy in his delivery, and he has a spunky personality that comes through all of his songs in a great way.
KING OF REGGEATON! Arcangel is great he is creative and has a style like no others! He is amazing and he was born with true lyrics.
Great voice and has a different flow from other artists. Unique delivery unique artist.
10
J Balvin
He is honestly the best I will never stop loving him whatever happens he is so unique which him so good and his albums are always the best
J Balvin is the best singer and artist!
J balvin deserves the number 1 spot.
I do not know any other artist like J Balvin. He drops and collabs in new albums or songs almost weekly.

He does not sleep to give his fans the best music he can possibly delivers.
Sings perfect in live concerts and gives a great show for his fans. Love you Balvin! #TeamBalvin #LaFamilia #TheBuisnessMan ♥️
J balvin is a legend.. he is a top class singer with a good voice and lyrics he should be in top 5
J Balvin is #1. Just look at Mine gente it is one of the most famous reggaeton song of all time.
The Contenders
11
Angel & Khriz
Their music is fun to listen to and gets my body movin! I'm waitin on their upcoming work
This due got great funky fresh flow in their music love listening to them
12
Hector El Father
In the generation when reggaeton was reggaeton.
El father, the best
One of my favorites
The father of regaeton
13
Farruko
The best reggaeton artist, it's the artist of the moment. The best reggaeton artist of 2012 & 2013.
Farruko is the future he is on top of everyone
Farruko is better then daddy yankee
The best singer in reggaeton hits
14
Nicky Jam
His way of singing differs from the others which makes him a good singer in reggaeton
Keep the great lirics for netx coming years and you do share what you love to do great dous! Respect to others keeps the music alive
Nicky jam come back very strong his music is great!
Greatest improvise rapper and reggaeton artist
15
Yandel
Great artist with great vocals. Only downfall is that he uses autotuning.
One half of the duo Wisin & Yandel, great vocals, and great style.
Love his style of music
Te amo me encanta todos el cancion
16
Zion
A super veteran, vocals like no other, and a hit maker.
Is to Reggaeton what, Jordan is to basketball.
The Perfect Melody
Has the most hits. enough said
17
Maluma
Bro, this guy is honestly amazing! When I hear him in the radio, I automatically know it is him because he is unique
Maluma is the best singer for me! Do you think so? He is hot and he has a great voice
Reggaeton from Medellin Colombia, this city after Puerto Rico is the place where reggaton is most produced.
Most humblest and prettiest of course the best maluma baby
18
Tego Calderon
Tego Calderon definitely deserves to be #1. As big as he got, he always kept it 100% true. He can do shows anywhere and it'll sell out. On to of just being a artists, he's also an actor. Even when he turned independent, he still gets hits everywhere. Did I mention that he dropped a mixtape that got nominated a Latin Grammy for best Urban album! He's the only dude that has dropped a mixtape to get nominated for a Grammy or Latin Grammy.
Actually Daddy Yankee is the best, no doubt about it! But my vote goes to Tego Calderon because I he's to low in this list! Tego is after Daddy Yankee and Don Omar absolutly the best reggaeton artist. Unique in this genre and has an self made great style, while other artists are copying each other. I love Tego Calderon!
If somebody need to be mention like one of the first and best to get international the reggueton music is Tego he is big with lyrics and with the special voice and style that definitely make one of the best contribution to music world in this category
Tego Calderon is the reggaeton artists that has put on the most, keeps it real, and makes great music. He isn't a regular poser. He tells you true story and shows love to where he comes from. A real legend with no doubt.
19
Anuel AA
Anuel is one of the best ones out there. He has learned a lot in his life and he is actually considered as a pioneer of the Latin trap movement. He is like a legend and I'm happy to support him and his great voice/talent. So HATERS BACK OFF.
Best trap rapper he should be #1
My third favorite artist
Best rapper alive
20
De La Ghetto
If him and Arcangel were still a duo, they would probably be the kings of Reggaeton. This guy is so versatile, the most complete singer/rapper in the Reggaeton industry. He could go from Reggaeton to R&B in a instant.
he is a great singer and the meaning behind his songs are so sweet. I would love to meet him
This guy is very versatile, the most versatile singer in the game right now.
A young talented artist, with his diferent styles, and song titiles.
21
Ken-Y
Ken-Y is my favorite artist... I relate to many of his songs, he has got a great voice and he is simply amazing, all his songs become hits and he sure gets a lot of girls... I would like to meet him...
well the only reason that I voted for ken-y is because he is such a sweet heart and I would like to meet him and be with him so that I wont go to school
Chose him because RKM & Ken-Y are my favorite duo. They sing more then just sex, they actually sing about love and relationships that I can relate to.
Began as a youngster, great vocals, and everything he drops is a hit.
22
Nengo Flow
Nengo flow is the loudest artist out in PR theirs no way any of these others top him he has constant hits all the others are mainstream nengo music has true Puerto Rican ties. All these rapper are main stream their produces give them a topic they make a song and make millions and wait 6 months to reapeat the process nengo has new materiel almost evey month if their real people from PR voting in this thing they will tell you hands down who is running the game right now and better say the last four years or five
Nengo to me just looks good to me honestly but I really love his music
This guy is a real gangsta, he makes the most cool rap and rhymes and reggaeton ever! RealG4life! The real order should be:
1) Daddy Yankee
2) Arcangel
1) Nengo Flow
He's the realiest rapper in PR I'm Cuban and I love all of his song
23
Plan B
I love plan b they the best reggaeton singer ever:) they make you move, dance and shake your booty. Lol. Please subscribe at YouTube plvblive please. Like they say plan b es plan b!
Their album "Love and Sex" changed the direction of reggaeton forever, making it a slower, sensual, smooth rhythm that can be heard anywhere #Candy #FanaticaSensual
There are the bests please vote for them please heard there music because the know how to sing and make you dance
I love plan b they are the best there songs makes u move do please vote for plan b truse me that are the best
24
Residente Calle 13
nadia come tu. atrevete-songs that discover reggeaton to me and made me want more. also rene perez looks good :-)

He should be # 1, because he actually has amazing lyrics, better than most American rappers. Daddy Yankee and Don Omar are sellouts. # 1 residente # 2 tego calderon # 3 Arcangel #4 Neñgo flow # 5 Farruko
25
Ivy Queen
I love ivy queen she is the best reggaeton singer ever she is the real thing she is the best in the reggaeton world she is not afraid to succeed in a mans world she is amazing and incredible
She is ones of one the best strong singer come from the low and she keep her toes in floor!
The queen is back wit musa her new album coming out june 9th 2012
She is the strongest person and women in reggaeton
PSearch List