Top Ten Biggest Liars In Politics
The Top Ten
1
Narendra Modi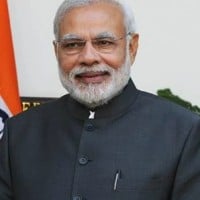 Narendra Damodardas Modi is the 15th and current Prime Minister of India, in office since 26 May 2014. A leader of the Bharatiya Janata Party, Modi was the Chief Minister of Gujarat from 2001 to 2014 and is the Member of Parliament from Varanasi.
He is a chai walaah aka tea seller in our country. But sadly the tea seller is made to take all decisions from defence to finance to healthcare. Because of uneducated populations of our country, this man is continously lying and making wrong decisions day after day and night after night. In the whole world he's the most third class and uneducated prime minister who doesn't even know how to talk properly in english. He needs to practice 6 lines of english for 4 hours before spitting it out. What a shame to what a glorious country.
He ruined the country's economy and increased religious division in a secular country.
Before his term as prime minister, India was compared to many EU countries in terms of development index or economic reforms done by one of the greatest prime ministers Dr. Manmohan Singh.
Now governments own MPs suggest people to go to other countries where there are low petroleum prices and spreading communal propaganda, by not reducing petroleum, LPG(increasing by nearly Rs. 30 every month) prices.
And more this government is Monetizing every assets of Indian government.
In time of severe Covid circumstances in India, government decided to spend $ 1.8 billion on central vista for sake of MPs.
Totally failed to provide infrastructure to tackle Covid.
Press freedom, hunger index, poverty index every aspect India's rank is lowering yearly.
Employment is major issue even before BJP's government. But now we are facing 40 years lowest employment opportunities.
A habitual liar. Thief. Bloodthirsty especially blood of other beings who are lower caste and he can't tolerate other religious people. He has an army of inhumane rutheless personell known as it cell whom he feeds with taxpayers money and propaganda. He also plays the victim card during election by voting in the name of martyred dead or money. He claims to be accept criticism ( Warning never try to criticize this creature or may get arrested). He also has a bald fat creature among him who is roaming free. Those who challenged him get ruined or poor or even dead he follows legacy of Fuhrer.
He lied to the whole world about balakot incident that he killed 300 terrorist in pakistan But sadly only our trees and a crow died from his strike.
2
Donald Trump

Donald John Trump (born June 14, 1946) is an American businessman, television personality, politician, and the 45th President of the United States. Born and raised in Queens, New York City, Trump received an economics degree from the Wharton School of the University of Pennsylvania in 1968. In 1971, ...read more.
As was said by someone else, "He believes his lies are true." A lie is a lie no matter what you want to believe! There is is the biggest lier!
I believe that he was taught to lie before he was taught to speak.His father taught him. At the point where he found that it was fun and people in his home accepted his lies, it became a coping mechanism. Reality denial is a very powerful drug, and he is an addict. He needs to increase the dosage constantly.
He is a black spot for USA because he wants to divide the people of USA on basis of their colour of skin and he is one of most lying person in the history of USA.
He has built his empire, his life on two principles: 1) Lie about everything, even if the truth would be more beneficial to you, and 2) destroy anyone who is not in 100% agreement with you or who does not bow down and worship you.
3
George W. Bush

George Walker Bush is an American politician and businessman who was born in July 6, 1946. He served as the 43rd President of the United States from 2001 to 2009 and 46th Governor of Texas from 1995 to 2000. He is the eldest son of Barbara and George H. W.
4
Hillary Clinton

Hillary Diane Rodham Clinton is an American politician who was a Democratic presidential candidate in the 2008 and 2016 elections.
I can't possibly count all the lies she has told...
Total 02 Thief and crook
5
Dick Cheney

Richard Bruce Cheney, generally known as Dick Cheney is an American politician and businessman who was the 46th Vice President of the United States from 2001 to 2009, under President George W. Bush.
There's a reason they call him "Dick".
6
Bill Clinton

William Jefferson Clinton (Born August 19th 1946) is an American politician who was the 42nd President of the United States. He previously served as governor of Arkansas. He became president after unseating incumbent president George H.W. Bush in 1992. He was re-elected in 1996 after defeating Senator ...read more.
I did not have sexual relations with...
Snake oil salesman
7
James Buchanan

James Buchanan, Jr. was the 15th President of the United States, serving immediately prior to the American Civil War.
8
Nancy Pelosi

Nancy Patricia D'Alesandro Pelosi is an American politician who is the Minority Leader of the House of Representatives, representing California's 12th congressional district.
Antichrist in training
9
Andrew Johnson

Andrew Johnson was the 17th President of the United States, serving from 1865 to 1869. Johnson became president as he was vice president at the time of the assassination of [Abraham Lincoln].
10
Joe Biden

Joseph Robinette "Joe" Biden, Jr. (born November 20, 1942) is an American politician who is the 46th President of the United States. He was the 47th Vice President of the United States, jointly elected twice with President Barack Obama, and in office from 2009 to 2017. A member of the Democratic Party, ...read more.
The Newcomers
?
Idi Amin

Idi Amin Dada was a Ugandan politician and military officer. He was the President of Uganda from 1971 to 1979. Amin was born either in Koboko or Kampala to a Kakwa father and Lugbara mother. In 1946 he joined the King's African Rifles of the British Colonial Army.
?
Marine Le Pen

Marion Anne Perrine "Marine" Le Pen is a French politician and lawyer serving as President of the National Rally political party since 2011, with a brief interruption in 2017. She has been the member of the National Assembly for Pas-de-Calais's 11th constituency since 18 June 2017.
The Contenders
11
Vladimir Putin

Vladimir Vladimirovich Putin has been the President of Russia since 7 May 2012, succeeding Dmitry Medvedev. He was also President from 2000-2008.
I love the picture
12
Richard Nixon

Richard Milhous Nixon was the 37th President of the United States from 1969 until his resignation in 1974, the only president to resign from office. He had previously served as the 36th Vice President of the United States from 1953 to 1961, and prior to that as a U.S. Representative and also Senator ...read more.
13
Joseph Stalin

Joseph Vissarionovich Stalin was a Georgian dictator, and was the leader of the Soviet Union from the mid-1920s until his death in 1953. Holding the post of the General Secretary of the Central Committee of the Communist Party of the Soviet Union, he was effectively the dictator of the state.
14
Sarah Palin

Sarah Louise Palin is an American politician, commentator, and author who served as the ninth Governor of Alaska from 2006 until her resignation in 2009. As the Republican Party nominee for Vice President in the 2008 Presidential election running with the Republican presidential nominee, Arizona Senator ...read more.
Not necessarily a liar, just extremely stupid.
15
Adolf Hitler

Adolf Hitler (April 20, 1889 - April 30, 1945) was a German politician who was the leader of the Nazi Party, Chancellor of Germany from 1933 to 1945, and Führer of Nazi Germany from 1934 to 1945. As dictator of Nazi Germany, he initiated World War II in Europe with the invasion of Poland in September ...read more.
He was the biggest liar of German politics, who knew he'd begin a mass genocide
16
Andrew Cuomo

Needs to be arrested and charged with 2nd murder 15,000 counts the rectal orifice
17
Ted Cruz

Rafael Edward "Ted" Cruz is an American politician and attorney serving as the junior United States Senator from Texas since 2013. He was a candidate for the Republican nomination for President of the United States in the 2016 election.
Lies to kiss butt
18
Alexandria Ocasio-Cortez

This woman is psychotic! She should be in a mental hospital instead of being in the government!
Maybe just a feral idiot
19
Mitch McConnell

Addison Mitchell McConnell Jr. is an American politician serving as Kentucky's senior United States Senator and as Senate Majority Leader.
Can't be trusted
20
Amit Shah
One of the biggest fraudster supporting the anti Muslim drive In india.. He is the master stroker for strategies of bjp as to how to gain votes without doing any real work.. More over he is too cruel that he won't spare to kill if other caste people
He have many fraud case, looting the public money.

He is famous bidder and buyer of opponent MLA party.

RSS party, world top most terrorism group
Biggest Criminal in Indian Government , This man is hiding many of his murder cases by using government power .
The great thugs
21
Sukhbir Singh Badal
This man and his family is responsible for Drug Addiction of Youth in Punjab State of India . They have secret support from Drug Mafias .
He is Son of Chief Minister of Punjab (India).. The Big liar of all the time in history.
Father-Son both are scoundrels and will have to pay.
22
Benigno Aquino III

Benigno Simeon "Noynoy" Cojuangco Aquino III (born February 8, 1960) is a Filipino politician who served as the 15th President of the Philippines from 2010 until 2016.
23
Osama Bin Laden

Osama bin Mohammed bin Awad bin Laden was a Saudi Arabian-born stateless terrorist. He was a founder of al-Qaeda, the organization that claimed responsibility for the September 11 attacks on the United States, along with numerous other mass-casualty attacks against civilian and military targets worldwide. ...read more.
Remove modi ji from the list, jihadist and terrorist only hates modi ji.
24
Gretchen Whitmer

25 Ajit V. Pai
PSearch List