Top Ten Biggest Liars In Politics
The Top Ten
1
Narendra Modi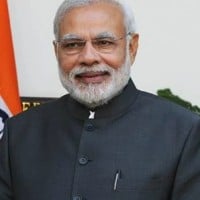 Narendra Damodardas Modi is the 15th and current Prime Minister of India, in office since 26 May 2014. A leader of the Bharatiya Janata Party, Modi was the Chief Minister of Gujarat from 2001 to 2014 and is the Member of Parliament from Varanasi.
A habitual liar. Thief. Bloodthirsty especially blood of other beings who are lower caste and he can't tolerate other religious people. He has an army of inhumane rutheless personell known as it cell whom he feeds with taxpayers money and propaganda. He also plays the victim card during election by voting in the name of martyred dead or money. He claims to be accept criticism ( Warning never try to criticize this creature or may get arrested). He also has a bald fat creature among him who is roaming free. Those who challenged him get ruined or poor or even dead he follows legacy of Fuhrer.
His whole life, as portrayed by him, is a lie. He is a walking lie, head to toe. His claims of being a tea seller in childhood, him leaving home and spending few years in mountains in search of peace and knowledge, his degree in "Entire Political Science", everything is a big fat lie. Fabricated stories without any proof or even slightest of corroboration. He wears suits and clothes worth thousands of dollars and calls himself a Fakir with no interest in materialistic world. An extreme narcissist, who gets time to change into a different outfit for each meeting on any single day, but claims that he sleeps for only two hours. His every speech is full of lies and fake propagandas. All his speeches are like election campaigns. No wonder he has never given a single press conference on his own. He chooses to give scripted interviews to his Godi media, and the scripts are so bad that even a school kid can see it through (Only bhakts can't).
LIAR of highest order, everything about him in public domain is a lie, his background, education, incidents (gutter gas, digital camera, cloud theory, etc.). Fascist to the core, rightly said "Divider in Chief" and "Merchant of death" with blood soaked hands of hundreds of people including own people (Haren Pandya, Soldiers in Pulwama) just to satisfy the lust of power and supposedly establish RSS ideology. Indians are too foolish to see through all this, they have voted for this bigot and hence truly deserve as was the case when Mughals & British ruled India. It's too late to realise this as India has gone to dogs, it remains a lucrative market for big businesses.
The greatest Bluffmaster in the history of India. Highly polarising figure, filled with hatred, vendetta, unscientific, a PR stunt or event manager, Favours Castism, legalised Corruption by Electoral bonds, legalised or normalized Horse trading, hate speeches, lynching, legalized propaganda based news, Killing of Activist or putting them behind bars, undermining of constitutional institutions, killing of judges, and created a huge rift in the Indian society in the basis of religion and caste.
2
George W. Bush

George Walker Bush is an American politician and businessman who was born in July 6, 1946. He served as the 43rd President of the United States from 2001 to 2009 and 46th Governor of Texas from 1995 to 2000. He is the eldest son of Barbara and George H. W.
3
Dick Cheney

Richard Bruce Cheney, generally known as Dick Cheney is an American politician and businessman who was the 46th Vice President of the United States from 2001 to 2009, under President George W. Bush.
There's a reason they call him "Dick".
4
Donald Trump

Donald John Trump (born June 14, 1946) is an American businessman, television personality, politician, and the 45th President of the United States. Born and raised in Queens, New York City, Trump received an economics degree from the Wharton School of the University of Pennsylvania in 1968. In 1971, ...read more.
As was said by someone else, "He believes his lies are true." A lie is a lie no matter what you want to believe! There is is the biggest lier!
He is a black spot for USA because he wants to divide the people of USA on basis of their colour of skin and he is one of most lying person in the history of USA.
I believe that he was taught to lie before he was taught to speak.His father taught him. At the point where he found that it was fun and people in his home accepted his lies, it became a coping mechanism. Reality denial is a very powerful drug, and he is an addict. He needs to increase the dosage constantly.
He has built his empire, his life on two principles: 1) Lie about everything, even if the truth would be more beneficial to you, and 2) destroy anyone who is not in 100% agreement with you or who does not bow down and worship you.
5
Sarah Palin

Sarah Louise Palin is an American politician, commentator, and author who served as the ninth Governor of Alaska from 2006 until her resignation in 2009. As the Republican Party nominee for Vice President in the 2008 Presidential election running with the Republican presidential nominee, Arizona Senator ...read more.
Not necessarily a liar, just extremely stupid.
6
Hillary Clinton

Hillary Diane Rodham Clinton is an American politician who was a Democratic presidential candidate in the 2008 and 2016 elections.
I can't possibly count all the lies she has told...
The antichrist
top ten fools of all time,big lying mouths and down right stupid.
7
Sukhbir Singh Badal
This man and his family is responsible for Drug Addiction of Youth in Punjab State of India . They have secret support from Drug Mafias .
He is Son of Chief Minister of Punjab (India).. The Big liar of all the time in history.
Father-Son both are scoundrels and will have to pay.
8
Osama Bin Laden

Osama bin Mohammed bin Awad bin Laden was a Saudi Arabian-born stateless terrorist. He was a founder of al-Qaeda, the organization that claimed responsibility for the September 11 attacks on the United States, along with numerous other mass-casualty attacks against civilian and military targets worldwide. ...read more.
Remove modi ji from the list, jihadist and terrorist only hates modi ji.
9
Bill Clinton

William Jefferson Clinton (Born August 19th 1946) is an American politician who was the 42nd President of the United States. He previously served as governor of Arkansas. He became president after unseating incumbent president George H.W. Bush in 1992. He was re-elected in 1996 after defeating Senator ...read more.
I did not have sexual relations with...
Great president
But the lewinsky scandal says it all
Snake oil salesman
10
Barack Obama

Barack Hussein Obama II served as the 44th president of the United States of America. He was elected in 2008 after serving in the Senate from 2005-08, beating John McCain and becoming the first African-American to be elected President of the United States. He was elected again in 2012, beating Mitt ...read more.
Way too divisive. Reckless spender. Flip flops on too many issues.
And people voted for this liar to be president TWICE?!?!?
Why would someone hate America this much?!?!
What a total train wreck
The Contenders
11
Joseph Stalin

Joseph Vissarionovich Stalin was a Georgian dictator, and was the leader of the Soviet Union from the mid-1920s until his death in 1953. Holding the post of the General Secretary of the Central Committee of the Communist Party of the Soviet Union, he was effectively the dictator of the state.
12
Vladimir Putin

Vladimir Vladimirovich Putin has been the President of Russia since 7 May 2012, succeeding Dmitry Medvedev. He was also President from 2000-2008.
13
Joe Biden

Joseph Robinette "Joe" Biden, Jr. (born November 20, 1942) is an American politician who is the 46th President of the United States. He was the 47th Vice President of the United States, jointly elected twice with President Barack Obama, and in office from 2009 to 2017. A member of the Democratic Party, ...read more.
14
Nancy Pelosi

Nancy Patricia D'Alesandro Pelosi is an American politician who is the Minority Leader of the House of Representatives, representing California's 12th congressional district.
Antichrist in training
Biggest liar EVER
15
Adolf Hitler

Adolf Hitler (April 20, 1889 - April 30, 1945) was a German politician who was the leader of the Nazi Party, Chancellor of Germany from 1933 to 1945, and Führer of Nazi Germany from 1934 to 1945. As dictator of Nazi Germany, he initiated World War II in Europe with the invasion of Poland in September ...read more.
He was the biggest liar of German politics, who knew he'd begin a mass genocide
16 John Edwards
17
James Buchanan

James Buchanan, Jr. was the 15th President of the United States, serving immediately prior to the American Civil War.
18
Ted Cruz

Rafael Edward "Ted" Cruz is an American politician and attorney serving as the junior United States Senator from Texas since 2013. He was a candidate for the Republican nomination for President of the United States in the 2016 election.
19
Amit Shah
One of the biggest fraudster supporting the anti Muslim drive In india.. He is the master stroker for strategies of bjp as to how to gain votes without doing any real work.. More over he is too cruel that he won't spare to kill if other caste people
He have many fraud case, looting the public money.

He is famous bidder and buyer of opponent MLA party.

RSS party, world top most terrorism group
Biggest Criminal in Indian Government , This man is hiding many of his murder cases by using government power .
Burn india
Criminals
20
Benigno Aquino III

Benigno Simeon "Noynoy" Cojuangco Aquino III (born February 8, 1960) is a Filipino politician who served as the 15th President of the Philippines from 2010 until 2016.
Liar and incompetent leader
21 Joko Widodo
22
Nigel Farage

Nigel Paul Farage is a British politician and former commodity broker. He is the leader of the UK Independence Party, having held the position since November 2010, and previously from September 2006 to November 2009. Since 1999 he has been a Member of the European Parliament for South East England.
One of the only positives of Brexit: UKIP/Brexit Party are no use now so we get to see a lot less of this manic
The lie "I am not a racist" is contradicted by him blaming foreigners for his personal troubles.
This man is a redneck maniac with no interest in truth or integrity. Unloved as a child, unliked as an adult, he had no soul and the chip on his shoulder is of epic proportions. His party only ever had one elected member yet his malevolent lies and dishonest ways have messed the UK right over. He is a racist xenophobe fascist bastard with no shame or dignity. He lies to live and lives to lie.
23 Ajit V. Pai
24
Mitch McConnell

Addison Mitchell McConnell Jr. is an American politician serving as Kentucky's senior United States Senator and as Senate Majority Leader.
Horrible person aiding a regressive system
McConell is an idiot
25
Mike Pence

Michael Richard Pence is an American politician and lawyer who served as the 48th and current Vice President of the United States, in office since January 20, 2017. He previously held the position of Governor of Indiana from 2013 to 2017.
PSearch List