Top 10 Canadian Rock and Metal Musicians Who Are/Were In Bands Outside Canada
The Top Ten
1
James LaBrie - Dream Theater (USA)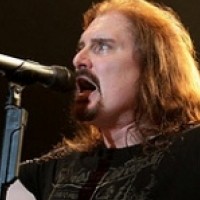 Kevin James LaBrie is a Canadian vocalist and songwriter, who is best known as the lead singer of the American progressive metal band Dream Theater.
2
Shawn Drover - Megadeth (USA)

Shawn Drover is a Canadian musician, best known for his work with the American thrash metal band Megadeth.
3
Alissa White-Gluz - Arch Enemy (Sweden)

Alissa White-Gluz is a Canadian vocalist, best known as the former lead vocalist and one of the founding members of the Canadian metal band, The Agonist, and current lead vocalist for the Swedish melodic death metal group, Arch Enemy.
4
Glen Drover - Megadeth (USA)

Glen Drover is a Canadian heavy metal musician from Missisauga, Ontario, Canada, where he currently resides.
5
Stu Block - Iced Earth (USA)

Stuart "Stu" Block is a Canadian singer-songwriter, who was the frontman for Canadian progressive death metal band Into Eternity, and is now the lead vocalist for American heavy metal band Iced Earth.
6
Sebastian Bach - Skid Row (USA)

Sebastian Philip Bierk, known professionally as Sebastian Bach, is a Canadian heavy metal singer who achieved mainstream success as frontman of Skid Row from 1987-96. Since his departure from Skid Row, he has had many television roles, acted in Broadway plays, and leads a solo career.
He sings some borderline metal-to-glam metal songs and I don't like the glam part but without a doubt - this guy can sing very well.
7
Randy Black - Primal Fear (Germany)

Randy Black is a Canadian-born metal drummer and recording artist best known for his stints as the drummer for Annihilator, Primal Fear, Duskmachine, and Bif Naked. He is an ambidextrous drummer.
He was a long-term Annihilator drummer but he left Annihilator to join his fiancé in Germany. He auditioned with one of the best German metal bands. Primal Fear made the right decision by choosing him. Randy was with this band for 10 years but sadly, in 2014 he left. - Metal_Treasure
8
Bernie Shaw - Uriah Heep (UK)

Bernard "Bernie" Shaw is a Canadian singer, and since 1986, the lead vocalist for the British rock group Uriah Heep.
Uriah Heep is a band known for superior vocals - both David Byron and John Lawton were top notch singers.
So Bernie Shaw was selected to replace them and he's been with Uriah Heep since 1986.
Try his Whitesnake cover: Bernie Shaw - Love Ain't No Stranger - Metal_Treasure
9
Dave Brockie - Gwar (USA)

David Murray "Dave" Brockie, was a Canadian musician, and best known as the lead vocalist of the metal band Gwar, in which he performed as Oderus Urungus.
Lead vocalist, he performed as Oderus Urungus. - Metal_Treasure
10
Pentti "Whitey" Glan - Alice Cooper (USA)
Drums (1974-1979) - Metal_Treasure
The Contenders
11
Daniel MacMaster - Bonham (UK)
He was the first and also the most successful singer for this band (the band was active 1989-1997).
wiki: "Bonham was a British hard rock band founded in 1989 by drummer Jason Bonham, the son of the late Led Zeppelin drummer John Bonham. The band's most successful line-up included singer Daniel MacMaster, bassist/keyboardist John Smithson and guitarist Ian Hatton." - Metal_Treasure
12 Prakash John - Alice Cooper (USA)
13 Pete Friesen - Alice Cooper (USA)
BAdd New Item