Philippines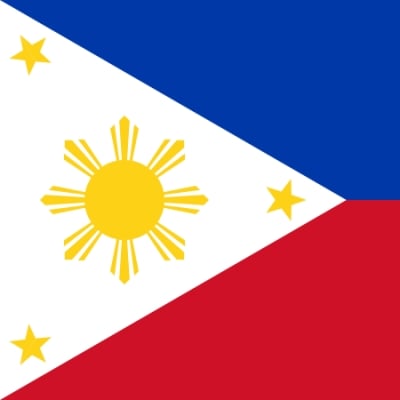 Found on wikimedia.org
Info
The Philippines was established in March 16, 1521 and named in honor of a Spanish King whose name is King Philip of Spain II. It is located at Asia, specifically at Southeast Asia. The capital is Manila. 89% of the people there currently are native, while 11% of people there are foreigners.
Comments
Top
Popular
Newest
Indeed Philippines has the best voices in the whole wide world and I'm not saying this because I'm a Filipino. But many of our singers have been world renowned and have been recognized around the globe in every culture, in every genre I.E. lea Salonga of Les Miserables and Miss Saigon(Broadway), The Philippine Madrigal Singers who are well-known in the world of choral music for their unique style of singing while sitting in a semi circle but are still able to produce amazing harmonies and extreme dynamics that most standing choirs cannot execute well, also they are first choir in the world to win the European Grand Prix for choral singing twice (2007 & 1997), and lastly but definitely not the least, CHARICE PEMPENGCO, "The Most Talented Girl in the World." -Oprah.
Main exporter of live cover bands and singers internationally, most global singing competitions will include Filipino singers, some international bands, groups or solo artist include Filipino musician or singers, and international singers and band recognizes Filipino talent in music or singing. These many Filipino singers and musicians are not good but they are better in that field. The kind of technique they utilize is same as the technique you learn from Music schools. The number of "belters" in the Philippines are in great quantity because there is huge amount of talent here and that common Filipino audience is hard to please thus making the music or singing stage very competitive. You don't only sing but you are obliged to perform in front of them as an "Entertainer" not solely a "Presenter". Music and Performing Arts is not widely entered and sought after by common Filipinos because of money so they mainly depend on their raw talent and then just foster it through practice and ...more
As an American myself, I have to admit that the Philippines deserve number 1. However, I believe the order should be (after the Philippines) UK - 2, USA - 3, CAN - 4, etc.

I place my own country behind UK because let's face it, Americans, we suck at live performances... Most of our "artists" lip sync the crap out of concerts, whereas, UK artists don't and they rarely use sound engineering to enhance their singers' vocal abilities. The only real performers we actually have are Bruno Mars and Beyonce... The rest are crap compared to other countries. Stop living in a box and realize this already.

I hear that Bruno Mars is half Filipino himself.. Sigh... But at least he was born American so we can claim him as much as Filipinos do. That's still kind of embarrassing. Anyways, to solve this issue we have here in the music industry, we really, really, really need to start supporting people with real vocal talents. We have them in the US, we just aren't supporting them. Wake the ...more
I'm from Italy and I agree that the Philippines is the no. 1 country with the best singers becase during my stay here I have encountered a lots of good voices like in a cruise ship, bars, parties and many events I've joined of. My filipino friend watch me a video it's the voice kids and I was so amazed because at their early age they can almost sing like a PRO!
I'm American/Mexican but I have to say, the Philippines really has good singers. Well first of all, they invented karaoke...
No other countries can defeat Philippines in matters of singing. Philippines is the HEART of MUSIC in the world. Each Filipino is born with music in his/her heart. For Filipino music is what made them joyful, enthusiastic and forever happy.
Philippines indeed is the best for me. When you listen to the songs nowadays, which are now mostly IRRELEVANT and about SEX and BODY parts and PARTYING, I just feel like VOMITTING! In the Philippines, songs without meaning is not tolerated by good singers. Singers in the Philippines sing from their hearts, that's why they're really good. If you're gonna compare some singers from the US to singers in the Philippines nowadays, in terms of vocal, Philippine singers are WAAY MUCH BETTER.
It's not about the records. Not about the fame, not about the money nor the number of fans. If you can portray the feelings, words, and meaning of the song to your audience. Philippines is at the Top. Yes we're poor but that didn't stop us to tell the world how good we are at singing. Instead we show them what we're capable of. Being poor isn't a hindrance. It what pushes us through. We sang with our hearts out, portray the meaning and feelings embedded on that song,and there you have it. A singing talented filipino.
From young children to old grannies and grandpas, Filipino people can sing really really good without even giving them voice lessons. At least 8 out of 10 people can actually sing... And some are really good
Some people says why Philippines? Well, we're not talking about how many famous singers worldwide but we are talking about the number of people who can sing. Go to the Philippines and see for yourself.
The Philippines is indeed the country that has the best singers in the world. Philippines may not be like USA or UK and even other countries that has the most famous and good singers in the world but Philippines has the most talented and amazing singers in the world waiting to be discovered. I'm not saying that USA, UK and other countries are not talented, I'm just saying that Philippines has a lot to offer when it comes to singing. To those people saying that Philippines doesn't deserve to be number one, your just outright rude and disrespectful, every country has its ups and down. And to the "Proud to be Filipino", it's okay to be proud but we should take it down a notch because it's getting to the point that it is annoying to the foreign people. We should not hate one another because of different opinions. That is all.
In terms of singing, Philippines is really competitive on that... A lot of competitions worldwide name it! There is a Filipino pride. Vocal powerhouse of Asia! Singing is in their culture... In terms of popularity of course other Big countries will shine, but if you hear their vocals you will be amazed... Some of them snatched the title in other competition outside the country...
Envy Philippines or having such great singers! Even random people on the road, you can hear them sing and they're actually great! Like-- the heck, what they have on their genes to have such voice. From children to adults they're singing. Every family there is not complete with karaoke, that's how amazing they sound!
Actually for me the Philippines is not the singing capital in Asia but the singing capital in the whole worl there are so many filipino that is have a good voice but never discovered
If you are going to watch videos on YouTube of exceptional singing, you will definitely see Filipinos singing all over the world.
Philippines really is the best! Even children's on the streets can hear them singing very well! Any kind of music! Thumbs up to Philippines! I've watch a lot of Filipino singers and their competitions always makes me goose bumps! - Mj022406
Filipino voice tend to be rounded and big making them such a powerful belter. Also most of them due to their continuous practice (because it seems that Filipinos love singing), develop their own voices and techniques on how they would sing.
Almost the not so good singer in the Philippines when compared to other countries are way better. The mediocre ones (for the ears of Filipinos) can sing better than their other competitors in international shows because it's hard to compete in the Philippines because almost everyone are good in singing!
Filipinos sing from the heart; Not that I'm saying that others don't. But the feelings/emotions that you can feel within their performance is truly such an... ugh! Haha. Maybe because of the hardships of life, the obstacles they are facin' are used as inspirations to get through to life.
I love the Philippines. I'm a foreigner and they have tons of great singers! When I visited the country during Christmas, many of the residents were singing in their mini karaoke
THE PHILIPPINES has always been a singing paradise for the world. I can't even keep track of normal filipino singers that has been guest starred in Ellen! We value music as we value life, because we believe the without MUSIC there will be no sense in LIVING.
LIVING PROOFS OF THE PH AS THE BEST SINGERS EVER
CHARICE PEMPENGCO
SARAH GERONIMO
REGINE VELASQUEZ
LEA SALONGA
JED MADELA
ZSA ZSA PADILLA
Philippines is full of talented and aspiring singers. You can see people singing on the street, on the restaurant, and in their house. There's really talented people in the Philippines, not just in singing, but in dancing and others as well. Philippines may not be perfect, but they got the best singers in the world!
Why don't you visit the streets of manila and see for yourself. You can see karaoke bar all over manila and even inside the mall you will people singing in arcades with amazing voices. I mean this has been a regular scene in manila
Philippines-- Land of ALL GENRES and GREAT BELTERS! Filipino talents, like singing, dancing, acting etc., are just WORLD CLASS!
Filipino Singers are great even without using auto tune. Filipinos love to sing specially weddings, birthdays, corporate events, church activities and even a wake (ceremony). You can see them singing at the street with their rented karaoke machine. They are even performing while on the street where many people can see them. Filipinos seems to have Everyday Training by singing anytime and anywhere they want.