Top 10 Pixar Directors
These are the most talented people who have directed feature-length or short films for the wonderful animation studio of Pixar.

The Top Ten

1 Pete Docter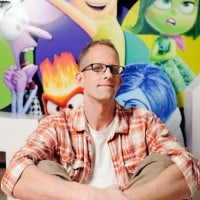 Out of all the directors in PIXAR, Pete Doctor has the best track record because he made great films like Up, Monster's Inc., and Inside Out. He is easily number 1.
While John Lasseter is the bread and butter of Pixar, Pete Docter is the warm milk that goes along with it. Taking at look at Docter's directory career, of all the three Pixar movies he's directed, all of them are probably the most emotional of any Pixar movie. Sure, every Pixar movie is filled with emotion and will have you either laughing with joy or crying of sadness, but to me, Monsters Inc., Up, and Inside Out are perhaps the saddest Pixar movies that are bound to make you shed a tear or two and truly move your heart. All in all, Docter really knows how to bring out the emotional aspects of Pixar's movies. Especially Up. That movie had me tearing up right at the beginning of the story.
Pete Docter always takes you on an emotional roller-coaster, where in the one moment you're laughing until your stomach hurts, and in the next you're crying until you can't physically produce anymore tears.
In terms of Pixar films, Pete Docter is the master of animated cry fests. When you can get a grown man to cry their eyes out within the first 8 minutes of a movie, you know you're doing something right.
But, thankfully, that's not all he does. He has also given us some of the best laughs of any of Pixar's directors.
All the feature films Pete Docter has ever directed are some of the best movies that have ever come out from Pixar Animation Studios, and this is why he, in my opinion, is their greatest director.
Feature Films:
Monsters, Inc. (2001)
Up (2009)
Inside Out (2015)

Short Films: Mike's New Car (2002)
2
Brad Bird

He is incredible.
Some of the movies he has directed in animaiton are some of the best in the genre.
This guy is the best
Brad Bird has made so many INCREDIBLE films. He made The Incredibles 1 and 2, and Ratatoulle.
Feature Films:
The Incredibles (2004)
Ratatouille (2007)
The Incredibles 2 (2018)

Short Films:
Jack-Jack Attack (2005)
3
John Lasseter

John Alan Lasseter is an American animator and film director, who is the chief creative officer of Pixar Animation Studios, Walt Disney Animation Studios, and DisneyToon Studios.
John Lasseter directed the most PIXAR films like Toy Story 1, and 2, Cars 1 and 2, and A Bug's Life. I wish I could rank him higher but I can't because of the controversy.
He's directed quite a lot of good films with only a few bad ones here and there. Regardless of those few slip-ups, Lasseter was truly important to the Pixar company. His whole history along with Pixar's history truly amazes me with how much the company went through to maintain their unique identity and creative integrity.
Sad to hear what happened to him
I love the toy story threequel way to go Lasseter
4
Andrew Stanton
Andrew Stanton made the best PIXAR film in the 2000's in my opinion which is Finding Nemo. He also directed Wall-E and Finding Dory.
Feature Films:
Finding Nemo (2003)
WALL-E (2008)
Finding Dory (2016)

Short Films:
(none)
5
Lee Unkrich

Unkrich is seriously underrated, seeing as he directed two of Pixars best works ever, Toy Story 3 and Coco, both of which are some of my favourite movies of all time!
Lee Unkrich has directed my favorite PIXAR film ever. That is Coco. He also directed Toy Story 3. He has an amazing track record.
He made toy story three and Coco, I love both of those films
Feature Films:
Toy Story 3 (2010)
Coco (2017)

Short Films:
(none)
6
Peter Sohn
Peter Sohn directed The Good Dinosaur which I thought was a little underrated but he is not a memorable director.
Feature Films:
The Good Dinosaur (2015)

Short Films:
Partly Cloudy (2009)
7
Dan Scanlon
Dan Scanlon directed Monster's University which I didn't love but I gained more love for him because he directed Onward and I thought Onward was great.
Feature Films:
Monsters University (2013)

Short Films:
(none)
8
Brian Fee
Brian Fee directed Cars 3 which is a decent PIXAR film but he is not an iconic PIXAR director.
Feature Films:
Cars 3 (2017)

Short Films (none)
9
Mark Andrews
Mark Andrews and Brenda Chapmen directed Brave and for me they are in my opinion the worst PIXAR directors even though Brave wasn't bad. They did make my least favorite PIXAR film that is not Cars 2. Cars 2 is the worst but John Lasseter has a great track record.
Feature Films:
Brave (2012)

Short Films:
(none)
10
Jan Pinkava
Feature Films:
(none)

Short Films:
Geri's Game (1997)
The Contenders
11
Josh Cooley
This is where the list gets tricky. I don't think Josh Cooley is the best PIXAR director, but he directed an amazing PIXAR film that is Toy Story 4.
12
David Silverman
A Simpsons alumni who helmed Monsters Inc.
13 Brenda Chapman
BAdd New Item