Top Ten Most Encouraging Undertale Character
The Top Ten
1
Papyrus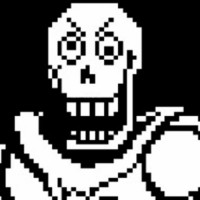 Papyrus is a character from the 2015 game Undertale, made by Toby Fox. He is the Younger brother of Sans the skeleton, royal guard in training, and a sentry in the town of Snowdin. Opposite to his brother, papyrus is active, loud, and full of himself; but in an endearing way. Papyrus means to become ...read more.
I trust him more than Undyne
2
Sans

Sans or Sans the Skeleton is a character in the 2015 RPG Undertale created by Toby Fox. He is a lazy, pun-loving skeleton who is a supporting protagonist in the "pacifist" and "neutral" routes of Undertale, and a heroic antagonist/final boss of the "genocide" route. He is known for his incredibly difficult ...read more.
3
Alphys

Alphys is an adorably dorky, lab-coat-wearing, bespectacled, yellow-skinned lizard scientist who resides in her lab in Hotland in the critically acclaimed cult classic RPG known as Undertale, wherein she partakes in the daily act of watching insane amounts of anime and having a vast majority of the ...read more.
4
Toriel

Toriel is a main character in Toby Fox's 2016 RPG, Undertale. She is an amazing blend of goat and mother.
Pretty goat mother. I wish I still had a mother.
5
Undyne

Undyne is a main character in Toby Fox's 2016 RPG, Undertale. She is the heroic fishlike captain of the Royal Guard, who takes it upon herself to protect the monsters of the Underground. Her name is derived from the word "Undine", and is a pun on the word "Undying". Her most loved monsters are her mentor, ...read more.
6
Monster Kid

7
Nastablook
Blooky is sweet. Also...WHERE THE FLIP-FLOP IS HIS PICTURE?! I want to see his ghost face..
8
Asgore

Asgore Dreemurr is a boss monster and the king of the monsters in the 2015 RPG Undertale made by Toby Fox. Asgore is the portrayed main antagonist who plans to acquire seven human souls and use their power to break the barrier that seals the monsters underground . Aspects of his character are hinted ...read more.
9 Flowey (Asriel)
10
Mettaton

Mettaton is a character in the popular 2015 RPG game, Undertale. He is a robot with a soul built by Dr. Alphys, and is the sole television star of the underground. Mettaton is a popular character in the fanbase. His notable features include his legs, and his catchphrase "OH YESSSS!"
Mettaton definitely is very encouraging for me. Before I played Undertale, I was really insecure about my body. When I got past Mettaton, that went away. I don't know what happened, but I thank this loveable robot for it.
BAdd New Item